| | | | |
| --- | --- | --- | --- |
| Founded: | 1992 | GM: | Pierre Dorion |
| Owned By: | Eugene Melnyk | Coach: | D.J. Smith |
| Home Rink: | Canadian Tire Centre | Captain: | Brady Tkachuk |
Founded and established by Ottawa real estate developer Bruce Firestone, the team is the second NHL franchise to use the Ottawa Senators name. The original Ottawa Senators, founded in 1883, had a famed history, winning 11 Stanley Cups, playing in the NHL from 1917 until 1934. On December 6, 1990, after a two-year public campaign by Firestone, the NHL awarded a new franchise, which began play in the 1992–93 season.
The Senators have made sixteen playoff appearances, won four division titles, and won the 2003 Presidents' Trophy. They made an appearance in the 2007 Stanley Cup Finals, their only Cup Finals appearance to date.
Deeper Dive
2021-22 Season Roster
Jersey History
Prior to the 2020 draft, the team announced they were updating the unpopular 3-D centurion they've used since 1999 and returning to their original concept with the 2-D logo. The new logos and uniforms were received incredibly well, not only because they looked great, but because fans had grown accustomed to seeing sub-par redesign after sub-par redesign. A return to something that worked in the past was, surprisingly, something that didn't happen all that often in Ottawa. Read more…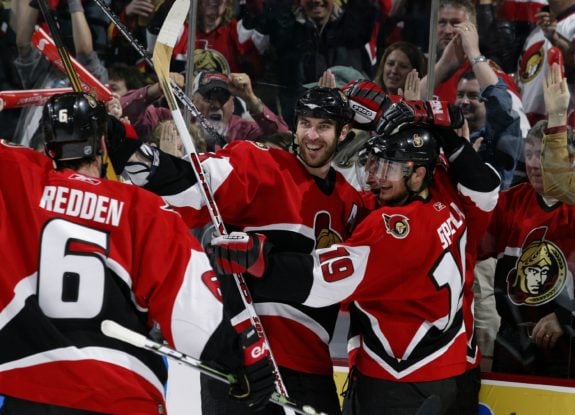 The Players
More Senators History
Alfredsson's Road to the Rafters
Daniel Alfredsson first set foot in the Ottawa Senators organization in 1995. At that time, not even "Alfie" himself thought that he would make his case in the NHL. But over two decades later, on December 29, 2016, the sixth-round draft pick from the 1994 NHL Entry Draft saw his very own Senators jersey raised to the rafters before the game against Detroit Red Wings at the Canadian Tire Centre. There, the number 11 will age but never fade, as he will forever be remembered for his services over an exceptional hockey career. Read more…


Captains
Sources
Lifelong storyteller and experienced hockey reporter that has covered everything from major juniors to the NHL. Worked for various newspapers across Minnesota and North Dakota, and now covering the Colorado Avalanche for THW.