Every player in every professional sport has a stadium or arena on the road where everything just seems to work out. For former Ottawa Senators captain Daniel Alfredsson, that place was the KeyBank Center in Buffalo.
A decade ago, on Friday, Oct. 22, 2010, Alfredsson netted an improbable hat trick to become the 75th player in NHL history to join the 1,000-point club. Fittingly, his hat trick came in a 4-2 win against the Buffalo Sabres at the KeyBank Center, which was then known as HSBC Arena. It was the same arena where he netted the Game 5 overtime winner in the 2007 Eastern Conference Final against the Sabres, vaulting the Senators to their first and only Stanley Cup appearance in the modern era of the franchise.
That goal in 2007 was arguably the biggest goal of Alfredsson's NHL career. (from 'A look back at the life and career of Daniel Alfredsson,' Ottawa Sun, 12/04/2014)
Alfredsson's hat trick 10 years ago not only gave him 1,000 points, but it also gave him 41 career goals against Buffalo. That tied him with Peter Stastny and Jaromir Jagr for most career goals against the Sabres.
After that game, Alfredsson had 13 goals and 9 assists for 22 points in his last 11 games against the Sabres.
Buffalo Soldiers
While Alfredsson had good fortunes in Buffalo, so did the Senators. That win was the ninth in the Sens' last 10 games in Buffalo. Since the 2004-05 lockout, the Senators improved their record against Buffalo to 10-3-3 at the HSBC Arena and 26-8-4 overall with that win. Senators goalie Brian Elliott improved his career mark to 9-0-0 against the Sabres that night.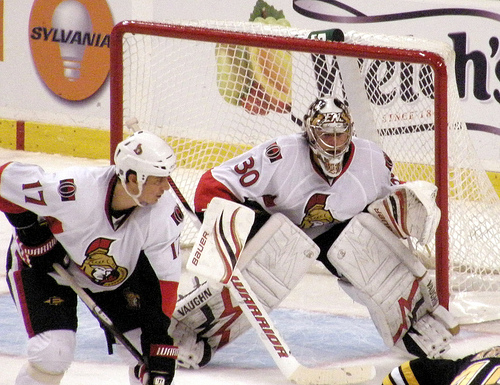 "You couldn't have written a better script than that," said Ottawa head coach Cory Clouston after the game. "He was our best player, and it's very important that he plays like that when we have guys out."
Related: Is Daniel Alfredsson Hall of Fame Worthy?
Ottawa's first-line center, Jason Spezza, tweaked his groin injury just minutes before the opening face off and was scratched from the line-up. Mike Fisher moved into the top line to center Alfredsson and Milan Michalek.
While Ottawa and Buffalo had been among the strongest teams in the Eastern Conference, both teams had jumped out to slow starts in the 2009-10 season. The Senators, who went into the game with the lowest point total in the NHL with three, improved their record to 2-4-1 and earned their first road win of the season. The Sabres, meanwhile, fell to 2-5-1 to start the season, and had not yet won a game at home.
For Alfredsson, getting the team's first road win of the season was more important than the 1,000-point milestone.
 "It wasn't on my mind at all and maybe that's a good thing," Alfredsson said of his 1,000th point after the game. "With the team struggling going into the game, my thoughts were about trying to get some wins."
Historic Hat Trick
Alfredsson said that he "got a bit lucky" with his milestone hat trick.
"A tip-in, a half-missed shot, and an empty-net goal," Alfredsson said, reflecting on his hat trick. "But it's a big road win for us."
Alfredsson's first goal came on the power play. He was in front of Buffalo goalie Ryan Miller and tipped a slapshot from Senators rookie Erik Karlsson.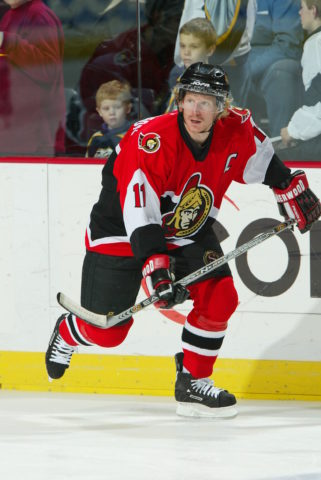 After Tim Connolly scored his first of two goals for Buffalo, Ottawa would come back and take a 3-2 lead in the second.
Alfredsson and Fisher had a two-on-one, and Alfredsson elected to shoot. He did not get all of his slap shot, but it beat Miller to his blocker side.
After Connolly scored his second, Ryan Shannon of the Sens became the eventual answer to a trivia question as he scored what turned out to be the winning goal. Shannon's goal was a greasy one, as he fought off Mike Grier for a loose puck in front of Miller and scored.
Elliott Shines
The Sabres outplayed the Senators in the third period, outshooting them 20-5. Elliott turned in what may have been his best period of hockey during his tenure as an Ottawa Senator. He preserved the Ottawa lead, and with 22 seconds left to play, a backhander by Alfredsson from just inside the center red line found the back of the empty Buffalo net to ice the win.
Reaching 1,000 career NHL points was something Alfredsson had never really thought of. In fact, even playing in the NHL wasn't something he had ever considered.
"When I grew up in Sweden, we did not get NHL hockey on TV," Alfredsson said in an interview later in his career. "I watched some highlights, and I watched the Don Cherry Rock'em Sock'em Hockey videos."
Alfredsson was 21 years old when former NHL player John Ferguson insisted the Senators spend their 133rd (sixth-round) pick on him. Alfredsson had just finished his second season with Frölunda HC of the Swedish Hockey League.
Related: Frölunda HC the Gold Standard of NHL Prospect Development
"I was at home and I didn't even know there was a draft," Alfredsson said. "And I didn't know there was a chance I could be picked. Nobody had talked to me about being drafted."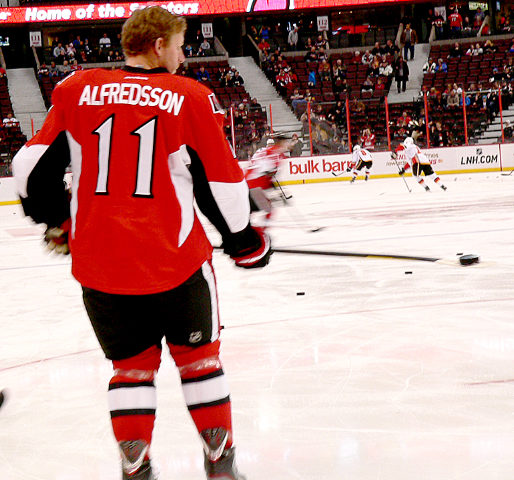 After playing one more season with Frölunda HC, Alfredsson arrived in Ottawa for the 1995-96 NHL season. He and fellow rookie Antti Tormanen of Finland both made the team that year. They were given the option of wearing jersey numbers 11 or 22. Alfredsson chose No. 11. He went on to win the Calder Trophy as the NHL's Rookie of the Year that season.
Now, that No. 11 is retired and in the rafters at Canadian Tire Centre. Frank Finnigan, who was the last surviving member of the 1930s Senators that ended up moving to St. Louis, had his No. 8 retired. Chris Phillips has also had his jersey No. 4 retired.
Related: Daniel Alfredsson's Road to the Rafters
While Alfredsson was the 75th player to reach 1,000 NHL points, he was also the 70th to reach 1,000 games played and 1,000 points. He had played in his 1,000th game on April 6 the previous season. The City of Ottawa declared April 10, 2010 as Daniel Alfredsson Day to honour the milestone.
While Alfredsson's career accomplishments have put him into the conversation of being inducted into the Hockey Hall of Fame, accolades were the furthest thing on his mind on that night in Buffalo 10 years ago.
"I don't think I can put it into words what it means," Alfredsson said after his 1,000th point. "I think maybe when you retire you reflect on it and appreciate it."
It's hard to imagine that Daniel Alfredsson would sit back and spend too much time reflecting on his personal records, awards and milestones. The gold medal he won with Sweden at the 2006 Olympics might be special for him, particularly because it was a team accomplishment and he grew up watching international hockey.
And while his 1,000th point may not have been a big deal for Daniel Alfredsson at the time, it remains one of the franchise highlights in Ottawa Senators history.
---
---