Earlier this week, longtime broadcaster Mike "Doc" Emrick decided to retire after nearly 50 years covering the National Hockey League. Tributes from across the league are pouring in; as of this posting, nearly every team in the league as well as many individual players have acknowledged his retirement and sent him well-wishes.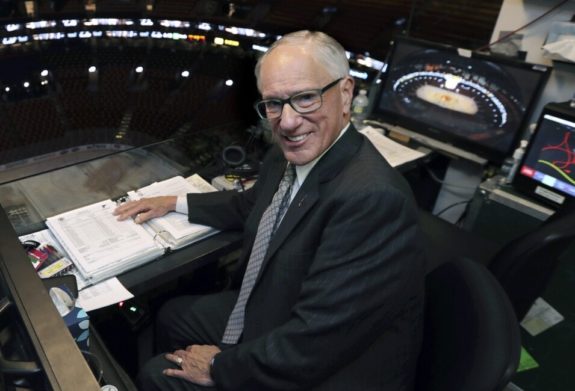 After a career marked with notable moments, it's only appropriate that Emrick's legendary career be immortalized one more time.
Emrick's Broadcasting Origins
Emrick's first foray into hockey came while still in university in 1970, when he was hired to cover the Pittsburgh Penguins by the Beaver County Times. His first broadcasting job was calling play-by-play for Bowling Green State University, a position he held from 1971 to 1973. After graduating from the Ohio school with a Ph.D. in communications (hence the nickname, "Doc"), he was hired by the minor league Port Huron Flags and the Maine Mariners of the now-defunct International Hockey League.
Emrick received his first NHL broadcasting job in 1982, when he was brought on to be the first voice of the New Jersey Devils after their move from Colorado. He worked in this capacity for four years, before diversifying his play-by-play chops working for the Philadelphia Flyers and select National Football League games in the early 1990s.
A Devil of a Time
After two seasons covering the NFL for CBS in 1992 and 1993, Doc returned to the Devils' broadcast booth full time, a position which he held from 1993 until 2011. As part of the Devils' media team, he called his first Stanley Cup Final as they swept the Detroit Red Wings to claim the title.
Related: Top 10 Russians in the NHL Today
For the next 18 years, Doc and his broadcast partners would call the majority of the careers of great Devils like Martin Brodeur, Patrik Elias, Scott Stevens, and Scott Niedermayer. Doc was behind the mic when Brodeur became the winningest goaltender in NHL history on March 17, 2009, and again when Brodeur set the record for the most wins by a netminder in a single season in 2007.
Emrick's tenure with New Jersey was recognized when the team held a "Doc Emrick Night" in 2009 in recognition of his achievements both with the Devils and overall.
Going National
Emrick left his post with the Devils in 2011 to become the lead broadcaster for what would become NBC Sports' coverage of The NHL alongside Eddie Olczyk. In this role, he'd be responsible for guiding viewers through some of the most-watched hockey events in the last decade. He announced the winning goal for Team Canada at the 2010 Winter Olympics in Vancouver, each NHL Winter Classic from the inaugural game in 2008 to the most recent in 2019, a total of 22 Stanley Cup Finals, and more than 3,750 NHL games throughout his career.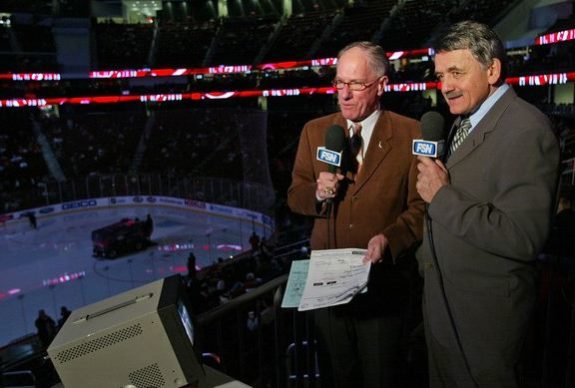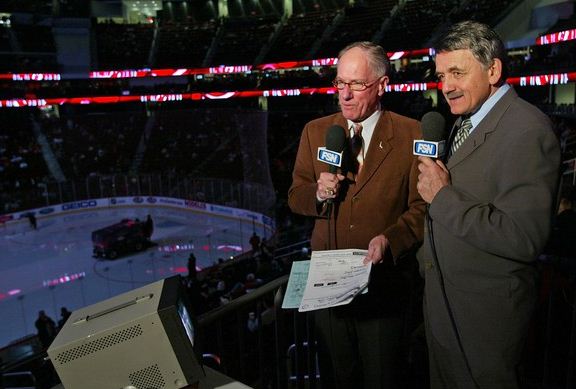 He called the most-watched NHL regular-season game ever (the 2011 Winter Classic between the Washington Capitals and Pittsburgh Penguins), the most-watched playoff game ever (game 7 of the 2019 Stanley Cup Final), the most-watched playoff series ever (2013 Stanley Cup Final between the Chicago Blackhawks and Boston Bruins), and the aforementioned 2010 gold medal hockey game between Canada and the United States, the most-watched hockey game of the last 40 years.
A Signature Style
Over his years of covering hockey, Emrick made it his mission to differentiate himself from his peers through his use of flowery language. Dave Feschuk of the Toronto Star writes "when he was calling a game, the puck wasn't just passed. It was shuffleboarded and shovelled and soccered. It was finessed and regathered and collared. It skittered and curled and angled and trickled." (from 'Doc Emrick has the final word, and he's used a lot of them in 47 years of hockey broadcasts,' Toronto Star, 10/19/2020) All in all, it's been counted, and Doc has a collection of 153 different verbs to describe the action on the ice. What's more, he's able to weave such tales without the use of a dictionary or thesaurus.
Pierre McGuire, Emrick's colleague at NBC, calls Doc a wordsmith first and foremost, and TSN's Good Miller praised him by saying "he uses the language like an expert uses a tool; I don't think anybody has a vocabulary like Doc and the ability to use it in a broadcast."
Trophy Case
Doc's 47 years behind the hockey microphone has also given him his fair share of awards. He's been honoured with eight Emmy Awards in the category of "Outstanding Sports Personality-Play by Play", the Foster Hewitt Memorial Award as the NHL's top broadcaster, and seven New York Regional Emmy Awards for broadcasting. He also received the Vin Scully Lifetime Achievement Award from Fordham University in 2015.
Emrick belongs to seven different sports Halls of Fame, and was the first broadcaster elected to the United States Hockey Hall of Fame on Dec. 12, 2011. He sat on the selection committee of both the Hockey Hall of Fame and the United States Hockey Hall of Fame, and served as the Vice President of the National Hockey League Broadcasters' Association from 1985 to 2020.
Personal Reflections
Gord Miller and others in the hockey community have also praised Emrick's personal character, saying of his style and demeanour "it's a strange analogy to make, but I've always thought of Doc in the same vein as Mr. Rogers. You know, someone who educated people in a nice way."
Related: Calgary Flames With 100-Point Seasons
Dan Patrick has said of Doc, "(Emrick) made non-hockey fans feel welcome when they listened to him. The greatest compliment I could probably give him is he didn't talk down to you. He wanted to talk with you."
After nearly 50 years in the game, including 47 in the booth, it speaks volumes that Emrick's play-by-play has continued to captivate generations of hockey fans as well as non-hockey fans who happen to tune in. His deeply personal style also reflects his personality, a warm and friendly man who deserves nothing but the best in his retirement.
Happy retirement, Doc.
---
---