Erik Brännström (born 2 September 1999) is a Swedish professional ice hockey defenseman for the Ottawa Senators of the National Hockey League (NHL). Brännström was selected 15th overall by the Vegas Golden Knights in the 2017 NHL Entry Draft and was traded to Ottawa in 2019.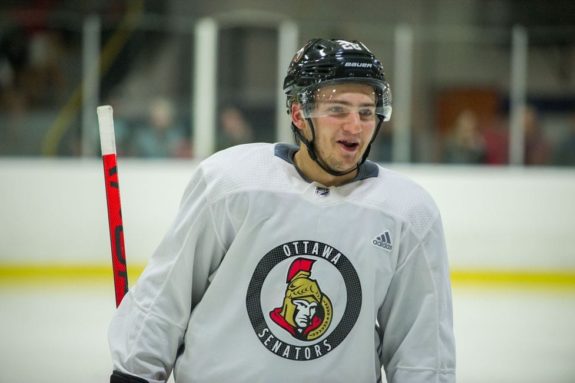 Erik Brännström Statistics
Deeper Dive
Achievements
AHL All-Star Game (2019)
U20 WJC All-Star Team (2019)
U20 WJC Top 3 Player on Team (2019)
U20 WJC Silver Medal (2018)
J20 SM Gold Medal (2018)
J20 SuperElit Playoffs MVP (2018)
SHL Champion (2017)
J20 SuperElit Best Defencseman (2017)
U18 WJC Silver Medal (2016)
U17 WHC Bronze Medal (2016)
Hlinka Memorial Silver Medal (2016)
U16 SM Bronze Medal (2014)
Sources
Ryan Gagne is one of the newest members of The Hockey Writers, covering the New York Islanders. He grew up in a small town in northern New Hampshire, where he idolized the Boston Bruins. Before moving to Canada in 2008, he was the equipment manager for his high school varsity hockey team and a sports journalist for the local newspapers. Ryan has been active in the hockey community, whether coaching, officiating, instructing, or playing. He is the ultimate rink rat with 19 years of experience making ice and driving the Zamboni. An avid fantasy sports player, Ryan created a blog, Keeping the Stats, where he dissects his teams and brags about his 2020 fantasy football championship. Outside of hockey, his life revolves around the New York Yankees, much to his wife's chagrin.