The NHL has yet to determine when the 2020-21 season will start. As of now, they are hoping for Jan 1, 2021, but even that, according to NHL Deputy Commissioner Bill Daly, is a fluid date. "We also recognize, depending on a host of different things, that it could take a different form and we might not be playing a full season, we might not be playing into the summer, we might not be starting on January 1st. So, there's still a lot of uncertainty." 
The AHL is targeting a Feb. 5 2021 start date which is excellent news.
In the meanwhile, NHL teams are turning to Europe for their prospects and players to get some experience and playing time. Having this loan option has been crucial for their development. Hundreds of players have been loaned to European leagues by NHL teams, the Ottawa Senators among them. The Senators have seven players on loan, all of them European-born. All of these loan agreements have an out-clause for prospects to rejoin the NHL club when training camp begins.
Lassi Thomson
The first player to start the Senators' loan process this offseason was Finnish defenseman Lassi Thomson. Selected in the first round of the 2019 NHL Draft, the 20-year-old is playing for a familiar Ilves team in the Finnish Liiga. His season has been lacklustre so far, producing only 2 points in 10 games.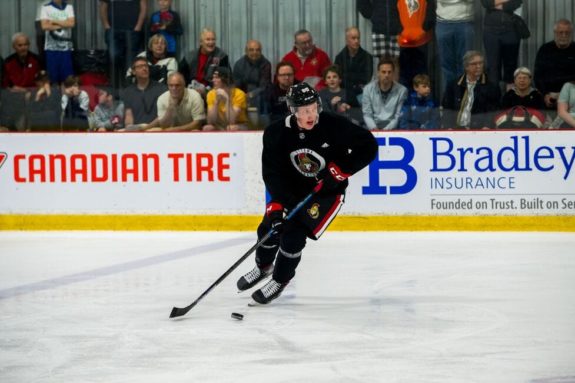 He's not considered an offensive dynamo, however, in his first season of professional hockey last year, he put up 13 points in 39 games. The best parts of Thomson's game are his skating ability and his booming slap shot.
Ilves is tied for 1st in the league. Hopefully, Thomson's play improves and he's given more ice time, but according to scout Jokke Nevalainen, his season average is below the 14:03 he played on Oct. 23.
Vitaly Abramov
Next, let's look at Vitaly Abramov who was loaned to Jukurit of Finland's Liiga. Last season, he played mostly in Belleville with a brief two-game callup to join the Sens. He amassed 41 points in 51 games in the AHL and showed off his excellent offensive upside at every turn. This season, he has lit up the Liiga, scoring 5 goals and 2 assists in 5 games. 
Jukurit is third to last in the Liiga, so Abramov has provided most of the team's offence; before he joined the team, Jukurit had scored 6 goals. This is a good sign for the Senators, seeing a prospect on the cusp of being an NHLer dominate a pro league. When training camp comes around, expect him to get a long, extended look similar to last season before he was injured.  
Filip Chlapik
Filip Chlapik played 31 games in the NHL last season, with 6 points. His stats didn't jump off the page but his defensive game was impressive enough to keep him around. He is on loan to HC Sparta Prague of the Czech Extraliga. Once again, his stats are low, with 1 goal in 3 games for the 3rd place Sparta team.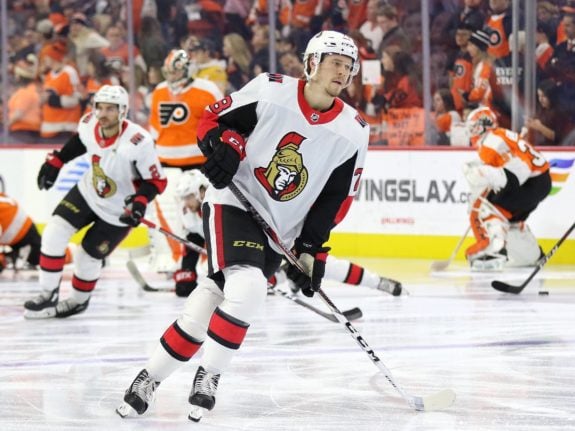 This would be a good opportunity for Chlapik to get into an offensive rhythm and bring it over to the NHL. He just signed a one-year, two-way contract with the Sens and will be looking to build on his strong play from last season with game experience in the Extraliga to grow into a full-time NHLer.  
Filip Gustavsson
The other Filip in the organization, Filip Gustavsson has been playing in the Hockey Allsvenskan for Södertälje SK, which is not the top league in Sweden. That said, getting the starting job in nets in the SHL would be difficult considering that their rosters are set. He has played in 8 games for Södertälje SK and has put up a stellar .923 save percentage.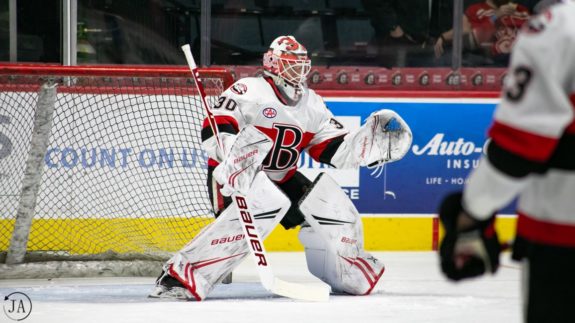 The team sits 4th in the league, with the help of a couple of stolen victories from Gustavsson. He has solidified himself as the team's starter, and from the Sens' point of view, seeing him hit his stride and gain confidence is exactly what the team hopes for with this loan. Last season, was forgettable so being successful in Sweden will be a good precursor to the AHL season.
Olle Alsing
Olle Alsing was a quiet signing last year and not many are aware of the skills he brings to the table. Last season in the SHL, he put up 20 points in 36 games for Djurgarden, after starting the season with 10 points in 10 games. He cooled off a bit, but the team relied heavily on him on the back end. This season, he has been loaned to the Graz99ers in the ICEHL of Austria. He's only played one game before matches were postponed due to a rise in COVID cases. He had agreed to come to North America and play with the Belleville Senators before the pandemic.  
Rudolfs Balcers
Rudolfs Balcers is another candidate for a full-time position with the Sens. Last season was derailed due to injuries, but he was above a point-per-game average in the AHL with 36 points in 33 games. Currently, he is playing for the Stavanger Oilers in the Norwegian GET-ligaen where he put up 2 points in his first game of the season.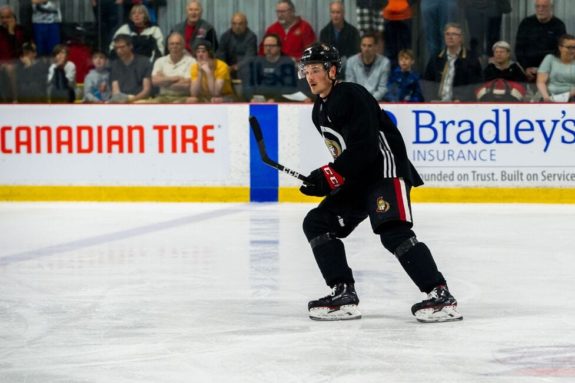 He now has 4 points in 3 games for the Oilers, the team he played for before coming to North America. If Sens management is considering him for a roster spot, they will want to see him dominate this league as it would be a good indication of his readiness for full-time NHL play.  
Erik Brannstrom
Finally, one of the Sens' top prospects, Erik Brannstrom is on loan to the SCL Tigers of the Swiss National League. He is up to his old tricks with 5 points in 5 games and continuing to play will be great for his confidence.
Last season, he split time between the NHL and the AHL, with his best offensive output being 23 points in 27 games for Belleville. His play in the NHL wasn't strong enough for full-time duty but during his second call-up, he looked much more comfortable with the level of play. Expect to see his strong play continue for the Tigers as he settles in.  
Keep Tabs on These Players
The Senators have a nice array of prospects playing and developing overseas, especially considering most of them haven't played in over 7 months. With the NHL regular season still at least a few months away, these players are all making strides to improve and should all be ready for training camp if and when they are called back. These NHL loan agreements have and will continue to be an excellent opportunity for young players to gain experience if European COVID numbers stay down and North America's do not.  
---
---