At the end of the 2020-21 season, the NHL will welcome its 32nd franchise, the Seattle Kraken. With a new team comes another expansion draft just like with the Vegas Golden Knights in 2017. In the Vegas expansion draft, the Washington Capitals lost defenseman Nate Schmidt, who turned out to have a vital role in Vegas making the cup in their first season. Will the Capitals lose another key piece to Seattle? Let's look at Seattle's most likely targets.
It is important to note with the expansion draft, teams can protect seven forwards, three defensemen and a goalie. Or if they would like, they can protect eight skaters of any position and one goalie. Players that were recently drafted are automatically protected and do not need to be protected with one of these limited spots (for a full breakdown of how the NHL Expansion Draft works click here).
Who the Capitals Will Protect
In the 2017 expansion draft, the Capitals protected seven forwards, three defensemen and a goalie, like most teams. For the 2021 expansion draft, it is safe to assume they will go the same route. The players that are most likely to get protected are: Alex Ovechkin, Nicklas Backstrom, Evgeny Kuznetsov, Tom Wilson, Jakub Vrana, John Carlson, Dmitry Orlov and Ilya Samsonov. With the flat cap, it is likely that one of the Capitals' star forwards is left unprotected as well as a lockdown defenseman.
T.J. Oshie
The potential that T.J. Oshie is exposed and taken by the Kraken is higher than many fans would like. Exposing him would mean that the team would protect Lars Eller. Oshie joined the Capitals in 2015 and immediately stated making an impact. During his time in Washington he has scored 128 goals, second to only Ovechkin, and recorded 129 assists. Oshie will be 34 before the start of the 2020-21 season and has a $5.75 million contract that carries through 2024-25. While he has not shown that his goal scoring is slowing, at his age it is only a matter of time.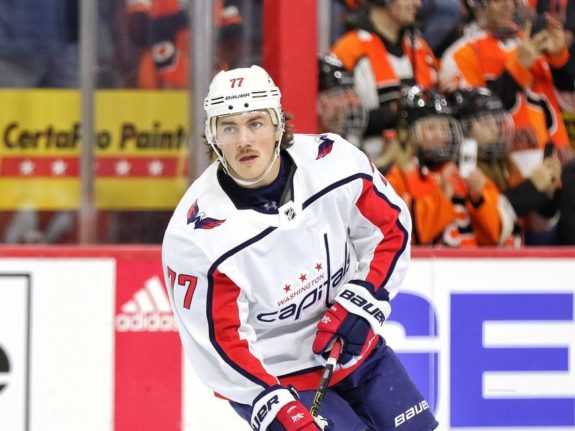 Oshie was born in Mount Vernon, Washington and was raised in Everett, just north of Seattle. He spent the first 16 years of his life in Washington before his family moved to Minnesota and his hockey career took off. A return to Seattle would mean a return home for this NHL star, and potentially even the title of "Captain" for the Seattle Kraken.
With Ovechkin needing a new deal, as well as Vrana, Samsonov and Jonas Siegenthaler, it would make sense for the Capitals to shed Oshie's contract so that they can afford their younger players along with Ovechkin. The loss of Oshie would also mean that Connor McMichael, drafted as a center, likely starts his career on the wing alongside Backstrom.
Lars Eller
The Capitals' third-line center has been known as one of, if not the best third-line center in the league. In fact, if not for having Backstrom and Kuznetsov, Eller would be a second-line center, and could be one on almost every other team. He has extremely strong two-way play and has been a major asset both offensively and defensively over the years. Most Capitals fans remember his ability to play on the second line and produce in the 2018 Playoffs when Backstrom missed four games due to injury in the Tampa Bay series. If the Capitals choose to expose Eller, it would mean that they would protect T.J. Oshie.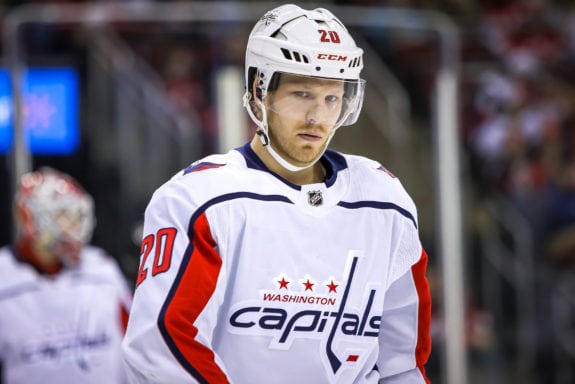 Eller carries a cap hit of $3.5 million, a bit lower than Oshie, but does not bring the same offensive upside, as he has yet to crack 40 points in his career. However, the benefit to losing Eller is that Capitals have been drafting centers for the last two years. Over the next three seasons McMichael, Aliaksei Protas and Hendrix Lapierre should be NHL ready.
Related: Capitals Have Their Future Top Centers in McMichael & Lapierre
It is presumed that McMichael will even see some time in the NHL this season after having been on the Capitals' bubble roster. Eller would be a strong fit for Seattle to help build depth down the middle as most teams try to protect their top centers. With him being a third-line center and the Capitals having an influx of prospects on the horizon, protecting Oshie and leaving Eller for the taking would also make a lot of sense. However, the loss of Eller would significantly hurt the Capitals, as this would make their third line much less effective offensively while the young centers develop.
Brenden Dillon
Lockdown left defenseman Brenden Dillon spent just 10 games with the Capitals during the regular season after being acquired from the San Jose Sharks. The Capitals re-signed him to a four-year contract with a cap hit of $3.9 million per year. Dillon being exposed by the Capitals would mean that Siegenthaler has another strong year and continues to develop. This also means that the team is feeling confident in their prospects', Martin Fehervary and Alexander Alexeyev, transition to the NHL.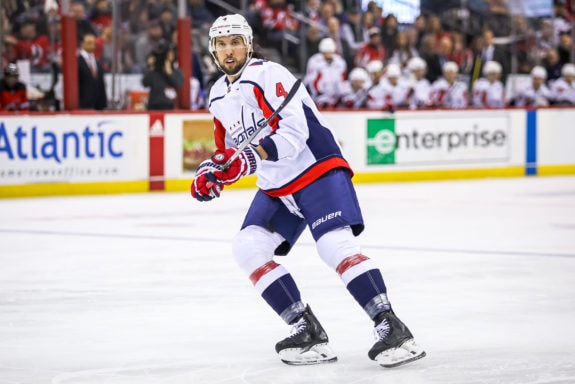 Dillon has never accrued more than 22 points in an NHL season and his highest-scoring season was just six goals. However, he is one of the better shutdown defensemen in the league at even strength, but with the Capitals having a handful of left defensemen on the verge of being NHL ready, they may feel it is best to let him be picked in the expansion draft. If the Capitals push for Seattle to take a defenseman, then they would be protecting both Oshie and Eller, which would make the Capitals extremely tight among the NHLs flat cap. They would have to look for trade partners next offseason.
Capitals in a Strong Position
Now, you're probably wondering how the Caps could possibly be in a strong position even though they are likely to lose one of their top players. While the team has not been known for its drafting or prospects during the Ovechkin era that happens when you're always winning. Over the last four years, the Capitals have done a phenomenal job drafting both offensively and defensively. The ability for multiple young players to fill gaps depending on who Seattle takes, means they will not only be able to easily navigate roster changes but the NHL cap as well.
It is tough to say, but the best-case scenario for the Capitals is Seattle picking a forward — more specifically, picking Oshie. He has the fourth largest cap hit amongst the forward group and fifth on the entire team. At his age, it is tough to think his production will continue through the rest of his contract. The Capitals will have the ability to let McMichael develop in the NHL by putting him on Backstrom's wing, giving him a chance to learn and work with one of the best two-way centers in the league.
In addition, the cap space it would free up would allow the Capitals to keep Samsonov, Vrana and Siegenthaler with ease. At the end of the day, the Capitals must be feeling good about their position for the upcoming expansion draft as they can handle any approach that Seattle takes.
---
---