The Washington Capitals have been active in free agency this offseason. They acquired a new backup goalie in Henrik Lundqvist and added some defensive depth that they did not have previously. Although these were necessary moves, the solutions to their problems have created new issues that must be dealt with before the Capitals resume play (whenever that might be).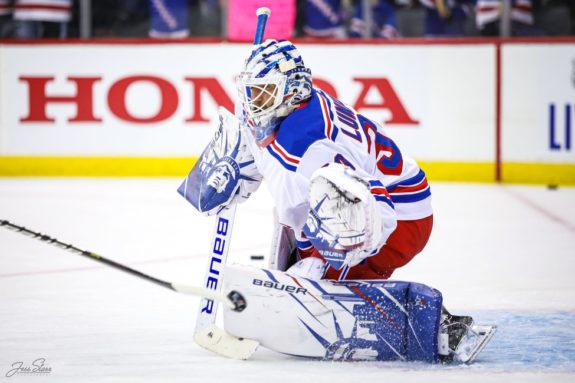 One major issue is that the Capitals are now about $200,000 over the cap limit and they still don't have a 12th forward. Because of this, a trade is no longer an 'if' but a 'when'? General manager Brian MacLellan will need to log hours on his phone to make a trade or two to clear cap space, and a few candidates seem to be on their way out.
Dmitry Orlov
Orlov's name has been come up frequently in the trade speculation I've heard. The Russian defender is entering the fourth year of a 6-year, $30.6 million contract signed in June 2017. He has an average annual value (AAV) of $5.1 million and will be turning 30 years old next July.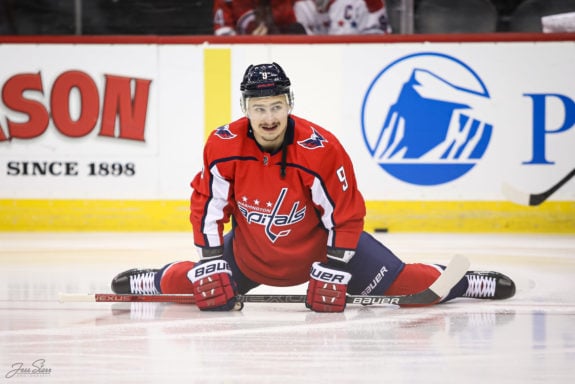 This is not a trade I am rooting for, but I expect it will happen because of how much money Orlov makes. That's not to say he isn't worth it, he is. Russian Machine Never Breaks says he may be the best pure defender on the Capitals. He has great even-strength possession numbers with an even-strength Corsi for percentage (CF%) of 53.4 last season, and a career even-strength CF% of 51.5. He logged the second-most minutes per game of any Capital with 22:10 and blocked the third-most shots at 82 in 2019-20.
Orlov also plays on the left side. Brenden Dillon is going nowhere after re-signing with the team, and Jonas Siegenthaler is one of the team's up-and-coming defenders (who also needs a new contract). The slot that Orlov fills will likely belong to prospect Martin Fehérváry at some point, as he — like Siegenthaler — is up-and-coming and costs a lot less money than Orlov. If he doesn't earn it in 2020-2021, one of those spots will be Fehérváry's by the following season.
The issue is that the Caps need financial flexibility which means it's likely Orlov will be moved, but it's important to remember that it isn't because of his play. If they trade him, it's to get his salary off the books which would provide the Capitals with a lot more breathing room.
Nick Jensen
If it isn't Orlov's name that's been brought up the most in trade speculation, then it's Nick Jensen's. The Capitals acquired Jensen during the 2018-19 season, and re-signed him in February 2019 to a 4-year, $10 million contract with a $2.5 million AAV. He turned 30 years old in September.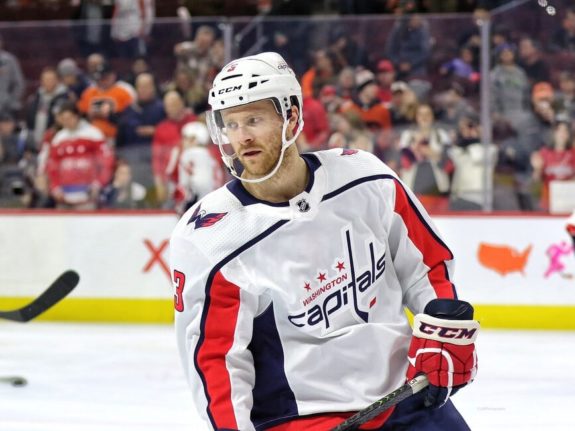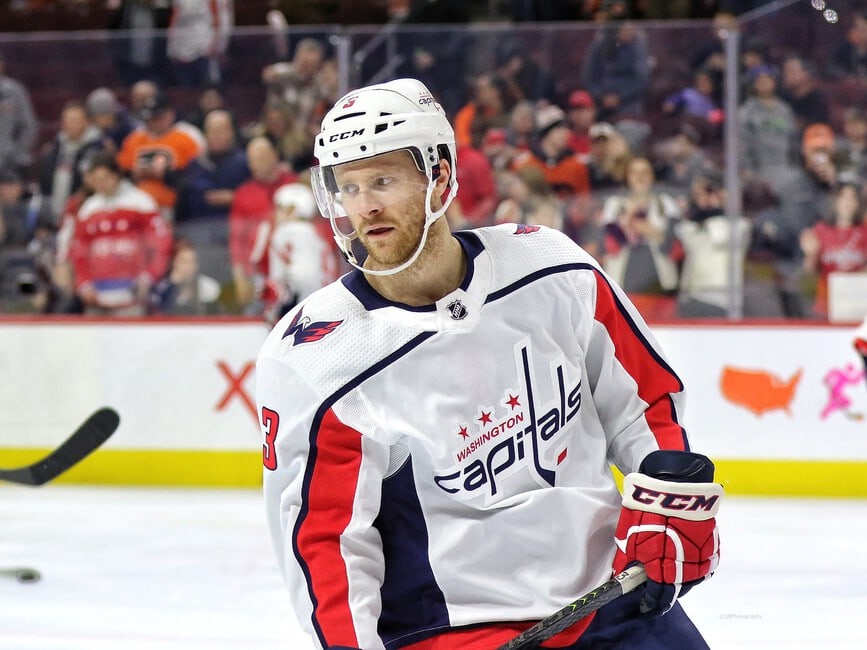 Jensen is a well-established shut-down defender, evidenced by his 56 points in 278 career games. Only 48.6% of his starts have been in the offensive zone because he is trusted in his own end. Jensen is a decent possession player at even strength with a CF% of 50.9 this past season and a career CF% of 50.4.
He isn't a flashy player and doesn't make the plays that stand out, but he is valuable and seemed to find his footing with the Capitals in their first-round playoff series against the New York Islanders. At times, Jensen looked like the Caps' best defender with an active and accurate stick, and he was blocking shots that seemed destined to be goals.
At $2.5 million per season, a team could do a lot worse than Jensen, and that's why I'd regret to see him go. He provides value in his own end where the Capitals desperately need it. As with Orlov, this move would be purely financial because I'm sure the Caps would love to hold on to him if they can. The only difference here is that Orlov is more valuable to the team, and they will likely want to hold on to him if they can and rearrange their defensive pairings.
Carl Hagelin and Richard Panik
I lumped these two forwards together because they are sort of in the same boat. Both are wingers who play most of their minutes on the third line, and both are signed to the same contract worth $2.75 million for four seasons.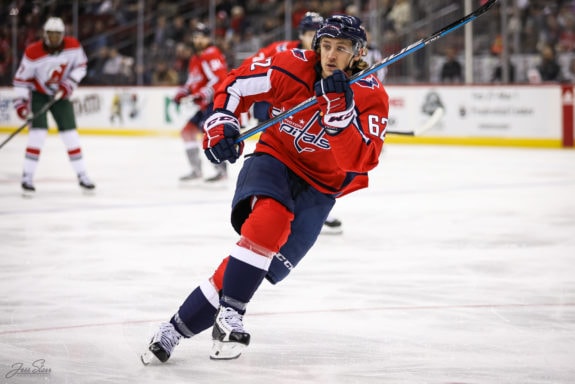 Of all the trade possibilities, moving one or both of these two out seems the trickiest. The Capitals don't have 12 forwards on their roster as of now and they have too many NHL-calibre defensemen. Yes, moving one of them would free up salary, but that salary will go towards another forward. There have been discussions that maybe Daniel Sprong and/or Connor McMichael and/or Brian Pinho could make the roster next season, which would help a bit because they are all on cheap contracts ($725,000, $894,167, and $725,000 respectively).
That's possible, but if a trade happens, Panik will be the one shipped out. The team knows what they have in Hagelin. He's a speedy, penalty-killing winger who is responsible, but struggles offensively. They don't truly know what they have in Panik because he had such a rough first half to last season. He didn't play well on the third line with Hagelin and Lars Eller, and his play only improved in the second half after they moved him to the fourth line. That's good, but it's hard to justify spending $2.75 million on a fourth-liner.
Panik's tough season and the Capitals' poor playoff performance should make the idea of trading the recent acquisition much easier on fans and management. He just hasn't made his presence feel as important or as necessary as Hagelin – who has penalty-killing abilities – which makes Panik more expendible.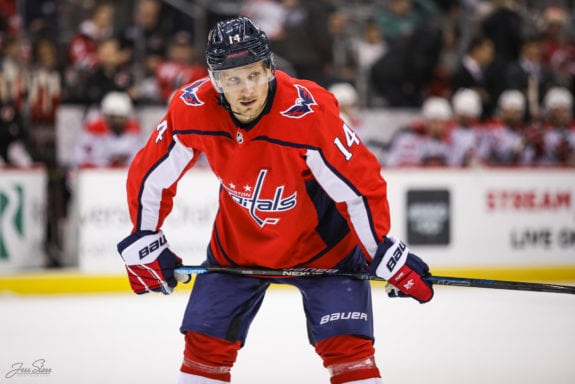 It's never fun to think of someone from your team being traded. But, the flat salary cap makes it inevitable that at least one player from last season's roster will leave the Capitals. I've listed some possibilities, but who knows?
Management might stumble across a blockbuster trade that shakes the core of the team for the better. We will have to wait and see what MacLellan comes up with. For the time being, we can relax while Lundqvist self-tans somewhere and fantasize about what he will wear to his first game as a Capital.
---
---
21-year old Capitals fan from Muskoka, Ontario. 5'9 but could be 6'3, depends on the day. Love good movies, but hate bad movies. Covered the Capitals for Stars and Sticks.