Heading into the 2020-21 season, the Washington Capitals are once again poised to be legitimate Stanley Cup contenders. While they have achieved consistent on-ice success over the last decade and change, the team has also had plenty of success at the draft. With an aging core ready for another long playoff run, general manager Brian MacLellan must decide whether or not his young prospects should be stockpiled for the future or used as assets to improve the team now.
Related: Capitals 2020-21 Season: How Do They Stack Up in the Metro Division?
Here's a look at the Capitals' top prospects and whether or not they should be considered untouchable; specifically Connor McMichael, Hendrix Lapierre, Martin Fehérváry, Aliaksei Protas and Alexander Alexeyev.
Connor McMichael (C, 2019-20: London, OHL)
Atop the list of the team's prospects sits Connor McMichael. The 25th-overall pick in 2019 is coming off an explosive 2019-20 season with the London Knights of the OHL, finishing third in league scoring with 102 points (47 goals, 55 assists) in 52 games. 
The 19-year-old also made waves during the 2020 World Junior Championships, scoring 5 goals and adding two assists for Team Canada. McMichael finished fifth in team scoring and took home a gold medal for his efforts.
The 6-foot, 183-pound Scarborough, Ontario native is signed to a three-year entry-level deal with the Capitals, and while McMichael is still eligible for one more year of junior, his recent play has proven that he could be in the mix for a roster spot when next season begins.
As the Capitals' most highly touted prospect, it is extremely unlikely that McMichael would be moved for any reason. With an aging Backstrom and company, McMichael's projection as a first or second line centerman is exactly what Washington will need moving forward.
Hendrix Lapierre (C, 2019-20: Chicoutimi, QMJHL)
The Capitals took a gamble trading up to draft Hendrix Lapierre with the 22nd-pick in the 2020 NHL Entry Draft. Having been limited to just 19 games in 2019-20 due to concussion and neck-related injuries, many general managers passed on the extremely talented 6-foot, 181-pound centerman from Gatineau, Quebec.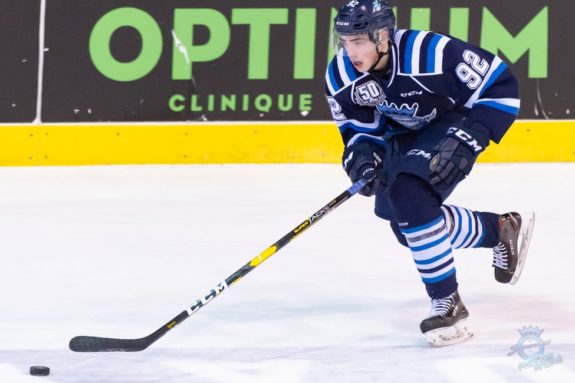 Trading the 24th and 80th-overall picks to select Lapierre was a risk for MacLellan and the Caps, but not without good reason. In 2018-19, Lapierre put up 45 points in 48 games for Chicoutimi as a 17-year-old phenom. He also began the 2019-20 season with an impressive 11 points in 5 games at the Hlinka-Gretzky Cup before injuries limited him to 17 points in 19 games for the Saguenéens.
While it remains to be seen whether or not Lapierre's injuries will hinder his NHL career, it's evident that the young centerman has just scratched the surface of his potential. As someone with 70-80 point, first-line expectations, don't expect to see Lapierre moved any time soon.
Martin Fehérváry (D, 2019-20: Hershey, AHL)
Drafted 46th overall in 2018, Martin Fehérváry is on his way to becoming an elite NHL defender for the Caps. Weighing in at 200 pounds and standing 6-foot-2, Fehérváry has both the build and skills needed to adapt to the big league.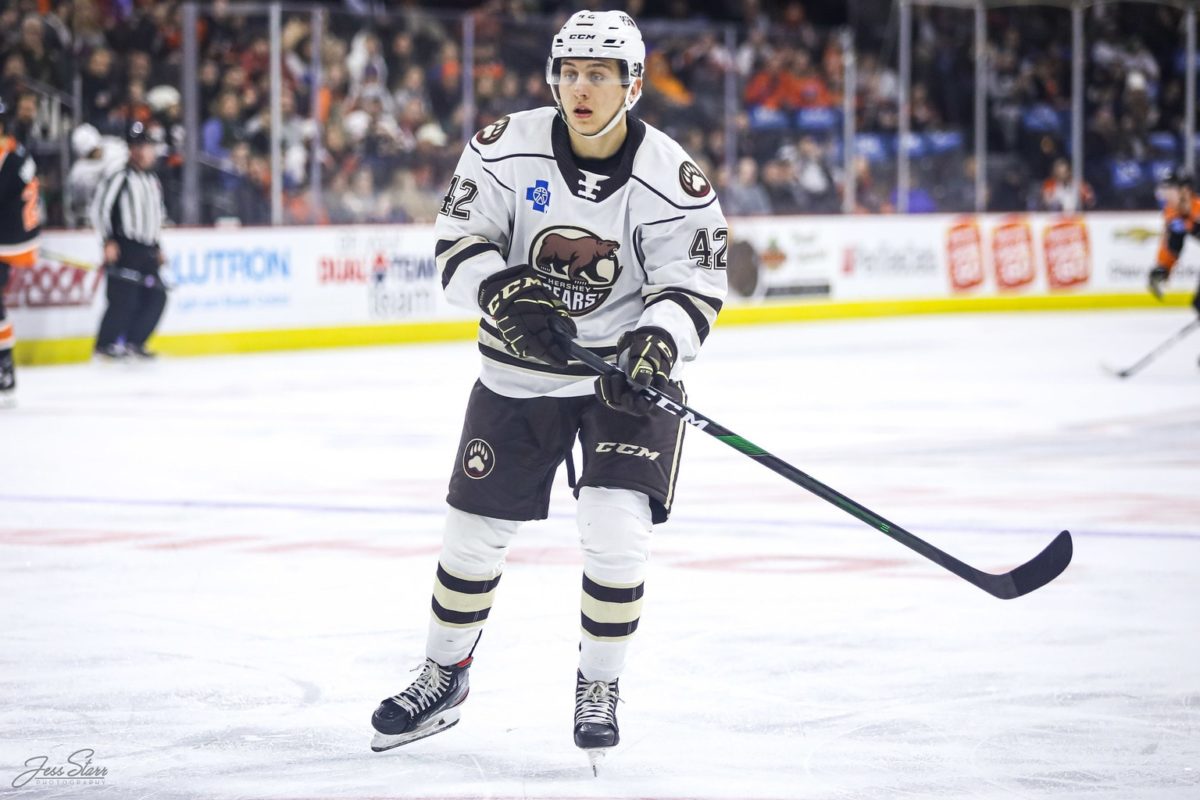 Following the 2018-19 season with HV-71 of the Swedish Hockey League, Fehérváry spent 2019-20 with both the Capitals and their AHL affiliate, the Hershey Bears. With the Bears, he proved that he could log heavy minutes and contribute offensively, tallying 14 points in 56 contests with a plus-15 rating. His steady play earned him two three-game stints with the Caps, where he notched his first career point with an assist on Feb. 8 against the Philadelphia Flyers.
Being one of Washington's best and most NHL-ready prospects, a trade that would move Fehérváry isn't impossible, but isn't probable either. The young blueliner is more at risk to be moved when compared to prospects McMichael and Lapierre, but if the team is to succeed in the years to come, they will need young defencemen like Fehérváry to carry the load.
Aliaksei Protas (C, 2019-20: Prince Albert, WHL)
Since being selected 91st overall by the Capitals in 2019, Aliaksei Protas has become one of the biggest steals of the draft. The 6-foot-6 Belarussian centerman spent the last two seasons with the Prince Albert Raiders of the WHL where his numbers shot up.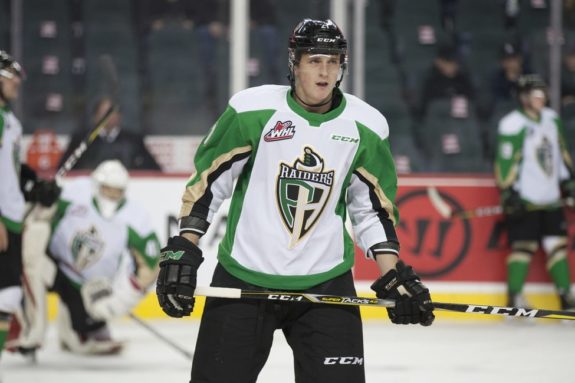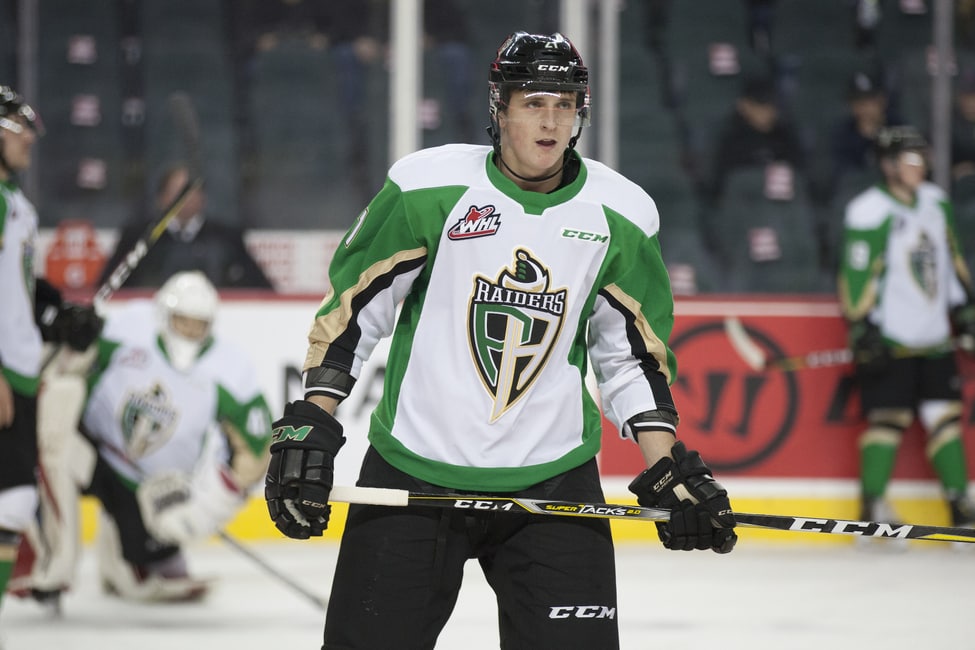 Before being drafted, Protas tallied a respectable 40 points (11 goals, 29 assists) in 61 games for the Raiders, adding another 22 playoff points and a WHL championship to boot. This past season, his point total doubled to 80 (31 goals, 49 assists) in 58 games. The 19-year-old has since been loaned to the KHL's Dinamo Minsk for the 2020-21 season where he's scored 4 goals and added 1 assist in 18 games.
As Protas continues to take strides in improving his play, his ceiling will continue to grow and his stock will continue to rise. Protas' considerable size and underrated skill make him an exciting prospect who could potentially be used to acquire an NHL-ready player for the near future, or used as part of a rebuild for the inevitable 'Ovechkinless' future.
Alexander Alexeyev (D, 2019-20: Hershey, AHL)
Following the Capitals' 2018 Stanley Cup victory, Alexander Alexeyev was selected with the team's 31st-overall pick. Now age 20, the two-way defenceman has developed nicely into his 6-foot-4 frame and shown shades of greatness both in his junior career and with the Hershey Bears.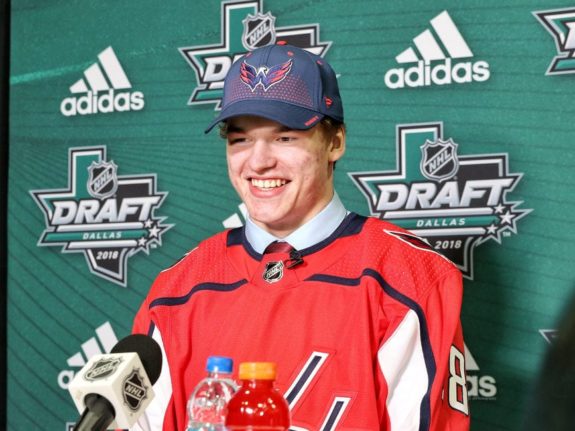 During his 2018-19 season with the Red Deer Rebels of the WHL, Alexeyev recorded 10 goals and 33 assists in 49 games – despite being plagued with injuries. This past season in Hershey, he used his size and skill to rank 12th in points (21) among rookie AHL defencemen and 10th in plus/minus (plus-8). Like Protas, Alexeyev was loaned to the KHL for the 2020-21 season and has already tallied 5 points in 16 games for Salavat Yulaev Ufa.
While Alexeyev continues to grow into an NHL-caliber defenceman overseas, his trade value remains high for MacLellan and the Capitals in Washington. Although it's not out of the question that Alexeyev could be moved, he seems a lock to be a part of Washington's blueline for years to come.
Looking Forward
Due to the short window placed on this Capitals team and its aging stars, saying that any prospect is 'untouchable' would be premature. For all intents and purposes, the club will go all-in for next season, so there is no prospect safe from a trade that could help bring another Cup home to Washington.
Capitals fans should be very happy with the status of their club, not only because they have a team that can compete and win now, but they also have an extensive list of budding prospects eager to make an impact at the NHL level.
---
---