With the 22nd Pick in the 2020 NHL Entry Draft, the Washington Capitals Have Selected Hendrix Lapierre From the Chicoutimi Sagueneens of the QMJHL
About Hendrix Lapierre
There will be no bigger gamble in the 2020 NHL Entry Draft than Hendrix Lapierre. Though he's a legitimate top-10 talent who could even work his way into some scouts' top-five rankings if healthy, the operative word there was "if."
Though Lapierre plays an all-around brand of hockey and looks like he can be a bonafide top-six player in the NHL one day, his health could be the only thing keeping him from achieving those lofty expectations.
THW Prospect Profile Excerpt
Hendrix Lapierre is the classic jack-of-all-trades, master-of-none. His ability to be a dynamic player in all three zones makes him an interesting name heading into the 2020 NHL Entry Draft as well.
A playmaking, two-way center, Lapierre may not have the explosiveness of some of his draft-class peers, but it's hard to not admire just about everything Lapierre does to make up for it. Whether it's his positioning on the ice, his high-end vision, his creative playmaking and the compete level he displays with each and every shift, he plays hockey "the right way."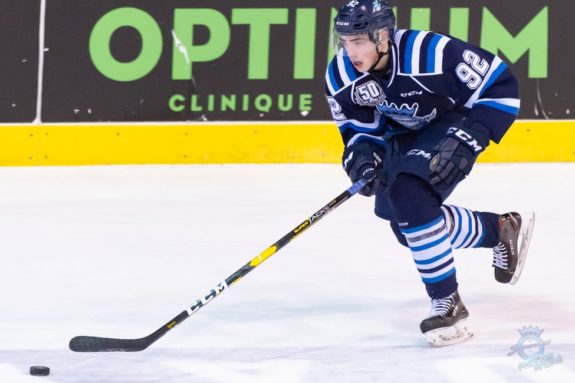 Injuries have been a bit of a concern for Lapierre and it limited him to just 19 games in the 2019-20 season. As a result, he'd only score two goals and 17 points which may be concerning for some scouts who otherwise view Lapierre as a top-15 pick in the 2020 NHL Entry Draft.
Still, a player who has been prone to injury doesn't necessarily make him a player who is injury-prone. Concussions are nothing to mess around with but there have been examples of NHL players dealing with them in the past and going on to have successful careers. Lapierre's floor and ceiling are both high enough to make him an almost certainty to go in the first round. All the same, the injury history will be a concern.
Related: 2020 NHL Draft Guide
The most noticeable thing about Lapierre's game when he's healthy is the fact that he's always involved in the play. For scouting purposes, he makes it nearly impossible to miss him whenever he's on the ice because of this trait. Though he may not have that "wow" factor that makes him the most noticeable player on the ice, it's hard to miss how effective he is in all areas.
Learning to shoot the puck more could also go a long way in his development.
Full player profile can be found here
How This Affects the Capitals Plans
If fully healthy, Lapierre will be a force for the Capitals in the future if he can translate his game to the next level. There will always be inherent risk involved in the draft process when players are taken at 18 years old, but Lapierre feels like one of the safer picks from a talent-standpoint, even if he's the riskiest pick early for the aforementioned health issues.
For a player like Lapierre, the goal is to eventually put those lingering concerns to rest and show the world that he can compete at a high level.