With the 19th Pick in the 2020 NHL Entry Draft, the New York Rangers Have Selected Braden Schneider From the Brandon Wheat Kings of the Western Hockey League
About Braden Schneider
At the start of the season, it seemed as though Braden Schneider would be a late first-round or early second-round pick. Throughout the season, though, he proved that he had the talent to go in the middle of the first round.
A 6-foot-2, 209-pound, right-shot defender, Schneider will almost certainly return back to junior this season to develop a bit more of his overall game. Although he will take a few years to get to the NHL, Schneider does have a great chance to become an impact player in the future.
THW Prospect Profile Excerpt
"The 18-year-old began drawing eyes of scouts during his sophomore campaign with the Brandon Wheat Kings of the Western Hockey League (WHL). He followed up his promising 22-point rookie season with eight goals and 24 total points in 58 games during his second year with the Wheat Kings. Where he really began to shine was his play without the puck. His stick play, gap control, and defensive poise made him a top-pairing lock on Brandon's blue line.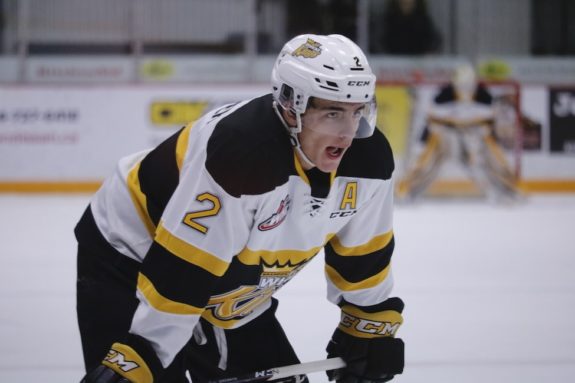 While his offense is certainly impressive, the real draw to Schneider comes in his defense and patience. He's become a consistent force on the back end, showcasing his exceptional gap control and corner play at any level. It's rare to see him lose many board battles, especially when he's throwing around a 209-pound frame. His first pass on transitions is often where he shines most when it comes to offense, but he can struggle with stretch passes. He's also extremely patient with the puck, even when handling it in a dangerous area or under pressure. His size and stick play make up for his shortcomings in the speed department.
All things considered, Schneider provides everything one would want from a stay-at-home defenseman, but has the potential to click on offense and the man advantage. As an all-situation, minute-eating defenseman, he should find himself on an NHL team on the first day of the entry draft."
Full player profile can be found here
How This Affects the Rangers' Plans
The New York Rangers already made a huge splash by adding forward Alexis Lafreniere with the first-overall pick and made another solid addition to their organization by selecting Schneider.
Related: THW Draft Guide
With Schneider, the team gets a player who can come in and be a solid, reliable player on the blue line. While his offensive game is still growing, he is great in the defensive zone. With guys like K'Andre Miller, Nils Lundkvist and Adam Fox on the blue line, he adds to an already very solid pool of players and will certainly be a well-known name in the Big Apple in a few years' time.
---
---
My name is Mathieu Sheridan. I am a writer here at THW who covers the OHL and prospects in general.