Every NHL team's prospect pool is constantly changing. Players graduate to the big league, some might get traded, and the NHL Draft provides fresh faces every year. The future of a franchise in this league is extremely dependant on having both high-end talent and a deep farm system. Some teams are lucky enough to have both, others don't really have either for various reasons.
On most teams, they have a clear-cut, number one prospect in the organization. Others have two or more that could easily take the title, but for the most part, there's an obvious choice. In this list, we'll take a look at just who those to prospects are.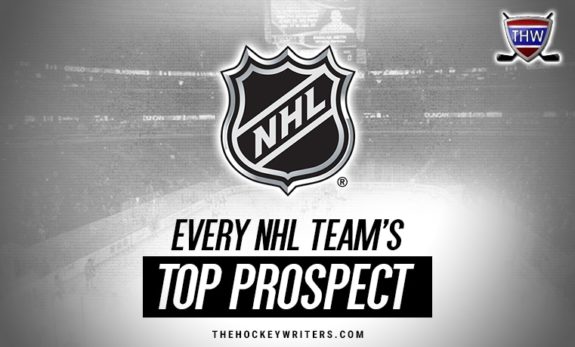 As I do with all of my prospect posts, I will be following The Athletic's prospect definition from Corey Pronman:
"A skater no longer qualifies as an NHL prospect if he has played 25 games in the NHL in any campaign, regular season and playoffs combined, or 50 games total; or reaches age 27 by Sept. 15.
Related: THW's Wall-to-Wall Prospect & Draft Coverage
"A goalie no longer qualifies as an NHL prospect if he has played 10 games in the NHL in any campaign, regular season and playoffs combined, or 25 games total; or reaches age 27 by Sept. 15." (From: "Pronman: 2019-20 NHL Farm System Rankings").
This list will be updated regularly, so be sure to check back often and see who takes the crown as the current top prospect on your favourite team. (Alphabetical by team, not ranked).
As always, feel free to reach out with questions, comments or thoughts. This can either be done in the comment section at the bottom or send me a message on Twitter: @MatthewZatorSC.
Note: If there's no "Previously," that player remains the team's top prospect.
Anaheim Ducks: Trevor Zegras
Trevor Zegras looks to be an elite, impact player in the league. A great, creative playmaker that should be the club's next number-one centre. He adds a surprisingly quick shot and good speed to his list of attributes. As he continues to grow and improve, he could become one of the best centres in the game. He should see some NHL action this season and I wouldn't be surprised to see him stick. The insane gold medal performance we saw at the 2021 WJC, where he posted 18 points in seven games, further solidified that fact.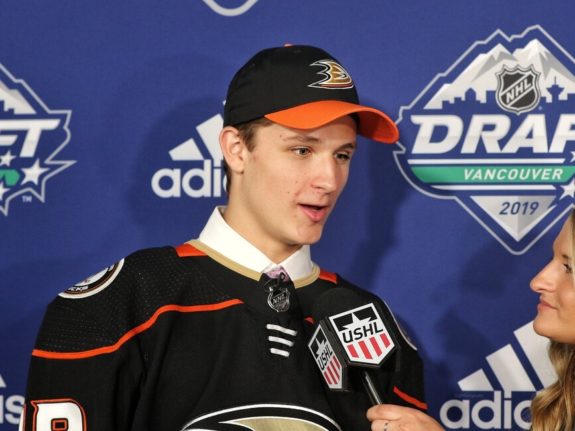 Arizona Coyotes: Barrett Hayton
We're kicking off some high-end centres early on. Arizona Coyotes centreman Barrett Hayton is another elite prospect, especially after his 1.67 points per game performance in the OHL during 2018-19. He has the speed and playmaking ability that could see him become a top-line centreman. The fifth-overall draft pick in 2018 could very easily be graduated from this list very soon. Also, it's worth noting that Victor Soderstrom is nipping at his heels for this spot.
Boston Bruins: Jack Studnicka
Jack Studnicka is a solid, two-way centreman that is coming off a dominant 2019-20 campaign that saw him lead the AHL's Providence Bruins in all offensive categories. He a very intelligent player, making good decisions both with and without the puck. Get used to seeing him in Boston, as he's all but locked down a spot on their top-line to begin the 2020-21 season. We will all see what he can accomplish in the NHL as soon as Jan 14.
Buffalo Sabres: Dylan Cozens
Buffalo Sabres' prospect Dylan Cozens is one of the best prospects in the entire league. Taken seventh overall in the 2019 NHL Draft, he is an all-around stud, capable of playing in any situation and excelling. He's an elite talent with high-end skating and creativity with the puck. Even though it did not lead to a gold medal, he excelled at the 2021 WJC where he paced Team Canada with 8 goals and 16 points. He was dangerous almost every shift and should be a welcome addition to the Sabres' lineup this season.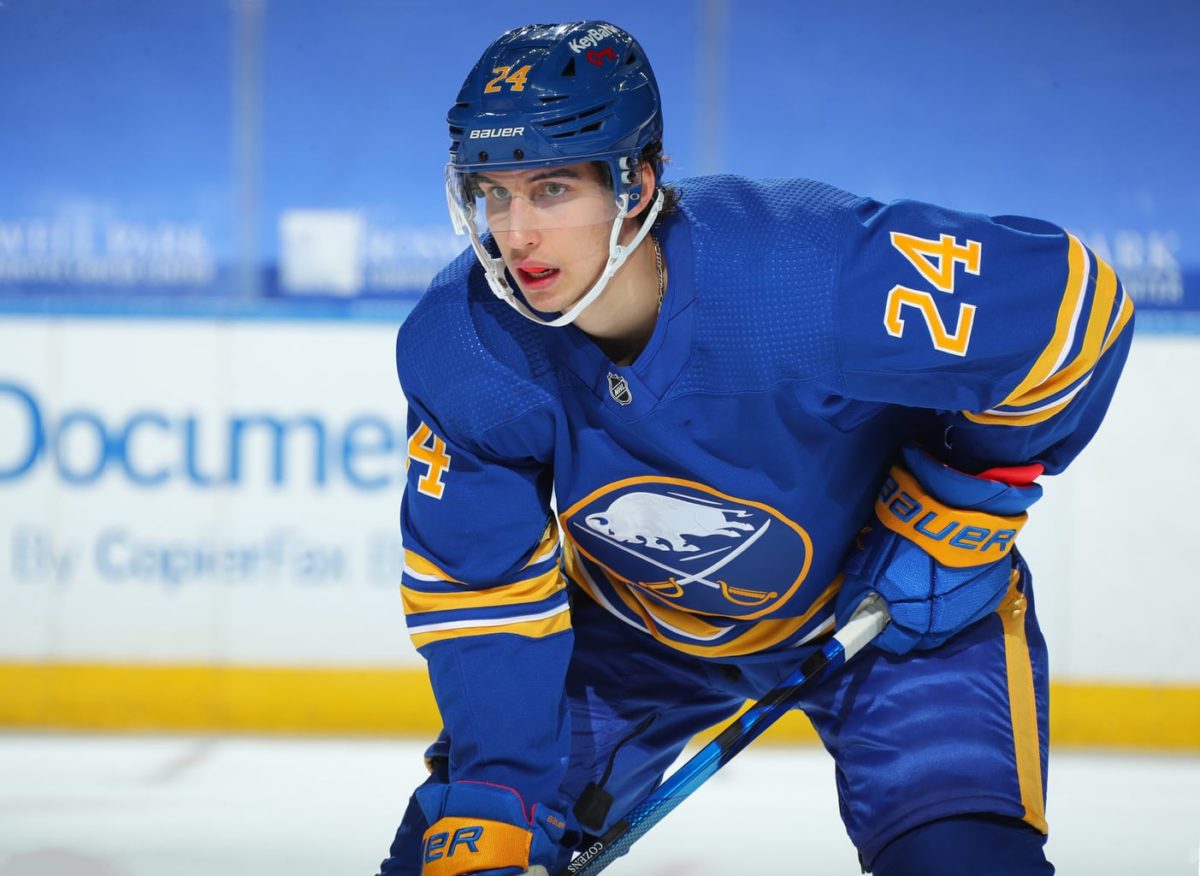 Calgary Flames: Jakob Pelletier
Jakob Pelletier didn't look like an elite prospect right off the bat, but he has continued to look better and better. The Calgary Flames don't have a great prospect pool right now, as many of their young players have graduated in recent years. Pelletier was the 26th selection in the 2019 NHL Draft who's not afraid to battle on the ice. He's a small (5-foot-9) power forward with a good shot, who's likely a couple of years away from the NHL still. Connor Zary, who just missed my top-100 list, is coming up fast too.
Carolina Hurricanes: Seth Jarvis
Previously: Jake Bean (Surpassed)
Seth Jarvis is a speedy, creative forward built for the new NHL. He plays the game with the physicality and size of a 6-foot-4 forward while being only 5-foot-10. He isn't afraid of the crease, as you will see him venture into the dirty areas multiple times during a game. In essence, he's a power forward in a finesse player's body.
Chicago Blackhawks: Lukas Reichel
Previously: Alex Vlasic (Surpassed)
Team Germany really missed the talent and tenacity of Lukas Reichel in the 2021 World Juniors. Beyond the top line of Tim Stutezel, Florian Elias, and Peterka, they really didn't have any other significant offensive threat. He is an annoying package of skill and an unrelenting work ethic, which makes him very hard to play against night in and night out.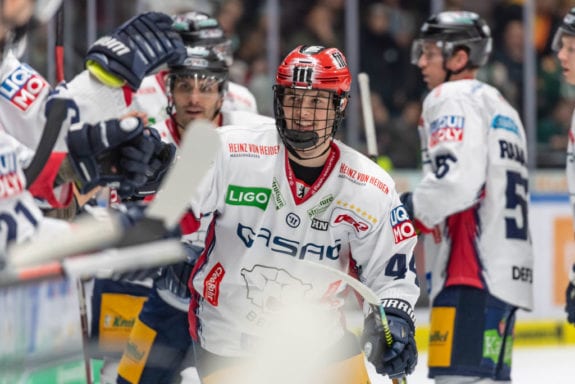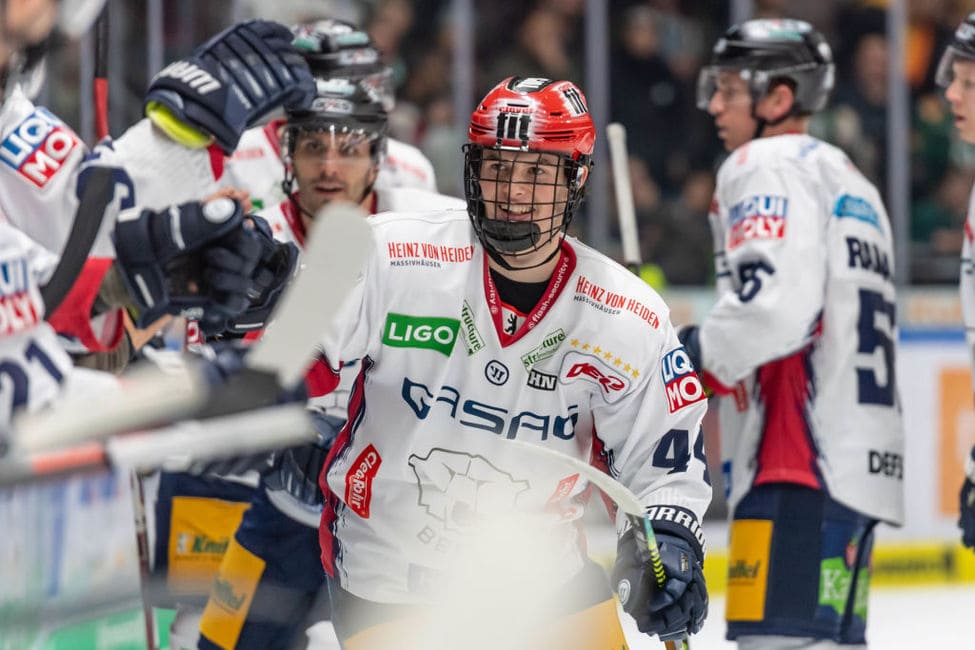 Colorado Avalanche: Bowen Byram
Bowen Byram is a great skater with an ability to surprise opposing players with his speed. His vision allows him to make big passing plays, and he isn't afraid to play physically. He handles the puck very well and has a quick, hard shot that can fool goaltenders. His will very soon be quarterbacking the Avalanche's power play and leading the breakouts from his own end.
Columbus Blue Jackets: Liam Foudy
Foudy's bread and butter is his skating, which is a thing of beauty. He has an enormous amount of skill and is incredible with the puck. Once he fine-tunes his play in his own end, he will be a top-six player for the Blue Jackets. I think Foudy is one of the most underrated prospects in the entire league and he proved that with a stellar performance in the 2020 NHL Playoffs.
Dallas Stars: Thomas Harley
The Dallas Stars top prospect is defender Thomas Harley. Taken 18th overall in 2019, he looks like he could be a top-four defenseman in the NHL. He plays big minutes and sets up plays very well. The best part of his game though is his elite skating. There's a lot of upside to his game, and I think he may get a taste of the NHL this season.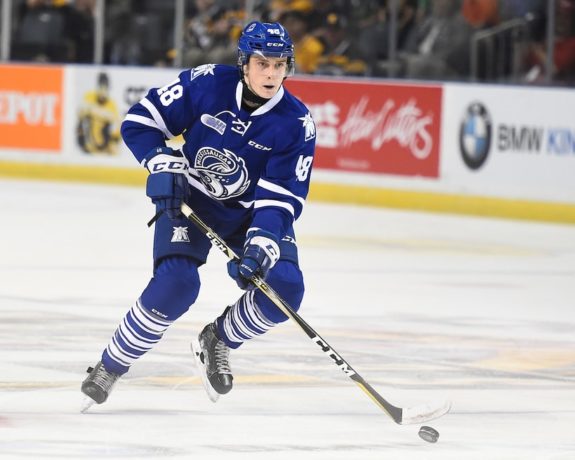 Detroit Red Wings: Lucas Raymond
Previously: Moritz Seider (Surpassed)
The Detroit Red Wings should go and call themselves Little Sweden, as they have an enviable amount of promising Swedish prospects in their pipeline. Lucas Raymond leads them all with the most potential and is one of the most NHL-ready forwards of his draft class. Like most Swedes, he has exceptional hockey sense, strong forechecking abilities, and most of all, a pro-level work ethic. He has very few weaknesses to his game and could be a perennial Selke Award winner down the road like Pavel Datsyuk was before him.
Edmonton Oilers: Philip Broberg
Philip Broberg seemed to be a polarizing prospect ahead of the 2019 NHL Draft. Some scouts had him high, some very low. The Oilers decided high was the right option, taking him eighth overall. He's an elite skater who can blow by entire teams when his wheels get going. He's solid offensively as well, as a set-up man from the point. He needs to fine-tune his game, but there's lots to like about Broberg. Evan Bouchard is a very, very close second to Broberg.
Florida Panthers: Spencer Knight
With the 13th overall selection in 2019, the Florida Panthers selected goalie Spencer Knight. He's incredibly calm and collected in the net, has great positioning, and remarkable reflexes. He won't be in the NHL anytime soon, as goaltenders take longer than players and the team has Sergei Bobrovsky locked up, but Knight is one of – if not the – the top goaltending prospects in the league.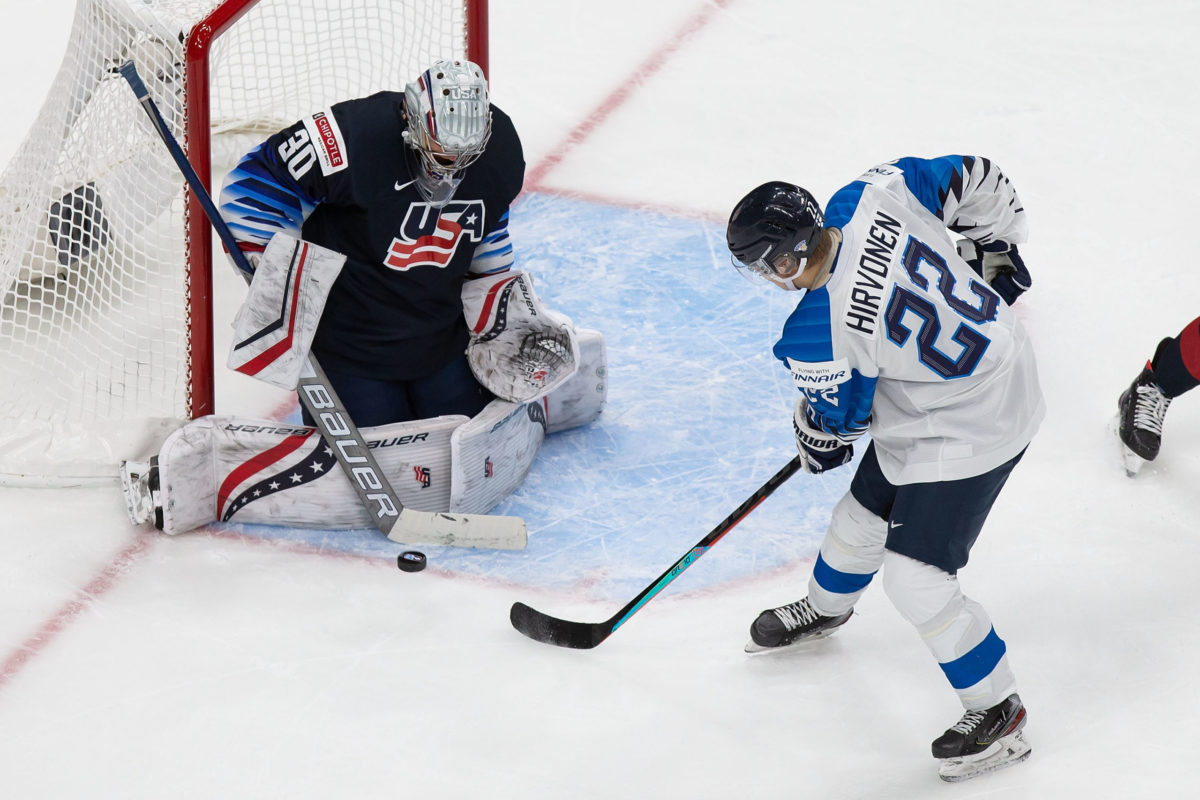 Los Angeles Kings: Quinton Byfield
Previously: Alex Turcotte (Surpassed)
Quinton Byfield did not have the strongest of tournaments for the Canadians, save for a six-point outburst against a weak opponent in the Swiss. He went pointless in key matchups and did not dominate as a second-overall pick should. That being said, he still possesses an NHL ceiling that is in the upper stratosphere. His rare combination of size, speed, and skill will be a welcome addition to a team in Los Angeles that is building a prospect pool that is quickly bordering on ridiculous.
Minnesota Wild: Kirill Kaprizov
A strong skater who is difficult to knock off of the puck, Kirill Kaprizov is blessed with soft hands and a lethal shot. The Russian already excels at the professional level and will surely improve as he gains greater experience. He's an elite offensive threat that should be able to transition straight into the Wild's top-six. In fact, he already has his first three points (including his first goal) after only one NHL game. He's going to be a star very soon if he's not already.
Montreal Canadiens: Cole Caufield
Many had Cole Caufield as a top-10 pick in the 2019 NHL Draft, yet he slid to 15 and the Montreal Canadiens – the first steal of the draft. He's an elite skater and a pure goal-scorer. He has a full arsenal of shots, all of which can result in the puck in the back of the net. The Canadiens have a future superstar in their system, even if he spends a couple of seasons developing before he gets to the NHL. While Caufield is the obvious choice right now, Alexander Romanov deserves mention, as he is garnering a lot of praise after his first game where he played 21:30 and had his first point in the NHL.
Nashville Predators: Yaroslav Askarov
Previously: Philip Tomasino (Surpassed)
The Nashville Predators got a gem when they drafted Yaroslav Askarov at 11th overall in the 2020 draft. It's not every day that a goaltender is drafted in the first round, let alone in the top 20. Despite turning in a pedestrian performance in the 2021 World Juniors, he remains one of the most promising goaltending prospects in the NHL. After seeing Pekka Rinne dominate the crease for 14 seasons, Preds' fans won't have to wait long for another franchise goaltender to take over his mantle, as he possesses almost the same pedigree.
New Jersey Devils: Alexander Holtz
Previously: Ty Smith (Surpassed)
A pure goal scorer if you've ever seen one. That is basically how you would describe Alexander Holtz. He can score in multiple ways with a precise wrist shot, cannon of a one-timer, or simply a quick deke. His hands are soft, and his hockey IQ is sublime. Look for him to become fast friends with the goal light and a horror movie for opposing goaltenders very soon.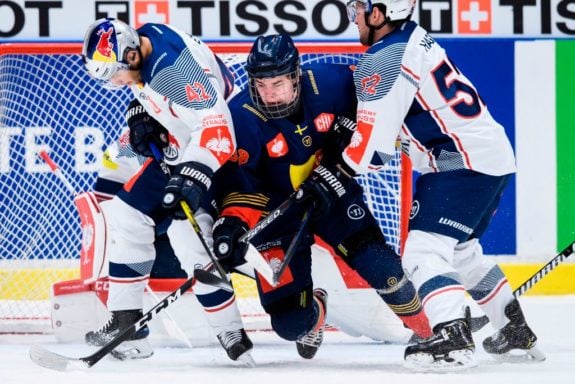 New York Islanders: Oliver Wahlstrom
The New York Islanders have an offensive weapon waiting to be unleashed in Oliver Wahlstrom. The forward is extremely skilled and has one of the best shots not in the NHL. He's also a good setup man but has a shoot-first mentality. Wahlstrom needs to work on his skating, his consistency, and there are times where he doesn't seem to compete as hard as he could, but he's still a very good prospect.
New York Rangers: Alexis Lafreniere
Previously: K'Andre Miller (Surpassed)
Alexis Lafreniere was the first-overall pick in the 2020 NHL Draft for a reason. He boasts a rare package of speed, size, playmaking, hockey IQ, and most of all, scoring ability. He can basically do it all. After signing his entry-level contract with the New York Rangers, he is ready to take the NHL by storm in 2020-21.
Ottawa Senators: Tim Stutezel
Previously: Drake Batherson (Surpassed)
Arguably the biggest European prize out of the 2020 draft, Tim Stuetzle has all the tools to become an elite top-line winger in the NHL. As we saw in the 2021 World Junior Championship, he can take over a game at a moment's notice and carry a team on his shoulders as well. He can burn you in multiple ways whether it be with his speed, hands, or even a slick power move to the net. Basically, you need to keep your head on swivel when he's on the ice. Watch out Leon Draisaitl, another German superstar is coming for your throne very soon.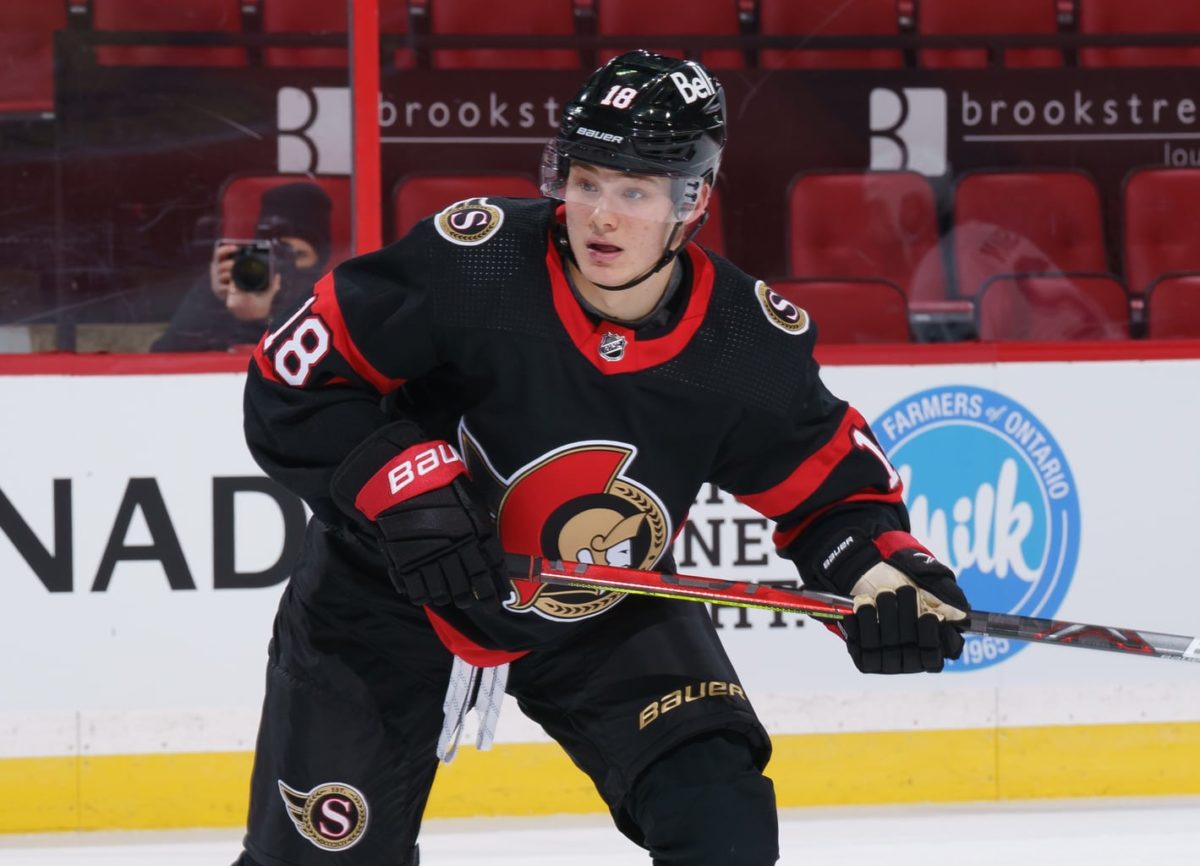 Philadelphia Flyers: Morgan Frost
Morgan Frost is an exciting player to watch. In his last two seasons with the OHL's Sault Ste. Marie Greyhounds, he put up 221 points in just 125 games. He looks like a sure-fire top-line centreman with superstar potential. His creativity is through the roof – you don't want to face him one on one. He needs to improve his skating, and if he does, the NHL should watch out. He shouldn't be on this list much longer. In fact, he's only five games away from graduating.
Pittsburgh Penguins: Samuel Poulin
The one first-round pick that the Pittsburgh Penguins have had since 2014, Samuel Poulin is the system's top prospect by a wide margin. Poulin might not be too far away from the NHL. He was invited to the Penguins Return to Play training camp in July 2020, and he's had back-to-back impressive seasons in the QMJHL The power forward holds a lot of promise.
San Jose Sharks: Ryan Merkley
Despite the turmoil surrounding San Jose Sharks' prospect Ryan Merkley, he remains the club's top prospect. The 2018 first-round pick is lethal in the offensive zone, is a high-end playmaker, and has a great shot. He needs to work on his play in his own end and his attitude, but there's no question that there's a solid player in Merkley.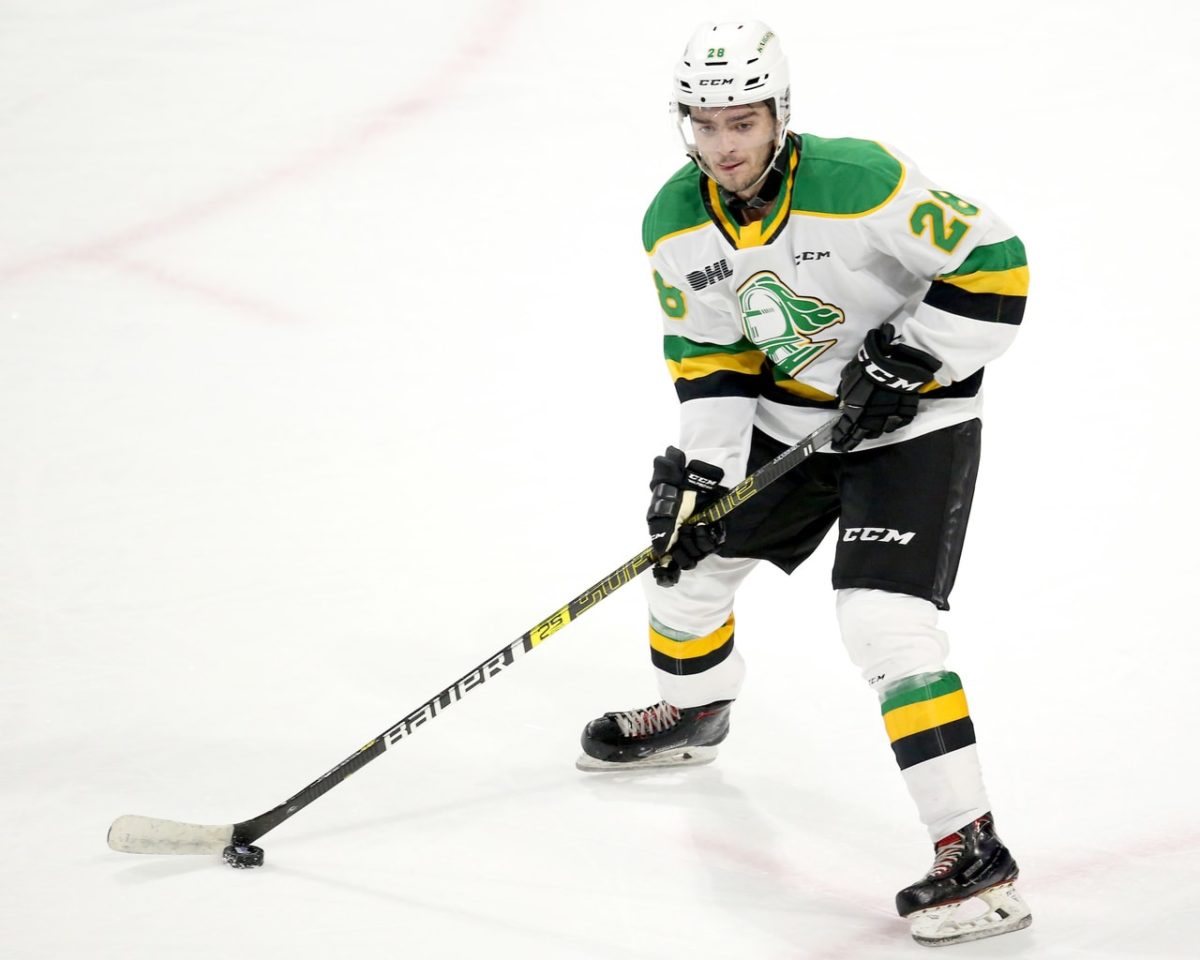 St. Louis Blues: Scott Perunovich
Scott Perunovich made anyone who wasn't paying attention notice this season, winning the Hobey Baker Award as the top player in the NCAA. He's an excellent skater that can drive the rush and make a stellar play in transition. The top prospect for the St. Louis Blues could very much be headed to the NHL in 2020-21, as it's only a matter of time before he makes his debut after being assigned to the AHL after training camp (from 'Scott Perunovich's training camp diary: Scrimmages, cribbage and finding a role', AthleticNHL, 1/14/21).
Tampa Bay Lightning: Cal Foote
Cal Foote is a tremendous two-way defender whose game flourishes at both ends of the ice. Reliable in the defensive end due to his immense size and ability to physically dominate his opponents, he's also a threat in the offensive zone, where his incredible hockey sense and underrated shot make him a focal point. Foote is immensely versatile, as he can play in seemingly any situation – whether it be the power play or penalty kill – and find great success in doing so.
Toronto Maple Leafs: Nick Robertson
Nicholas Robertson has impressed early on, but there's still work to be done for the young forward. He can put up the points, he's creative and has great offensive instincts. His skating has been a knock against him, and he needs to improve in his own end, but there is a lot to like for this player who was just four days away from being eligible for the 2020 NHL Draft instead of 2019. I think he's going to be a steal – if he's not already.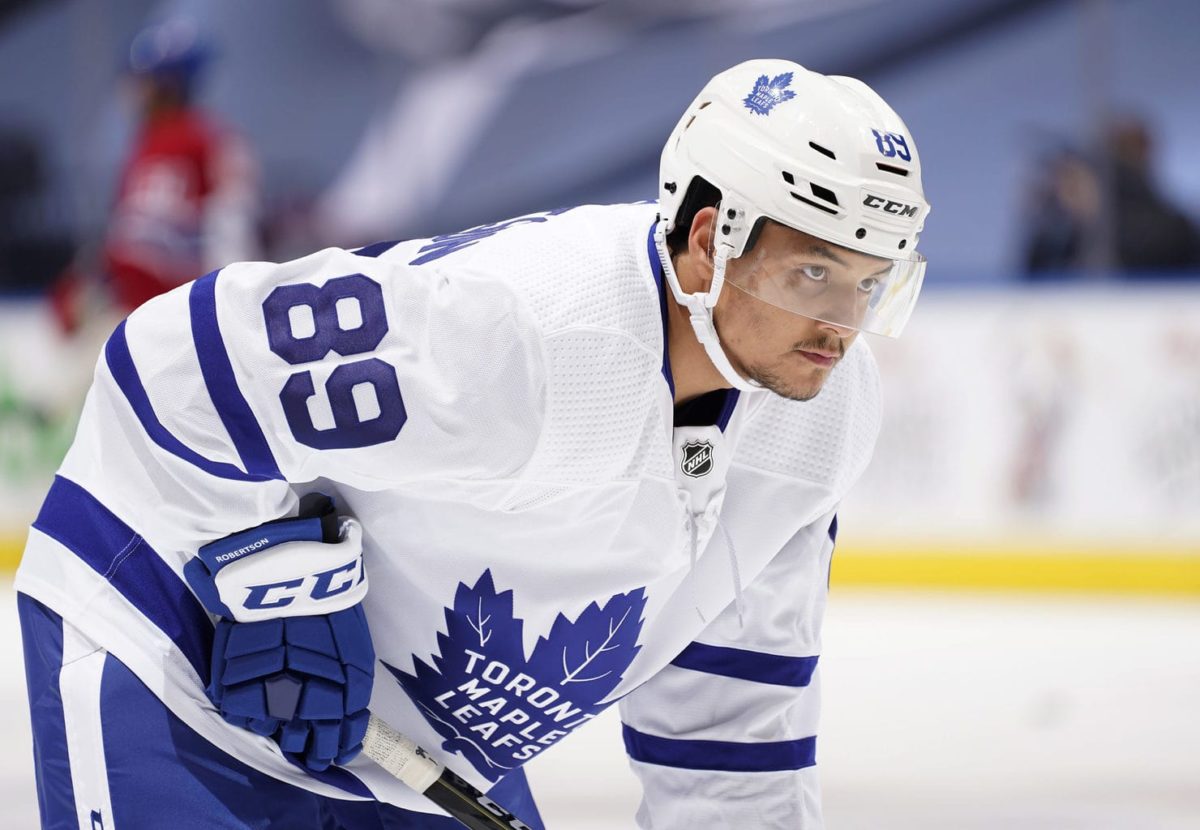 Vancouver Canucks: Vasily Podkolzin
Vasili Podkolzin's final season in the KHL has been less than ideal for him and the Canucks. He has seen a reduced role on the fourth line, multiple trips to the VHL (the KHL's version of the AHL), and even visits to the press box. He got a reprieve at the 2021 WJC, where he showcased his speed, power, and leadership qualities on the top line, but now he's back in the KHL enduring the same treatment. April can't come soon enough, as he's more than ready for a top-six spot in the NHL.
Vegas Golden Knights: Peyton Krebs
Peyton Krebs is another player on this list that I think could very easily shoot up and prove this ranking wrong. He's a well-rounded prospect that brings an offensive flair to his game and is known as a leader. He's a great playmaker and skater. A big selling point in Krebs' game is his defensive skill. There aren't many players that age that are as sound in his own zone as he is. A potential first-line centreman.
Washington Capitals: Connor McMichael
His play all-around is incredible. He's an offensive weapon, with excellent vision, and a shot to be envious of. He seems to have gained confidence since being drafted, creating a dangerous player for all of his opponents. His 25th-overall pick is going to look extremely good very soon. If it doesn't already (it does).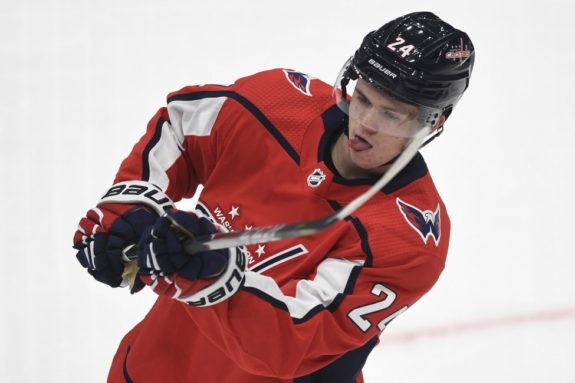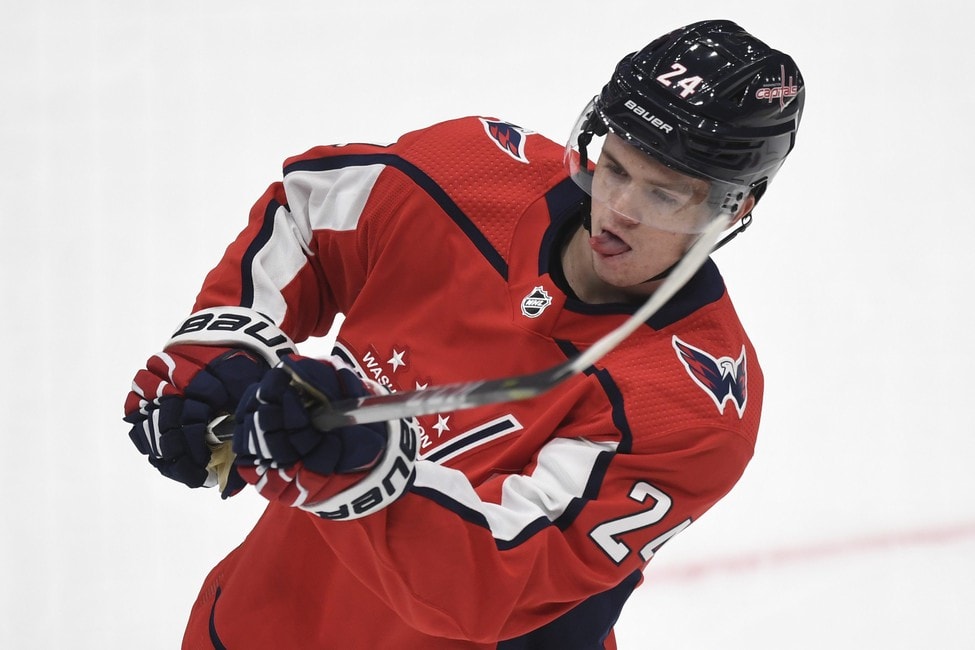 Winnipeg Jets: Cole Perfetti
Previously: Ville Heinola (Surpassed)
Cole Perfetti may not have the size or speed to dominate the NHL, but he definitely has the smarts. Sometimes that's all you need to become an elite player in this league. Just look at Nikita Kucherov, who he was compared to by Saginaw Spirits' head coach Chris Lazary. Kucherov is a top-ten forward and is only an average skater with a 5-foot-11 frame. He also absolutely lit up the league a couple of seasons ago with 128 points in 82 games. In the end, hockey IQ can trump everything else, as long as it's at an otherworldly level.
---
Any prospect decisions that you disagree with? Make sure to leave your comments below!
---
---
My name is Matthew and I cover the Vancouver Canucks, and Vancouver Giants here at the Hockey Writers. I am also the head of the prospects and NHL Draft coverage. I am passionate about the Canucks, prospects, and all things hockey.