For every NHL team, prospects are always coming and going. As they finish off their junior, college careers or make the jump over from their European leagues, they are poised to make the transition and continue to make their mark in the NHL. These players become even more magnified if they are going to be a real crucial piece for their respective franchises for years to come.
For the upcoming 2021-22 season, some have continued to keep the title as their team's top prospect. Others have dethroned a player before them and are now at the top.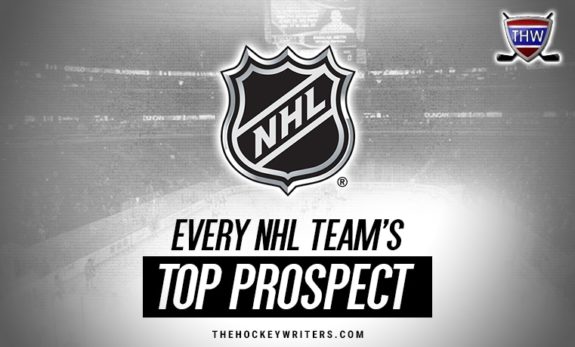 As with the Top 100 prospects and farm system rankings, I will use Corey Pronman's definition of a prospect in this article.
A prospect is defined as: "A skater no longer qualifies as an NHL prospect if he has played 25 games in the NHL in any campaign, regular season and playoffs combined, or 50 games total; or reaches age 27 by Sept. 15. A goalie no longer qualifies as an NHL prospect if he has played 10 games in the NHL in any campaign, regular season and playoffs combined, or 25 games total; or reaches age 27 by Sept. 15." (From: "Pronman: 2019-20 NHL Farm System Rankings").
Related: THW's Wall-to-Wall Prospect & Draft Coverage
This list will be updated regularly, so be sure to check back to see who will be your team's next top prospect. This list will be done alphabetically by team and not by rank.
Without further ado, let's get into every team's top prospect.
Note: If there's no "Previously," that player remains the team's top prospect.
Anaheim Ducks: Trevor Zegras
After dominating the 2021 World Junior Championships to help lead Team USA to a gold medal, Trevor Zegras didn't disappoint at the pro level. Zegras displays a high-end vision and the ability to make plays at an extremely quick pace. He's got a strong shot and the awareness to be a very reliable centreman in the league. Finishing the season with 21 points in 17 games with the San Diego Gulls of the American Hockey League, he caught the eye of the Ducks and earned a call up during the 2020-21 season. He recorded 13 points in 24 games as he was just as impressive, continuing to display his offensive upside. He was projected to be the team's future number one centre. It's safe to say, he's at that point now.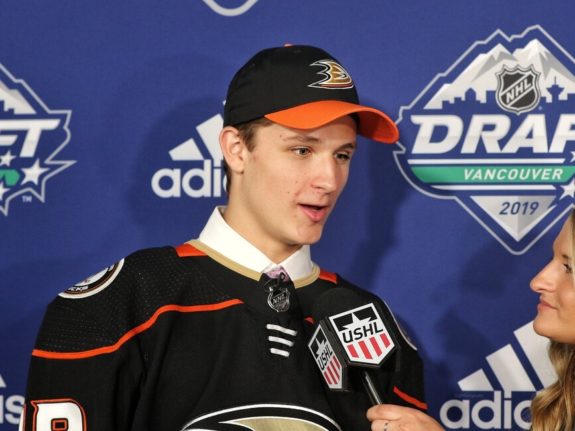 Arizona Coyotes: Dylan Guenther
Previously: Barret Hayton (Surpassed)
The Coyotes managed to get a first round pick from the Vancouver Canucks in the Oliver Ekman-Larsson trade to select the highly skilled and high scoring winger, Dylan Guenther. During the shortened Western Hockey League season, Guenther finished with 24 points in 12 games, averaging two points per game. He possesses a strong and powerful shot and IQ to be a force in the offensive zone. He's always in the right spot to receive a pass and wire it on net. He's got great hands as he can be extremely dangerous in tight areas. The Coyotes needed some goal scoring in their system and Guenther brings just that. 
Boston Bruins: Fabian Lysell
Previously: Jack Studnicka (Surpassed)
Fabian Lysell is a shifty winger that plays with a high level of pace as he's always in motion. He has soft hands and a quick, smooth skating stride that makes him a dangerous player in the offensive zone. He could be a real game-changing player, though there were talks of "character issues" surrounding him during the draft. It was reported he was unhappy with his ice time and requested a transfer as well as being viewed as "overconfident" and "arrogant". While nothing else is known publicly, general manager Don Sweeney did address this and there's nothing of concern.
Buffalo Sabres: Owen Power
Previously: Dylan Cozens (Surpassed)
It was a disastrous season for the Sabres, but selecting Owen Power first overall in the 2021 NHL draft is a step in the right direction to give the organization hope. Power has the size and strength that makes him tough to go up against. He has great mobility as he has a smooth skating stride and awareness to make him a top pairing defenseman. He can play in all situations and has the smarts to read and execute each play perfectly. After a standout season with the University of Michigan, he played extremely well at the World Hockey Championships, winning a gold medal for Canada. Heading back to Michigan is only going to help him improve on his strengths and potential.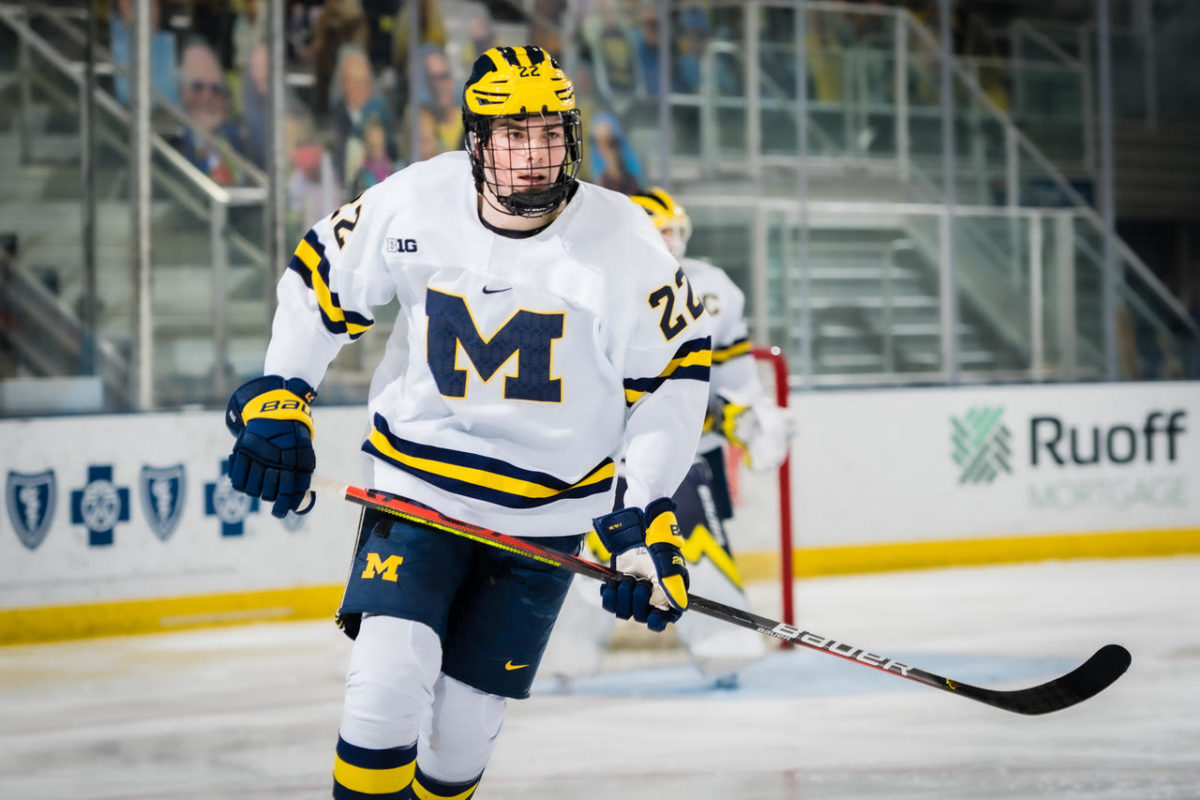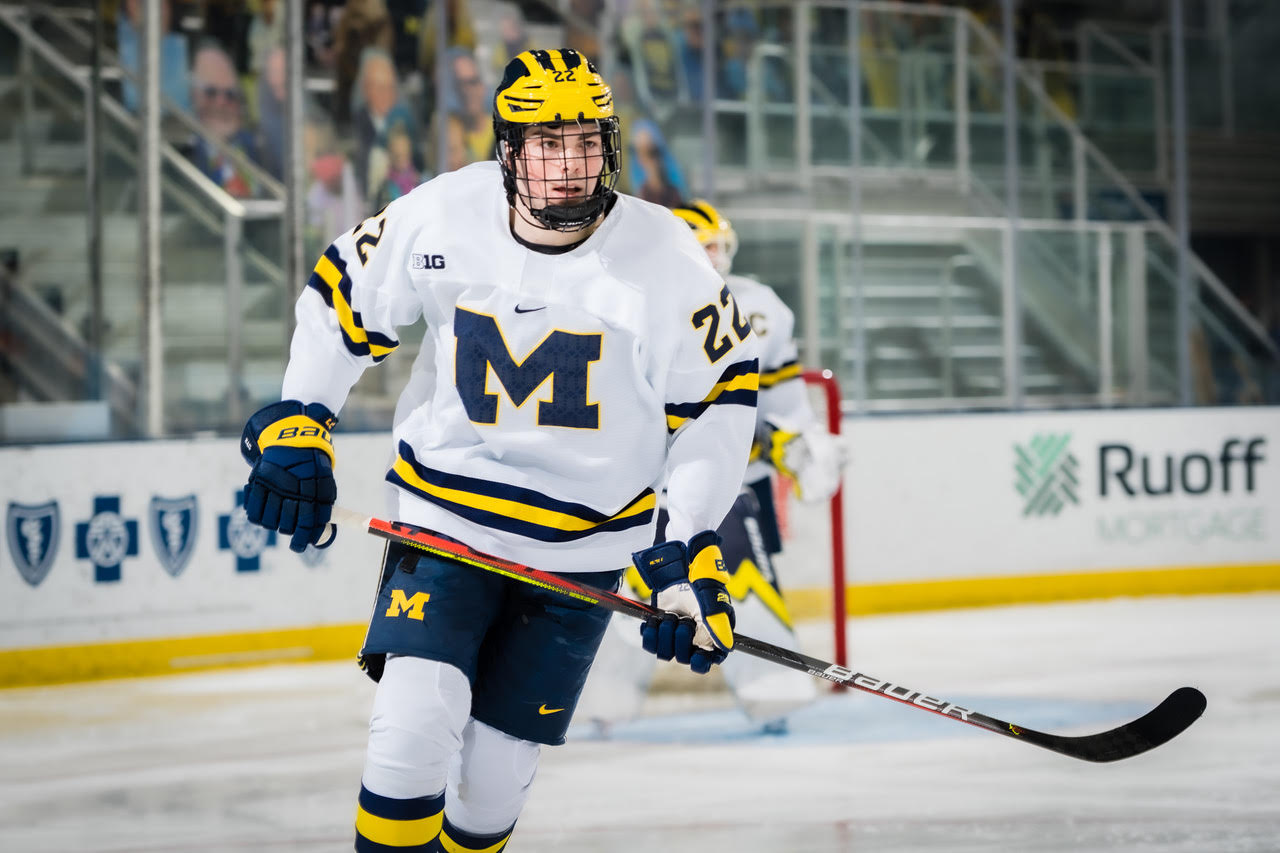 Calgary Flames: Connor Zary
Previously: Jakob Pelletier (Surpassed)
Connor Zary is a versatile offensive threat. He has no problem using his powerful shot for a prime scoring opportunity as his release is very deceiving and has great accuracy. While that's his main strength, Zary is also very capable of setting up his teammates making crisp clean passes. He's got great speed in transition is always dangerous off the rush. Having a promising centre like him in the fold is going to benefit the Flames down the line.
Carolina Hurricanes: Seth Jarvis
Seth Jarvis excels in every aspect of the game as he is the kind of player that matches what the Hurricanes are looking for. His hockey IQ and awareness is off the charts. He has a quick release with his shot and is a very sleek and creative passer. He has a high level of intensity and does a great job at protecting the puck and is always on the winning end of a puck battle.
Chicago Blackhawks: Lukas Reichel
Lukas Reichel is always displaying a high amount of energy with every shift he plays. He's always determined and does a great job on the forecheck to provide a great amount of pressure in the offensive zone. That drive is what's going to make him a successful player in the NHL.
Colorado Avalanche: Bowen Byram
A smooth, puck-moving defenseman, Bowen Byram is always utilizing his speed and his edgework weaving around opponents and cycling down low in the offensive zone. He's always in motion and is extremely difficult to contain, as he's always able to break from any sustained pressure. He handles the puck with ease and he's extremely dangerous with his shot. The Avalanche are already dangerous on the blue line with Cale Makar. They'll be even more dangerous when Byram cracks the roster.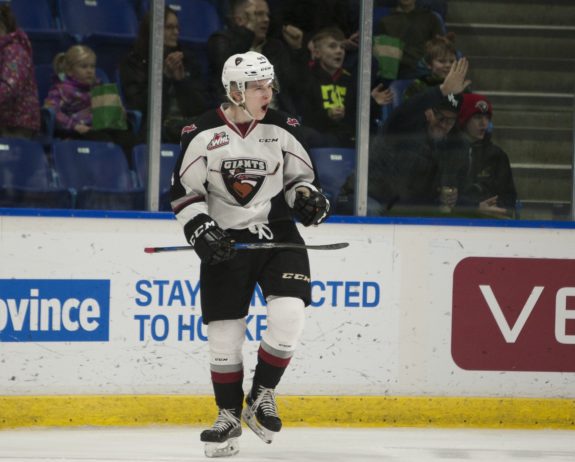 Columbus Blue Jackets: Kent Johnson
Previously: Liam Foudy (Surpassed)
Kent Johnson is a dangerous and offensive driven player. He's extremely creative and shifty when he has the puck on his stick, being able to make moves in an instant. He can make the most difficult moves look easy and always executes them perfectly. His speed always has defenders on edge as he can blow by them in a flash. 
Dallas Stars: Thomas Harley
The Dallas Stars already have two excellent defensemen with Miro Heiskanen and John Klingberg. Harley is excellent in transition with his skating and is able to make strong and accurate passes. His defensive game is still a work in progress, but he has the potential to be another key defenseman in the top-four for the Stars.
Detroit Red Wings: Lucas Raymond
Lucas Raymond possesses all the qualities that will make him a successful winger in the NHL. He excels in every aspect of the game, having excellent speed, hands, smarts, work ethic and energy that makes him a major offensive dynamo. He's an outstanding playmaker but isn't afraid to utilize his shot making him a dual threat in the offensive zone. There's a lot of hype surrounding Raymond and it's easy to see why. He's going to be a key player for the Red Wings for years to come.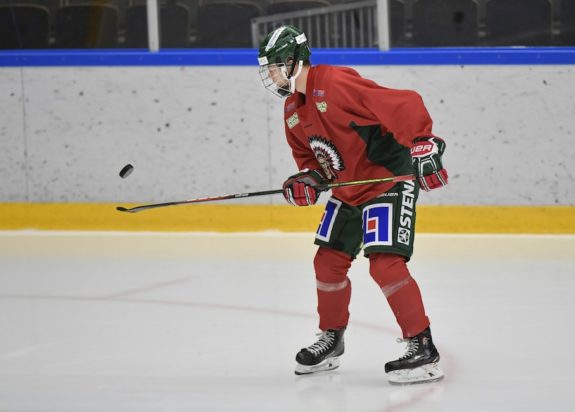 Edmonton Oilers: Philip Broberg
Even though Evan Bouchard is already getting a taste of the NHL, the Edmonton Oilers have another promising defenseman in their system with Philip Broberg. A two-way defenseman, Broberg is a very strong and smooth skater with excellent speed. He's a great passer and knows how to manage the puck effectively. There's still some things he needs to work on, but his potential is really high. Dylan Holloway could definitely take over in the future.
Florida Panthers: Spencer Knight
Representing the next wave of promising goaltending prospects, Spencer Knight has already shown what's to come in his NHL career. Drafted 13thoverall in 2019 by the Panthers, Knight went 4-0-0 with a .919 save percentage and a 2.32 goals against average in a small stint during the regular season. With Sergei Bobrovsky not living up to his seven-year, $70 million contract he signed in 2019, Knight appears to be poised to dethrone him and become the starter. 
Los Angeles Kings: Quinton Byfield
The Los Angeles Kings are stacked with talented prospects and Quinton Byfield is leading the way. The top ranked prospect on The Hockey Writers' Top-100, Byfield has the size and skillset to be a real number one centre in the league. He's an excellent skater, a smooth puck-handler and has a great release. He has no problem getting into the corners and easily push his opponents off in order to gain control of the puck. He's looking to push for a roster spot in 2021-22 and learning under Anze Kopitar is definitely an added bonus for the rookie.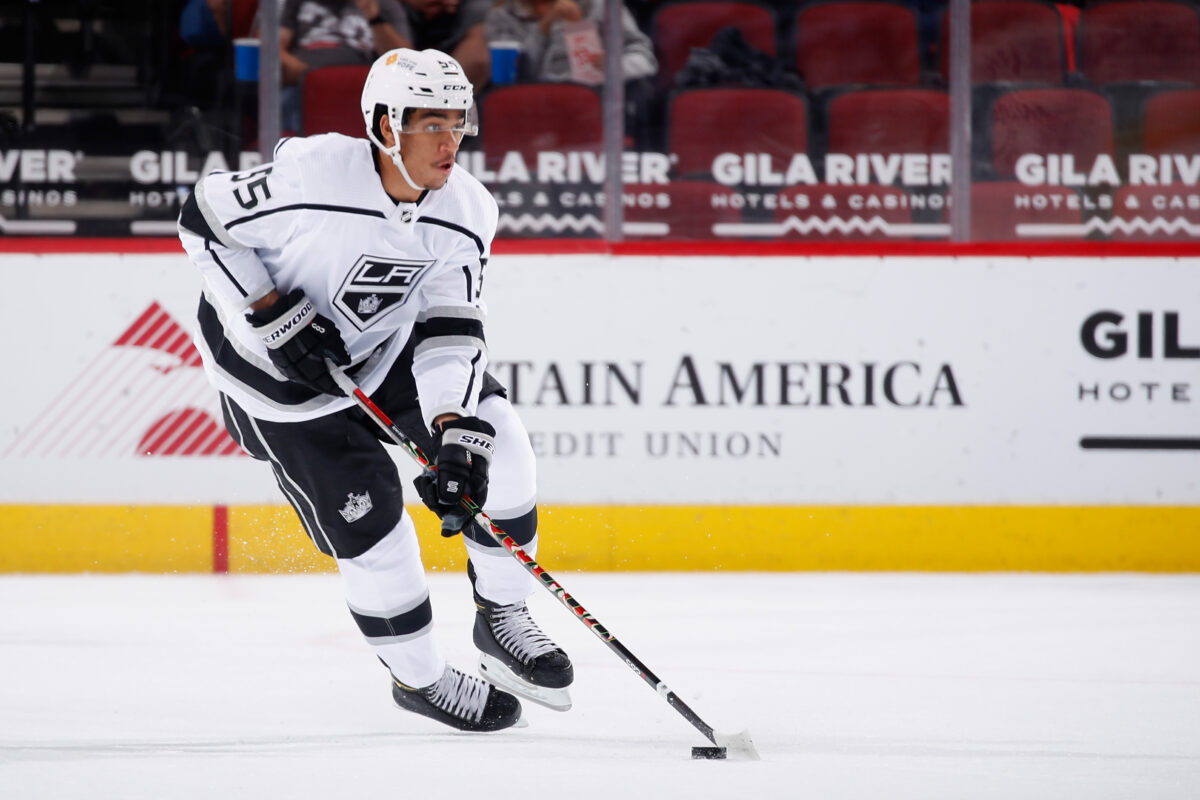 Minnesota Wild: Marco Rossi
Previously: Kirill Kaprizov (Surpassed)
It was scary 2020-21 season for Marco Rossi. He suffered from complications due to CVOID-19 and didn't play during the season. The good news is that Rossi was able to recover and resume his training, even taking part in Austria's Olympic qualifier. Rossi is an extremely energetic centreman who is always chasing down the puck but has shown to be responsible defensively. He plays a bigger game than what his 5-foot-9 size suggests, as he has great strength in his lower body that allows him to protect the puck effectively. He's definitely going to look great as Kirill Kaprizov's centreman. 
Montreal Canadiens: Cole Caufield
It took only 10 games for Cole Caufield to make his presence felt as a Canadien. That regular season success carried over into the postseason as the Habs made the Stanley Cup Final. As we've already seen, Caufield has a knack for scoring goals as he has a lightning quick release and excellent accuracy in his wrist shot. Aside from high-end offensive awareness, his speed and agility makes him even more dangerous entering and maneuvering his way around in the offensive zone. The fact that team's passed on him because of his size is still mind-boggling. The Canadiens have a talented goal scorer who will most likely be with the best in the league.
Nashville Predators: Yaroslav Askarov
Yaroslav Askarov is right behind Knight as part of the new wave of young goaltenders who could potentially take the league by storm. Askarov has great vision to track the puck and positioning. His reflexes are top notch as he's able to stretch out and make saves where he has no business making, where the most difficult ones look easy for him. He's dominated at every level he's played in and now the NHL is next on his checklist.
New Jersey Devils: Alexander Holtz
With Jack Hughes increasingly getting better and his younger brother Luke being drafted in 2021, Alexander Holtz holds onto the top spot. Holtz fits the description of what a sniper should be. The eighth overall pick in 2020, easily has one of the best shots in that draft class as he has great power in his release and the vision to always get to the open ice. Seeing him on the top line is going to be really fun with Jack Hughes.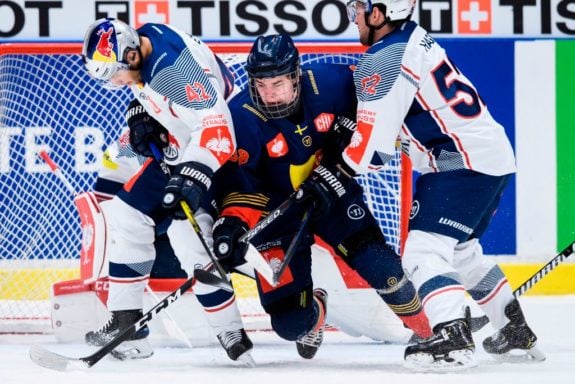 New York Islanders: Aatu Räty
Previously: Oliver Wahsltrom (Surpassed)
Aatu Räty was once regarded as the top pick in the 2021 draft. After an inconsistent season with his play and production, he was selected by the Islanders 52nd overall in the 2021 draft. If his recent play at the World Junior Summer Showcase is any indication, he could be a steal. He displayed his strength and skillset that many saw to have him as a first rounder, finishing with 14 points in six games. The Islanders are a little thin up the middle and he could be a great option in the future.
New York Rangers: Braden Schneider
Previously: Alexis Lafrenière (Surpassed)
While the New York Rangers already have Adam Fox and K'Andre Miller, Braden Schneider appears to be next in line to be a dominant force on the blueline. A very mobile two-way defender with a powerful shot and physical presence, Schneider is the kind of defenseman anyone would want on their team. While he's currently the top prospect, Vitali Kravtsov and Nils Lundkvist deserve a honourable mention.
Ottawa Senators: Jake Sanderson
Previously: Tim Stützle (Surpassed)
The Ottawa Senators pipeline is still strong despite some graduating to the NHL. Jake Sanderson remains the team's top defensive prospect. Another strong and mobile defender, Sanderson has great vision knowing when to attack and know when to prioritize defense to break plays up and prevent zone entries. It might be some time before he makes it to the NHL, but his potential is sky high for a team that's slowly becoming more competitive.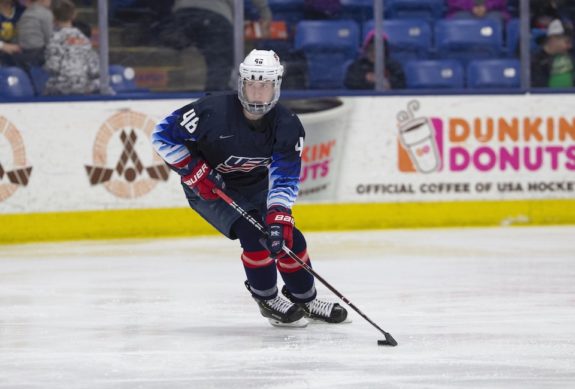 Philadelphia Flyers: Morgan Frost
A strong two-way centreman, Morgan Frost might be inching closer to earning a roster spot with the Philadelphia Flyers. With Nolan Patrick being traded, he could very well be the third line centre behind Sean Couturier and Kevin Hayes. He has great smarts as a strong playmaker and he's very composed when he's on the ice as he rarely panics.  
Pittsburgh Penguins: Samuel Poulin
The Pittsburgh Penguins prospect pool isn't as impressive as some of the other teams, but Samuel Poulin stands out at the top. Poulin excels both offensively and defensively and plays with a high level of intensity. He has great strength that allows him to win puck battles and very tough to go up against. 
San Jose Sharks: William Eklund
Previously: Ryan Merkley (Surpassed)
The San Jose Sharks lucked out selecting William Eklund seventh overall pick in the 2021 draft. Eklund probably has the highest ceiling as he has excellent IQ, vision and worth ethic on both sides of the puck. He never takes a shift off and is always one or two steps ahead of his opponent. He won the SHL's Rookie of the Year award finishing with 23 points in 40 games and made a strong impression at the Sharks' development camp. 
Seattle Kraken: Matthew Beniers
The first pick for the NHL's newest franchise is a great one as Matthew Beniers has the potential to be a top-line centre with strong two-way abilities. Much like Jonathan Toews, Beniers could very well be a versatile threat in all situations. He's a strong skater but his vision and smarts with the puck are outstanding. He's always dialed in and rarely makes a poor decision. Even though he's going back to a stacked Michigan team, it's going to benefit him in the long run and not rush a potential key piece.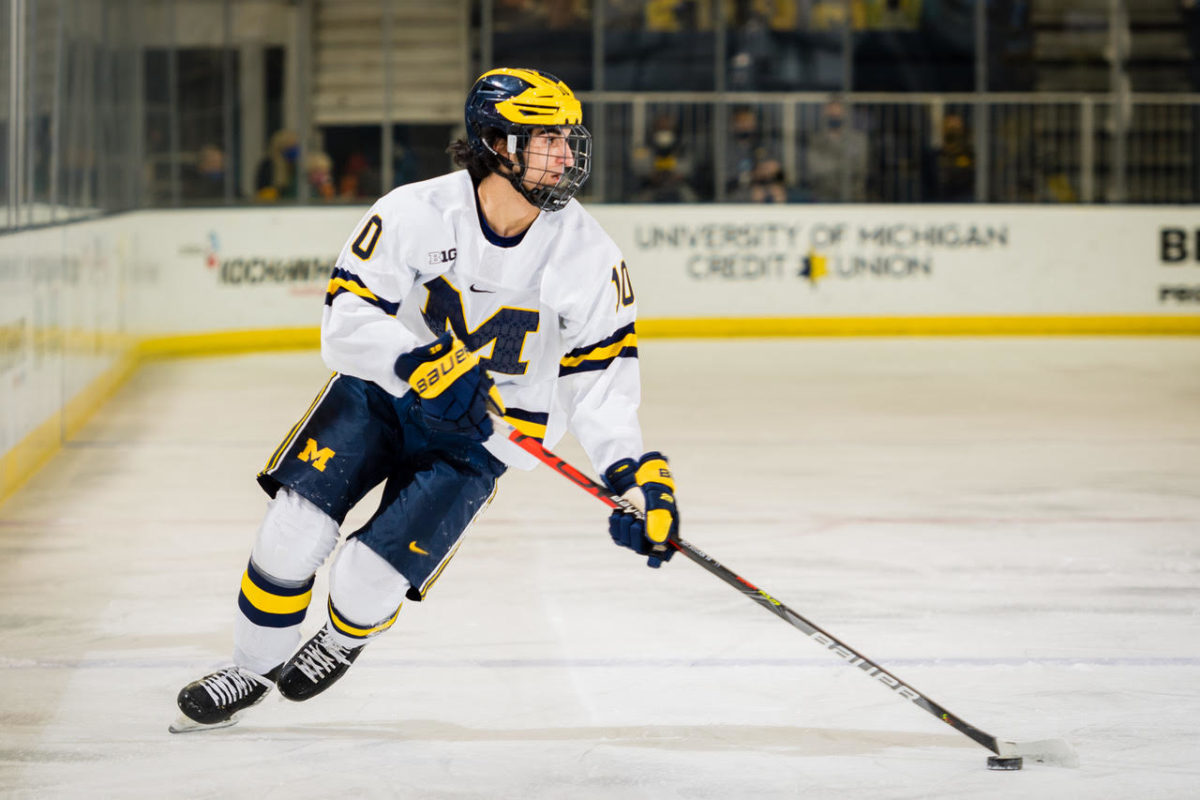 St. Louis Blues: Scott Perunovich
While Scott Perunovich could be replaced by Jake Nieghbours or even Zachary Bolduc, he remains the Blues' top prospect for the time being. The 2019-20 College Player of the Year and Hobey Baker winner put together his most productive season at the University of Minnesota- Duluth with 40 points in 34 games. Possessing strong playmaking abilities, he's probably inching closer to earning a roster spot. He'll be a great addition to a defense that is looking to find some stability and consistency. 
Tampa Bay Lightning: Hugo Alnefelt
Previously: Cal Foote (Surpassed)
Similar to the Penguins, the Tampa Bay Lightning's pool is bare considering most of their prospects were traded (Nolan Foote) or are up with the team currently. Hugo Alnefelt would probably be my choice to be next line. A very sound goalie in the crease, Alnefelt has all the tools to be a great goaltender. It's going to be tough to knock off Andrei Vasilevskiy as the starter, but he'll be a solid backup option.
Toronto Maple Leafs: Nick Robertson
Even though Rodion Amirov is getting a lot of attention, Nick Robertson still remains the Maple Leafs' top prospect for the time being. His 2020-21 season started off with an unfortunate injury against the Senators. When he healed, he had a strong showing with the Toronto Marlies in the AHL with 16 points in 21 games. Despite being 5-foot-9, Robertson is relentless on the forecheck, has a great speed and an excellent shot. While he could push for a roster spot this season, there's no harm in letting him develop a little more in the minors.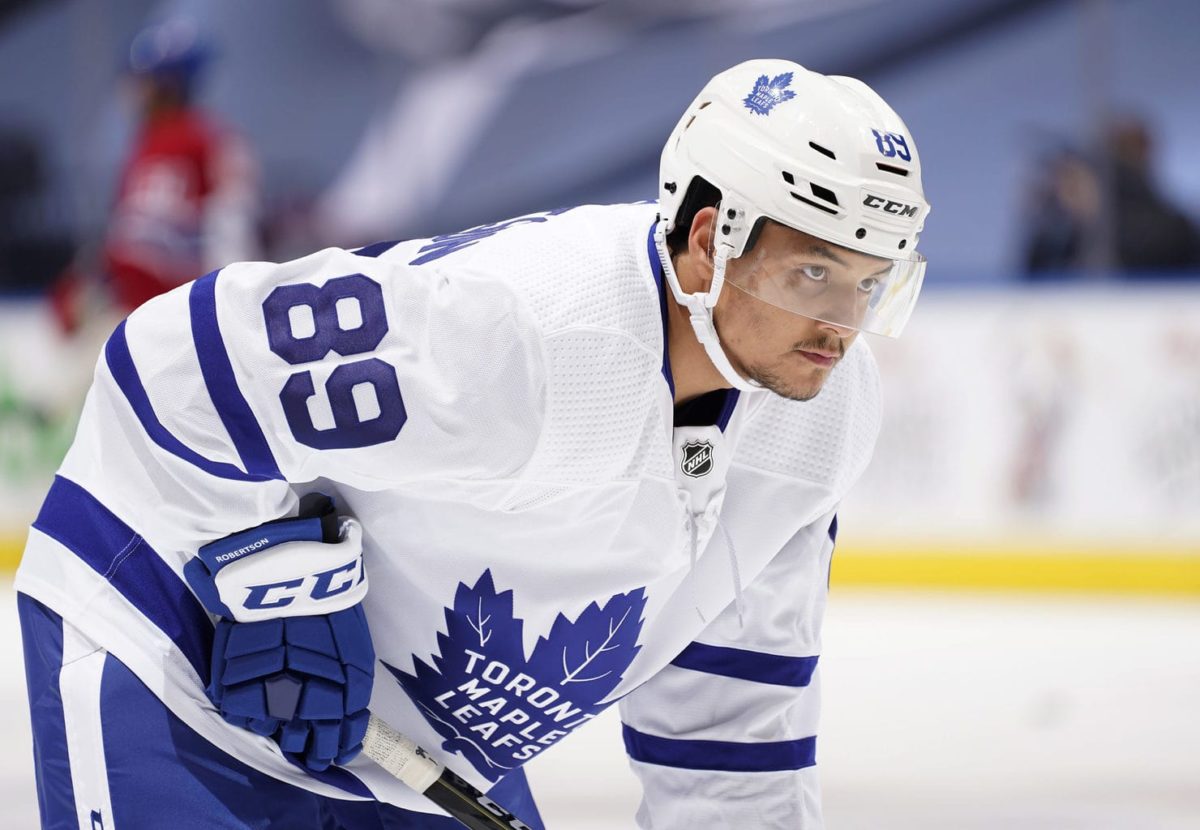 Vancouver Canucks: Vasily Podkolzin
Vasili Podkolzin is relentless whenever he's on the ice. He's aggressive on the forecheck and highly skilled when he gains possession. Despite not seeing an increased role in the KHL, now might be the time to bring him over so the Canucks can develop him properly and give him that opportunity. When given the ice time, he can make a significant impact. 
Vegas Golden Knights: Peyton Krebs
Peyton Krebs is very reliable and versatile centreman that can be a difference maker for the Vegas Golden Knights. Krebs is a very strong passer and has great speed, making it tough to defend against him. Defensively, he's extremely dependable as he has great positioning and vision to intercept the puck and break plays up. He's definitely going to be a big part of their success.
Washington Capitals: Connor McMichael
The Washington Capitals have another potential shooting threat just waiting to make his mark. Connor McMichael has excellent accuracy and a powerful release, making him a scoring threat every time he's on the ice. The Capitals are going to get a lot more dangerous when teams already have to worry about Alex Ovechkin.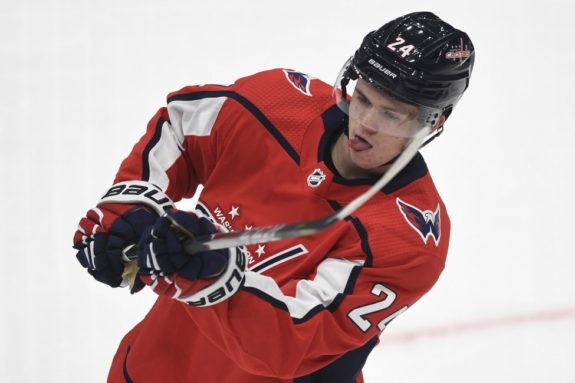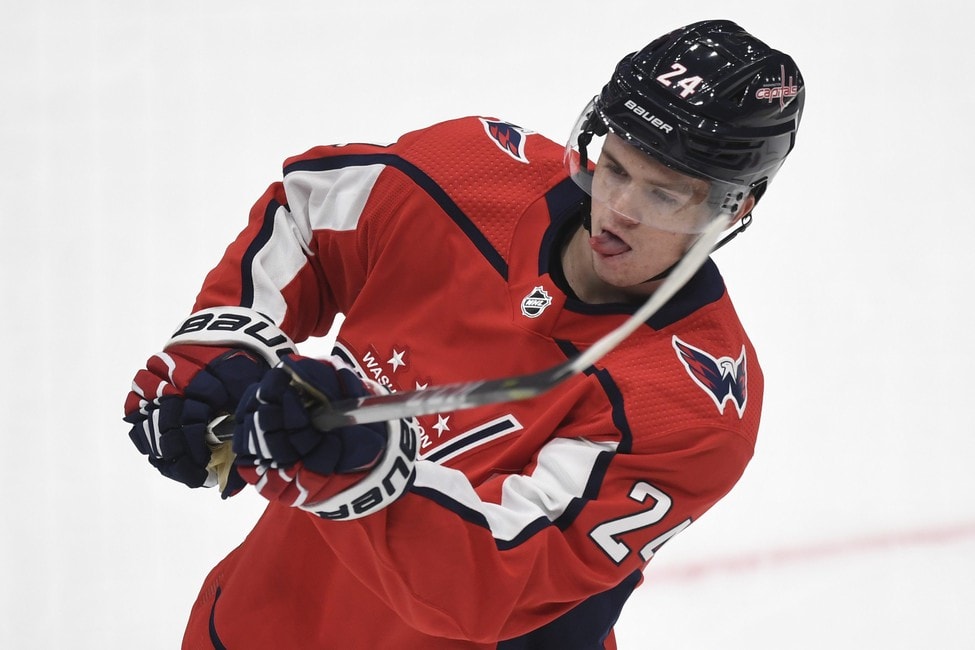 Winnipeg Jets: Cole Perfetti
Cole Perfetti is a highly gifted offensive talent. The Winnipeg Jets 10thoverall pick in 2020, displays excellent IQ and quick hands to be a high-end puck distributor in the league. With no OHL season, Perfetti had a great showing with the Manitoba Moose in the AHL with 17 assists and 26 points in 32 games. He's just another offensive weapon that's going to greatly benefit the Jets for years to come.
---
Any prospect decisions that you disagree with? Make sure to leave your comments below!
---

---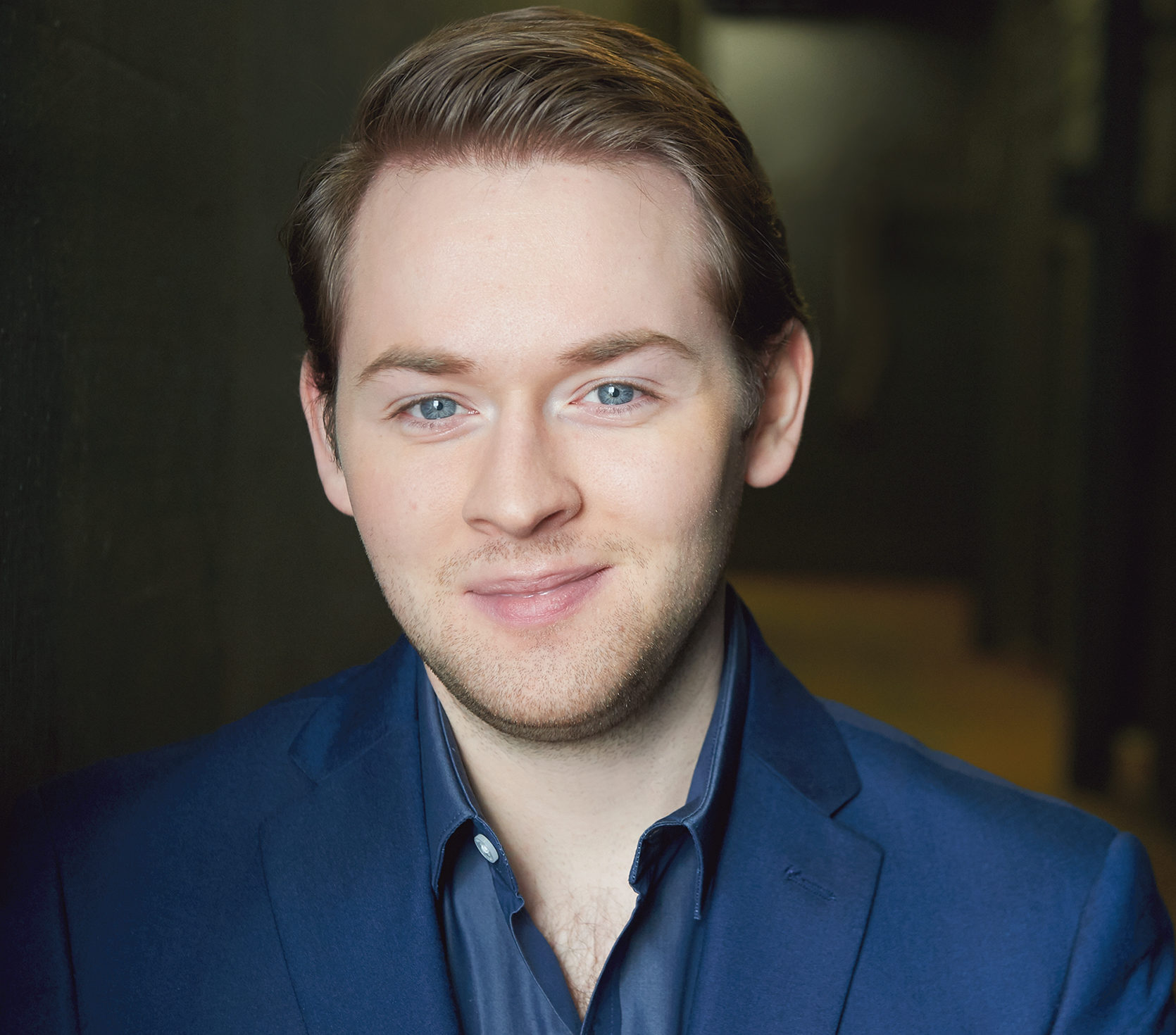 Hockey has been a big part of my life since watching my first Leafs game to currently coaching minor hockey. I previously interned at The Hockey News and worked on Toronto Marlies broadcasts for Rogers TV. Aside from hockey, I also enjoy drumming, animation and impressions/ voices.