For every NHL team, prospects are always coming and going. As they finish off their junior, college careers or make the jump over from their European leagues, they are poised to make the transition and continue to make their mark in the NHL. These players become even more magnified if they are going to be a real crucial piece for their respective franchises for years to come.
Related: The NHL's Top-100 Prospects
As we approach the start of the 2022-23 season, some have continued to keep the title as their team's top prospect. Others have moved on or have been dethroned by another within their system and are now at the top. As with the Top 100 prospects, I will use Corey Pronman's break down of what constitutes as a prospect.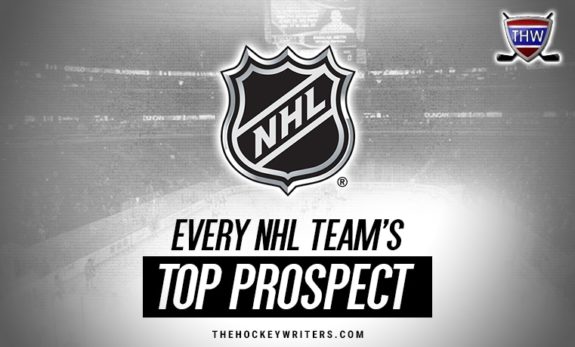 A prospect is defined as: "A skater no longer qualifies as an NHL prospect if he has played 25 games in the NHL in any campaign, regular season and playoffs combined, or 50 games total; or reaches age 27 by Sept. 15. A goalie no longer qualifies as an NHL prospect if he has played 10 games in the NHL in any campaign, regular season and playoffs combined, or 25 games total; or reaches age 27 by Sept. 15." (From: "Pronman: 2019-20 NHL Farm System Rankings").
Related: THW's Wall-to-Wall Prospect & Draft Coverage
This list will be done alphabetically by team and not by rank. Without further ado, let's get into every team's top prospect.
Final Note: If there's no "Previously," that player remains the team's top prospect.
Anaheim Ducks: Olen Zellweger
Previously: Mason McTavish
With Mason McTavish graduating from prospect status (26 points in 40 NHL games as of writing), Olen Zellweger is next up for the Ducks and their remarkable prospect pool. With prospects like Pavel Mintyukov, Nathan Gaucher, and Sasha Pastujov all authoring great seasons, it was a tough choice, but I have high hopes for Zellweger so he was my pick.
Few NHL players could keep up to Zellweger when it comes to skating, which is a wild thing to be saying about a 19-year-old defenseman but I truly believe it. His posture is perfect and his agility and edge work will make him a deceptive puck carrier at the next level. Zellweger has a great hockey mind and anticipates opponents' moves well which allows him to make bold moves and send the puck up the ice on the rush. 
It will be tough for him to find good minutes on the power play in Anaheim in the near future with Jamie Drysdale already commanding plenty of ice time on the man advantage, but I expect Zellweger will earn a role, either on the second unit or as a second defender on the top unit, because his skill set is perfect for that role. The way he patrols the blue line, waiting for a defender to miss a rotation or overreach before rifling a pass through traffic to an open teammate is nothing short of exceptional. 
Arizona Coyotes: Logan Cooley
Previously: Dylan Guenther
Logan Cooley spent much of his draft year in the shadow of Shane Wright and his Ontario Hockey League (OHL) Exceptional Status label. Cooley was considered the second-best centre in the draft by most, but the Coyotes clearly disagreed. They selected Cooley third overall, passing on Wright to draft the shorter American centre. What did they see in Cooley to feel he was the best centre in the draft?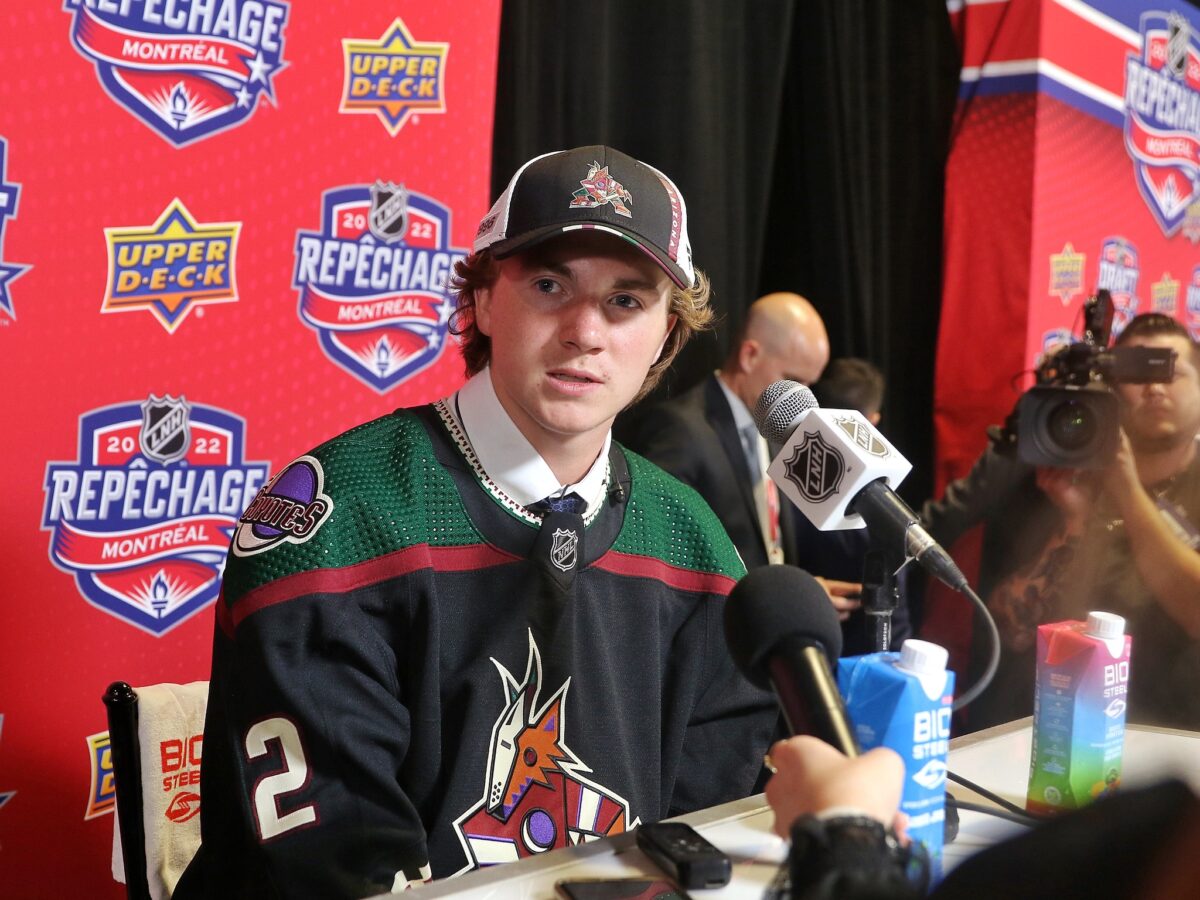 Cooley is a dynamic offensive creator, capable of making something out of nothing nearly every time he enters the offensive zone. He is constantly attacking the middle of the ice, a great habit for someone who hopes to be a high-scoring centre in the NHL some day. Cooley also possesses a respectable defensive game, supported by his skating, high effort level, and his ability to see plays before they develop which allows him to cut them off and send the puck the other way. He isn't the biggest player (5-foot-10, 180), but everything about his game screams top-line centre, and Cooley reaching that ceiling would be massive for a Coyotes team with several great young wingers like Dylan Guenther and Clayton Keller. 
Boston Bruins: Fabian Lysell
Without much competition in the Bruins' prospect pool, Fabian Lysell is clearly still the top prospect of the group. After making the transition to the North American game last year in the WHL, Lysell has now taken the jump to pro hockey, earning a large role with the Providence Bruins of the American Hockey League (AHL). Lysell has been incredibly successful at that level, managing to roughly score at a point-per-game rate as a 19-year-old. 
Lysell is an elite skater which is a skill that translates well to any level of hockey. His speed, acceleration, and agility make him incredibly hard to pin down and he's very dangerous on the rush. He tracks play well, scanning the ice regularly so he can make a smart play like passing to an open teammate or finding soft spots in defensive coverage so he can get open for a shot. Lysell has proven that he's not that far from being an NHL player with his AHL play this year and I'm sure the Bruins are thrilled. 
Buffalo Sabres: Jiri Kulich
Previously: Owen Power
The Buffalo Sabres had three selections in the first round of the 2022 NHL Draft, ninth, 16th, and 28th. Though they added three great prospects in the first round, the one I'm the biggest fan of was actually selected 28th. Jiri Kulich was a late riser on many draft boards after an electric performance at the U18 World Junior Championship where he scored nine goals in six games for Czechia. 
Kulich is a great example of how difficult it can be to compare professional hockey leagues around the world because he spent most of his draft year playing in the top professional league in Czechia where he managed 14 points in 49 games. After being drafted last summer, he has jumped right into the AHL and has found great success, already scoring 16 points by the time of writing. 
His strength stands out against his age group, and has allowed him to compete well against grown men in professional play. When paired with his high effort level, Kulich's physical strength and speed make him a formidable forechecker and a successful player in puck battles. He also possesses a great shot which is best used so far on the power play where he can set up and shoot one-timers all day long. 
Calgary Flames: Matthew Coronato
Matthew Coronato followed up his dominant season in the United States Hockey League (USHL) during his draft year with a breakout performance in the NCAA as a freshman for Harvard University last year. He quickly proved that his 5-foot-10 frame wouldn't hold him back from being a difference maker and a goalscorer, potting 18 goals in 34 games.
This year, Coronato has somehow found another gear, scoring well over a point-per-game at the time of writing. His offensive game is certainly headlined by his shot, which is of NHL quality already despite him being just barely 20-years-old, but he has just about every other offensive tool you could hope for. Coronato is quick and agile, has great hands, makes great passes, and is willing to battle for pucks along the boards, frequently beating out much larger players. If Harvard's season ends a bit early this year, I wouldn't be surprised to see Coronato land a try-out with the Flames this Spring. 
Carolina Hurricanes: Alexander Nikishin
Previously: Scott Morrow
Alexander Nikishin is the only player on this list who I am confident will not be in the NHL within the next two years, and that's because he recently signed a contract extension that will keep him in the KHL until the end of the 2024-25 season. Nikishin could likely play in the NHL today and not look out of place so it is currently a matter of "if" he will ever move to North America to try out the NHL.
Related: Early Look at the 2024 NHL Draft
Nikishin is a big defenseman (6-foot-4) with great puck-moving skills which makes him something special. He's not quite the throwback defenseman who bruises opponents into submission, although he is willing to use his size and strength to pin opposing forwards to the boards or knock them off the puck. Nikishin has the chance to be a special player who finds himself somewhere in between the throwback physical defenders and the modern offensive defensemen. He plays a similar style to Moritz Seider and Victor Hedman as a big defenseman who uses his size well and has legit offensive skills as well.
If he decides to come to the NHL after his contract is up, the Hurricanes will be adding a 23-year-old defender with six years of pro experience in the KHL. That would be an absolutely ridiculous addition for any team to make, let alone a team as good as Carolina. Nikishin leads all KHL defenseman in scoring at the time of writing so make sure you keep an eye on him over the next two years. 
Chicago Blackhawks: Lukas Reichel
After looking dominant offensively in the AHL last year, Lukas Reichel looks like he has earned a spot in the NHL in recent weeks. Last year at age 19, Reichel scored an astounding 57 points in 56 games as a rookie, numbers that typically result in an immediate NHL call-up. He made his NHL debut in the 2021-22 season where he played in 11 games, scoring just one assist.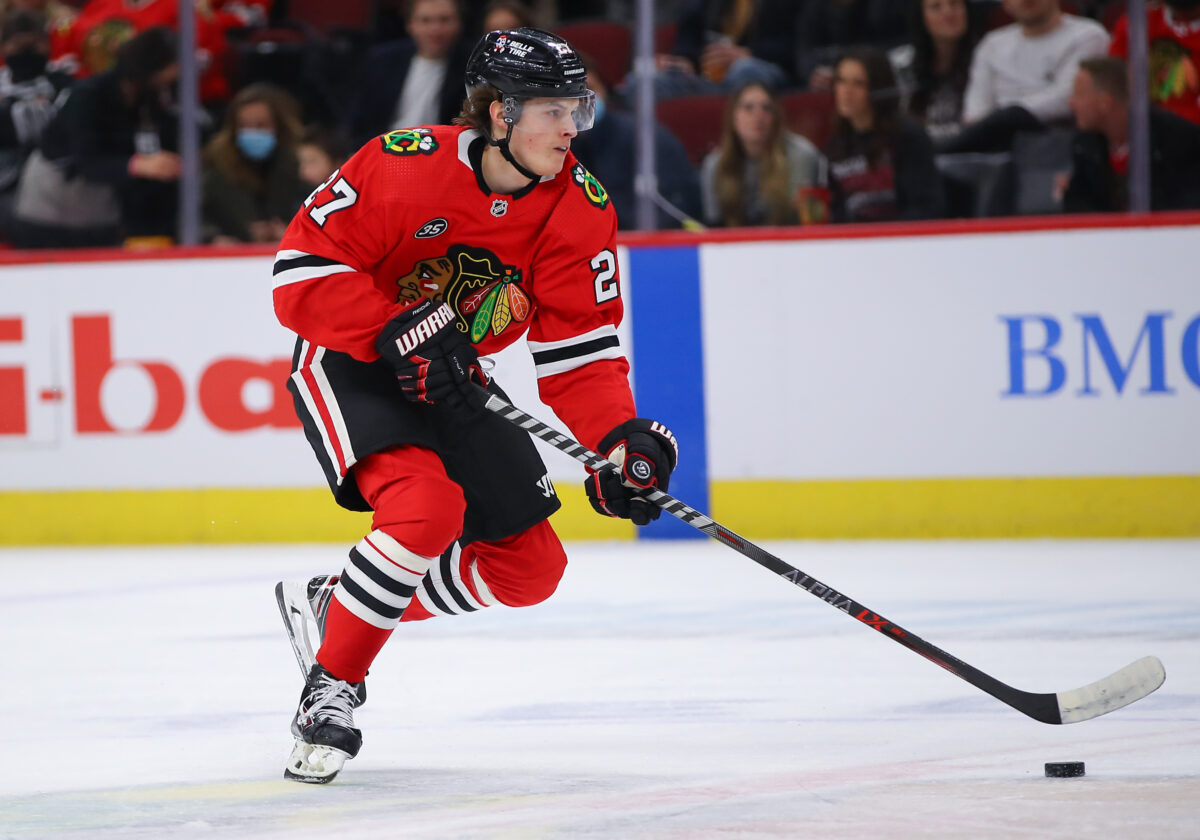 Reichel began the 2022-23 season in the AHL again, mostly because the Blackhawks have done everything possible to ice one of the weakest lineups in the Cap Era. However, his play quickly proved too good for the AHL, 36 points in 32 games will do that. It will take some time for him to fully adjust to the NHL game, but Reichel already has a three point game under his belt in the early goings of his career.
After trading away Alex Debrincat last summer, the Blackhawks are in desperate need of another top-line caliber winger, and I believe Reichel has a good chance of becoming that. He does just about everything at a high level from skating to stick handling, from goal scoring to grinding for pucks along the boards. He's a smart offensive player and he is often engaged in play across all three zones. 
Colorado Avalanche: Oskar Olausson
The Avalanche have seen most of their best prospects either graduate into the NHL (Alex Newhook, Bowen Byram) or be traded to bulk up their roster for their 2022 Stanley Cup Playoff run (Connor Timmins, Justin Barron). Those developments have been testing the depth of the Avalanche's prospect pool, but there are still some great prospects on their way. 
Oskar Olausson is the top prospect for the Avalanche at the moment in my opinion, though Jean-Luc Foudy has a real claim to that title as well. I've chosen Olausson because I believe his skating and puck skills are strong enough to be impactful in the NHL and if he can take a step forward in a few other areas of his game, he could become a great middle-six player for an already excellent Colorado team. 
His hands and speed make him an absolute menace when it comes to offensive zone entries where the defending team is always left guessing because Olausson is such a shifty and smooth skater. He has been good this year in his first taste of AHL action, and could be looking at an NHL call-up as soon as next season if all goes well. 
Columbus Blue Jackets: David Jiricek
Previously: Kent Johnson
David Jiricek was a difficult prospect to evaluate in his draft year because he had looked excellent early but missed significant time recovering from a knee injury he sustained at the cancelled 2022 World Junior Championship. Following his injury, Jiricek looked great, but his skating was clearly hindered and it was impossible to say whether his skating would ever return to the level he showed before.
Well, it didn't take long for all those worries to be put to rest as Jiricek joined the Cleveland Monsters of the AHL this year and has been a dominant two-way force as an 19-year-old. He has put up offense at an incredible rate, currently holding the third highest points-per-game rate among all AHL defensemen at the time of writing. He could certainly improve the Blue Jackets' NHL defensive group right away, but they are keeping him in the AHL for two reasons. Firstly, they want to give him this chance to dominate and acclimate to the North American game (different playstyle and rink size), and secondly they probably think that he would hurt their tanking chances in the NHL this year so they are better off long-term with him in the AHL.
Jiricek is an incredibly mobile skater who patrols the blue-line with ease on offense. His remarkable skating also allows him to take risks on offense because the odds are usually good that he can catch up to any opposing forward, even if he overcommitted a bit on offense. He has a really hard slapshot for a teenager and looks like he'll be a number-one defender for Columbus in the near future.
Dallas Stars: Logan Stankoven
Previously: Mavrik Bourque 
Logan Stankoven will likely never escape criticism of his size and people declaring that he won't be a great NHL player at 5-foot-8, but that won't stop him from being one of the most relentless and powerful players on the ice at all times. Despite only playing in six games during the pandemic shortened 2020-21 season, Stankoven was an enticing enough prospect that many prospect analysts believed he was a first round talent. 
The Stars got a steal during the 2021 Draft when they snagged Stankoven in the second round after he slid mostly due to concerns over his height. Since being drafted, Stankoven has absolutely torn up the WHL, with 150 points in 81 games at the time of writing, as well as two gold medals for Team Canada at the World Junior Championship. Not to mention his 31 points in 17 WHL playoff games last year. 
Stankoven missed the cut at the Stars' NHL training camp in September, but is clearly too good for junior hockey at this point. Being on the losing end of the size matchup for his whole life has only made Stankoven better, constantly battling for pucks and taking the puck to the middle of the ice. The three factors I personally look for in an undersized forward are speed, high effort, and high-end skill. If a player has at least two of these, I feel relatively confident that they could make an impact in the NHL if given the chance. Stankoven checks all of those boxes for me and I expect he will be just another story of a shorter player being counted out his whole career until he bursts out onto the scene and makes all his naysayers look ridiculous. 
Detroit Red Wings: Simon Edvinsson
Simon Edvinsson could join the Red Wings' lineup today and they would be a better team. The same was true during the first week of the season this year, but Detroit's management group decided it was best to slow-play his transition to the NHL, allowing him to adjust to the North American game and ice under less intense pressure.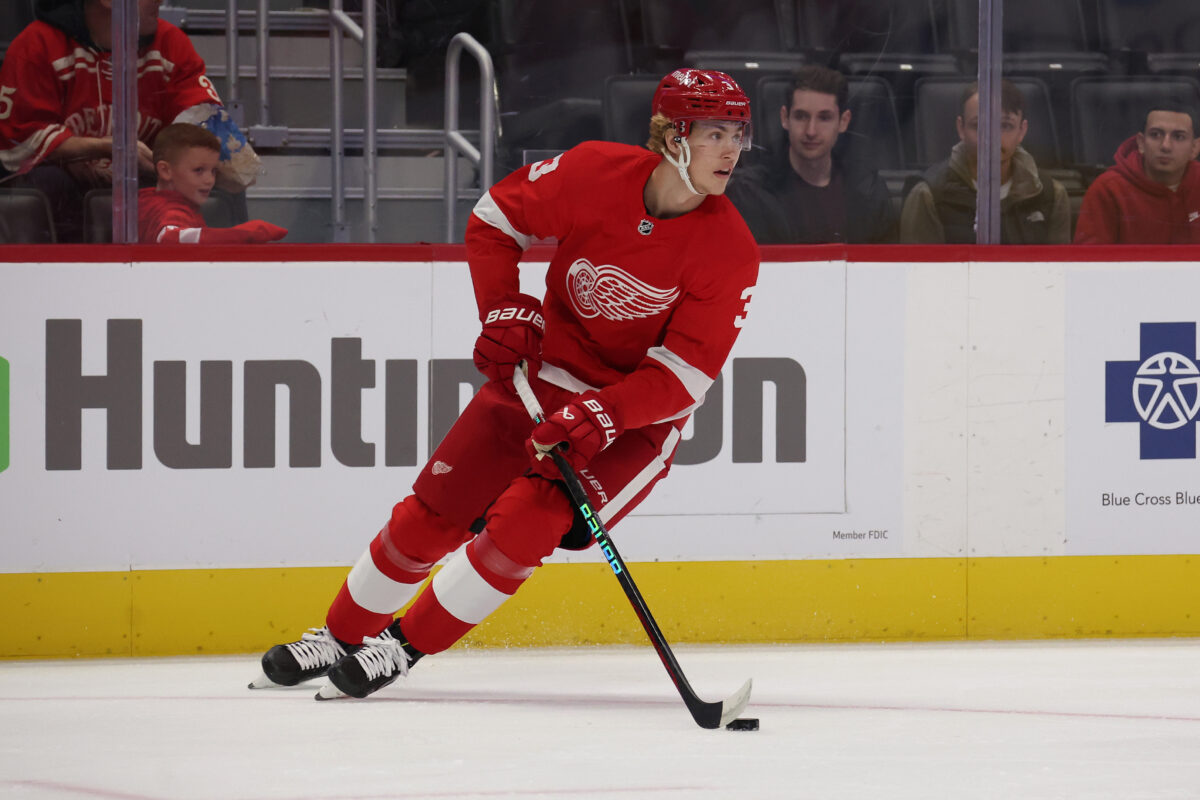 Edvinsson is one of the best big-man skaters (6-foot-6) that I have ever seen, with incredible four-way mobility that allows him to move around like a player five inches shorter. His large frame also gives him an incredibly wide reach which makes him a pretty good stick checker for his age, surprising opposing forwards with a quick poke that covers a remarkable distance. Edvinsson is also a great puck handler and his offensive zone timing for passes and fakes is excellent.
It is very uncommon for prospects of Edvinsson's size to have so much skill and finesse which is why he has nearly limitless potential. After spending the first half of this season in the AHL, I expect he will make the jump to the NHL full-time in the 2023-24 season where he will likely earn a top-four role on day one of the regular season. 
Edmonton Oilers: Philip Broberg
Previously: Xavier Bourgault
Philip Broberg is so close to breaking out as a full-time NHLer, having played 23 NHL games in the 2021-22 season and 15 so far this year. Some will point to his point totals and say that he needs to score more points which I understand, however, it is difficult to catch your stride, let alone rack up points, when you have only played more than 15 minutes in four of 15 games. 
It can be very difficult to break into the NHL for prospects affiliated with NHL teams that are battling tooth and nail for a playoff spot and that's the exact situation Edmonton is in. They feel that they can't afford to play Broberg, their best prospect, for big minutes in regular season games at the halfway point of the season because each and every game is so important for them in the standings. The unfortunate cycle this creates is that he's not going to improve and learn the NHL game very quickly if he doesn't get the chance to play.
Broberg deserves the chance to play bigger minutes in the NHL, especially earlier on in the season when the games aren't quite as life-or-death. He is a very well-rounded defenseman and even though he hasn't put up the counting stats that you might have hoped for a former eighth overall pick, he is still going to be a valuable member of the future of the Oilers' d-corps, likely as a reliable bottom-four defender with the potential to tilt the ice in his team's favour through consistent defensive play and his above-average ability to make solid breakout passes. 
Florida Panthers: Mackie Samoskevich
After being drafted out of the USHL as a highly skilled forward with great offensive awareness, Mackie Samoskevich went from playing with forwards like Sean Farrell and Matthew Coronato in the USHL to playing for another stacked team in the NCAA's University of Michigan Wolverines. As a freshman, he impressed with 29 points in 40 games, though he was overshadowed by the likes of Matty Beniers, Thomas Bordeleau, and Kent Johnson.
With each of those players (and more) moving on to pro hockey, Samoskevich was asked to play a much bigger role in Michigan's offense this year, and he has done everything that Panthers fans could have asked for and then some. After finishing eighth in scoring on the team last year, Samoskevich is currently second on the team with 21 points in 20 games at the time of writing. 
Related: NHL Draft Rankings – Horn's Top 32 for December
Samoskevich has unbelievably quick hands, with the brain necessary to string together the moves that he makes in rapid succession. He is dangerous every time he enters the offensive zone because he seems to know exactly where his teammates are on the ice at any given moment, allowing him to anticipate their movements or make a responsible no-look pass to an open teammate. He has the skill to be a top-six forward in the NHL someday, it will just be a matter of honing his defensive game in the NCAA before he makes a serious impact for the Panthers. 
Los Angeles Kings: Brandt Clarke
Few defensemen are as willing and effective as rush attackers as Brandt Clarke, who jumps at any chance to chip in on offense. He was drafted out of the top Czechian professional league where he played during the cancelled OHL season, where he put up 15 points in 26 games as a 17-year-old. After dominating the OHL last year with the Barrie Colts, Clarke made the Kings' lineup out of training camp.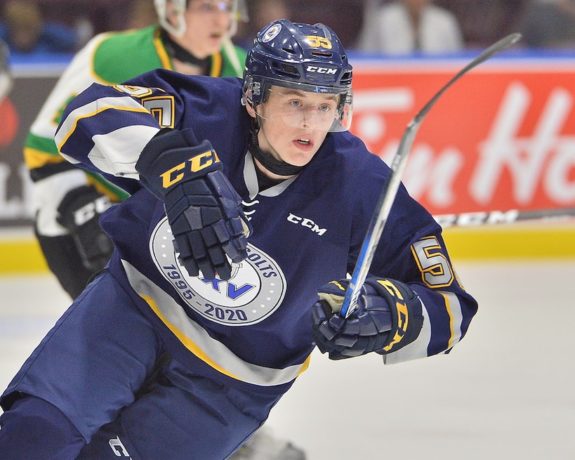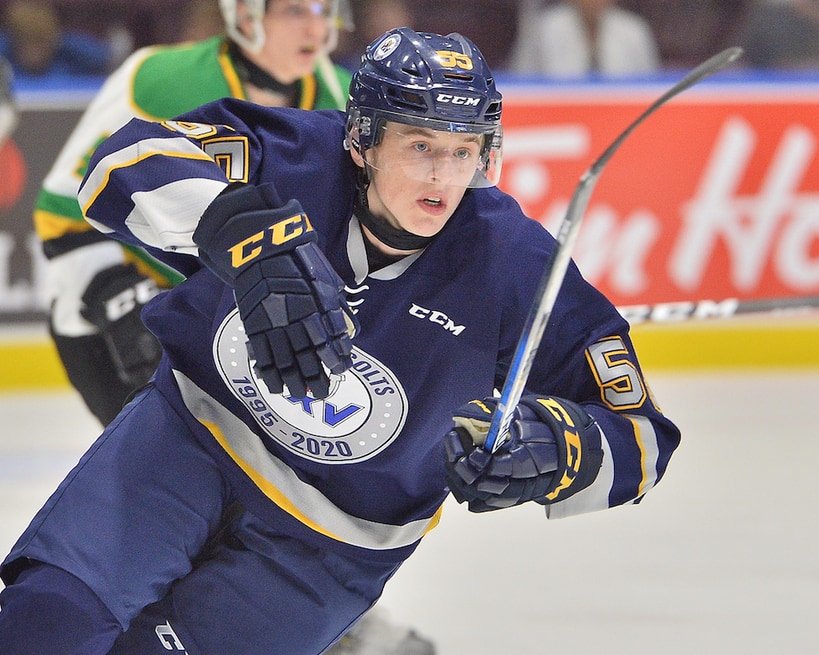 The options were for him to stay with the NHL club, gaining familiarity with the lifestyle, training, nutrition, and more, or send him back to the OHL where he was clearly not being challenged. Clarke didn't earn too many NHL games as a 19-year-old early this year, but he certainly flashed his offensive potential in his nine game NHL trial as well as in his five game conditioning stint in the AHL.
After winning gold with Team Canada at the 2023 World Junior Championship, Clarke was reassigned to the OHL for the rest of the year where he can hopefully apply some of the lessons he learned with the NHL squad while playing significant minutes on a nightly basis. It's a plan that hopes to have Clarke build his confidence up again while developing his game in some of the areas that he still needs to grow in if he wants to be an NHL regular next year. One thing is for sure, he has the playmaking vision, timing, and shot to be an excellent offensive defenseman in the very near future.  
Minnesota Wild: Jesper Wallstedt
Previously: Marco Rossi
Jesper Wallstedt has been considered one of the, if not the best, goaltending prospects in the NHL for several years now, and he has finally made the move to North America this year. After earning 24 wins in the SHL as a teenaged goaltender, he is already playing significant minutes for the Iowa Wild, Minnesota's AHL affiliate. 
Wallstedt currently holds the best save percentage among U21 goalies in the AHL with .906 and he is second in that group when it comes to wins, earning eight so far at the time of writing. He has shown the ability to grow and succeed at a variety of levels and should be expected to do the same in North America. Typically, goaltenders take longer to develop into NHL players because their jobs are so competitive and challenging. While a forward or defenseman might crack the NHL at age 21, it would usually be ridiculous to expect a goaltender to do the same.
Well, Wallstedt is exactly that, ridiculous. I wouldn't be surprised to see him earn some NHL games as early as next season in a back-up role. He tracks the puck really well for a goalie of his age and looks calm in the crease at all times. Wallstedt's mental fortitude and skating are well above most goalies his age, and might just make him an elite starting goalie in the NHL someday. 
Montreal Canadiens: Lane Hutson
Prevoiusly: Kaiden Guhle
Perhaps no prospect benefits more from the NHL's transition toward skilled, puck-moving defensemen than Lane Hutson, a defender whose playstyle would have seen him benched a whole lot if he were coming up through the ranks a decade or two ago. He is known for being a small, skilled defender who relies on his incredibly smooth skating, and he loves to prove his doubters wrong.
Hutson looked and played the part of a first round pick last year, leading all U.S. National Team Development Program defenders in scoring, a tying for sixth on the team with 2022 first rounder Jimmy Snuggerud, even though Hutson played defense and Snuggerud was a top-six winger. He has kept the elite offensive production coming this year, earning a remarkable 20 points in his first 18 NCAA games for the highest points-per-game average among all NCAA defensemen with 11 or more games played. 
As I mentioned before, Hutson is an incredible skater and he uses that to his advantage in all phases of the game whether he's back-checking or trying to shake a defender at the attacking blue line. His shot isn't really anything to fear at this point, but his mind sure is. The way he pokes and prods at the defending team to look for a passing lane to open up will translate to the NHL level, especially on the power play. He's also not as easy to knock down as you might expect, with enough shiftiness to narrowly dodge body checks at the last second. 
Nashville Predators: Yaroslav Askarov
After winning a KHL game at 17 and completely dominating the Hlinka Gretzky Cup in his draft year, Yaroslav Askarov clearly established himself as one of the very best goaltending prospects in the league. Since being selected 11th overall in the 2020 Draft by the Predators, he has only played 30 professional games between the top two pro leagues in Russia over the course of two full seasons. It's tough for goalies to improve without playing and competing in net.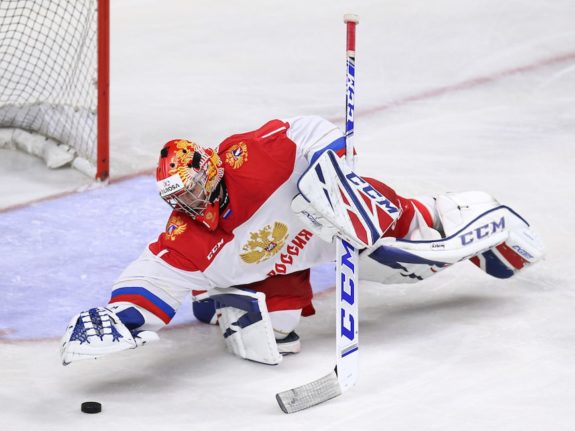 Thankfully, Askarov has joined the Predators' AHL affiliate this year and has already made 22 starts at the half-way point of the season. At the time of writing he is tied for the third most wins in the AHL by any goaltender, and has won more than any other U21 goalie. Askarov is doing this with a save percentage and goals against average that are slightly above league average even though he is only 20 and has significantly less AHL experience than most of his peers.
Askarov catches with his right hand, and his glove hand has been a known weakness of his since his draft year. Being a righty isn't his only quirk, as Askarov is a very mobile goalie, constantly bouncing around in his crease in a sort of controlled chaos. He has incredibly quick reflexes and makes a lot of great saves based on instinct rather than just training. The Predators are in an enviable position with Askarov coming up through the ranks while Juuse Saros has established himself as one of the best goalies in the world. They even called Askarov up to the NHL last week and he earned his first big league start against the Montreal Canadiens where he looked the part of an NHL goalie despite losing. 
New Jersey Devils: Luke Hughes
Maybe at first some of the attention he got was because of the success of Quinn Hughes and the drama of Jack Hughes being selected first overall in the 2019 Draft, but Luke Hughes has more than lived up to the hype and looks to take the Hughes name from a fun story of brothers making the NHL and transform it into one of the NHL's greatest families. 
Hughes was dominant offensively as a freshman for the University of Michigan last year, scoring an absurd 39 points in 41 games to lead all NCAA defenders in scoring, even though he was one of the youngest players in all of college hockey. He has kept that level of production up this year despite his team losing four of their highest scoring forwards which shows that he's a skilled creator in his own right and not just piggy-backing on skilled teammates.
Hughes has the same dynamic skating ability that have made his brothers successful in the NHL, but his larger frame (6-foot-2) gives him a distinct advantage while defending opposing forwards who can rarely out-skate or out-muscle him. He will be a top-four defenseman in the NHL someday soon, and has a very good chance of being an all-star caliber top-pairing defenseman on a team that boasts great defensive depth in their prospect pool with guys like Simon Nemec and Seamus Casey waiting in the wings as well. 
New York Islanders: Aatu Räty
The hype for Aatu Räty coming into his draft year was immense. He was expected to compete for a top-five spot in the draft, if not for first overall, and that seemed quite realistic considering his success in the Finnish Liiga during his age 17 season. Räty's draft year struggles were well documented and his inconsistency and lack of production allowed the Islanders to select him in the second round of the 2021 Draft.
After another slow start to his season in Liiga last year (one point in six games), he was traded to a different team where he absolutely exploded for 40 points in his remaining 41 games. Now playing for the Bridgeport Islanders in the AHL, Räty has continued to grow and become more consistent with his effort and ability to make the right reads at the high pace of professional hockey. He has even earned a call-up to the NHL squad this year, scoring two goals in seven games.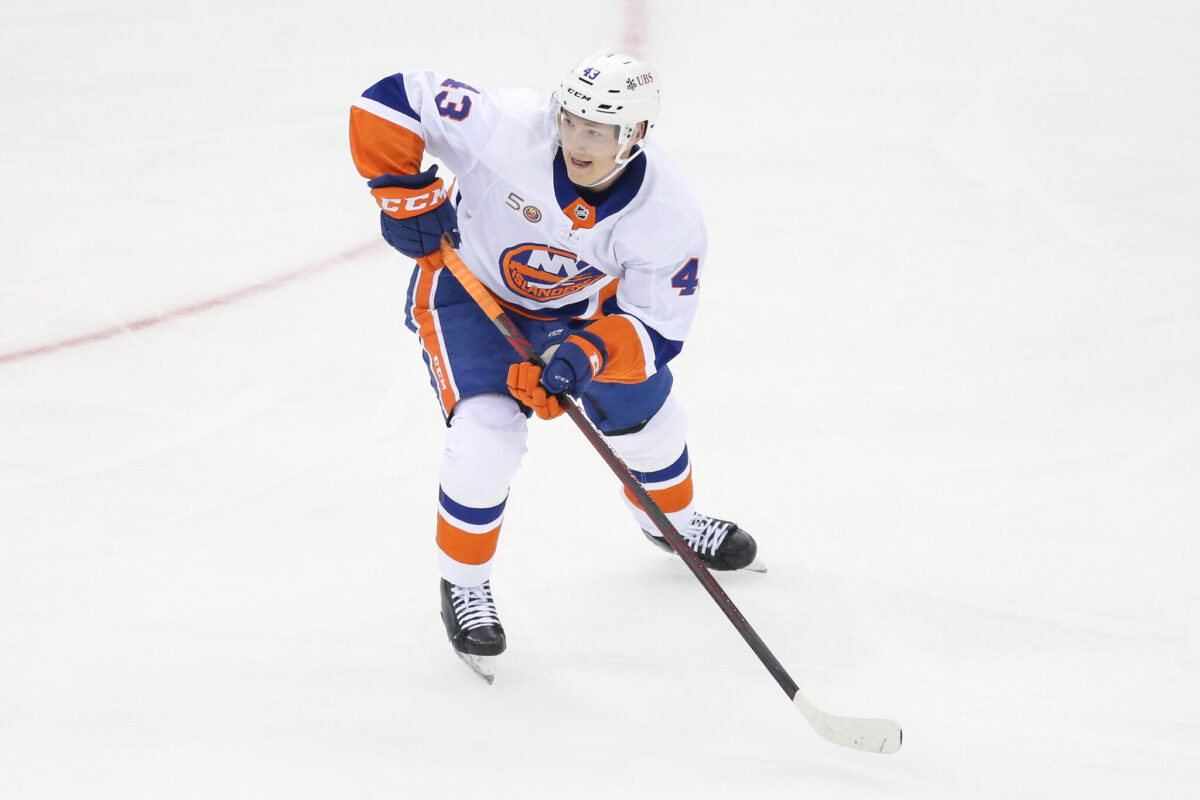 Räty never had the best skating stride or the highest compete level, but his wrist shot and hockey sense were what made him a top prospect early in his draft year. When he has the time to load up his wrist shot, it is hard, accurate, and good enough to score on NHL goalies, though that time and space is harder to come by in North America where the ice surface is much narrower. If Räty can take the last steps in tightening up his consistency and continue to improve his skating, he has a real chance to be a solid second-line centre behind Matt Barzal for the future. 
New York Rangers: Brennan Othmann
Brennan Othmann is just the kind of prospect that the New York Rangers need. As a playoff bound team with some great star power (Adam Fox, Igor Shesterkin, Artemi Panarin), the thing that often sets the true contenders apart from teams that are competitive is depth on affordable contracts. Othmann's game should translate well to the NHL, and he will likely provide a ton of depth offense while on his entry level contract.
After spending his draft year in Switzerland playing pro hockey while the OHL season was cancelled, Othmann was drafted 16th overall in the 2021 Draft. His first year back in the OHL was a doozy, 50 goals and 47 assists for 97 points in 66 games, good enough for second in goals and seventh in points among all OHL skaters. He has a great shot and a nose for the net that makes him a really valuable winger in transition as well as on the cycle. 
Few prospects of Othmann's age (20 years old) can set up in front of the net as effectively as him, with so many successful tips and quick reactions to rebounds that he reminds me a bit of his future Rangers teammate Chris Kreider. He is a hard forechecker and loves a good body check. Othmann will quickly endear himself to Rangers fans with his hard-working, no-shift-off style game, his ability to score goals (both nice ones and greasy ones), and his willingness to throw big hits. 
Ottawa Senators: Ridley Greig
Previously: Jake Sanderson
Ridley Greig looks the part of a really solid middle six NHL centre, and has for several years now. While he doesn't necessarily pop at any given moment, his game is so well rounded and consistent that you can easily forgive the lack of flash. His best asset is probably his shot, which is NHL-caliber and could probably have him pushing 25+ goals during his prime.
Related: World Junior Championship All-Time Scoring Leaders
Greig jumped from junior hockey to the AHL this year where he has been phenomenal for the Belleville Senators scoring at just under a point-per-game rate while demonstrating the strength, skating, and defensive game that will make him a mainstay in Ottawa's lineup someday soon. 
He plays every game like it's his last, constantly fighting for pucks and skating hard to back check if he committed a bit too much on offense. He could make a positive impact for the NHL squad today if they wanted him to, but I think it's best for him (and Ottawa's lottery odds) that he stays in the AHL to fully adapt to the challenges of pro hockey before calling him up to the big leagues. Don't be surprised to see him in the middle-six for the NHL Senators as soon as 2023-24. 
Philadelphia Flyers: Cutter Gauthier
Previously: Tyson Foerster
Cutter Gauthier was an excellent two-way winger in his draft year, scoring 65 points in 54 U.S. Development Program games while providing tons of value in the defensive end as well. With his responsible defense and his solid frame (6-foot-2, 194 pounds), it made sense when Gauthier revealed to NHL teams at the NHL Scouting Combine that Boston College was planning on playing him at center. 
Centers are more valuable in the NHL these days, so that announcement single handedly took Gauthier from a probable top-10 pick to the fifth overall selection in the 2022 NHL Draft. He has certainly lived up to the hype so far, scoring well above a point-per-game in the first half of the NCAA season as an 18-year-old, leading his team in scoring despite missing four games while participating in the 2023 World Junior Championship.
Gauthier has a mature game that seems pro-ready even though he's only about six months removed from the draft. He has the frame of an NHL center, and his skating will be an asset for him in the NHL one day. Gauthier doesn't have the best hands or playmaking ability, but he makes up for it with an excellent wrist shot that should translate to the NHL. 
Pittsburgh Penguins: Samuel Poulin
The prospect cupboards have been getting quite empty for the Penguins, who have traded all but one first round pick between the 2015 and 2021 Drafts. The one time during that seven year span that they held onto their pick was in 2019 when they selected Samuel Poulin 21st overall. He was just coming off a breakout season in the QMJHL where he managed 76 points in 67 games.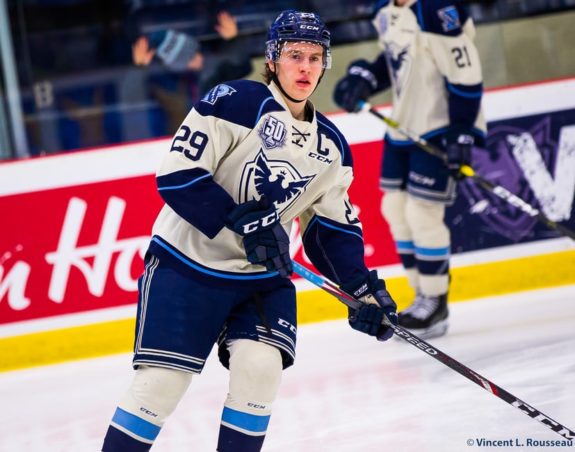 Poulin followed that up with a dominant year where he scored 77 points in just 46 games as the captain of the Sherbrooke Phoenix, 32 of which were goals. Following the very shortened 2020-21 QMJHL season, Poulin made his professional hockey debut in 2021-22 for the Wilkes-Barre/Scranton Penguins of the AHL where he scored 37 points in 72 games. He has dealt with some injury issues this year, but has managed to make his way into a few NHL games, even earning an assist for his first NHL point.
Goal scoring will be Poulin's calling card in pro hockey, a skill he showed in the QMJHL, has begun to show in the AHL, and will hopefully show in the NHL someday soon. He doesn't mind getting physical, using his large frame to box out attackers or to win puck battles along the boards. Although his agility and speed aren't going to be the highlights of his game, I think they are good enough for him to hold his ground in the NHL, especially considering his above-average compete level. 
San Jose Sharks: William Eklund
William Eklund spent his draft year in the SHL where he was very impressive for an 18-year-old, scoring 23 points in 40 games in one of the top professional leagues in the world. After being selected with the sixth overall pick in the 2021 Draft, the San Jose Sharks signed him to his entry level contract and played him in their first nine games of the season, enough to get a good look at him without burning the first year of his contract. 
He impressed again with four assists in those nine games before being loaned back to his SHL team. This year he returned to North America for good, playing full-time with the San Jose Barracuda of the AHL. Eklund is on pace for roughly 50 points as a rookie in the AHL which is remarkable and should set him up for a solid NHL rookie season next year while allowing the Sharks to tank away this season without worrying about hindering his development. 
Eklund is a brilliant offensive player with the shot, hands, and playmaking vision to be a difference maker on every shift with whichever linemates he's paired with. He's not the most explosive skater, but if he has the runway to get up to full speed, it's tough for most defenders to keep up. Eklund is a smaller forward, coming in at 5-foot-10, but he doesn't play like it, constantly battling and competing with players five or six inches taller than him like it's nothing. He will certainly be a difference maker in the newest version of the San Jose Sharks, and has a very good chance of being a top line winger, or even a top-six center considering he spent some time down the middle in Sweden during the 2021-22 season. 
Seattle Kraken: Shane Wright
Previously: Matthew Beniers
Shane Wright had a very wild draft year which saw him go from the consensus first overall pick to being selected fourth overall, and not even being the first centerman off the board. It goes to show how high the expectations were for Wright as an Exceptional Status Player in the OHL that scoring 94 points in 63 games in his draft year was seen by many as a huge disappointment. I don't think the Kraken were very disappointed when he fell to them at the fourth spot in the 2022 Draft.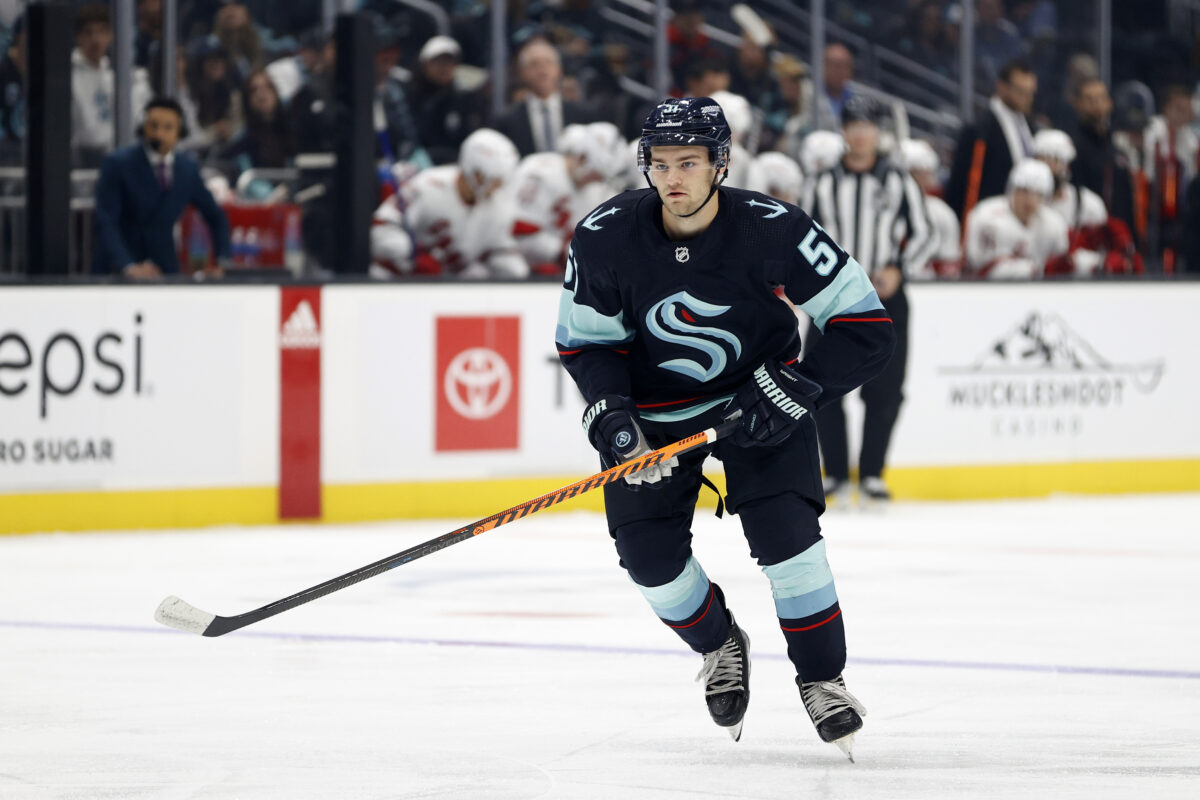 Wright is currently playing on his fourth different team of the season, with stints in the AHL, NHL, World Junior Championship, and now the OHL. Seattle wanted to hold onto Wright in the NHL, but they were winning a lot more than I think they anticipated which made it harder to justify giving him the pro reps he needed because each game was even more valuable. After a wildly successful conditioning stint in the AHL, Wright scored his first NHL goal against the Canadiens before heading to Halifax and captaining Team Canada to a gold medal.
It's rare to find a prospect as well-rounded as Wright, with the size, shot, skating, smarts, and skill to be a very successful top-six center. I believe the biggest reason he fell on draft day was that he lacks that one skill or attribute that just absolutely pops, he's not the most dynamic offensive player. However, Wright is going to be a very good NHL center with the defensive game and offensive ability to play a ton of minutes in all special teams situations. With Matty Beniers' breakout in the NHL this year and Wright's potential as a two-way center, the Kraken are one step closer to having an elite one-two punch down the middle to build the rest of their franchise on. 
St. Louis Blues: Zachary Bolduc
Previously: Jake Neighbours
Many teams were forced to take risks in the 2021 Draft because there were plenty of prospects (especially in North America) who played little to no games in their draft year. The St. Louis Blues were clearly willing to take that risk, drafting Zachary Bolduc with the 17th overall pick after he played just 27 games. He repaid their trust in him with an excellent draft+1 season with the Quebec Remparts of the QMJHL where he scored 55 goals and 99 points in 65 games. 
Bolduc has had a great start to his Draft+2 season this year, with 28 goals and 63 points in his first 34 games (4th in the league in both categories), which certainly caught the attention of Team Canada as they prepared for the 2023 World Junior Championship. Unfortunately, Bolduc was one of the final  players cut from the team, but that decision seemed to light a fire under him because he scored 13 goals and seven assists in his first 10 games back in juniors after being cut.
Although he was drafted as a center and plays as one in his league play, I see Bolduc as more of a winger in the NHL. He has the size, skill and skating to play down the middle, but it's rare to see him charging through the center of the ice and his effort level is a bit lower than you'd like from your centerman. Bolduc has an excellent shot and I expect him to score plenty of goals in the NHL someday, likely as an offensively minded top-six winger. 
Tampa Bay Lightning: Jack Thompson
Previously: Isaac Howard
With the OHL season postponed, Jack Thompson spent the 2020-21 season in HockeyEttan, the third tier of professional hockey in Sweden. As an 18-year-old defenseman, he managed to score 18 points in 18 games which is impressive for someone playing against grown men, but it's difficult to understand the level of competition in that league compared to some more well known leagues which played a part in him dropping into the third round on draft day.
Related: Matvei Michkov – The Best Russian Prospect Since Ovechkin
Thompson hadn't exactly been a big point producer in the OHL before his draft year so it was tough to tell if he had broken through and had legit offensive potential or if he just earned some power play points in a weaker pro league in Europe. He quickly proved that it wasn't a fluke, and that he had taken a step forward in his decision making and playmaking, scoring 57 points in 65 OHL games while providing solid two-way results.
While he isn't likely to be a top point-producing defender, that's not what the Lightning will need him to be. They will need Thompson to be a reliable two-way defender who can chip in on offense (I'd imagine 20-35 points per season) while not compromising his defensive fortitude. I think that is a very realistic roadmap for his career in the NHL because his edge work and agility allow him to impact play offensively while still having a clear escape plan to shut down any rush attempts by the opposing team. I think Thompson will be a bottom-four defender in the NHL who could provide some extra value to Tampa Bay on either special teams unit. 
Toronto Maple Leafs: Matthew Knies
Matthew Knies has quickly become one of the biggest steals of the 2021 Draft after the Maple Leafs selected him 57th overall. His freshman season with the University of Minnesota was remarkable, seeing him put up 33 points in 33 games. It's rare to see 19-year olds to score at a point-per-game rate, and it's even rarer for them to do so as a late second round pick. 
He has been excellent so far this year, with 23 points in his first 22 games, although he is carrying a bit lighter of a load on offense this year with top 2022 Draft prospects Jimmy Snuggerud and Logan Cooley joining him to form an incredibly dynamic and borderline dominant top line. Knies often plays in front of the net with that line, and he has shown a great ability to battle for pucks or put back rebounds from in tight.
Knies is a big, strong winger with a great chance to be an impactful top-six winger. However, Toronto already has a very strong top-six forward group so he may end up being an elite third line winger which wouldn't be so bad. He is very competitive and isn't afraid to beat a defender through sheer force. The biggest thing he could work on is his skating, but I think Knies could be a great NHLer even if that never clicks for him. 
Vancouver Canucks: Linus Karlsson
Previously: Jonathan Lekkerimäki
Although Jonathan Lekkerimäki has a much higher ceiling than Linus Karlsson, I am rolling with Karlsson as the best Canucks prospect right now because Lekkerimäki has had an incredibly rough few months since draft day and will need to show a lot of improvements before I'm confident he'll be an NHL regular. Karlsson has proven himself in multiple professional leagues and is not likely far from making a solid impact in the NHL.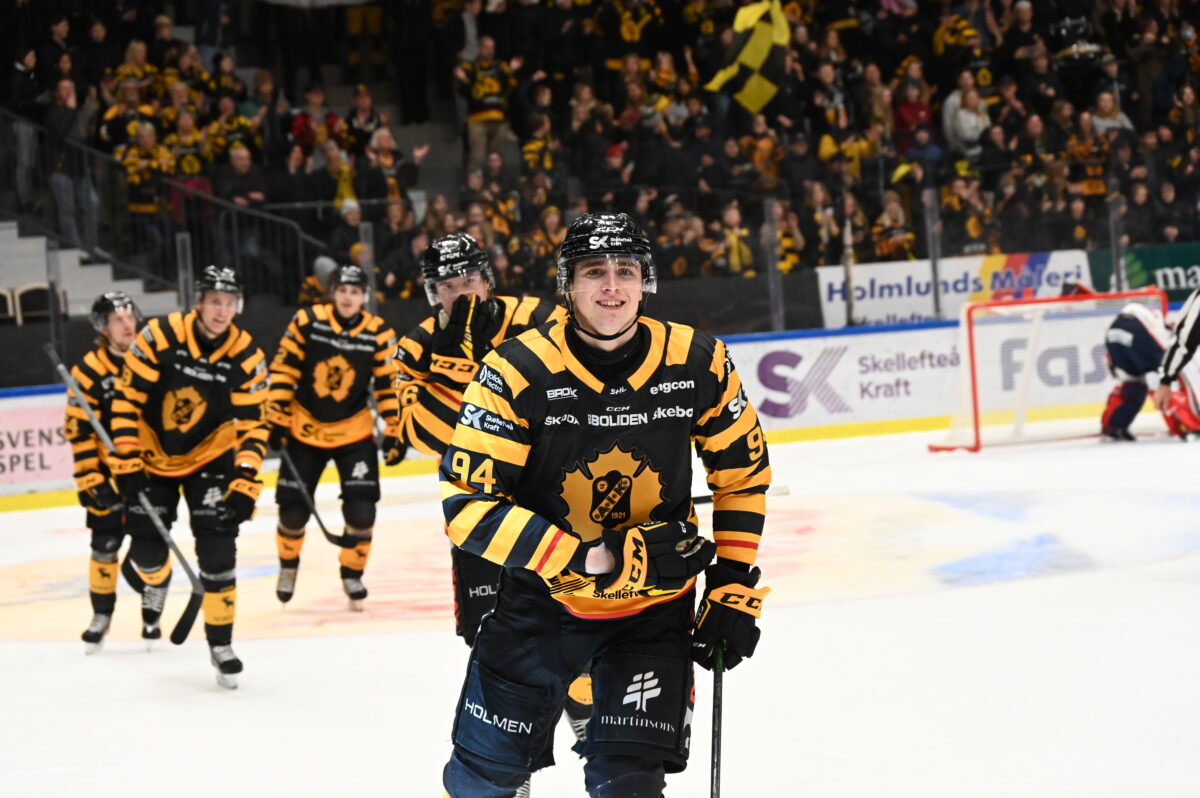 Karlsson played in Allsvenskan (the second-tier pro league in Sweden) after being drafted 87th overall back in 2018, and his production increased significantly year-over-year. In the 2020-21 season, he scored 51 points in 50 games, earning himself a chance in the SHL the following year. As a rookie, Karlsson scored 46 points in 52 games and was named rookie of the year in the SHL. This year he moved to North America and has been similarly tearing up the AHL with 27 points in his first 33 games, giving him a solid chance at winning rookie of the year in back-to-back years.
The Canucks are desperate for cheap depth and Karlsson fits the bill perfectly. He is a right-handed center who plays a responsible two-way game and has an NHL-quality shot. Karlsson won't be a no-doubter top-six guy, but he should be an effective bottom-six forward with some special teams utility. With the looming possibility that captain Bo Horvat might be traded before the season ends, Karlsson would be a good choice as a call-up, especially with Vancouver's lack of depth down the middle (unless you consider JT Miller a centre, which I don't). 
Vegas Golden Knights: Lukas Cormier
Previously: Brendan Brisson
The Vegas Golden Knights have been dealing with salary cap issues for most of their time as an NHL team, so adding meaningful contributors on cheap contracts is a massive focus for them. One such player who could make a real impact in the near future on an entry-level contract is defenseman Lukas Cormier who they selected 68th overall in the 2020 Draft. 
Cormier is an offensive defenseman first, though his two-way game has continued to develop since his draft year. In 101 total QMJHL games following the 2020 Draft, he scored a whopping 135 points as a defenseman with a plus/minus value of 75. After lighting up the QMJHL for several years, Cormier has gone pro this year with the Henderson Silver Knights of the AHL. Despite being a shorter (5-foot-10) offensive defenseman, he has been very succesful in the AHL so far, with 20 points in his first 32 games.
One of Cormier's best offensive tools is his shot which is surprisingly powerful for someone of his size. He is great at shooting into tips from teammates as well as creating rebounds off his shots which are both very valuable skills. He has the skating and playmaking skill to be a great power play quarterback someday in the NHL, patrolling the blue line and manipulating defenders to create better passing lanes. His skating also makes him a great breakout defender, constantly skating into space and looking up ice to make a pass. 
Washington Capitals: Ivan Miroshnichenko
Previously: Hendrix Lapierre
In the year leading up to the 2022 Draft, Ivan Miroshinchenko was seen as one of the very best prospects, and a near-lock for the top-10. However, he fell a bit on draft day, in part due to the uncertainty around Russian hockey but mostly due to his diagnosis with Hodgkin's Lymphoma. He has made a remarkable recovery since then and has already returned to play this year.
Miroshnichenko has played in the top two professional leagues in Russia as well as the top junior league so far this year. He scored eight goals in eight junior games before quickly rising through the VHL (second-tier pro league) and into the KHL where he scored two points in his first 14 games. It is difficult for young players to earn meaningful minutes in the KHL, so two points is pretty good considering his low ice time average as well as the illness that he has recently recovered from.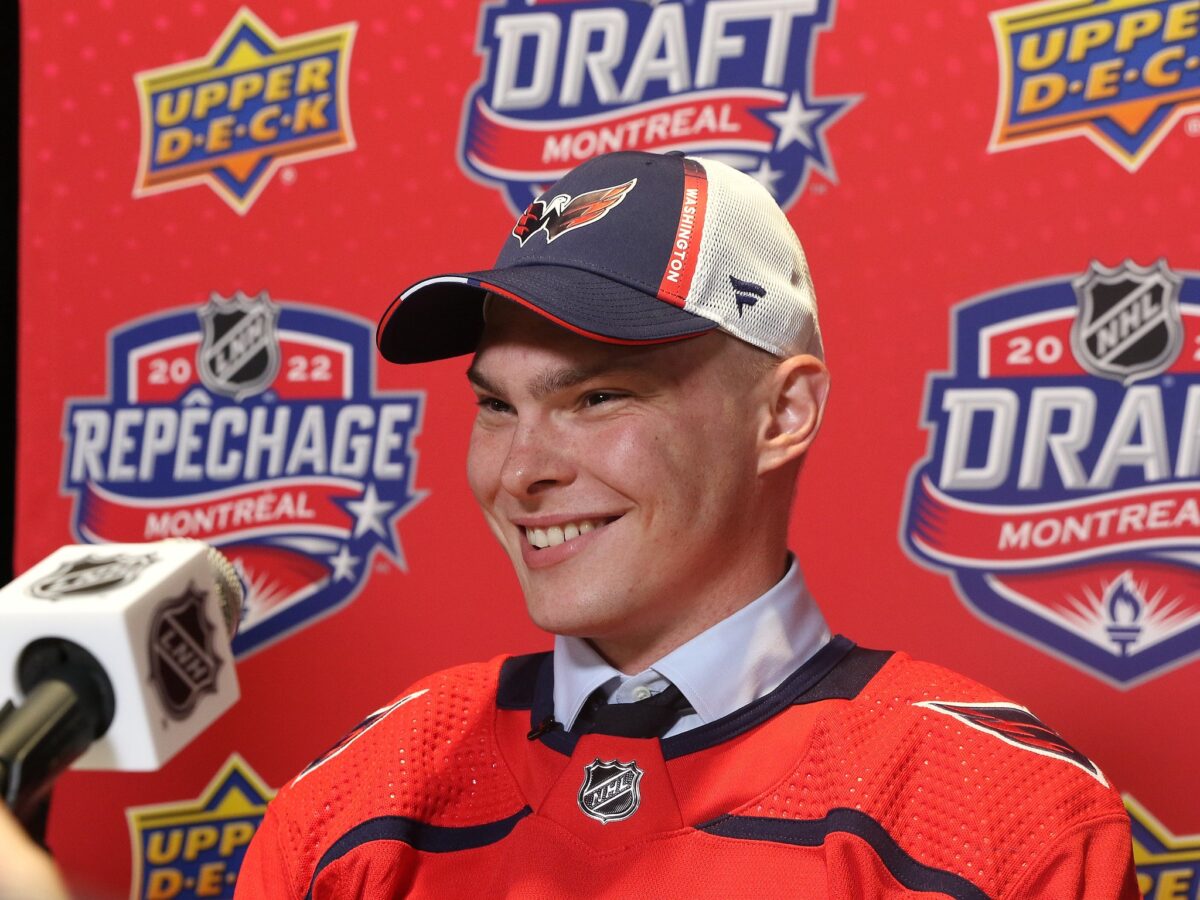 His shot is certainly his greatest asset, allowing him to score from range on the rush or while stationary in the cycle. Miroshnichenko uses the same curl-and-drag wrister recently made popular by Auston Matthews and Connor Bedard, though his shot isn't quite on their level. He is an aggressive offensive player with great skating and top speed which allows him to do serious damage on the rush. I think he could be another top-six Russian forward for the Capitals someday soon, all they need now is to get him to North America. 
Winnipeg Jets: Chaz Lucius
Previously Cole Perfetti
After being drafted 18th overall in the 2021 Draft, Chaz Lucius has done nothing but make the Jets' scouts very proud of themselves. His freshman year in the NCAA was remarkable with him scoring 19 points in 24 games for the fourth highest points-per-game average on his team as an 18-year-old. 
Lucius competed at the Winnipeg Jets' training camp this year but did not make the NHL squad, instead playing the first half of the 2022-23 season in the AHL with the Manitoba Moose, scoring five points in 12 games. He then joined Team USA for the 2023 World Juniors where he scored seven points in as many games, with a hat-trick that included a bronze medal winning goal in overtime against Sweden in an absolute barn-burner.
Following the World Juniors, the Jets assigned Lucius to the Portland Winterhawks of the WHL (who owned his WHL rights) in an attempt to build up his confidence by playing against his own age group before making the jump back to pro hockey next year. Lucius is a very strong offensive player who is excellent at tracking his linemates and anticipating their movements before they've begun them. His playmaking and intellect will make him a valuable piece in Winnipeg someday with goal scorers like Kyle Connor and Mark Scheifele.
---
Any prospect decisions that you disagree with? Make sure to leave your comments below!
---
---
Latest News & Highlights
---