Calum Ritchie
2022:23 Team: Oshawa Generals (OHL)
DOB: January 21, 2005
Place of Birth: Brampton, ON, Canada
Ht: 6'2″ Wt: 187 pounds
Shoots: Right
Position: Center
NHL Draft Eligibility: 2023 Draft Eligible
Rankings
THW – Horn: 20th
THW – Baracchini: 26th
Sportsnet – Cosentino: 24th
DailyFaceoff – Ellis: 22nd
The Hockey News – Ferrari: 18th
Bob McKenzie: 13th
When the scouting season began for the 2023 NHL Draft, Calum Ritchie's name often appeared within the top-16, with some enthusiastic scouts placing him within the top-10. Spending any amount of time watching him play will reveal why he's one of the more promising prospects available in this year's draft.
Ritchie is a skilled, offensive centerman with pro size and top-tier hockey IQ. When he is at his best, he'll dazzle fans and his opponents with silky-smooth stickwork, allowing him to maneuver through crowds and into the scoring areas of the ice. Once he is in those areas, he often looks to find the perfect way to finish the play, whether it's a heavy wrist shot or a pass to an open teammate. He is quite adept at surveying his options and executing based on the decisions he makes. He's the type of player that makes things happen almost every time he's on the ice, one way or another.
Related: 2023 NHL Draft Guide
---
Latest News & Highlights
---
Ritchie fits the bill as a creative, playmaking centerman. He is effective at carrying the puck and can maintain possession for long periods of time without interruption. While he has a deceptively hard shot, he is unselfish with the puck almost to a fault. He is the type of centerman that offensive wingers love to play with, and the key to unlocking his offensive potential at the pro level could be finding him wingers that can cash in on the plays that he makes.
That unselfishness with the puck does come at a cost, however. There are times where he refuses to put the game on his stick and instead forces the puck to a teammate to escape pressure. Even though he has the skill and ability to evade pressure and make the "selfish" play, he often plays it safe and defers to his teammates. His coaches won't necessarily be upset about those plays, but those moments do show us a glimmer of what Ritchie could look like if he trusted himself to make the play more often than he does. There have been plenty of times this season where he has been the best player on the ice, but he almost always passes on the opportunity to take the game over.
Perhaps it is because of this unselfishness that his point totals this season aren't anything to go crazy over. While wearing the alternate captain's 'A' on his sweater, Ritchie had 24 goals and 59 points in 59 games this season with the Oshawa Generals. A point per-game is good, no doubt about it, but the top players in this year's class exceed that level of production with ease. His offense hasn't been consistent enough to continue racking up points despite the fact that he has regularly been a positive player for his team. It sparks some debate over whether or not the offensive part of his game will translate as he faces increasingly difficult challenges at the pro level.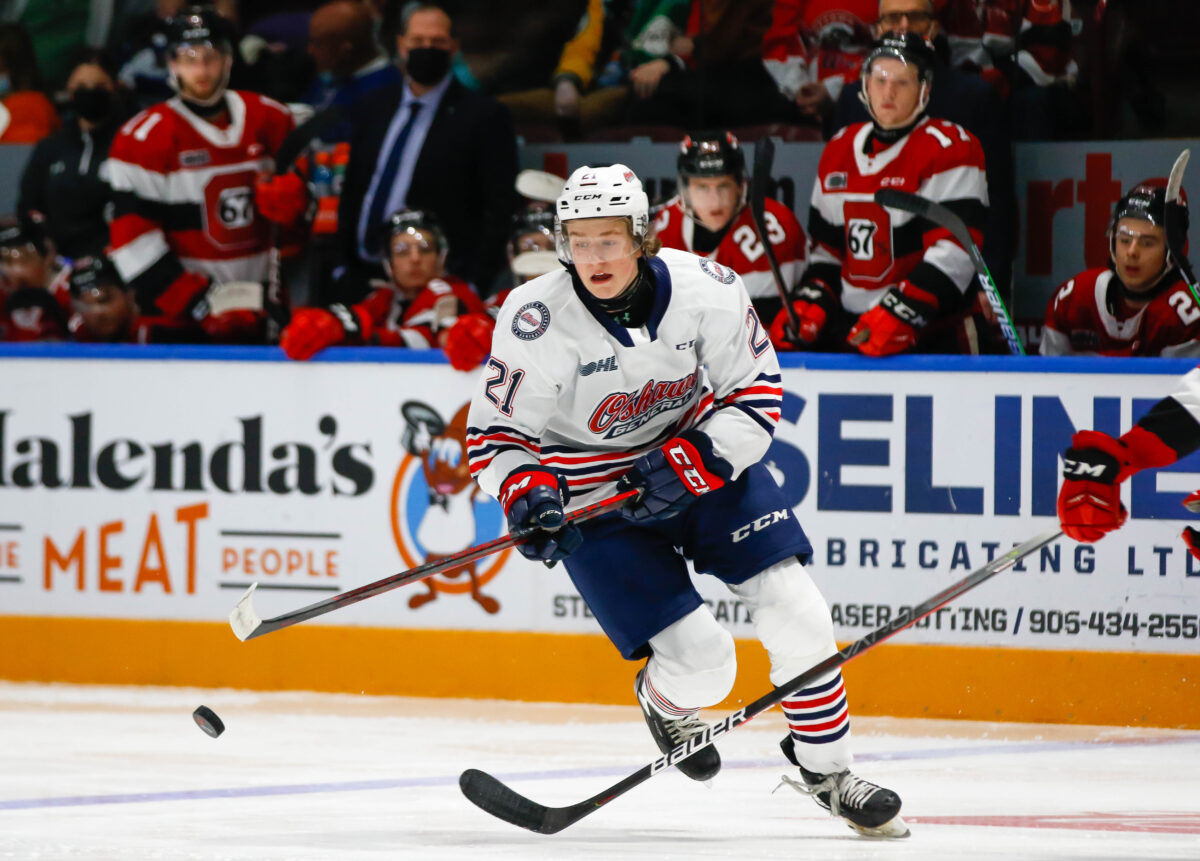 Aside from the offensive side of his game, Ritchie is generally a positive force in all areas of the ice. He plays a fundamentally sound defensive game and has played a role on the penalty kill this season. It's not hard to envision him becoming a two-way threat as he develops his game, but the key will be maintaining steady offensive production. His skating is average and his overall speed leaves you wanting, but he is mobile enough to compliment the things he can do with his hands. He competes well and should be a highly-coachable player as he gains experience at the pro level.
Other THW Profiles
Calum Ritchie – NHL Draft Projection
Ritchie is a pretty safe bet to be picked in the first round, it's just a matter of where. A strong showing down the stretch would probably cement a place in the top-20, and it wouldn't be shocking to see him become a top-16 pick if the right circumstances align. Otherwise he could fall a bit, perhaps even as far as the final picks of the first round. Still, he offers enough upside on both sides of the puck and he plays a key position, so it seems likely that some team will deem him worth using their first round pick on.
Quotables
"This year, wearing an "A" as a 17-year-old with the Generals, he's been arguably their most consistent forward while playing a key role on the penalty kill and late in games in the faceoff circle (where he is really strong). I'd like to see him pick up a bit more of an acceleration gear from a standstill (his stride can look a little short/stunted/heavy), and fill the scoresheet a little more (though the talent around him has something to do with that too), but there's a lot to like." – Scott Wheeler (from "2023 NHL Draft top 64 prospects: Scott Wheeler's March ranking", The Athletic, 3/1/23)
"He looks like a top prospect, but he's quite inconsistent. Ritchie has long stretches where he doesn't make much of an impact, and plays too much on the perimeter. The toolkit screams "good NHL player," and I think eventually he will be that, but he may frustrate you along the way." – Corey Pronman (from "2023 NHL Draft prospects: Bedard No. 1 on Corey Pronman's ranking, Fantilli and Michkov next", The Athletic, 3/7/23)
"The Generals forward has picked up his offensive production lately, but he's struggled to stick around a point per game. Ritchie has shown evasive puck skill and a high-end shot in spurts, and his playmaking stems from intelligence, but he just hasn't been able to find the scoresheet as much as he'd like." – Tony Ferrari
Strengths
Stickhandling
Playmaking
Compete
Two-way ability
Face-offs
Under Construction
Too unselfish at times
Speed
Strength
Shot selection
Offensive inconsistency
NHL Potential
Ritchie has all the makings of a top-tier second line center in the NHL. He moves the puck well, he can carry it and do things with it that others simply cannot. He loves to get his teammates involved, and he can be relied upon at both ends of the ice. If he can consistently produce offense as he develops at the pro level, he'll become the perfect compliment to a pair of offensively-gifted wingers.
Risk/Reward
Risk – 3/5, Reward – 4/5
Fantasy Hockey Potential
Offense – 7/10, Defense – 7/10
Statistics
Videos
---