Nate Danielson
2022-23 Team: Brandon Wheat Kings (WHL)
Date of Birth: Sep. 27, 2004
Place of Birth: Red Deer, Alberta, Canada
Height: 6-foot-1, Weight: 184 pounds
Shoots: Right
Position: C
NHL Draft Eligibility: 2023 first-year eligible
Rankings
---
---
Nate Danielson is a fast, intelligent center with no obvious flaws in his game. On a weaker Brandon Wheat Kings' team, he's established himself as the best offensive threat, leading the team with 32 goals and 76 points in 63 games. Among first-year draft-eligible players in the Western Hockey League (WHL), those totals rank eighth in points and sixth in goals. But what's most impressive is that he takes relatively few shots, averaging just under four a game. He rarely settles for low-danger chances and instead waits for the best chance to score. While that could be a way for him to compensate for a less dynamic shot, he's proven that he can do incredible things with the puck.
However, Danielson tends to be more of a playmaker rather than a sniper. He loves to carry the puck up the boards and draw in the opponents, putting them exactly where he wants them and allowing him to send a quick pass to the open space where a teammate can pick it up and have a good scoring chance. His ability to move the puck has been somewhat overlooked simply because the Wheat Kings lack high-end shooters, as many of his passes are mishandled and result in turnovers rather than scoring attempts.
Related: 2023 NHL Draft Guide
---
Latest News & Highlights
---
But what makes Danielson such a dangerous offensive player is his ability to move and carry the puck while skating at top speed. He's an exceptionally fast skater, using a long, smooth stride to quickly generate speed and employing very strong edgework and crossovers to change directions on a dime. He might be one of the best skaters at the 2023 Draft, and in an incredibly deep draft class, that is saying something.
Shifting to defence, Danielson is much more deceptive and really starts to show off his dominant skill, his intelligence. He can sometimes look like he's drifting behind the play and waiting for an offensive break, but his head is always moving, scanning the opposition for weaknesses and openings. When the opportunity presents itself, he pounces, quickly getting up to top speed in order to leap on a loose puck or cut off a passing lane. His reflexes are almost cat-like, and he is often at his best when he is allowed to react to the events around him, which makes him very effective in transition and on defence.
Danielson is clearly a highly-skilled center who can dictate the flow of the game with his speed, intelligence, and skill, yet he is generally ranked near the bottom of the first round. Part of that comes from the fact that the 2023 Draft class is loaded with dynamic game-breaking centers. Connor Bedard, Adam Fantilli, and Leo Carlsson could be selected with the first three picks, and Will Smith, Oliver Moore, Brayden Yager, and Dalibor Dvorsky are likely destined for the top 15. That is some steep competition, no matter the skill level.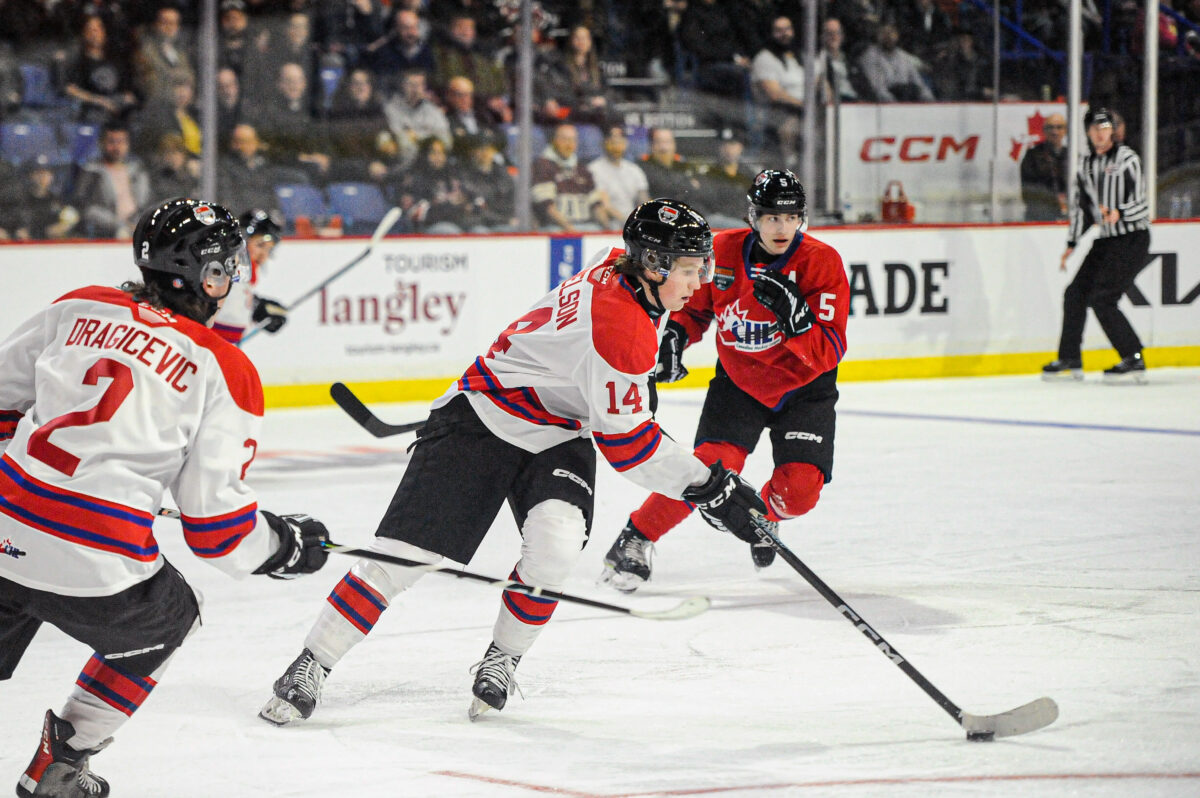 But the big thing holding Danielson back from that group is that he lacks a dominant ability. He plays a smart, safe game, which makes him a very adaptable and projectable player, but less of a dynamic game-changer. There are no major weaknesses anywhere; offence, defence, skating, and transition all look very good for his age. But that has come at the expense of flash and finesse. He's a steak-and-potatoes type of player – a solid meal, but will rarely wow you.
Other THW Draft Profiles
Nate Danielson – NHL Draft Projection
Because of the number of high-end centers available, it's unlikely that Danielson will sneak into the top half of the first round. He just doesn't have the potential of some others around him, which will cause him to slip slightly down the draft boards. However, he is an incredibly safe pick and will certainly be gone by the end of the first day. All of the skills teams look for – skating, size, and strength – are already there, meaning he won't have as hard of a time transitioning to the major leagues as some of his contemporaries. Look for his name to be called between picks 20-30.
Quotables
"He's a player that can make the perfect passes in tight areas and uses his speed to get around opposing defensemen. While he comes in as one of the more underrated top prospects in this draft, he has a deceptive release that makes him a dangerous player from any area in the offensive zone. Don't count him out as a possible top-10 if he can improve on last year's results." – Andrew Forbes, The Hockey Writers
"After a slow start to the season, Danielson has looked a lot more like himself in recent months. He's a well-rounded center who has a lot of NHL traits. He has the high-end skill and hockey sense to make a lot of plays inside the offensive zone, and also has the NHL body and skating ability to make you think he will be able to make those kinds of plays at higher levels. Danielson can drive the play and be relied on in any situation due to his brain, feet, and compete down the middle. He's a potential top-two NHL center." – Corey Pronman, The Athletic (from "2023 NHL Draft prospects: Connor Bedard leads Corey Pronman's midseason ranking," The Athletic – 31/01/23).
"He's a pro-sized, hardworking pivot who can skate and excels in driving through the middle of the ice, pushing tempo, and playing with energy. Danielson plays a well-rounded two-way game, is a proficient penalty killer, wants to make a difference in all areas when he's on the ice and blends good overall skill with his effort. While his game doesn't have the dynamism of the other kids in this loaded WHL class, most scouts project Danielson as an everyday top-nine NHL center. I'd like to see him go past effective and really take over more, but he makes his fair share of plays, he's a sub-.500 team's leading scorer, and it does feel like he has middle-six centre written all over him." – Scott Wheeler, The Athletic (from "2023 NHL Draft top 64 prospects: Scott Wheeler's March ranking," The Athletic – 01/03/23).
Strengths
Backchecking and transition
Ability to read developing plays around him
Skating
Under Construction – Improvements to Make
Defensive pressure
Aggressiveness
Consistency
NHL Potential
Danielson projects to be a solid middle-six center in the NHL. His ability to play a clean, efficient game will endear him to coaches at every level, and while he likely won't earn a lot of first-line minutes, he certainly looks like he could handle a secondary offensive unit or a penalty killing role. Stylistically, he has been compared to Yanni Gourde, who also makes very few mistakes but doesn't have one dominant skill. If he lands in the perfect environment, he could become a 30-goal scorer, but if he doesn't end up there, he still will be a very serviceable NHLer.
Risk-Reward Analysis
Risk – 1/5, Reward – 3/5
Fantasy Hockey Potential
Offense – 6/10, Defense – 7/10
Awards and Achievements
2020 Youth Olympic Games Bronze Medal
2023 Kubota CHL/NHL Top Prospects Game
Interviews/Links
Nate Danielson Statistics
Videos