The Boston Bruins visit the Chicago Blackhawks as they continue their five-game road trip following a 5-3 loss to the Detroit Red Wings. The Bruins have a 23-7-2 record on the road, while the Blackhawks are 13-18-3 at home. On paper, this should be an easy win for the first-place Bruins. However, their play over the weekend series against the Red Wings showed some concerning characteristics in their game, and anything can happen on any night. The Bruins are 8-2-0 over their last ten games and became the first team to clinch a playoff berth over the weekend. Conversely, the Blackhawks are 3-6-1 over their previous ten and have lost three straight entering tonight's game.
---
---
Bruins Showing Signs Of Complacency
While the Bruins' season has been history in the making, their recent performances have not been great. Going back to last week, they blew a 2-1 lead over the Edmonton Oilers in the third period and ended up losing the game 3-2. Over the weekend series against Detroit, Boston fell behind early in both games. On Saturday, they were able to claw their way back from a two-goal deficit after 20 minutes to pick up a 3-2 win. Trade acquisition Garnet Hathaway tapped home the game-winning goal with 6:06 remaining in the third period. It was his first goal since coming over in a deal with the Washington Capitals.
The Bruins didn't start well again on Sunday. This time they found themselves trailing the Red Wings 4-0 before making it interesting in the final minutes. Both games saw the Bruins' troubled power play give up a shorthanded goal. Whether complacency is starting to creep into their game, they need to find a way to stay driven and sharp as they prepare for what they hope will be a lengthy playoff run.
Blackhawks Among Favorites For Connor Bedard Sweepstakes
Chicago is riding a three-game losing streak, but that doesn't come as a huge surprise, considering the type of season they are having. The Blackhawks currently sit eighth in the Central Division standings, and with a 22-38-6 record, their 50 points have them only three points up on the Columbus Blue Jackets, who are in last place in the overall NHL standings. They remain poised for a high draft selection and are one of the favourites in the Connor Bedard draft lottery sweepstakes.
Bedard has been setting the Western Hockey League (WHL) on fire with his torrid scoring pace and is a true generational talent. The consensus number-one pick has 61 goals and 64 assists for 125 points in just 51 games with the Regina Pats this season.
Head-to-Head
Tonight's game between the two Original Six franchises is a rematch of the 2013 Stanley Cup Final. However, both teams have undergone massive changes over the past ten years, and not many members remain from that series. The two clubs played in front of a sold-out Notre Dame Stadium at the 2019 NHL Winter Classic. The Bruins emerged with a 4-2 victory at the showcase event.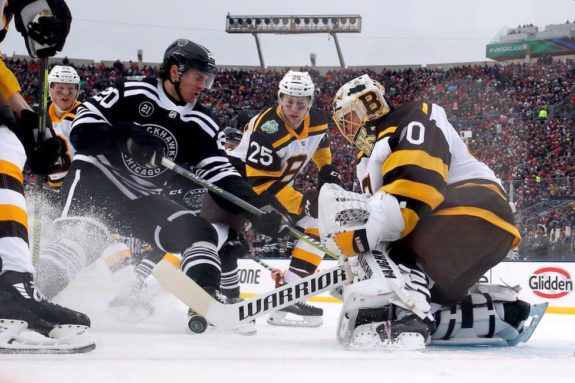 All-time, the Bruins have a 271-239-79-5 record against the Blackhawks. Over the past ten meetings between the two teams, Boston holds a 7-2-1 record and has outscored Chicago by a 38-25 margin. They played their first meeting of this season at TD Garden on Nov. 19, ending with the Bruins winning 6-1. Defenceman Charlie McAvoy had four assists in the contest, and Patrice Bergeron, Brad Marchand and David Pastrnak all had two points as the Bruins cruised to an easy victory.
Related: Diving Deep: Looking At Bruins' Linus Ullmark's Path to Stardom
---
Latest News & Highlights
---
Boston scored two power play goals in the first contest, and tonight's game would be a perfect time for them to get their struggling man advantage some confidence after giving up shorthanded goals in consecutive games for the first time this season.
Players To Watch
Charlie Coyle has scored just two goals in his last 25 games but has had many chances recently to find the back of the net. The third-line center last scored in the Bruins' win over the New York Rangers on March 4. With linemate Taylor Hall on the long-term injured reserve, head coach Jim Montgomery has been shuffling lines lately, trying to find more production out of his third line.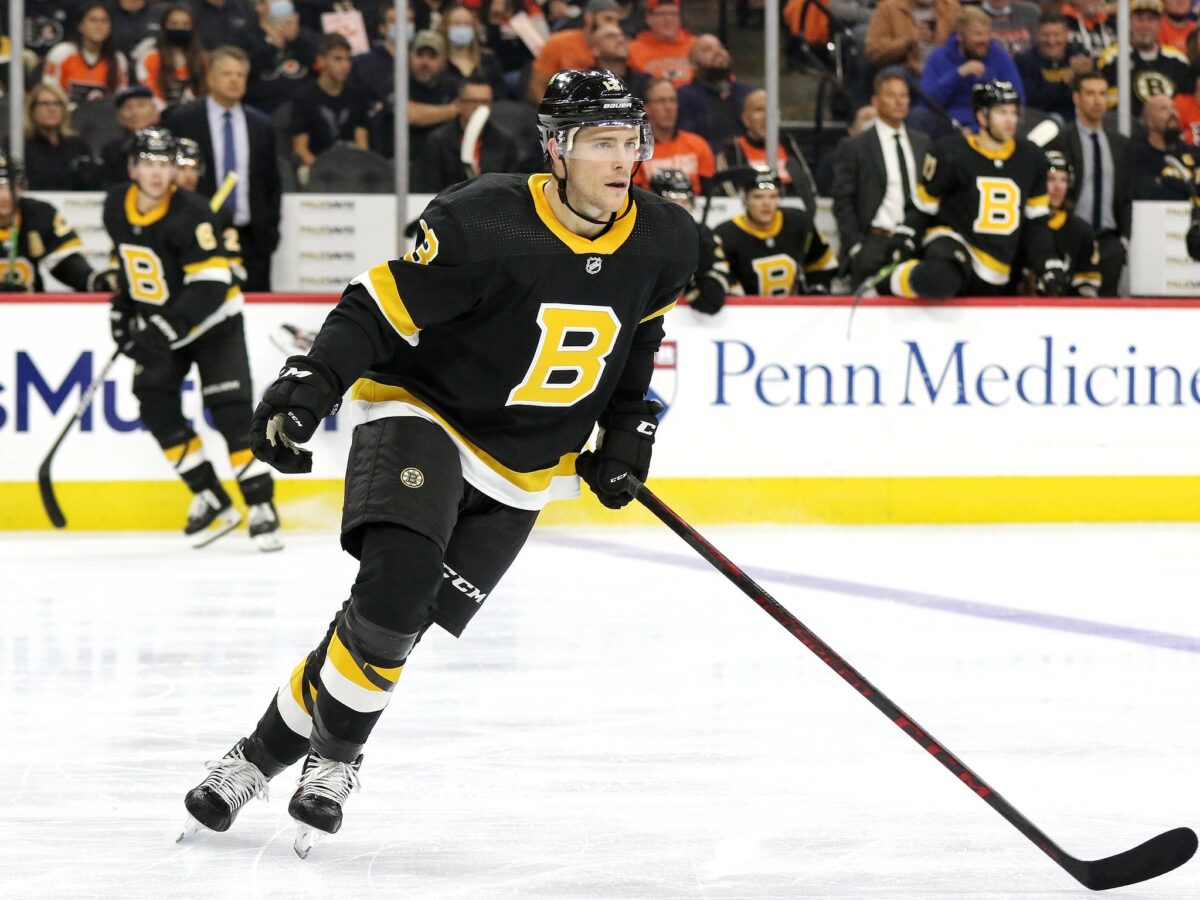 Defenceman Seth Jones is the Blackhawks' leading scorer with ten goals and 21 assists for 31 points in 56 games. Their offence is ranked 32nd in the NHL while averaging 2.47 goals per game, and going up against the league's best team with be no easy task.
Goaltending Matchup
Linus Ullmark looks to draw back into the Bruins' net as he continues to lead the Vezina Trophy race with his superb play this season. He has a 33-4-1 record with a 1.89 goals-against average (GAA) and a .938 save percentage (SV%) this season. He was in the net for the first meeting against the Blackhawks, where he turned away 19 of 20 shots en route to a 6-1 win.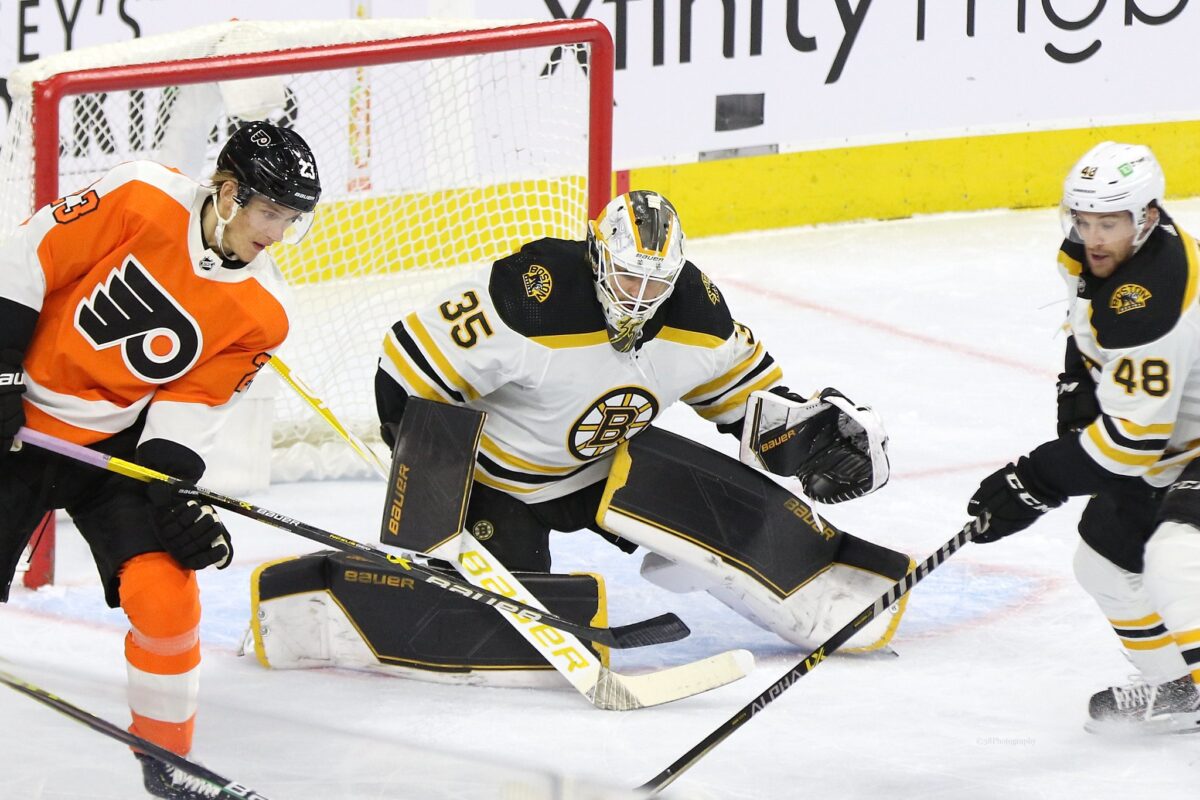 Petr Mrazek is expected to get the start in the opposition's net. He has some horrendous numbers this season, with an 8-19-3 record with a 3.69 GAA and a .894 SV%. He has also struggled mightily throughout his career when going up against the Bruins. He has a 4-3-1 record against Boston with a 3.47 GAA and a .881 SV%.