Jared Seth Jones (born October 3, 1994) is an American professional ice hockey defenseman for the Chicago Blackhawks of the National Hockey League (NHL). He previously played for the Columbus Blue Jackets and Nashville Predators. He was selected fourth overall by the Predators in the 2013 NHL Entry Draft.
After two seasons playing for the United States National Team Development Program, Jones joined the Western Hockey League's (WHL) Portland Winterhawks.
Jones has represented the United States several times internationally. He won back-to-back gold medals at the 2011 and 2012 IIHF World U18 Championships. He was a member of the 2013 World Junior Ice Hockey Championships team that won a gold medal.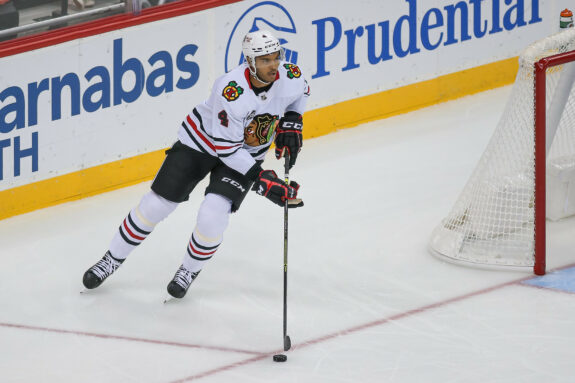 Seth Jones Statistics
Trade Tracker
Date
Traded From
Traded With
Traded To
Traded For
Jan. 6, 2016
–
Ryan Johansen
Jul. 23, 2021
First-Round Pick 2021
(Nolan Allan)
Sixth-Round Pick 2022
(Dominic James)
First-Round Pick 2021
(Cole Sillinger)
Second-Round Pick 2021
(Aleksi Heimosalmi)
First-Round Pick 2022
(David Jiricek)
Adam Boqvist
Deeper Dive
Achievements
U17 WHC All-Star Team — 2010-11
U17 WHC Silver Medal — 2010-11
U18 WJC Gold Medal — 2010-11
U18 WJC Gold Medal — 2011-12
U18 WJC Top 3 Player on Team — 2011-12
CHL Top Draft Prospect Award — 2012-13
CHL Top Prospects Game — 2012-13
U20 WJC Gold Medal — 2012-13
U20 WJC Most Assists by Defenseman (6) — 2012-13
WHL (West) First All-Star Team — 2012-13
WHL Champion — 2012-13
WHL Most Assists by Rookie (42) — 2012-13
WHL Rookie of the Year (Jim Piggott Trophy) — 2012-13
World Championship All-Star Team — 2013-14
World Championship Best Defenseman — 2013-14
World Championship Most Assists by Defenseman (9) — 2013-14
World Championship Most Points by Defenseman (11) — 2013-14
World Championship Top 3 Player on Team — 2013-14
World Championship Bronze Medal — 2014-15
World Championship Top 3 Player on Team — 2014-15
NHL All-Star Game — 2016-17
NHL All-Star Game — 2017-18
NHL Second All-Star Team — 2017-18
NHL All-Star Game — 2018-19
NHL All-Star Game — 2019-20
Alternate Captain (Blue Jackets) — 2019-present
Sources