Seth Jones THW Close-Up:
Once in a lifetime prospect lives up to the hype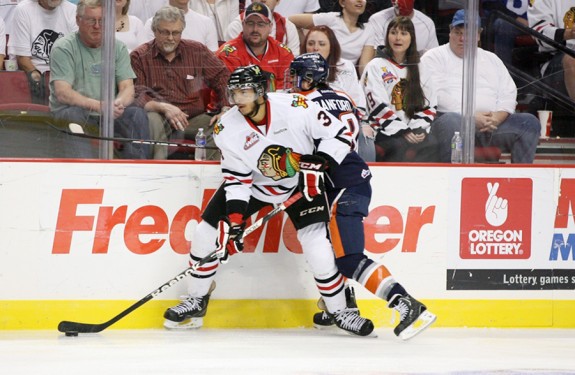 Date of birth: 10-3-1994
Hometown: Plano, TX
Ht: 6'4″  Wt: 206
Shoots: Right
Position: Defense
NHL Draft Eligibility: 2013 1st year eligible
Twitter: @seth_Jones3
THW The Next Ones Ranking (May 2013): 1st
Other Rankings (If available)
·                       ISS: 2nd
·                       Future Considerations: 1st
·                       Craig Button: 1st
·                       Consensus aggregate of several services (NHL Numbers):1st
***
[NHL 2013 Draft Guide – The Next Ones Draft Headquarters: Your quintessential draft resource]
There was a great deal of hype surrounding Seth Jones before he played one second of Major-Junior hockey this year. After saying 'no thanks' to the NCAA Jones decided to join the Portland Winterhawks, already a powerhouse franchise, to make his mark on the hockey world. What a mark he made.
Despite all the pressure and intrigue Jones never shied away from it, nor did it effect his productivity on the ice. Some players at that age can wilt under the spotlight but Jones shone bright. Whether  this is due to his father's , Former NBA player Popeye Jones, tutelage or just natural confidence it doesn't matter – Jones played his game all year.
The 6'4″ tall defenseman from Plano, TX lived up to the hype, earning the WHL Rookie of the Year award and jumping to the top of most draft boards. There have been many defenseman with the same size as Jones come down the pike but very few of them possess his skill.
Jones is a very fluid skater who can handle the puck under pressure and will jump start the offense. He can distribute the puck, move the puck and has a big time shot. He has displayed a high hockey IQ and picks the most opportune moments to jump into the rush where he moves like a high-end forward. Those offensive skills garnered him 14 goals and 56 points in his rookie year, which led all WHL rookies, and may very well make him the top pick in June's NHL Draft.
He helped Portland become one of the most prolific scoring teams in junior hockey this year and was a mainstay on their play that was ranked second in the WHL. He is NHL sized and already shows that he has the skills that he needs to play defense in the NHL.
The offensive side of his game is not the whole story. He is very sound in his own end and never seems rattled by the play or by the pressure of opposing forecheckers. Despite his size he did not turn out to be an overly physical player, although that seems like something he could easily learn to do. He is strong enough and smart enough to hone his physical game and there seems to be no reason to believe that the physical aspect of his game will catch up with all the other eye-popping ability he possesses.
When it does he could become one of the most intimidating blue liners in the game.
Above all else, Jones is a winner. He has won at every level of hockey he has played. With Team USA he has been part of a U-18 World Championship team, was the captain of the American gold medal winners at the World Juniors this past winter and was a big part of Portland's WHL Championship this spring. It's hard to think of a defensive prospect that has stardom written all over him the way Jones does. Some teams may shy away from taking a defenseman with the first overall pick but a talent like Jones does not come along often. For that reason alone he appears worth the risk.

Where Will He End Up in June:
A lot was made about Nathan Mackinnon's performance in the MasterCard Memorial Cup and how it may have vaulted him ahead of Jones in the rankings. It's hard to believe that after a season of scouting that two weeks of hockey will have changed the minds of scouts. Jones is a defenseman who has Shea Weber size and strength but with a stronger offensive upside. Whatever team selects him will be getting a franchise defenseman to build around. Colorado should take Jones first overall. The Avalanche already have young skilled forwards and could use a back end player like Jones. Add to the fact that he started playing the game while living in Denver while his dad played for the Nuggets and it seems like a fit that was made to be.
Scout's Honour:
"Jones routinely shows why he is the crown jewel of the draft. The first and most exciting part of his game is his ability to handle the puck and move his feet at an extremely high level for his size. He is able to maneuver the ice with such ease and electricity which makes him impossible to either contain offensively or to beat on the defensive side. Jones contributes at both ends of the ice and plays huge minutes making him an invaluable asset to his team. He is a physical defenseman with exceptional smarts. He is a master at turning loose pucks into odd-man rushes for his team with slick, heads-up breakout passes." – Zenyon Heryasymiuk, Future Considerations
"You are not going to find a better combination of physical gifts and athleticism in the 2013 NHL Entry Draft other than Seth Jones. He has strength, size and skating. He compliments this with extreme poise and confidence and this makes him a very strong two-way defenseman. He has that rare ability to control the pace of the game and does so while providing a consistent rock-solid defensive presence. While he doesn't play with flash and jump, he makes all the smart plays that creates scoring chances and prevents goals against. Watch this franchise defenseman in the making make the jump to the NHL in the 2013-14 season." – Daniel Chan, Future Considerations
Statistics: .
Bio/Interview(s)/Link(s):
International Tournaments:
Team USA, U-17, U-18, U-20·
ETA : One year
Risk-Reward Analysis:
Risk =  1/5   Reward = 5/5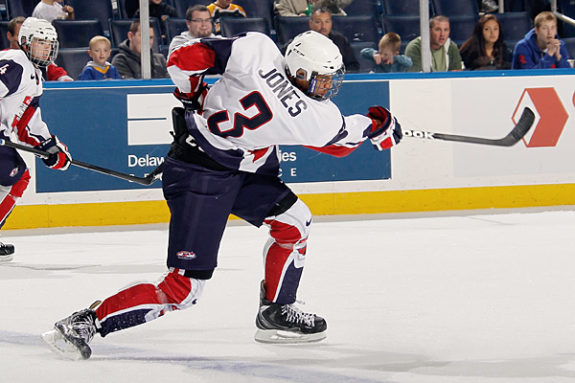 NHL Potential:
Franchise two-way defenseman, can build team around him.
Strengths:
Skating ability
Puck handling
Hockey IQ
Big Shot
Solid in own end·
Flaws/Aspects He Needs To Work On:
Play physically on a more consistent basis·
NHL Player(s) Comparison:
A cross between Shea Weber and Scott Neidermayer:
Video(s):
http://www.youtube.com/watch?v=D2S7HID7rEc
THW's The Next Ones prospect profile template design architect: Chris Ralph
Andrew writes about the WHL and NHL Draft Prospects. He also covers the Seattle Thunderbirds for 710 ESPN Seattle and spent two years with Sportsnet. Follow him on Twitter @andyeide.