Looking back at the Leafs season, there are more than a few positives going forward. That being said,  examining how the Leafs are being paid in comparison to their production is a way to gauge what others around the league are making for the same type of production. If a raise is warranted, it should be reflected in the salary numbers of those around the league.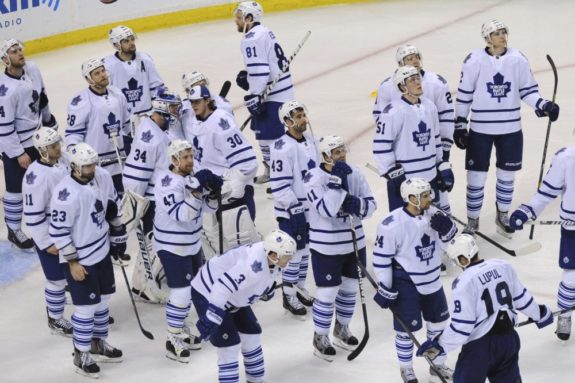 Phil Kessel: 48 games played, 20 goals, 32 assists, 52 points, 6 power play goals, 4 game winning goals.
Kessel was the most productive Leaf this season in terms of points. He faced demons by scoring in the Bruins playoff series which is one thing he was not able to do for the last few seasons. He makes $5,400,000 a season.
Comparables: Chris Kunitz 48 GP, 22G, 30A, 9 PP, 5GW, $3,725,000
Eric Staal 48 GP, 18G, 35A, 3PP, 4GW, $8,250,000
Taylor Hall 45 GP, 16G, 34A, 4PP, 4GW, $6,000,000
Nazem Kadri: 48 GP, 18G, 26A, 44P, 5PP, 1 GWG. ($1,720,000)
As one of the most highly touted prospects in the Leafs organization – although not necessarily treated that way – Kadri performed well in the playoffs and regularly contributed during the season to be the second highest scorer on the team.
Comparables: Derek Stepan 48GP, 18G, 26A, 4PP, 6GW, $875,000
Matt Moulson 47GP, 15G, 29A, 8PP, 0 GWG, $3,133,333
Alexander Semin 44GP, 13G, 31A, 4PP, 1GWG, $7,000,000
James Van Riemsdyk: 48GP, 18G, 32P, 14A, 5PP, 3GW. ($4,250,000)
As one of the only Leafs players to have playoff experience with his previous team the Philadelphia Flyers, Van Riemsdyk did well in the Boston series. He also managed to contribute being the third leading scorer on the regular season roster with 32 points.
Comparables: Wayne Simmonds 45GP, 15G, 17A, 6PP, 4GW, $3,975,000
Lee Stempniak 47GP, 9G, 23A, 4PP, 2GW, $2,500,000
Cody Franson: 45GP, 4G, 25A, 29P, 3PP, 0 GWG.($1,200,000)
Coming to Toronto via trade in July of 2011, Franson managed to become the most productive defenseman in terms of points while scoring timely goals in the playoffs.
Comparables: Niklas Kronwall 48GP, 5G, 24A, 2PP, 2GW, $4,750,000
Kimmo Timonen 45GP, 5G, 24A, 3PP, 1GWG, $6,000,000
Dion Phaneuf: 48GP, 9G, 19A, 28P, 3PP, 1GW, ($6,500,000)
Criticized all season for his play, Dion has a captain's salary. He may not be the Norris-nominated Phaneuf that he was when he began his career in Calgary, but he did elevate his game in the last two games of their playoff series.
Comparables: Shea Weber 48GP, 9G, 19A, 3PP, 1GW, $7,857,143
Dustin Byfuglien 43GP, 8G, 20A, 4PP, 2GW, $5,200,000
Tyler Bozak: 46GP, 12G, 16A, 28P, 4PP, 3GW, ($1,500,000)
Bozak is the Leafs number one centre and struggled all season to be able to live up to that role's expectations. The Leafs needed him to perform at a level he is not able to give them, but he did produce in the playoffs and during the regular season on a not-so-consistent basis.
Comparables: Brendan Gallagher 44GP, 15G, 13A, 3PP, 3GW, $870,000
Radim Vrbata 34GP, 12G, 16A, 2PP, 1GW, $3,000,000
David Desharnais 48GP, 10G, 18A, 2PP, 3GW, $850,000
Nikolai Kulemin: 48GP, 7G, 16A, 23P, 0PP, 0GW, ($2,800,000)
Kulemin had a bit of an off year this season with a shuffling of lines. Kulemin wasn't producing the way he had for a couple seasons prior and his numbers show that. His play in the playoffs was degraded to third and fourth line duties.
Comparables: Viktor Stalberg 47GP, 9G, 14A, 0PP, 1GWG, $875,000
Bryan Bickell 48GP, 9G, 14A, 0PP, 2GW, $541,667
James Reimer: 33GP, 19W, 8L, 2.46 GAA, .924 Sv%, 4 SO, ($1,800,000)
The key to all the Leafs victories was the man in the crease, James Reimer. He faced all critics when they said the Leafs weren't good enough to make the playoffs because Reimer couldn't steal games. He stole games in the playoffs and he stood on his head.
Comparables: Tuukka Rask 34GP, 19W, 2.00 GAA, 929Sv%, 5 SO, $3,500,000
Ilya Bryzgalov 40GP, 19W, 2.79 GAA, .900Sv%, 1 SO, $5,666,667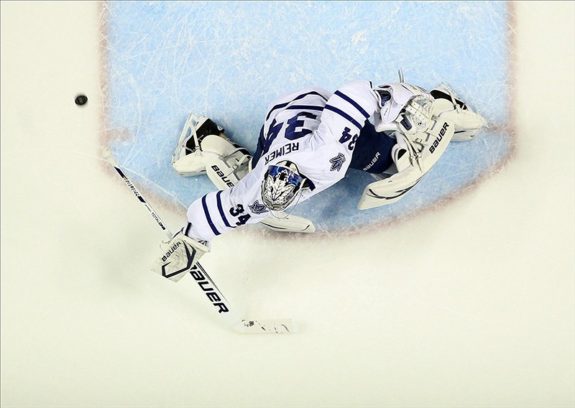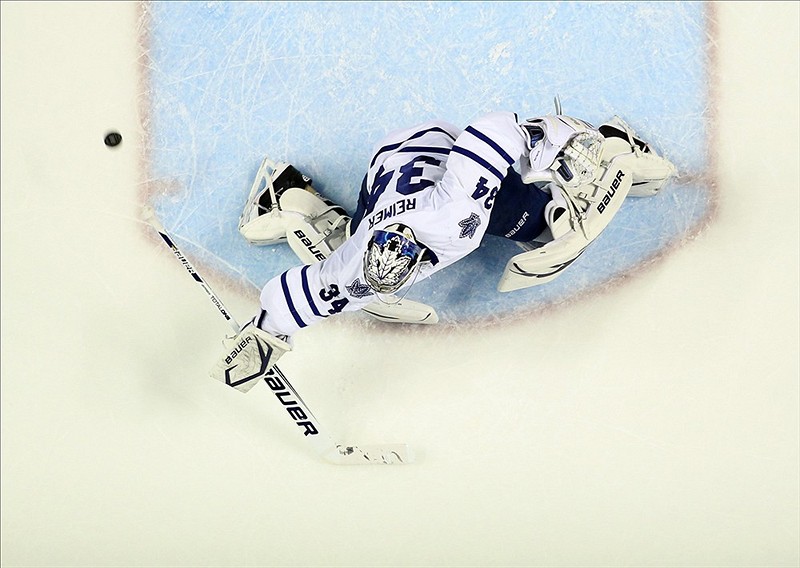 Help Me Help You
Based on the data collected and presented, it seems most of the Leafs are due for a raise, or a similar contract whether with the Leafs or somewhere else.
The Leafs need more top 6 forwards and that is not going to come by way of the draft or the minors seeing as they already have Lupul, Van Riemsdyk, and Kadri up and ready to go. The production of three guys spread along three lines will not translate into wins or consistent production. You need a line featuring maybe all three. You need centres that have a FO% of over 60%. There is a laundry list of things the Leafs need and the only thing that should remain is their goaltending. Unless you wanted to add a veteran goaltender behind Reimer.
Finding top 6 forwards is a chore, and it won't be easy. You have to give up something valuable in order to get something valuable and hope it works. High risk, high reward is what the Phil Kessel trade was all about. Even though the Boston Bruins may be set with two great young players, the trade has worked out well for both, which doesn't always happen.
There are many Leafs players who deserve raises based on the fact that when the floor was introduced along with the salary cap, players were overpaid in order to meet the specifics of this CBA change. The over compensation for some players raises the market value for other high profile players. If this trend continues, each team will only be able to afford one star player because of rising market value. The Leafs cannot afford to give all their top point producers raises while the salary cap goes down next season.
(Special thanks to capgeek for all the cap-hit info)
Katie Flynn is a News Editor at theScore and theScore App as well as an NHL Analyst for H4TV Sports News.