I have been a supporter of Phil Kessel since he arrived in November of 2009 via Brian Burke's first blockbuster trade. The honeymoon is over, though. I am not discrediting what he has meant to the team, what he has contributed and his commitment. There is nothing wrong with the way he has played or the way in which he has handled himself with the media much to the chagrin of media members. It's time for the Leafs to make a move.
Dave Nonis was adamant in saying there were no untouchables on the Maple Leafs roster going into the offseason. If something isn't working out the way he hoped, or someone isn't who management thought they were going to be – regardless of name- they would be on the block.
The Leafs playoff run has revealed the holes that were just a pin prick in their sails, and are now gaping holes. The Leafs only won an average of 30% of their face-offs, home or away, in the playoffs. Their regular season record wasn't much better. This is something that cannot go unaddressed. Phil Kessel needs a better centre, Grabovski needs better wingers, and the third and fourth lines need to be revamped. The offense was stingy, when it was on it was on and everything was good. When it wasn't working, the team looked like an absolute mess. It's hard to put up more wins than losses when your offense can't find any consistency.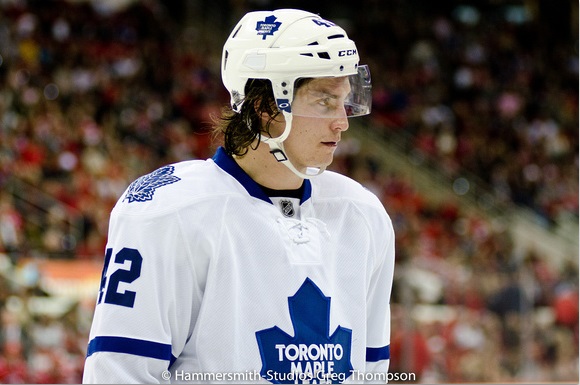 There are three names that come before Phil Kessel on the priority list. Tyler Bozak should have been dealt at the trade deadline. His value will never be as high as it was at the deadline, and it has already started to decrease due to his playoff play. He's not a number one NHL centre. He's not a number two NHL centre. He is- at best- a third line centre that can come in and take draws if needed. At this point, his face-off production isn't good enough to win face-offs when you need them.
Trading Bozak at the deadline would have insured the most return for a player who is likely to walk in the offseason as a UFA. He is expected to get a raise based on his play this season as it was significantly altered from his last. He underachieved his way through his first NHL contract, and is expecting to get first line centre dollars for a third line performance. Comparatively among NHL centres this season with a total of 27-28 regular season points, the cap hits are very different.
Tyler Bozak- $1,500,000 through 2012-13 season, UFA
David Desharnais- $3,500,000 through 2016-17 season, UFA
Mark Letestu- $1,250,000 through 2014-15 season, UFA
Jiri Hudler- $4,000,000 through 2015-16 season, UFA
Matt Cullen- $3,500,000 through 2012-13 season, UFA
Frans Nielson- $2,750,000 through 2015-16 season, UFA
If you were to add all those salaries up and divide by 6 you would get a surprising number; $2,750,000. If you were to take out that lucrative contract owned by Jiri Hudler, you would get a much better number for Nonis to work with, and a better deserved salary of $2,500,000. I could live with Bozak making that kind of money if he made bigger strides in his game in the offseason to dominate the face-off circle. Nonis doesn't have the gift of hindsight right now and that number could be a gamble for a player ending up centring your third line.
It is highly possible Bozak walks and joins another team as a UFA which wouldn't be a bad thing for the Leafs. It is unlikely Bozak would agree to take the same amount of pay to play on the third line with a much lesser role. Trading to get anything for him at the deadline was the golden opportunity to make lemonade out of these lemons.
Nazem Kadri is the next name on that "Nonis Do" list that needs to be addressed. There is no way he should be traded. He was treated not as a first round highly touted prospect, but as an expendable piece in the process. He has impressed with his speed and skill every time he has been up with the big club, and still is criticized for his size. The playoff performance by Kadri should take size out of the equation since his frame was enough to battle for pucks in the corners, lay down some nasty hits, and take them without getting injured. He's taken a page out of Grabovski's book and learned to use his speed to his advantage. Kadri must be signed by the Leafs this offseason because he, like James Reimer, has earned the right for a few more seasons as a member of the Toronto Maple Leafs.
James Reimer can really do no more. As a goaltender, casual fans will always see your performance as black and white. If he gets the win, he did a good enough job to keep the hate away, if he loses, watch out. Batten down the hatches because a storm of fair-weather fans are coming your way. Reimer did everything in his power to be the series changer for the Leafs, and he almost accomplished that.
Ben Scrivens in not ready to be the number one goaltender in Toronto, and neither is any goaltender in the Marlies system. There isn't much on the market in terms of starting goalies that would top what James Reimer can do for the Leafs which is why you need to re-sign him and show some confidence in him. Luongo is not the answer for Toronto and sitting a goalie on the bench that has carried your team to game 7 of the 2013 Stanley Cup Playoffs is disrespecting his work and potential.
This leaves us to Kessel. By signing Kadri and Reimer to deserved two to three year contracts, the money left to sign him won't be a large sum, even if you were to get Bozak off the books. The one contract every player who scores 30-40 goals a season consistently is going to look at  is Alexander Semin's largely undeserved payout. For the next five years, Semin will be earning $7,000,000. Motivation has been a part of his game that is widely criticized and after the extension his play seemed to drop off. I wouldn't accuse this of Phil Kessel, but he would look at that kind of contract and say he definitely deserved it. An arbitrator would say he deserves either that or more based on his consistent production.
In this case, with the amount of money the Leafs will have to spend, Kessel will want a large payout for his contributions to the club and deservedly so. This is something the Leafs don't want to do long term. They need more wingers, more scorers and a few more leaders. What they need are a couple Kessel's and a couple Lupul's. Kessel's trade value will never be as high as it is right now. At the age of 25, he has hit his peak. If the Leafs have learned anything, it is to get rid of players at their peak if it will make your future better. Yes, he is young and has done nothing wrong to deserve a trade but this is a business. In order for this Maple Leafs team to succeed they need way more offense than just Phil Kessel can offer. He is their most viable chip to get either ready prospects or roster players back to help the Leafs improve.
Phil Kessel has been great for the Leafs, but the help on the way cannot translate into top 6 forwards at the talent level greater or equal to Kessel's. He must be traded for the future, even though it may hurt to let him go now.
Katie Flynn is a News Editor at theScore and theScore App as well as an NHL Analyst for H4TV Sports News.