Our player-by-player grading breakdown appropriately finishes with the goaltenders. The 2013 shortened NHL season can be viewed as the first step towards bringing ultimate NHL success to the State of Hockey after Zach Parise and Ryan Suter led the Minnesota Wild to a first postseason berth since 2008.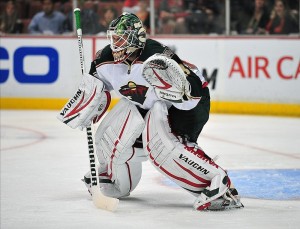 However, ultimate success in hockey can only ever be achieved if quality goaltending is in place. There's no need for an in-depth discussion on the importance of goaltending here. It certainly didn't help the Wild that they had to use three goaltenders during their first round series against the Chicago Blackhawks [see also: Minnesota Wild Will Play Musical Goaltenders Ahead Of Game 5 In Chicago].
It is paramount that this organization keeps the goaltending position strong both in the present and moving towards the future. Below are our thoughts on the 2013 season for the three goaltenders used and some additional comments about their respective futures.
The other two articles in this series are here:
Minnesota Wild 2013 Season Player Grades: The Forwards
Minnesota Wild 2013 Season Player Grades: The Blue Liners
Grades are given in relation to performance expected. This means that while Dany Heatley scored the fourth most goals, he doesn't receive a particularly good grade because of the expectations upon him and particularly considering his $7.5 million salary. A 'C' grade means that a player has met expectations.
Please feel free to join in the discussion and to weigh in with your opinions in the comments section.
The Goaltenders
Niklas Backstrom: Grade C
Backstrom has held the goaltending mantle in Minnesota since 2006-07 and actually enjoyed one of his better years in 2013 posting a .909 save percentage and 2.48 GAA while playing in 42 out of the Wild's 48 games. Backstrom's grade is based on the fact that while he carried the team through stretches, he did have a few consistency issues and he was paid a huge $6 million salary last season.
Now he is a free agent and the past season presented no obvious heir apparent ready to take the goaltending position. It is perhaps surprising that GM Chuck Fletcher is so hesitant to pull the trigger on a fresh new deal. The reality is that Fletcher must be hoping the 35-year old takes a significant pay cut on his current contract. It's difficult to justify Backstrom's current salary based upon his performance over the past four seasons.
Josh Harding: Grade A
Perhaps those who know Harding better would be less generous in their grading. However, considering the fact that he was diagnosed with multiple sclerosis in October, and missed most of the regular season while attempting to find the right medication levels, Harding's performance in the postseason was nothing less than astounding. He kept the Wild in the five game series after having to step up very late. Excluding a Game 5 where the entire team was exposed, especially the defense in front of him, Harding's statistics are very good in the playoffs as a whole.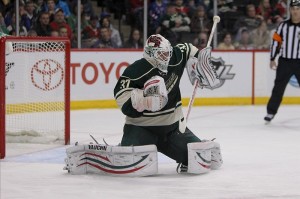 There are still perhaps a couple of lingering health concerns about Harding after the 2013 season. However, the 28-year old has demonstrated that he has more than enough will, desire and skill to play in the NHL and that is encouraging for the Minnesota goaltending position moving forward. [See also: Josh Harding, Jordan Sigalet and Multiple Sclerosis].
Darcy Kuemper: Grade B
Kuemper entered the 2012-13 season having played in just 23 AHL games. It's fair to say that he spent most of the year accelerating his development. The 23-year old impressed with his poise and demeanor during action in parts of six regular season and two playoff games for the Wild. It's clear that he has a good technique and a mindset that has the organization very excited about his potential.
Kuemper could do with spending more time as a starter in the AHL, but he has made his mark in 2013 and is a clear candidate to be Minnesota's 'goaltender of the future'.
Seb has been writing about the NHL and ice hockey online for over a decade. A long-time passionate Bruins fan, it's a dream of his to be writing about this team, but don't expect him to hold back from telling some hard truths when necessary. Follow him on twitter @seberead