The Minnesota Wild were most concerned about their blue line heading into the shortened 2013 NHL season, even with the addition of Ryan Suter, and it proved to be the place of most concern throughout the regular season and into the playoffs. Most of the problems can be attributed to youth and inexperience and that point could have hardly been better highlighted by the fact that Suter was the only blue liner with previous NHL playoff experience among the starting six defensemen in Game 1 against Chicago.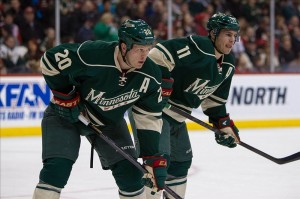 Last summer marked a new era for Minnesota Wild hockey with a pair of big free agent additions in Zach Parise and Suter. The 2013 season has brought more optimism to the franchise with the emergence of several promising young players. The likes of Jonas Brodin, Charlie Coyle and Jason Zucker demonstrated that they can be a part of an exciting NHL future in the State of Hockey.
We are grading every player on the roster based upon their performance in 2013. Earlier in the week we graded the forwards: Minnesota Wild 2013 Season Player Grades: The Forwards. Today we look at the blue liners.
Grades are given in relation to performance expectation as opposed to overall performance; ie Dany Heatley may have been fourth on the team for goals, but his play was significantly below expectations particularly considering his contract. A 'C' grade means that a player has basically performed at the level expected of him.
Please feel free to join in the discussion and weigh in with your opinions in the comments section.
Blue Liners
Ryan Suter: Grade B
Suter was the most highly sought after free agent last summer, but there were questions surrounding how he would perform without long time partner and perennial Norris Trophy candidate Shea Weber. Considering the under-performance of Gilbert and failure of some of the roster's other young players to step up, Suter has exceeded most expectations. He has been nominated for the Norris Trophy after embracing the role as a top defenseman in this league. He led the NHL with an average of 27:16 minutes of ice time per game. He also scored at the best pace of his career with 32 points in 48 games.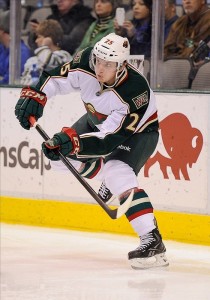 Jonas Brodin: Grade A
Brodin's rookie season surprised even the most optimistic Wild fan. His emergence as the team's #2 defenseman and a great partner to Suter may have just saved this defensive corps from mediocrity. He was snubbed for the Calder Trophy. However, Brodin's rookie season as a blue liner seeing huge amounts of ice time was incredibly impressive. Few players show the poise and hockey sense in the NHL at all, let alone in their first year as a 19-year old. It's pretty clear that he will be a big part of this roster for the next decade and more. [See also: Jonas Brodin, the Calder Trophy and Everything Wrong With NHL Awards].
Tom Gilbert: Grade D
Gilbert deserves to rank alongside Dany Heatley as the biggest disappointments of the season for the Wild. The 30-year old was expected to anchor a second pair after four seasons seeing lots of ice time as a very serviceable top four blue liner with the Edmonton Oilers. He struggled both offensively and defensively through most of the season scoring just 13 points in 43 games and being demoted to the bottom pair by Mike Yeo in the playoff series against the Blackhawks.
Jared Spurgeon: Grade C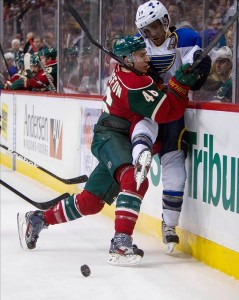 Spurgeon had an up and down season and there will be concerns in the Minnesota organization that the 23-year old's development has stalled. He was critical during the Wild's best stretch of hockey in March scoring 12 of his 15 points in a span of 15 games. However, he was a liability at other points during the year. Late season and playoff form suggests that the future remains bright for Spurgeon. It seems likely that the 2013-14 season will be a critical one for his Minnesota future.
Clayton Stoner: Grade C
Stoner is a hard-working, physical and honest player. He managed to stay healthy playing all 48 regular season games in 2013. The problem is the amount of hockey he played really exposed his limitations in terms of skating and transition game. He will have a chance to compete for a roster spot in next September's training camp, but the hopes of the 28-year old ever developing into a top four defenseman have all but diminished.
Justin Falk: Grade D
Falk took a step backwards in his development this season after showing some promise over the previous two campaigns. The 24-year old has a good skill set with great size and physicality. Despite the various blue line problems endured by the Wild this season, Falk failed to establish himself and that has to be a point of concern moving forward.
Marco Scandella: Grade D
Scandella's season was just about as puzzling as anything that happened in Minnesota last season. He failed to establish himself on the blue line appearing to take a serious step back in his development playing just six games in the regular season. Yeo took a surprising decision inserting Scandella into the line-up for Game 1 of the playoffs and also asking the 23-year old to take on the fourth most ice time among blue liners. Scandella appeared to embrace the responsibility and performed impressively. Is Scandella, who has long been a highly-touted prospect, ready to step up and embrace a full time NHL role next season? It isn't clear. [See also: Marco Scandella: Pleasant Playoff Surprise For Minnesota Wild].
Nate Prosser: Grade C
Prosser stepped in on the third pairing on a few occasions during the season. He suited up in 17 games, but generally looked like a player who had fallen out of favor after showing signs of promise in 2011-12. Prosser has one more year on his current contract, but he appears to be set to get lost in the shuffle on the Wild's blue line this offseason.
Brett Clark: Incomplete
The acquisition of a Clark was a move with no risk for GM Chuck Fletcher. In the end nothing was gained with the veteran unable to make an impact even as a third pair option.
Seb has been writing about the NHL and ice hockey online for over a decade. A long-time passionate Bruins fan, it's a dream of his to be writing about this team, but don't expect him to hold back from telling some hard truths when necessary. Follow him on twitter @seberead