To no one's great surprise, the Vancouver Canucks today fired Alain Vigneault after two straight first round defeats, during which the Canucks managed to win only one game.  Most observers were convinced this decision was going to happen, but now it is official.  Two of Vigneault's assistant coaches, Rick Bowness and Newell Brown, were also let go.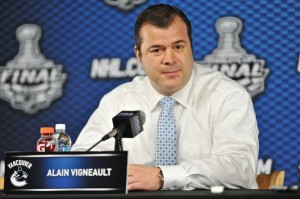 Why Let Him Go?
For some franchises, making the playoffs for five straight years would be seen as a strong accomplishment, not a reason for dismissal.  But the Canucks are a franchise with a slew of high-priced stars, and it is expected that the team would do more than win just one playoff game in two seasons.  Granted, the Los Angeles Kings went on a tremendous run after beating Vancouver last year and the San Jose Sharks like formidable this season, but more success was expected and the team never quite gelled this year into a force to be reckoned with.
Vigneault did have a great run as Vancouver coach, but as with most coaching stints, sometimes it is just time to move on.  Vancouver's performance has been in decline since its run to the Stanley Cup finals in 2011, and there is always the issue of players simply getting tired of hearing the same voice year after year and choosing not to respond.  It is difficult for anyone not in the Canuck's room to know if that was the case, but it was clear that player improvement had become rare in the last two seasons.  The Canuck's offense has been trending downward, from 272 goals in 2009-10 to 262 to 249 to a pro rated 217 in the lockout shortened 2013 season, with the powerplay especially becoming anemic.  It is time for a different voice with different ideas to help Vancouver make one last run in the Sedins' era.
What's Next
With the playoffs still in their early stages, a lot of shuffling has yet to occur.  The initial reaction seems to suggest Vancouver will be in no big hurry to replace Vigneault.
https://twitter.com/RealKyper/status/337300962131705857
But Darren Dreger of TSN provided a pretty good list of possible candidates the Canucks may consider:
In no specific order, here's a list of possible Canucks coaching options: Tippett, Ruff, Renney, Boucher, Maurice, Arniel, Eakins, Martin.

— Darren Dreger (@DarrenDreger) May 22, 2013
The men listed as possible candidates are Dave Tippett, Phoenix Coyotes' coach, whose contract is about to expire; Lindy Ruff, former Sabres coach; Guy Boucher, former Lightning head man; Paul Maurice, former coach at Carolina and Toronto and just finishing a year as head coach of Metallurg Magnitogorsk in the Russian Kontinental Hockey League; Scott Arniel, former coach for Columbus and now leading the Chicago Wolves, which until recently was the Canucks' American Hockey League affiliate; Dallas Eakins, head coach of the Toronto Marlies; and Jacques Martin, former coach of Canadiens.
Most of the front runners already have NHL head coaching experience.  It would be surprising if Vancouver dips into the ranks of unproven coaches for this hire; they are not a young team who would benefit from a young coach growing along with them.  General Manager Mike Gillis is likely to bring in someone with the experience and credibility to win immediately and get the attention of the players.  Eakins is obviously a hot commodity as an up and coming coach, and some would like to see Vancouver pick someone fresh rather than a retread, but the choice is likely to be someone else on the list who has had NHL success.
Gillis' Last Stand
Gillis cannot afford to hire someone who is not ready to win.  This is likely the last coach he will have the chance to hire, and if he gets it wrong, he is finished.  Many are blaming Gillis for the Canucks lackluster success the last two season (including Don Cherry), and another deep playoff run is likely needed for Gillis to save his own job.
Whoever the next coach is, he will be under tremendous pressure to succeed right away.  The Canucks' window of opportunity for success is getting perilously close to being closed.  This is the first move by Gillis in an offseason that will be filled with critical decisions (trading Luongo, possibly jettisoning Keith Ballard and/or David Booth, addressing the need at center).  The future of the Canucks, and their GM, hangs in the balance.
Glenn covers the Canucks for The Hockey Writers. Follow me on twitter @glennkuper for opinions about hockey, the Canucks, and Seattle sports.