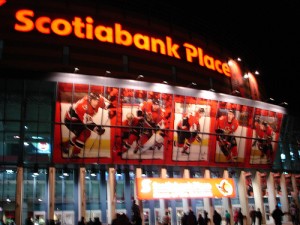 The Ottawa Senators weren't projected to go this far in the playoffs, let alone make the playoffs after they learned they would be without Jason Spezza for the regular season. Daniel Alfredsson is getting older, what about Anderson in net, look at their blueline with only Chris Philips and Erik Karlsson leading the charge, yadda, yadda, yadda. None of that mattered to the Pesky Sens.
Injuries started to mount and as the team looked like their overachieving ways would be put to a halt and reality would set in- they surged ahead.
Injuries to key pieces of the Senators roster may have been the best thing for this organization moving forward. Not only were the Sens stared in the face by adversity, but they overcame it. The Senators really only had two options, play to the best of their ability with players from their AHL affiliate (The Binghamton Senators), or just scrap what was looking to be a promising season to get a nice draft pick. Neither option was satisfactory to this Sens team, thus Pesky Sens came into rotation among the fans and media outlets across the NHL.
Looking at their current roster, there are many names that stand out as new. This wouldn't be the case to management and scouts who have spent, by now, thousands of hours scouting and developing these players into professionals. It may be time to throw Bryan Murray a bone as well as management who have helped him draft extremely well, and make trades for the better of the organization.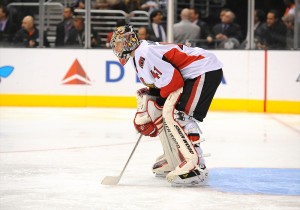 Craig Anderson is the guy for the Senators. He played outstanding hockey all season and has continued this through the playoffs stealing games for the Sens. Robin Lehner is not exactly ready to be a starter, and he could learn a lot from watching Anderson play. After all, he is only 21 years old. Lehner was drafted 46th overall in the second round of the 2009 NHL entry draft by the Ottawa Senators. He stood on his head at the World Junior Tournament in 2011 for Team Sweden. This was a well drafted goalie, and having Ben Bishop waiting in the wings as an NHL ready goaltender wasn't fair. Bryan Murray recognized who his two guys were and made a trade that benefitted Ben Bishop by sending him to the Tampa Bay Lightning at the trade deadline for Cory Conacher.
Cory Conacher went undrafted out of college, and managed 24 points in 35 games for the Lightning. One thing the Lightning needed was goaltending, one thing the Sens needed was added offense, and young offense. Both the Sens and Lightning swapped productive players to address their needs.
Instead of sitting on the issue of which goalies to keep, Murray acted professionally and made a decision without looking back to keep who he and his team thought would be the best choice moving forward. Asset for asset, the trade has been a success so far.
Going all the way back to the 1997 entry draft, these are the notable names who have been drafted by the Ottawa Senators:
1997- Round 1, 12 overall Marian Hossa
1998- Round 2, 44 overall Mike Fisher
1998- Round 6, 161 overall Chris Neil
1999- Round 1, 26 overall Martin Havlat
1999- Round 3, 94 overall Chris Kelly
2000- Round 1, 21 overall Anton Volchenkov
2000- Round 2, 45 overall Antoine Vermette
2000- Round 5, 156 overall Greg Zanon
2001- Round 1, 2 overall Jason Spezza
2001- Round 1, 23 overall Tim Gleason
2001- Round 4, 99 overall Ray Emery
2001- Round 6, 193 overal Brooks Laich
2003- Round 1, 29 overall Patrick Eaves
2004- Round 1, 23 overall Andrej Meszaros
2004- Round 3, 87 overall Peter Regin
2005- Round 1, 9 overall Brian Lee
2005- Round 7, 204 overall Colin Greening
2006- Round 1, 28 overall Nick Foligno
2006- Round 3, 68 overall Eric Gryba
2006- Round 3, 91 overall Kaspars Daugavins
2006- Round 7, 211 overall Erik Condra
2008- Round 1, 15 overall Erik Karlsson
2008- Round 3, 79 overall Zack Smith
2009- Round 1, 9 overall Jared Cowen
2009- Round 2, 39 overall Jakob Silfverberg
2009- Round 2, 46 overall Robin Lehner
2010- Round 6, 178 overall Mark Stone
2011- Round 1, 6 overall Mika Zibanejad
2011- Round 1, 21 overall Stefan Noesen
2011- Round 4, 96 overall Jean-Gabriel Pageau
(Current roster players for the Senators in bold.)
Out of all the draftees listed above by the Senators, every single one has played NHL games, or has gone on to have successful careers. Of course, the later draft picks are only starting theirs, but they do look promising. A huge amount of credit should go to the Ottawa Senators scouting department and head office for making all of these draft selections.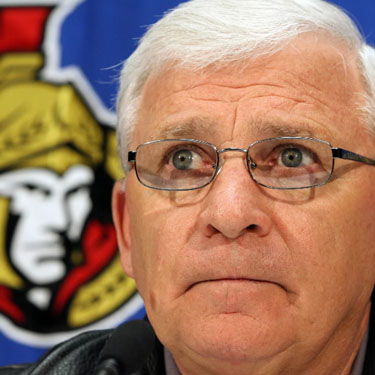 So this brings us back to the original question; are the Ottawa Senators actually overachieving? The answer, simply, is no. They have faced adversity and answered it with the pieces they drafted. Bryan Murray and his staff have worked hard to make sure if something like this were to happen, they would have something up their sleeve to make sure they weren't doomed.
If your season falls apart because your star players are injured, it's a common pass. We see it all the time. For Bryan Murray to be able to take his draft picks and turn them into capable replacements is quite honestly the greatest achievement a GM can strive toward. The pieces you draft are meant to be there for development and for instances exactly like the one the Senators faced this season.
Overachievement is the opposite of what is happening. The Senators have managed to develop and mold their draft picks into capable NHL starters which is what the draft is all about, isn't it? Bryan Murray has effectively completed his job as GM. He has drafted, traded, and developed his team into an organization that won't faulter when faced with a hole in the lineup.