Although his Ducks were eliminated from the postseason at the hands of the Detroit Red Wings, Anaheim's season was a huge success, and former Edmonton Oiler Andrew Cogliano had a hand in that. The Ducks finished last in their division a season ago, and with a largely unchanged roster, many expected them to be in a dogfight just to make the playoffs. But the lock-out shortened season proved to be a good thing for the Ducks, as they stormed out to a franchise best start, and ended winning the Pacific division and the second seed in the conference. Anaheim has enjoyed success in it's short history, going to the Stanley Cup final in 2003 and then winning it all in 2007, but since haven't made it out of the second round.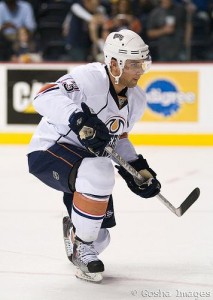 When they hired former Capitals coach Bruce Boudreau, many wondered how the team would respond. But the Ducks have thrived under Boudreau, most notably captain Ryan Getzlaf. It has been the foot soldiers of the team, however, that have helped lift the Ducks to their lofty position. Guys like Matt Beleskey, Kyle Palmieri, Nick Bonino and Ben Lovejoy have been key players in Anaheim's run. Another guy making an impact? The Oilers 25th overall draft pick in 2005, Andrew Cogliano.
In 48 games played this season, Cogliano scored 13 goals and 23 points, and was a plus 14 rating for the Ducks. He's never scored more than 18 goals in an NHL season, and had this been a a full 82 game season, he likely would have shattered his personal best in goals and points. When Cogliano was drafted by the Oilers, they expected him to be a key part of their organization moving forward. He was a speedy, skilled centre who could also play wing, but he never really seemed to fit in with the Oilers. His rookie season was his best stats wise, with 45 points over 82 games, but his totals dipped every year since then.
In 2009, the Oilers decided to package Cogliano in a trade deal that would send Dany Heatley to Edmonton, but Heatley refused to waive his no-trade clause, and the deal was nixed. At the trade deadline in 2011, the Oilers finally were able to trade Cogliano, the return being a second round draft pick. Despite being taken low in the first round, many felt Cogliano never really lived up to expectations, but his speed is proving to be a perfect fit in Anaheims high tempo system after a tough go in 2011-12
Cogliano notched 13 goals last season for the Ducks, and was able to equal that total in just over half the games this year. It's safe to say he's found his spot in the Anaheim and earned the praise of his head coach for working hard to  turn his game around for the better.
"To see the speed and the work ethic and his demeanor you think it would be there, but it wasn't there (last season)," Boudreau said. "So there was something missing and whatever it was, he was smart enough to correct it. He's now a player on our team that we really rely on. I think sometimes he just used his speed and went helter, skelter, all over the place (last season). Now he's thinking the game a lot more and I think that comes with games maturity and playing a lot of games." (Edmonton Sun)
For a team that relies a lot on their secondary scoring, Cogliano has found a role that he suits well. He has one more year on his contract before becoming a UFA. Depending on his play next season, he could be in line for a raise. Whether or not that's with the Ducks remains to be seen, but he can be a valuable top nine forward in the NHL. Even though he's not having that impact with the team that drafted him, you can't help but cheer on a guy who's hard work has reaped rewards. That's what this game is all about.
Marcy, a former hockey player, is a hockey correspondent on CTV News and TSN radio. She began her career as a Sports Journalist in 2009 and has been part of The Hockey Writers since 2010, where she is currently a senior writer and editor.