The axe finally fell. The Vancouver Canucks announced Wednesday afternoon that they were relieving head coach Alain Vigneault of his coaching duties along with all of his assistant coaches. After two straight dissapointing early playoff exits this move was not surprising.
When a coach gets shown the door its easy for people to pile on and point out all the failings, all the reasons the move makes sense and start to disect what went wrong. There are plenty of reasons why this move had to happen when it happened but before we bury the coaching tenure of Alain Vigneault in Vancouver let's take a second to recognize what he gave to the organization and to the city.
Simply put, the Alain Vigneault years were the best the Vancouver Canucks have ever seen.
Professional sports are a tough and never fair enterprise and when a team doesn't perform the way many feel they should the first person in the line of fire is the coach. You could argue that Vigneault was left with a flawed roster, with guys who did not pan out the way general manager Mike Gillis had hoped but in the end someone had to take the fall.
That someone was Vigneault.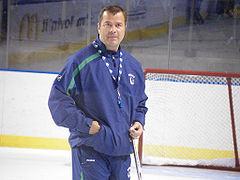 Winning Culture
Vigneault arrived in Vancouver for the 2006-2007 season and since then has ripped off six Northwest Division titles, two president's trophies, a Stanley Cup appearance and has turned the Canucks franchise into a perennial contender.
He took over the broken down remains of the Marc Crawford era West Coast Express version of the Canucks and quickly rebounded, re-branded and rebuilt the club into one that became a contender.
Sure the Sedins were already on the roster when he got there but under Vigneault they were able to elevate their games. Vigneault took advantage of their skills, fed them offensive zone starts after offensive zone starts and they thrived.
Alex Burrows and Ryan Kesler blossomed under Vigneault. Kesler was a first round draft pick and his production was expected, but Burrows? Burrows was from the ECHL and more known for his ball hockey exploits. Vigneault found a way to deploy him, turning him into a two-way threat.
More than wins and losses Vigneault turned the Canucks into winners. The club has become a destination for players now. They have been able to re-sign their own free agents at a discount because players like playing there. These things don't happen by accident and don't happen in every NHL city.
Legacy
So now the Canucks are turning another page in their franchise history. The search for a new coach will begin and someone is going to have a tough job filling the whistle left behind by Vigneault.
It's unlikely that the franchise will see a stretch like the one they are now finalizing. All the division records, back-to-back presidents trophies. Not many franchises can point to that kind of sustained success over a seven -year period.
Sure the cynics will point to the fact that Vigneault came up one game short in 2011 and arguments could be made he got out coached in the playoffs or that he did not handle young players well.
All those things are valid topics and there is plenty of time to dive into them and get your hands dirty. But for now, the Canucks fans, players and front office should sit back and be thankful for the last seven years.
Former Canucks head man Roger Neilson is a legend in Vancouver for waiving his towel, so much so that a statue of him now stands outside Rogers Arena. Vigneault didn't have an iconic moment like that, one that rallied the team or the city but he will have a more lasting legacy. For seven years he kept the club firing along as one of the best in hockey.
Andrew writes about the WHL and NHL Draft Prospects. He also covers the Seattle Thunderbirds for 710 ESPN Seattle and spent two years with Sportsnet. Follow him on Twitter @andyeide.