Max Domi THW Close-Up:
Team: London Knights (OHL)
Birthdate: March 2, 1995
Hometown: Toronto, Ontario
Height: 5'10"  Weight: 190 lbs
Position: Centre/Left Wing
Shoots: Left
NHL Draft Eligibility: 2013
Twitter: @max_domi
THW Midterm Ranking: 13th
***
*Check out THW 2013 Draft Guide: The Next Ones, your quintessential draft resource*
***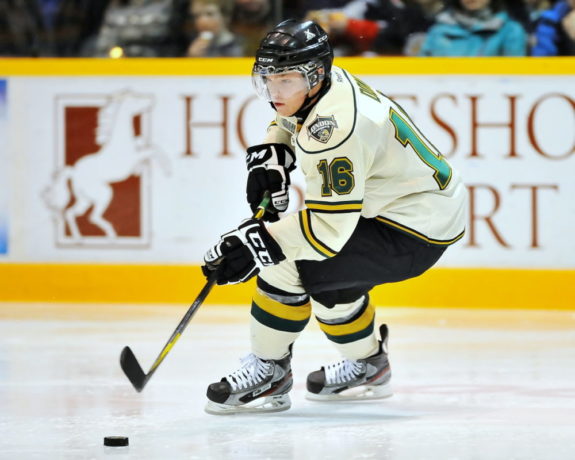 Other Rankings
CSS North American skaters: 19th
Future Considerations: 9th
McKeen's: 21st
ISS: 25th
TSN Craig Button: 10th
Consensus Aggregate Ranking (NHL Numbers): 15th
A Chip off the Old Block? Not Exactly
The son of former NHLer and Toronto fan favourite Tie Domi, Max shares his father's name but little else in terms of his play.
Max is pure offensive skill and is as dynamic as they come. He has incredible on-ice vision with the puck and has a knack for finding openings.
He has a deadly quick and accurate release on his shot, and he also has first step quickness and acceleration that's one of the best in the draft, which makes him a nightmare for defenders one on one.
He is just as adept as both a sniper and a passer as evidenced by his 39 goals for the Knights this season and was also named the 2nd best playmaker in the OHL's Western Conference in a 2012-13 coaches poll. (Check out the saucer pass in the video section from the Memorial Cup)
When he came into the league he was a somewhat one dimensional player, but he has worked hard at his defensive game and it has been steadily improving as well. It's still a work in progress and he may not win any defensive awards yet, but it's certainly progressed over the last few years under the Hunter's tutelage in London.
Perhaps along with his many skills and attributes one of the most impressive aspects of his game is the work ethic and heart he plays it with, which is as dynamic as his offensive prowess.
He never takes a shift off, competes hard and wins a lot of puck battles for a player his size. He's not afraid to get involved physically and he's often in the centre of scrums and melees after the whistle. He still is Tie's son after all.
Scouts Honour:
"Domi is a very dangerous playmaker with elite level vision. He's always in the right place in the offensive zone, and uses his elite vision to find open teammates. His mobility, agility and acceleration are all very high-end. His balance and puck control is truly incredible and bigger, stronger players have a hard time getting the puck off him due to his strong lower body. Domi uses his puck skills to get into scoring areas or to feed a pass to an open teammate. He's not afraid to drive the net and use his impressive puck skills to beat a goaltender in tight."

– Aaron Vickers, Future Considerations

"Domi is an elite skater who uses his shiftiness and changes of pace to confuse and beat defenders.  He has a great first step and top notch acceleration.  His top end speed is also well above average, and these skills make Domi a real threat off the rush.  His edgework and agility is extremely good, and Domi maintains a low centre of gravity which makes him very difficult to knock off the puck, despite his small size.  Domi uses this great balance to win far more board battles and be far more dangerous on the cycle than you'd expect from someone his size.  He has a very strong, very powerful lower body."

– Ben Kerr, Last Word on Sports

"His vision and passing is truly a treat to watch. He sees the ice extremely well and gets the puck exactly where he wants it to go almost perfectly. His hand skills are extraordinary as well; he has the capability of stickhandling his way through an entire team, or to just beat a defenseman one on one."

– Dylan Liptrap, The Scouting Report
Where He'll End Up in June:
There appears to be a discrepancy between scouts and rankings as to where Domi falls. He is certainly a first round talent and will likely go in the 10-20 range.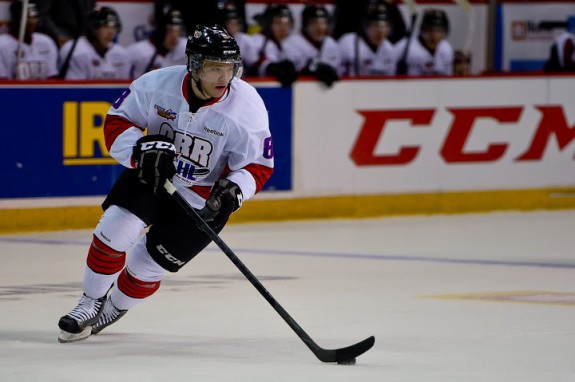 Statistics:

Bio/Interviews:
International Tournaments:
2012 U17 WHC – Canada (Ontario) – 7 points in 6 games
NHL ETA:
2 years
Risk/Reward Analysis:
Risk: 1.5/5  Reward: 4.5/5
NHL potential:
Top six offensive forward
Strengths:
Speed
Quickness
Quick Release
Stickhandling
Puck control
Vision
Hockey IQ
Compete level
Work ethic
Flaws/Aspects He Needs to Work On:
Defensive consistency
Continue to add strength and muscle for puck battles at pro level
Size could be a factor at the next level
Fantasy Potential:
Offensive: 9/10  Defensive: 7/10
NHL Comparable:
Zach Parise
Martin St. Louis
Jeff Skinner
Video:
THW's The Next Ones prospect profile template design architect: Chris Ralph
Follow Carl on twitter @maloney3383 and Google+ for more articles.
Carl covers the Edmonton Oilers for THW as well as providing additional prospect coverage. Follow him on twitter @carlTHW, connect on Facebook or contact at carl.maloney@hotmail.com for questions, comments or if you're interested in him writing for you.