Eddie Ellis THW Close-Up:
Date of birth: 01/12/1995
Place of birth: Burlington, MA, USA
Ht: 6'1″ Wt: 190 lbs
Shoots: Left
Position: Center
NHL Draft Eligibility: 2013
THW Rankings: not ranked (April edition)
Other Rankings:
CSS Mid-term (NA Skaters): 120
[NHL 2013 Draft Guide – The Next Ones Draft Headquarters: Your quintessential draft resource]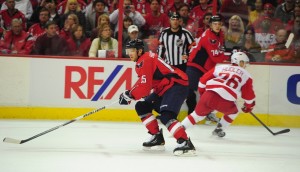 Eddie Ellis is another later round choice who could gain an edge due to his physical ability. Many suggest that he took something of a step back this year captaining Phillips Andover in the USHL, but he is committed to Harvard for NCAA hockey and whoever selects him should know that he is a longer-term project.
Ellis has a pretty decent shot, which he has used to make himself a primary scorer in the USHL. He is willing and happy to engage physically and has shown himself to pretty useful working hard for the puck in the corners. He clearly understands the importance of playing in front of the net and happily takes punishment there while earning positive results.
Still, the 18-year old's greatest assets are arguably his intangibles. He has captained his team this season and generally shows the required work ethic to be successful. He is more than willing to pay the price physically and is likely to improve as he is challenged throughout his career.
Ellis' upside is as a physical player, who develops a stronger defensive game and can contribute some offense in the ilk of a Jeff Halpern or Nate Thompson. He might struggle to be as physical as a Thompson, but he also probably has a little bit more offensive upside.
If there is one aspect that Ellis seriously needs to work on at this stage, it is his skating. He struggles with his lateral movement, changing directions and generally kick-starting his stride. That lack of quickness hurts him on occasions both offensively and defensively.
Where will he end up in June: Ellis has the potential to fit into a number of different roles as a future NHL player. For that reason he should get drafted, but possibly not until the seventh round.
Scout's Honor:
'A big guy who has good size, scoring ability and plenty of jam. Knows where his bread is buttered and uses his big body to physically engage in all areas. Moves well; need time to get going but is nonetheless competent in the cycle, and working both ends. He hold position in front, and has a good strong shot.'
Bill Placzek – Draft Site
'Andover captain is big and strong- uses his body effectively to drive hard to the net and establish position in close. OK skater- doesn't have the quickest initial burst, but moves well when he gets up to speed and has a powerful skating stride. Sees the ice well and has good hockey sense both offensively and in his own end. Distributes the puck effectively and has a hard, heavy shot. Could stand to improve the release and accuracy- takes time to get it off. Plays an honest, physical game– does his best work along the boards and in the dirty areas of the ice.'
Kirk Luedeke – Contributing Editor and Area Scout for Red Line Report
Statistics:

ETA: 4-5 years
Risk-Reward Analysis: Risk 3/5 Reward 2/5
NHL Potential: Third line forward
Strengths:
Strength
Physicality
Work ethic
Decent shot
Scoring ability
Leadership
Flaws/aspects he needs to work on:
All-round defensive game
Skating speed
Quickness
Fantasy Hockey Potential: Offensive = 6/10 Defensive 6/10
NHL Player Comparison:
Jeff Halpern
Marty Reasoner
Nate Thompson
Follow Sebastian Egerton-Read on twitter @SebERead
THW's The Next Ones prospect profile template design architect: Chris Ralph