The Minnesota Wild enter tonight's Game 4 match-up against the Chicago Blackhawks full of optimism after Jason Zucker's overtime strike made it a 2-1 series on Sunday afternoon. While Josh Harding's heroics and improved play from the Wild's top line have been widely credited for the Game 3 success, one factor that shouldn't be forgotten is the play of blue liner Marco Scandella.
An inexperienced blue line that was neither skillful or physical enough was highlighted as Minnesota's great weakness heading into this series against a fast and high-powered Blackhawks' offense. In fact, those concerns were widely used as justification for writers and bloggers all over web and print media predicting an easy Chicago victory in the series.
It was easy enough to understand the concerns. Minnesota's Game 1 starting defensive corps had a grand total of 39 games worth of playoff experience and all of those games belonged to Ryan Suter. Last year's big summer free agent addition was already playing in excess of 30 minutes of ice time per night towards the end of the regular season. Over-dependence on Suter was a major concern for this blue line heading into the postseason.
Scandella Steps Up
Even Wild writers and bloggers have generally acknowledged that Minnesota has been heavily dependent on a top pairing of Suter and rookie Jonas Brodin, while sometimes struggling to find other serviceable blue liners to put on the ice. Tom Gilbert and Jared Spurgeon were generally disappointing in the regular season. Finding the right combinations was a season long challenge for head coach Mike Yeo. [See also: Jared Spurgeon Searching For His 'A' Game]
Perhaps it shouldn't have been a surprise when the coach turned to recently recalled Marco Scandella in Game 1. Yeo was just desperately searching for something that could work. What has been a surprise is just how well Scandella has played and how much responsibility he has been able to take on.
Scandella was drafted in the second round of the 2008 NHL Entry draft and was widely regarded as one of the better defensive prospects in the Wild organization until the 2013 season. He played 63 games in the 2011-12 season playing significant amounts of ice time. However, he spent most of the past season playing in the AHL with the Houston Aeros suiting up for only six NHL games.
Inconsistency and a failure to utilize his 6-foot-3, 210 pound frame have held Scandella back over the past couple of seasons. However, it appears that the patient development with the Aeros over the past few months is paying off in the NHL postseason.
Scandella has seen significantly less ice time than Minnesota's top three defenders, but he still ranks third among blue liners in terms of ice time per game averaging 19:14. He is a +1 through the three games, which places him in a tie for first place among Wild defensemen. He even scored a goal in the Game 2 loss. The 23-year old has found a place on a pairing with Spurgeon. The two are familiar with each other both from experiences in the NHL and particularly in the AHL with Houston. They've been a dependable third pairing with the skill and skating speed to compete against Chicago's fast-paced style of offense.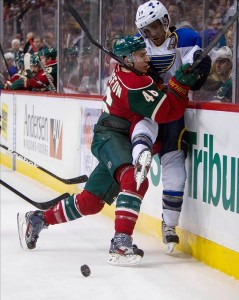 More Still Needed From Spurgeon-Scandella
NHL playoff series get more and more intense the deeper they go. The Blackhawks will see Game 4 as an opportunity for them to gain a stranglehold in this series. More pressure will be asserted on Minnesota's blue line pairings and while most of that pressure will go to Suter-Brodin. Yeo will still need his second pairing to step up, especially in the context of a series where the opposing coach, Joel Quenneville, is happy to simply trust all four of his lines defensively, and expects offense from all of them as well.
Spurgeon and Scandella have provided a good combination of speed and skill while playing with the necessary physicality so far. They will need to take on even more responsibility tonight and the deeper the series goes.
Beyond this one playoff series. The emergence of Spurgeon and Scandella has significant implications for the Wild's blue line moving into the future. Suter, Brodin and recent first round pick Mathew Dumba figure to be a part of this defensive group for the next decade and beyond. However, concerns have been raised this season about the potential supporting cast.
Maybe that supporting cast has raised its head in this series. Scandella has an enviable physical and technical skill set. Penning him in on Minnesota's top four for the next decade is obviously premature, particularly considering his history of inconsistent play.
However, after a season where it appeared that Marco Scandella's development had stagnated, possibly even regressed, the Wild organization will be very pleased to see him take a clear step forward in this series. He still needs to engage more physically and there is a feeling that he has some untapped offensive potential as well.
In the short-term, Yeo will just hope that he can continue to turn to Scandella for 17-19 minutes of solid play per night including on the penalty kill where he is averaging more than two minutes of ice time per night. The Wild's blue line has held up better than many expected so far in this series. Marco Scandella and the rest of the corps will need to step up once again in Game 4 tonight.
Seb has been writing about the NHL and ice hockey online for over a decade. A long-time passionate Bruins fan, it's a dream of his to be writing about this team, but don't expect him to hold back from telling some hard truths when necessary. Follow him on twitter @seberead