The Minnesota Wild will reflect upon the shortened 2013 NHL season positively. The franchise reached the NHL playoffs for the first time since 2008, several young players emerged as promising NHLers and it appears that Chuck Fletcher's vision for a new core built around Zach Parise and Ryan Suter is starting to take shape. Minnesota's five game playoff series loss against Chicago left many fans feeling disappointed [see also: Minnesota Wild's New Core Struggle In First Playoff Series]. However, ultimately it should be viewed in the context of the development and learning curve for this franchise. Mike Yeo and this roster took a positive step forward in 2013 and there are signs that the Xcel Energy Center crowd will have a lot more to be excited about in the not too distant future.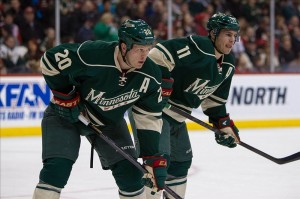 With the Wild's season now over, there is time to reflect and review the past four months of action. Of course there are still other playoff games going on and you can check out Stanley Cup Playoffs Odds at Topbet.
We are grading every player on their performance in 2013. We start with the forward group, which was arguably one of the deepest in franchise history.
Grades are given in relation to performance expectation as opposed to overall performance; ie Dany Heatley may have scored the fourth most goals, but his play was well below expectations particularly considering his contract. A 'C' grade means that a player has basically performed as was expected of him.
Please feel free to join in the discussion and weigh in with your opinions in the comments section.
Forwards
Mikko Koivu: Grade C
It's difficult to give Koivu a better grade after he failed to register a point in the playoff series. The 30-year old's 37 points in 48 games hardly exceeded expectations particularly considering his ice time and the fact that he stayed fit and played alongside Zach Parise all season.
Zach Parise: Grade B
Parise quickly endeared himself to the Wild's fan base acting as the 'engine' for this forward group and pretty much the entire team. His speed and energy were vital in winning puck battles and creating offense all over the ice. It is pretty clear that Parise has the potential to become the core of the identity for this Minnesota roster. A less impressive playoff performance prevents Parise from receiving an A grade.
Charlie Coyle: Grade B
The preseason rookie focus was squarely placed on Mikael Granlund and how important it was for the balance of the forward group that he step up as the second line center. It didn't work out. Instead, a different rookie forward, Charlie Coyle, would step up and bring balance to the forward group. Coyle played an invaluable role using an exciting offensive skill set, his size and skating ability to be the perfect winger on the Koivu-Parise top line. Coyle's play on that line was vital in allowing Yeo to balance out his line-up.
Matt Cullen: Grade A
Cullen's importance to the Wild this season shouldn't be under-estimated. With Kyle Brodziak struggling to match his production from last season and Granlund struggling to adapt to the NHL, Cullen stepped up and filled the second line center position. 27 points in 42 games represents pretty decent production from the veteran. He also played pretty well in the playoff series and was vital in working with many of the team's youngers players, especially Jason Zucker.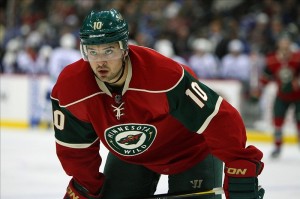 Devin Setoguchi: Grade C
Setoguchi gets away with a C mainly because expectations have clearly diminished for the once extremely promising young forward. The 26-year old engages physically and enjoys streaks of goal-scoring, but his overall production has been severely lacking since his 31-goal season playing on Joe Thornton's line in 2008-09 with San Jose. It would be nice to see Setoguchi reach his full potential, but there is a growing feeling that he isn't going to develop into the premier offensive player that he was expected to become at one stage.
Dany Heatley: Grade D
Maybe Heatley deserves similar treatment to Setoguchi in terms of tempering expectations. However, Heatley is making $7.5 million per season while Setoguchi is 'only' making $3 million. After looking reasonably bright playing on a line with Parise and Koivu early in the season, he struggled in the line-up shuffle and eventually suffered a season ending injury at the beginning of April. It's very plausible that Heatley will be bought out this summer.
Kyle Brodziak: Grade D
Brodziak looked nothing like the promising two-way center who scored 22 goals and 44 points in 2011-12. Instead, for most of the year he was anaemic offensively and at times even a little shaky defensively. The 28-year old appeared to find more of a groove again in the season's later stages, but Yeo will be looking for more at both ends of the ice from his third line center in 2013-14.
Pierre-Marc Bouchard: Grade D
The difficulty in grading Bouchard based upon expectations is simple. What was really expected in 2013 of a player who hasn't managed to stay full healthy during an NHL season since 2008-09? The 29-year old did manage to stay healthy this season, but he struggled to produce consistent offense and Wild GM Chuck Fletcher now has a tough decision to make regarding Bouchard's free agent status. This is the player who definitely has the skill and talent to be a top six forward. There are just concerns that he will never fully realize that talent.
Cal Clutterbuck: Grade D
Clutterbuck may never be a premier offensive player, but his output was still lacking in 2013 and his offensive struggles made it significantly harder for Yeo to find a place for him in the line-up. He scored just four goals and 10 points in 42 games. Clutterbuck's physical ability will keep him in the NHL, but the 25-year old is still struggling to establish a role for himself beyond that heavy hitting.
Jason Zucker: Grade B
Zucker was expected to spend at least one season developing in the AHL before being able to step up at NHL level. He never quite established himself as a permanent member of the line-up this season, but he played 20 regular season games and five postseason games showing enough to suggest that he will be in the starting line-up next season. Zucker is a hard-working, gritty player and he has game breaking speed.
Torrey Mitchell: Grade B
Mitchell was an unheralded free agent signing last summer, but he has filled an important role for the Wild this season. Minnesota lacked a nagging, gritty presence on the fourth line during the 2011-12 season. Mitchell's role has been clear all season long and his tally of four goals wasn't too dissimilar from players expected to contribute more offensively.
Jason Pominville: Grade Incomplete
Pominville showed that he can be the winger that anchors a second scoring line before he got injured at the end of the regular season. Wild GM Chuck Fletcher has invested a lot into Pominville. His performance will be critical in 2013-14.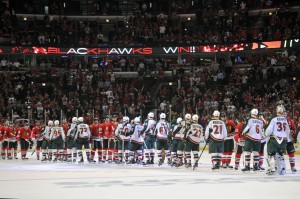 Mike Rupp: Grade D
Rupp brought leadership to the roster and a little bit of grit. He has never been a fast skater, but he looked just a pace behind the game throughout much of his time in Minnesota. It will be interesting to see how he performs in training camp assuming the Wild retain him.
Zenon Konopka: Grade C
Konopka provided pretty much what was expected of him. He won more than 60% of his face-offs, antagonized opponents and was up their in terms of total fights.
Mikael Granlund: Grade C
Always save the most contentious for last. Granlund did not under-achieve this season. The only way that his performance can be described as underachievement is if the expectation was that a 20-year old rookie would seize a second line center spot on an NHL roster. Granlund showed that he has plenty of offensive potential and also showed that he still needs to round out his game to play at the top level. There's nothing unexpected about that in the development of a young player.
The Hockey Writers Minnesota Wild staff are reviewing the team's season with player breakdowns this week. Check on Wednesday for the blue liner's grades and on Friday for the goalies
See also on The Hockey Writers: Minnesota Wild Season In Review: What We Learned
Seb has been writing about the NHL and ice hockey online for over a decade. A long-time passionate Bruins fan, it's a dream of his to be writing about this team, but don't expect him to hold back from telling some hard truths when necessary. Follow him on twitter @seberead