NHL offseasons often reveal one or two teams that make the biggest proverbial splashes in an attempt to launch their franchise into the upper echelon of Stanley Cup contenders.
It has been noted hundreds of times that the team that made the biggest buys in the summer of 2012 was the Minnesota Wild. Identical 13-year, $98 million deals dished out to former New Jersey Devil captain Zach Parise and stalwart Predator defenseman Ryan Suter were two big steps to letting the Wild fanbase know it was serious about winning. After all, the fans had their questions; the Wild had missed the playoffs the previous four seasons.
The Minnesota season very much represented the old "Jekyll & Hyde" analogy. Four times in the lockout-shortened 48 game season, the Wild lost a string of three consecutive games. The saving grace was a seven-game winning streak in mid-March that brought the team from a mediocre 13-10-2 record to a 20-10-2 clip, which for a time had Minnesota at the top of the Northwest division.
However, the season brought a newfound exuberance to an already ecstatic and die-hard fanbase. I'll now run down the three biggest things we learned from the Wild's season.
1) Ryan Suter Didn't Need Shea Weber to Be a Top-5 NHL Defenseman
Many NHL pundits (myself included) thought of Suter as little more than a solid NHL defenseman who was made into a great one thanks to having Shea Weber on his opposite point.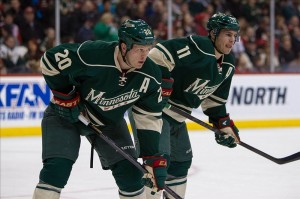 A weak free agent defense class allowed him to cash in with Minnesota, but he made his steep price worth its cost. The 28-year old American registered 32 points in the shortened season, 15 of which came on the power play, while averaging over 27 minutes per game, the highest total of his career.
His steady presence on the young Wild blue line earned him league-wide praise as a Norris trophy candidate.
While the playoffs were not as kind to Minnesota and Suter, he was still heavily leaned upon, averaging more than 31 minutes per game in the five-game series. He spent much of that time with rookie Jonas Brodin flanking him on the blue line.
2) Josh Harding Got The Spotlight He Deserved in the Postseason
Many Wild fans had to be asking themselves, "Why us?" as the postseason began. Just days earlier, they were thrilled their team was able to squeak into the playoffs after nearly bowing out at the hands of Sergei Bobrovsky and the Columbus Blue Jackets.
However, Wild fans faced insult once again before Game 1 of the Chicago series began. As he was warming up in the pre-game skate, Niklas Backstrom tweaked something in his leg as he was pushing off to go post-to-post. He did not play another minute.
While it certainly did not provide good omens to a Minnesota team that relied on Backstrom all season, it did allow Josh Harding to step into the spotlight in a positive context.
Just eight months earlier, Harding revealed publicly that he had been diagnosed with multiple sclerosis, a condition featuring symptoms ranging from fatigue to numbness and, in its more severe stages, difficulty walking.
To many people, Harding's career was pegged as being in jeopardy, and he spent much of the season on injured reserve to adjust to living with M.S. He only appeared in five regular season contests and played less than 200 minutes.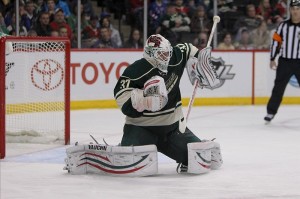 With Backstrom's injury, Harding was pressed into service in an emergency situation against the most vaunted offense in the West. Despite his 1-4 record in a losing effort, Harding proved that the disease could not slow his on-ice skills. He recorded 35 saves in a tough 2-1 overtime defeat in Game 1, and followed that up with a 43-save performance in Game 2. He, too, suffered a setback when he had to leave Game 4 after facing just six shots, but he returned to the net in Game 5.
His goaltending performance will certainly not warrant any attention in the annals of Wild history, but his story of perseverance will be remembered fondly. The NHL also praised his story by nominating him as a finalist for the Masterton trophy.
 3) While Inexperienced, The Young Minnesota D Has Bright Signs
The prefacing to this fact we learned is that the Wild do still need another veteran defenseman or two to give Suter a chance to catch his breath.
On the other hand, the lack of experience on the blue line did force some youngsters to be pressed into service, and as a result, they earned some valuable minutes and got their feet wet at the NHL level. Six separate defensemen younger than 28 years of age dressed for the Wild in 2013.
Among those six, two in particular shined for Minnesota head coach Mike Yeo. 19-year old Swede Jonas Brodin proved why he was worth a top-10 overall selection in the 2011 draft, leading all rookie defensemen in minutes per game at just a click over 23 minutes.
Under the tutelage of the Norris candidate Suter, Brodin's offensive game slowly began to come around. He finished the season with 11 points, but more impressively remained on the plus side, as he ended the campaign at a +3. He also rarely found himself in trouble with the zebras, registering just 10 penalty minutes. His development should only improve, as his teenage years will only be ending this July.
The other sign of positivity continued to be the play of Jared Spurgeon. The former 6th round pick of the New York Islanders continued to prove his small frame (5' 9", 185 lbs) would not slow him from an effective role in the NHL.
Following a 23-point season in 70 games last season, he recorded 15 points in 39 games, including seven points on the power play. He did not have the luxury of playing with Suter on a basis as regular as Brodin, but the diminutive defenseman has continued to develop.
Certainly, general manager Chuck Fletcher will need to be frugal and diligent this offseason to better his squad, but he can rest with the knowledge that some of his youthful skaters have progressed promisingly.
Ryan Smith is a proud graduate of Penn State University, having attained a degree in broadcast journalism. His experience in hockey is extensive, having covered PSU Men's ice hockey for USCHO.com as an Arena Reporter for its first NCAA season in 2012-2013 while also serving as Penn State Athletics' voice of women's ice hockey home games. He was also the sports director for Penn State's ComRadio, a student based radio station endorsed by the College of Communications. In that position, he broadcasted Penn State hockey since for four years. He can be followed on Twitter @RyanSmithHockey.