Perhaps the Minnesota Wild's first round exit at the hands of the President's Trophy winning Chicago Blackhawks last week in five games was simply inevitable. It was definitely a 'positive step' for a franchise building for the future and one that was playing its first playoff hockey since 2008. However, losing the series quickly with little production from the team's big three in Mikko Koivu, Ryan Suter and Zach Parise will leave this franchise feeling frustrated. Hopefully that frustration sparks a stronger performance next year.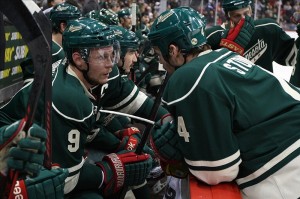 Injuries, Inexperience and Chicago's Quality
There are plenty of excuses that can be made for the Wild's early defeat. Injuries certainly didn't help with Niklas Backstrom going down before the first puck of the series was even dropped and important depth scoring missing with Dany Heatley missing the whole series and Jason Pominville returning for the final two games, but looking like a player short of match action.
The injuries were even more damaging considering just how young and inexperienced the Wild were. That inexperience could hardly have been better highlighted by the fact that Ryan Suter was the only blue liner to play for Minnesota in this series, who had any playoff experience on his resume before Game 1. Meanwhile, Josh Harding was thrown into net having never started a playoff game before and rookie wingers Charlie Coyle and Jason Zucker were both being asked to play important roles.
Even beyond Minnesota's own deficiencies. The brilliance of the Blackhawks can serve as an excuse in itself. This is a team with remarkable depth in the forward group and on the blue line, and goaltender Cory Crawford was rock solid in all five games. Chicago is a serious Stanley Cup contender and was a deserved regular season champion. There was certainly no shame in this Wild team falling in the first round against this opponent.
'Big Three' Manage Just One Point In Series
However, there remains a feeling of some disappointment and dissatisfaction among the fan base and around the franchise in general. There is a feeling that, despite a spirited Game 1 effort and solid Game 3 victory, the Wild didn't put their best foot forward in this series. More specifically, there is a feeling that Minnesota's top three players didn't play their best hockey. Mikko Koivu, Zach Parise and Ryan Suter all failed to hit their top level. The three combined for just a single point and a collective -17 across the five games. That's clearly not a recipe for success moving forward for the Wild. [See also: Minnesota Wild NHL Playoffs Game Three: $14 Million Needs To Step Up]
Captain Koivu has come under the most heat. He scored four goals and added an assist in Minnesota's 2008 trip to the postseason, but he struggled to make an impact offensively in this series going pointless and all too often he was exposed. Koivu is known as a fiery and determined individual, but he looked flat-footed and outmatched all series long. Koivu is one of the NHL's better two-way centers when on top of his game, but his play leading this franchise in the first postseason of the 'new era' was disappointing.
Speaking of the 'new era', last summer's big free agent additions Parise and Suter, who made their impact so strongly felt during their first regular season with this franchise, were unable to make a similar impression in the postseason.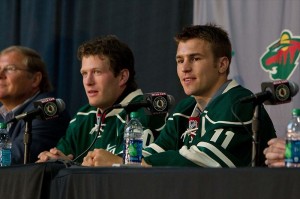 It is difficult to criticize Suter, who was being asked to take on huge amounts of responsibility. He averaged 31:45 minutes of ice time per game during the series including playing more than 40 minutes in Game 1. Essentially the 28-year old needed to shut down two separate scoring lines and that's virtually impossible to do.
It's unlikely that Suter will ever be relied on quite so heavily again. Young blue liners Jonas Brodin, Marco Scandella and Jared Spurgeon gained valuable experience and many expect Mathew Dumba to feature on this defensive corps starting next season. Too much was asked of Suter in this series and he was never going to be able to live up to that.
During the regular season Parise was the team's strongest offensive spark. He scored some huge goals. However, besides a goal in Game 3, Parise was generally kept silent by the Blackhawks. He looked like a player who couldn't create his own offense and struggled to generate anything against a very mobile Blackhawks blue line.
Minnesota Wild Look Forward To 2013-14
The Koivu, Parise and Suter core doesn't deserve to be judged too negatively based upon this one series. Minnesota's overall inexperience and depth was exposed in this series. Injuries didn't help and they were playing against possibly the most talented and deepest team in the NHL.
However, there's no doubt that their play in this series will have put all three under the microscope assuming Minnesota re-tools and reaches the 2014 NHL playoffs. They are likely to be playing on a stronger team in 2013-14. Expectations will be higher and the Minnesota Wild's best players will need to shoulder those higher expectations.
Seb has been writing about the NHL and ice hockey online for over a decade. A long-time passionate Bruins fan, it's a dream of his to be writing about this team, but don't expect him to hold back from telling some hard truths when necessary. Follow him on twitter @seberead