The Minnesota Wild fell into a 2-0 hole with a 5-2 loss to the Chicago Blackhawks in Game 2 on Friday night. After playing a tough and tight opening game, the Wild looked out-paced and out-matched by a deep and high-powered Blackhawks' line-up. The series switches to St. Paul and the Xcel Energy Center today with Minnesota knowing that Game 3 is effectively a 'must-win' game. It's time for top forwards Zach Parise and Mikko Koivu to step up.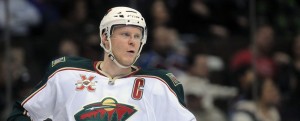 Parise and Koivu have been paired together for virtually the entire 2013 campaign. Often it was only their line keeping the Wild afloat during the regular season. Parise led the Wild with 18 goals and 38 points, while Koivu finished second with 26 assists and 37 points. However, both players, and the top line as a whole, have struggled to establish themselves against the Blackhawks. They share identical stat-lines with zero points in two games and a -3 plus/minus rating.
Parise and Koivu are being paid a combined $14 million for at least the next six seasons. They currently wear an 'A' and 'C' for this team and are expected to be the core of Minnesota's forward group for the foreseeable future. Both players found a way to make big plays towards the end of the regular season at a time when the Wild were in free-fall and they formed a line that carried Minnesota through stretches of the season. Still, $14 million is for more than just the regular season. $14 million is about playing tough hockey late into May and beyond.
No writers or bloggers gave the Wild much chance of stealing more than one game off of the Blackhawks in this series. Even if that is true and Minnesota are blown out in four or five games. This is a franchise with a long-term vision. The Wild need to compete now even if the real benefits don't come until later. Parise and Koivu need to step up this afternoon.
Playoff Hockey Returns To Xcel Energy Center
The Xcel Energy Center is ready for its first NHL playoff action since 2008. The crowd was loud and energetic for the final two home games of the regular season, they will be even louder and more energetic on Sunday.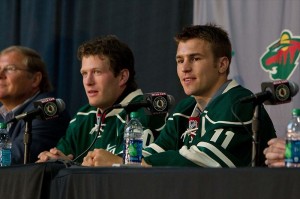 Koivu has long been a fan favorite with the Minnesota faithful and Parise has quickly won fans over with a passionate and committed style of play. They should be, and will need to be determined and pumped up for tonight's action. Even if they cannot produce an upset in this series that would rock the State of Hockey, they need to give the home crowd a taste of what is to come. They need to forge a playoff identity as a leadership group.
The answer to their early struggles is the same for both players. They need to be physically engaged. Parise and Koivu play their best hockey when they make contact and that's exactly the kind of hockey that the Wild need to play against the Blackhawks. They need to make this series more physical and more of a grind.
Koivu does not deserve to be stripped of the 'C' based on one playoff series, but the Wild do need their captain to step up to help make this series more competitive. $14 million needs to step up for the Minnesota Wild in Game 3 tonight.
Seb has been writing about the NHL and ice hockey online for over a decade. A long-time passionate Bruins fan, it's a dream of his to be writing about this team, but don't expect him to hold back from telling some hard truths when necessary. Follow him on twitter @seberead