In February reports suggested that the 2013 NHL awards aren't likely to be held in Las Vegas. It doesn't really matter where they are held, it can be guaranteed that the NHL awards ceremony will leave those passionate about the game frustrated. Everything that is wrong with the NHL awards could hardly have been better encapsulated last year when a defenseman who played just 50 minutes of short-handed ice time across 88 regular season and playoffs game received the Norris Trophy. Unfortunately, it looks like it will be the turn of Minnesota Wild fans to feel frustrated this year.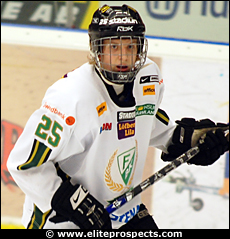 The Calder Memorial Trophy is 'an annual award given to the player selected as the most proficient in his first year of competition in the National Hockey League'. In short, it is the award given to the rookie considered to have had the best season. It's really hard to argue that any rookie has been more important and successful with their team than Minnesota defenseman Jonas Brodin. Wild fans would contest that Brodin should at the very least be a Calder finalist. I've got bad news for those fans. He isn't likely to receive serious consideration.
Why? For the same reason that Erik Karlsson was awarded the Norris Trophy last season: points. Brodin only has 10 (25th among rookies) and ultimately that will probably prevent him from even being a finalist.
Jonas Brodin's Calder Candidacy
Brodin made the jump from the Swedish Elite League last fall. He skated with the Houston Aeros, but suffered an injury after suiting up in just eight AHL games. Injury prevented the 19-year old from taking part in Minnesota's short training camp, but he was still called straight up after one rehab outing with Houston on January 23.
His impact was instantaneous [see also: Jonas Brodin Brings Stability To Minnesota Wild Blue Line]. After two games head coach Mike Yeo had seen enough to put his rookie defenseman on the team's top pairing playing alongside the then struggling Ryan Suter. Since that game against the Columbus Blue Jackets on January 29, Brodin has played less than 20 minutes in a game just twice and regularly plays in the 24-25 minute range. He and Suter have stayed together as a pairing playing almost exclusively against the best forwards in the Western conference. Brodin is second for Minnesota seeing an average 23:01 minutes of ice time per game, second in short-handed ice time per game and has also seen more regular time on the power-play in recent weeks.
He is tied with Matt Cullen and Charlie Coyle for the team lead in plus/minus with a +7 rating and he is second only to Suter with 54 blocked shots.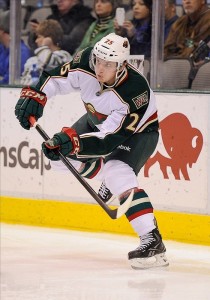 Brodin is a smooth skater. He still needs to grow into his frame, but he is stronger than his size suggests and he more than makes up for the physical battles he loses with great stick-work. He's also extremely effective in transition. Unafraid to use his skating to get himself out of trouble and a good first passer. Brodin has shown surprising confidence with the puck for a rookie 19-year old blue liner playing big minutes in the NHL.
Hockey IQ is unquestionably Brodin's best asset though. He rarely looks hurried or harassed in any aspect of his game and has shown the sort of poise that suggests the Wild made a very good decision with the 10th overall pick in the 2011 NHL Entry draft.
Detractors will suggest that Brodin has benefited from the chance to play with Suter, arguably one of the top five defensemen in the league and easily one of the top 10. The fact is that every Calder Trophy winner has benefited from the players around them, but these arguments also seriously under-estimate the importance of Brodin to Suter.
The real problem? Brodin only has 10 points. That lack of points will cost him the popular attention needed to get serious consideration for the Calder Trophy. Ultimately that reality represents everything that is wrong with the NHL awards.
2013 Calder Favorites
If Brodin is indeed omitted from serious Calder Trophy candidate consideration, it will stand out as even more disappointing in a year where elite scorers haven't dominated the rookie headlines. There are no shortage of talented first year forwards with Jonathan Huberdeau, Cory Conacher, Nail Yakupov, Brendan Gallagher, Alex Galchenyuk and Brandon Saad all enjoying spells of exceptional play, but no outstanding offensive player has clearly emerged.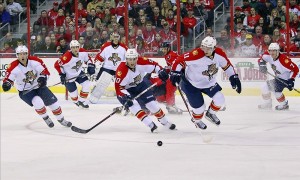 The shortened season makes it significantly harder to judge points totals. Huberdeau's rookie leading 13 goals and 27 points put him on pace for 25 and 53 over a full 82-game season. A 50-point season versus top pairing defenseman season is a debate that will usually go the way of the scorer when it comes to the NHL awards, but that decision is even more questionable in 2013 considering the difficulty in trusting such a small sample size in terms of projections. That sample size is even harder to trust considering the fact that Huberdeau has just five goals and 14 points in the past 26 games.
It is pretty difficult to argue that any forward has been more proficient at their position than Jonas Brodin has been on the blue-line for the Wild.
A similar picture can be painted in net. Only three rookie goaltenders are currently in double figures in terms of games started. Jacob Markstrom leads the way with 18 and has played a lot better than his numbers suggest. Still, it would be strange to see a player holding a 3.17 GAA win the Calder Trophy. Jake Allen and Robin Lehner have been more impressive in 13 and 11 starts respectively. It's hard to argue that any goaltender who starts significantly less than half of their team's games deserves this award.
It is the likely blue-line Calder Trophy nominations that possess the most potential to send Minnesota (and hockey) fans crazy. There have been some nice rookie defensemen stories this season with the likes of Brendan Dillon, Jake Muzzin and Patrick Wiercioch playing more important roles for their respective teams than many would have expected.
However, the real possibility exists that Edmonton blue liner Justin Schultz will receive more nominations than Brodin. It is highly advisable that Wild fans prepare themselves for this eventuality. Yes Schultz only has eight points in his past 22 games and yes he is a -17 on the season. None of that diminishes the possibility that he and his 21 points will get significantly more attention than the player who has clearly been the better defenseman in 2013.
Minnesota Wild Redemption
Ultimately individual awards count for very little. Perhaps it is actually more important that they are held in places like Las Vegas and embrace the glamour of that environment to raise the profile of the sport.
There are more significant prizes for NHL players and teams to chase after. Right now the Minnesota Wild are chasing their first playoff berth since 2008. That's a pretty significant prize for a franchise attempting to move forward. Rookie defenseman Jonas Brodin is a crucial piece of the puzzle for the Wild both now and in the future. It really doesn't matter how many individual accolades he wins. [See also: Playoffs Or Bust: Important 11 Days For Minnesota Wild].
Seb has been writing about the NHL and ice hockey online for over a decade. A long-time passionate Bruins fan, it's a dream of his to be writing about this team, but don't expect him to hold back from telling some hard truths when necessary. Follow him on twitter @seberead