The Minnesota Wild dropped a tough 3-1 decision to the Anaheim Ducks last night as they fell to 0-2-1 on the road in the young 2013 NHL season. Mike Yeo's team have made a bright start to the season generally speaking, but concerns over the spread of scoring and a weakness against a heavy forecheck were once again a theme on Friday night. However, quality minutes and promising play from 19-year old blue-liner Jonas Brodin was also a theme once again in spite of the loss. Brodin missed the start of the season after injuring himself in the AHL during the lockout, but he was quickly inserted into the NHL line-up once healthy and has made an immediate impact.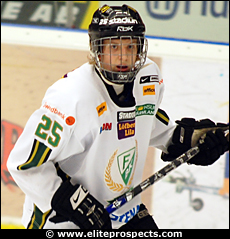 Jonas Brodin was the 10th overall pick in the 2011 NHL Entry draft. He skated for Farjestads (Swedish Elite League) in 2011-12 winning acclaim as a very steady defenseman and logging important minutes as an 18-year old in one of Europe's strongest leagues. He registered eight assists in 49 games and then competed for Sweden in the IIHF World Championships, a pretty clear sign of his maturation and talent.
His arrival in the AHL last October was overshadowed by an injury sustained after only eight games, and by the incredible early play of fellow top prospect Mikael Granlund. Still, Jonas Brodin registered two goals and two assists and a +2 rating while making the adjustment to North American professional hockey. Apparently he had shown enough because after one rehab game in the AHL, Brodin was called up and inserted into the lineup on January 25 against the Detroit Red Wings. He played 19:05 minutes of ice time and registered an assist in his NHL debut.
Brodin Earns Top Pair Spot With Suter
After two games Mike Yeo had seen enough and he paired Brodin with top defenseman Ryan Suter. Minnesota's defense had struggled conceding 13 goals in three straight losses. Suter's own difficulties in the defensive end had been well-documented up that point as the 28-year old tried to adapt to a new system and life without long-time defense partner Shea Weber. Moving Jonas Brodin up to the top pairing has automatically fixed the Wild's defensive issues as demonstrated by the loss to Anaheim, but that pairing has generally played well, while the youngster has looked comfortable handling an average 22:37 minutes of ice time per night over the past three games.
There has been some general speculation that a lot of Suter's defensive struggles can be attributed to adapting to life without Weber. At 6-foot-4 and weighing 233 lbs, Weber is a huge physical presence with the ability to really assert himself in front of the net and throw forwards out of that area with relative ease. The 6-foot-1, 191 pound Suter is hardly a small defenseman, but on this Wild defense he will need to get used to battling hard in front of the net and boxing players out of the crease area. Jonas Brodin does not replace Weber's physical presence, but he could be the solution as a strong supporting player to Suter on the top pairing.
Brodin is a smooth skater with the ability to get involved offensively, but he will make his money as a defensive player in the NHL. Standing at the same height as Suter, but listed at only166 lbs, there is little doubt that the Swede will need to fill out his frame in the long run, but he possesses an excellent stick and sound positioning to enable him to compete in the NHL this season. He has shown that he isn't afraid to get involved physically, and has already perhaps demonstrated that he possesses a little bit of a nasty streak, which is never a bad thing for an NHL defenseman.
However, what really sets Jonas Brodin apart as a defenseman already is his hockey IQ and decision making. Observers might point towards a couple of poor decisions made during his five-game stint so far this season, but the reality is that they are few and far between. His decision-making serves a skill set that sees him make several good (often unheralded) defensive plays per game, while also being a valuable asset in transition (an area where the Wild have struggled so far in 2013).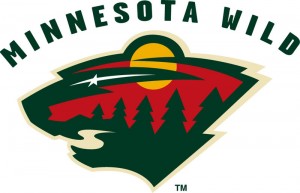 Promising Minnesota Defensive Prospects
Maybe Brodin's time on the top defensive pair will be short-lived. The balance on the blueline remains a concern for Yeo as all too often his team has been hemmed in in the first seven games this season. Still, there is little doubt that Yeo and GM Chuck Fletcher will hope that Brodin will be with this franchise for years to come. He is one member of an exciting pool of young defensemen making their way through the Wild's organisation. Several others are also plying their trade at NHL level with Jared Spurgeon, Justin Falk and Marco Scandella currently on the NHL roster. Tyler Cuma is currently suiting up for the Houston Aeros, and Minnesota's top ranked blueline prospect Mathew Dumba came close to making the team out of training camp after being drafted seventh overall in the 2012 NHL entry draft.
The future is bright on the blueline in Hockey Town, and Jonas Brodin is an important part; he is already making an impact in the shortened 2013 NHL season.