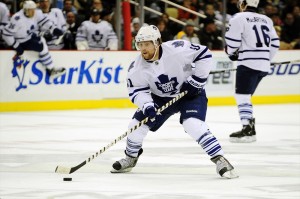 Phil Kessel is slumping.
This early season has brought us some very odd statistics. Everyone remembers the epic site "DidGomezScore.com" last season and how Scott Gomez went over a year without putting a puck in the net. For a guy who made as much money as he did, it provided the hockey world with much amusement. His streak this year stands at 350 days and counting but injuries and a buyout do mitigate that somewhat. The bottom line is scoring droughts are a part of hockey reality.
Now we present to you Phil Kessel and his story. Here is a perennial 35-40 goal scorer who has suffered extensively because of this lockout. Granted, he lost Joffrey Lupul early in the season to a broken forearm but he was paid the big bucks by Toronto to pad his stats with assists. As of this moment, 294 NHL players have felt the excitation of scoring a goal this season. Nearly half the league has lit the red lamp and yet a sniper has not done so in seven games this year.
Do you remember?
The last time that Phil Kessel scored has to feel like a lifetime ago with the nearly four month lockout on top of the off-season. Actually it was March 31st, 2012 against the Buffalo Sabres and here is the goal footage that has to agonize fans of the blue and white.
All anyone knows is that the first goal is going to come and goals will seem to follow quickly thereafter. It is not like Kessel has not had scoring chances. He really has just missed several times even once or twice having a sure goal tipped or go off a teammate's body in front. Bad luck plays a role in these droughts and sometimes the media and hockey fans alike do not realize it. The truth is what comes next may be considered downright incredible.
Some of the players who have scored….
Can you believe that a guy like Antoine Russel scored in his rookie debut or even oft-injured Marco Scandella has tickled the twine. Even Matt Martin has visited the goal sanctuary this season yet no one seems to believe the Kessel malaise has lasted this long unless you go deep into Twitter.
Here is a small list of the least noteworthy names to get their mention on the goalie side of the box score. Think of this as a list of the truly not its. Sorry if it sounds like a game for a 7 year old but the facts remain. Also, can you believe these professionals have more goals than Phil Kessel?
John Mitchell (COL) — 4 goals

Brian Lashoff (DET) — 1 goal

Bruno Gervais (PHI) — 1 goal

Joey Crabb (WSH) — 1 goal

Grant Clitsome (WPG) — 1 goal

Francois Beauchemin (ANA) — 1 goal

Code McLeod (COL) — 1 goal

Rob Scuderi (LAK) — 1 goal

Henrik Tallinder (NJD) — 1 goal
This is just a small sample size of the unexpected that have scored a goal in this NHL year. Will today be the day that Phil Kessel scores or will Scott Gomez score? The world waits with baited breath in this epic battle of the crazy scoring droughts. Let's see what happens. The last question would be this. If Kessel does score, then who is the next higher profile player who has zero goals? Answer away in the comment section and thanks for reading.