Following the resolution of the NHL lockout, the Washington Capitals regular season began. In a shortened training camp new head coach Adam Oates looked to implement his new system and team philosophy like he did with Washington's AHL affiliate, the Hershey Bears, during the work stoppage. The Capitals struggled mightily in January, ending the month with a 1-5-1 record, last in the Eastern Conference. Following the first seven games, The Hockey Writers critiqued the Capitals and players though the first month of the shortened season.
Forwards:
Nicklas Backstrom: Washington's best two way forward totaled four assists in the Capitals seven January games, along with a minus two. He totaled two assists on the power play, but only registered ten shots on goal, something that must improve.
Grade: B
Jay Beagle: The Capitals surprisingly put Beagle on a line with Washington superstar Alex Ovechkin and grinder Joey Crabb, helping him record two assists. He earned increase ice time, averaging 15:27 minutes per game.
Grade: B
Troy Brouwer: Following his newly minted three year contract, Brouwer struggled in Washington's first seven contests. He totaled two assists along with a minus three and ten penalty minutes. He looks to develop chemistry with center Mike Ribeiro as the season progresses.
Grade: C+
Jason Chimera: The Capitals physical winger got off to a hot start in a shortened season, totaling five assists through seven games. He finished the month second on the team in assists.
Grade: B+
Joey Crabb: The former Toronto Maple Leaf earned extra ice time with center Jay Beagle and Alex Ovechkin, averaging 11:50 minutes per game. However, the usual fourth liner only contributed one assist.
Grade: B-
Eric Fehr: Fehr rejoined the Capitals following on a one year contract this season, following an unsuccessful stint with the Winnipeg Jets. He played in four games and averaged 7:33 minutes of ice time.
Grade: C+
Matt Hendricks: Washington's enforcer totaled two goals along with twenty penalty minutes in January, playing above his usual role.
Grade: B+
Marcus Johansson: The versatile forward only played in five of the Capitals seven January games, registering no points to go with a disappointing minus six.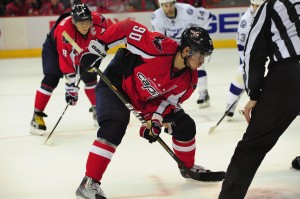 Grade: C-
Alex Ovechkin: Washington's face of the franchise struggled mightily when put on a line with Joey Crabb and Jay Beagle, but totaled two power play goals along with an assist. His lack of defensive awareness and intensity level is hurting Washington.
Grade: C+
Mathieu Perreault: Like Johansson, Perreault has yet to find his offensive game in Washington's new system under head coach Adam Oates. The Capitals home grown prospect holds a minus three along with zero points through five games.
Grade: C-
Mike Riberio: The former Dallas Star has been the best Washington Capital through seven games, leading the team in scoring with eight points. He has been a key cog on the power play, totaling one goal and four assists with the man advantage.
Grade: A
Joel Ward: After a disappointing first season with the Capitals, Ward has been one of Washington's best players in the early part of the shortened season. He totaled two goals opening night against the Tampa Bay Lightning has six points through seven games this season. Capitals' fans can only hope he continues to play at this level.
Grade: A
Wojtek Wolski: The former Florida Panthers and New York Rangers forward signed with Washington this offseason, looking to stay healthy and regain his offensive form. Wolski has two points through seven January games.
Grade: B-
Defensemen:
Karl Alzner: Washington's primary stay at home defenseman has been average at best, holding a minus one while averaging 21:04 of ice time per game. He was split from long time defensive partner John Carlson, but could be reunited in the near future.
Grade: B
John Carlson: Carlson only has one assist through seven games this season and has been beat defensively numerous times.
Grade: C+
John Erskine: The tough defenseman only played in four games in January, but added some unexpected offense, registering a goal and an assist.
Grade: B+
Mike Green: Washington inked Green to a three year deal prior to the season, hoping he can regain his former self on the Capitals' blue line. He totaled three points through the Capitals first seven games, including two assists on the power play.
Grade: B+
Roman Hamrlik: Hamrlik was appeared to have fallen out of favor in the nation's capital, only playing in four of Washington's seven January contests.
Grade: C
Tom Poti: Coming back from injury, Poti has shown he is capable of playing in the NHL. He has an assist and a minus two through three games.
C+
Jeff Schultz: Schultz has zero points and a minus two through five of Washington's seven January games.
Grade: C
Tomas Kundratek: Washington's top defensive pro prospect received a recall following an injury to Jack Hillen. He has a minus three in six games while averaging 12:18 of ice time.
Goalies:
Braden Holtby: Holtby struggled in his two games in net during the month of January, but his defense wasn't there to help him either. He posted a 5.03 goals against average and .863 save percentage.
Grade: C-
Michal Neuvirth: Neuvirth faired a bit better than Holtby in January, recording a 2.97 goals against average and .899 save percentage.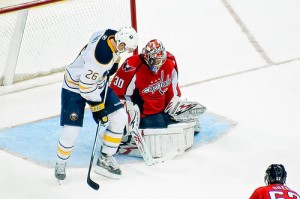 Grade: B-
You can follow Matthew on twitter @m_speck and email him at mspeck21@yahoo.com with any questions or comments.