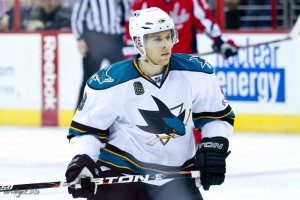 When you think of the San Jose Sharks this season the first thing that pops to mind may be their undefeated 7-0-0 record or the return to dominance of Joe Thornton or the amazing sniping of Patrick Marleau. While the production from San Jose's Thornton and Marleau are a HUGE reason why the team is off to a great start, here are a few lesser discussed keys to San Jose Sharks red hot start.
Little Joe Producing Big Numbers
While Thornton and Marleau are getting league wide recognition for their amazing starts to the 2013 NHL season many fans that don't follow the San Jose Sharks closely forget about Joe Pavelski.
Pavelski goes about his business this season as the 3rd man of the dominating top line and is proving to the general public what San Jose fans have known for a few years, he is a legitimate all star calibre forward in the NHL.
At 5ft 11 195lbs he is one of the smaller players on the team but uses his amazing vision of the game to his advantage. Little Joe, as he is called has above average playmaking abilities and last season learned to pick his spots sniping 31 goals on 269 shots.
Pavelski has proven to be a reliable top 6 player in the NHL ever since 2007 but last season started to elevate his game and has continued that into the 2013 NHL season. Pavelski has shown to be a legitimate top line NHL player scoring 4 goals and 8 assists for 12 points in 7 games.
Team Commitment to Defence
The San Jose Sharks are not only good at scoring goals but preventing them as well.  The Sharks have only allowed 12 goals against in 7 games. The team has bought into the concept that everyone is to help defensively responsible.
Adam Burish and Michal Handzus are excellent bottom 6 forwards that have a strong 2 way game. Handzus in particular is valuable on the PK with his shutdown abilities and excellent faceoff skills.
On D Douglas Murray continues to fill the role of shutdown defenceman but has shown signs of wearing down.Brad Stuart has been the noticeable difference here as he has continued to excel defensively logging around 20 minutes a game and is a +9 in 7 games this season.
Team Size
San Jose employs a number of big bodies on their roster and not only on D or the bottom 6 forward group but also most of their offensive guys are big body presences. Playing against a team with the size of the Sharks can really wear you down, especially when guys like Ryane Clowe are on their hitting game.
When 4 members of your top 6 forward group are over 6 ft 2 200+ lbs you better believe they are hard to knock off the puck, add in the skill that big men like Thornton and Marleau utilize and it's no surprise that they are leading the league in scoring.
The Sharks felt so comfortable with the general size of their team that they signed Scott Gomez (5 ft 11 198lbs) and waived Frazer McLaren (6ft 5 250lbs).
Being surrounded by big bodies allows players like Tommy Wingels and Adam Burish to play bigger than they are, and frees up space for players like Scott Gomez to produce offense from the bottom 6.
Goaltending Has Been Clutch
Antti Niemi has played good posting a 6-0-0 record with a save percentage of .933 and a GAA of 1.95 but no one expects him to keep those numbers over the course of the whole season. What makes Niemi the x factor on this team is his ability to be the clutch goalie we have seen flashes of. So far this season when Niemi was needed to make the save he has, especially in the overtime/the shootout.
http://youtu.be/Y8Mm5_-bkCk
First, take a second to notice the fail  by NHLVideo mistakenly confusing Corey Perry with Carey Price. Niemi proved his last 2 seasons in San Jose that he is a legitimate NHL starter but he has yet to prove the consistency to be considered an elite level netminder.
With a cup ring on his finger he has proven he can be the clutch goalie that can make the save when needed and benefits from playing with an offensively gifted team like the 2010 Chicago Blackhawks.  I doubt he will ever be the Conn Smythe winner but he has proven he can backstop a team to the championship.