The Edmonton Oilers struggles at the draft table have been well documented over the years. Poor drafting and developing has been a critical factor in why the Oilers have made the playoffs just four times since the 2000-01 season. Edmonton even went through a recent string where they had four first overall picks in six years.

They added Taylor Hall (2010), Ryan Nugent-Hopkins (2011), Nail Yakupov (2012), and Connor McDavid (2015) Still — that did not affect the team's overall outcome because they weren't finding NHL caliber talent outside the first round. You can have stars, but you need to surround those stars with quality depth. Edmonton hasn't done that.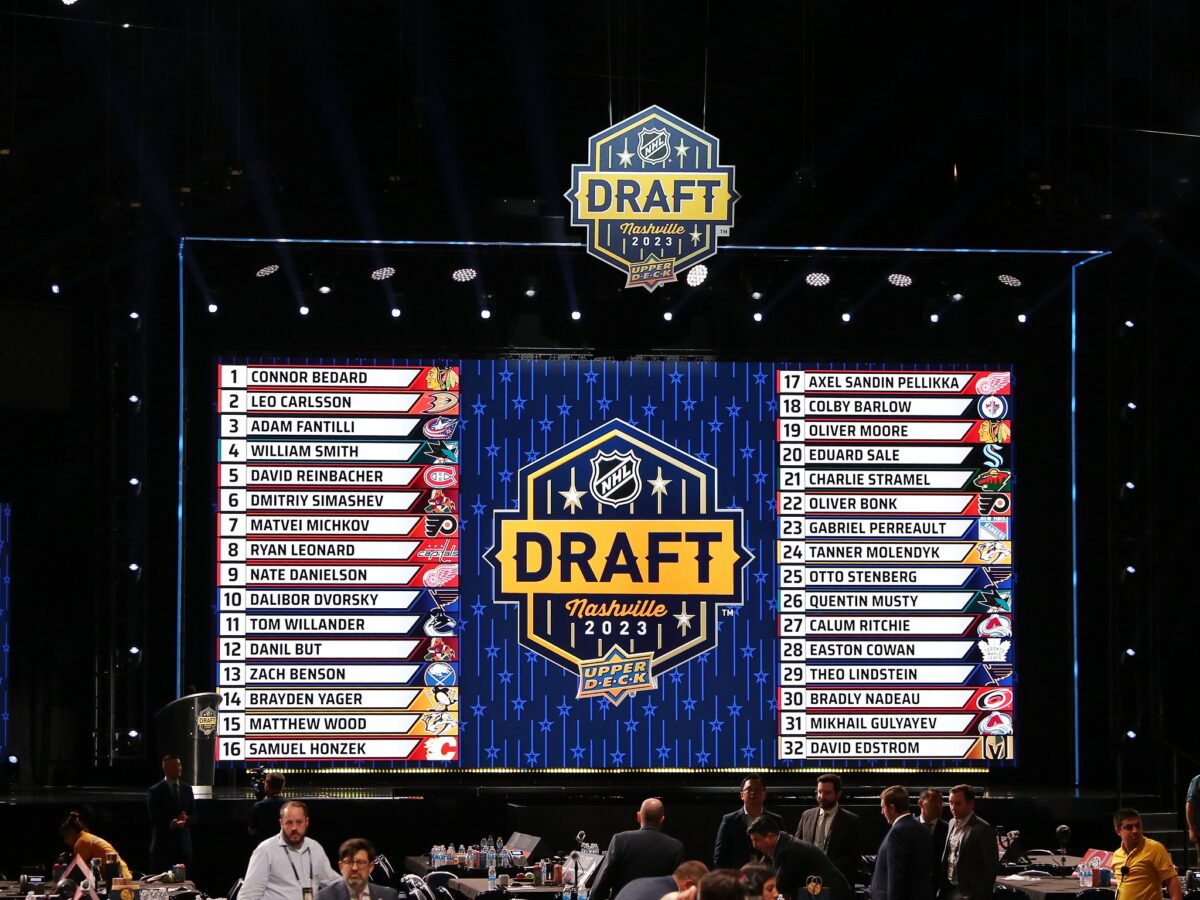 It was not all on the scouting group as Edmonton's had Kevin Lowe, Steve Tambellini, Craig MacTavish, and Peter Chiarelli in the general manager's chair. The addition of Keith Gretzky helped the Oilers get their 2017 class in order, and the picks made during Chiarelli's tenure are starting to percolate to the top.
Evan Bouchard and Philip Broberg have given Edmonton hope for the future. A change of pace to be sure, as the organization has collected its fair share of busts over the years. Here are 10 of the biggest draft busts in Oilers history dating back to the 2000 NHL Draft.
#10 – C Sam Gagner
Ht/Wgt: 5'11 201lbs | Birthplace: London, Ontario
Draft: 2007 – 1st round – 6th overall | Projection: Top 6 Playmaking Forward
GM & Head Scout: Kevin Lowe, Kevin Prendergast
NHL Totals: 1,015 GP –  192 G – 327 A – 519 PTS
Sam Gagner might not be a complete bust regarding never turning into an NHLer, but he never turned into the dominating skill forward many pegged him to be. With the OHL's London Knights, Gagner was linemates with Patrick Kane, and the two terrorized the league.
---
Latest News & Highlights
---
In his draft year, Gagner piled up 118 points and won a gold medal with Team Canada at the World Juniors. Things were looking upwards after he jumped from the OHL to the Oilers immediately and put up 49 points in his rookie year. Then his development stalled.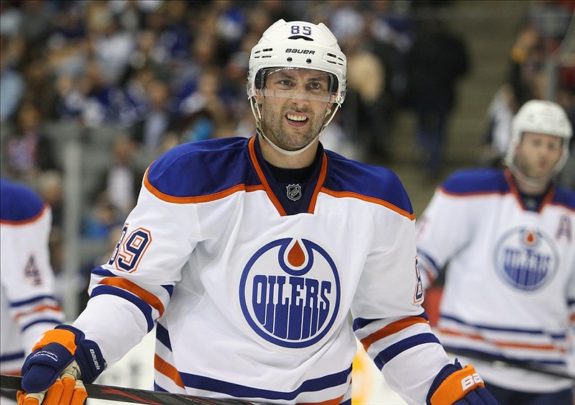 For much of his time in Edmonton, Gagner was playing all over the Oilers' top nine. The highlight of his time in Edmonton was an eight-point night against the Chicago Blackhawks during the lockout-shortened 2012-13 season. In June 2014, the Oilers traded Gagner to the Tampa Bay Lightning for Teddy Purcell. Tampa then flipped Gagner to the Arizona Coyotes.
Gagner then went to the Philadelphia Flyers as part of the Chris Pronger trade, spent nine games in the AHL, and signed a one-year deal with the Columbus Blue Jackets. The contract he signed with Columbus essentially saved his NHL career. He'd go on to post a career-high 50 points in 81 games. He signed a three-year deal with the Vancouver Canucks in the summer of 2017 and even found his way back to the Alberta capital.
Other Options: RW Jakub Voracek, C Logan Couture, C Brandon Sutter, D Ryan McDonagh, C Lars Eller, D Kevin Shattenkirk
#9 – D Doug Lynch
Ht/Wgt: 6'3 214lbs | Birthplace: North Vancouver, British Columbia
Draft: 2001 – 2nd round – 43rd overall | Projection: No. 4 Shutdown Defenseman
GM & Head Scout: Kevin Lowe, Kevin Prendergast
NHL Totals: 2 GP – 0 G – 0 A – 0 PTS
Being a second-rounder doesn't mean that Lynch wasn't a bust. There were some lofty expectations pushed upon Lynch who a lot of people thought could've been a poor man's Barrett Jackman. Lynch also had an excellent WHL career with the Red Deer Rebels. When Edmonton called his name with the 43rd selection in 2001, people believed the Oilers had one of the better second-round picks of that draft.
You may also like:
Unfortunately, injuries had their way with Lynch, and his shot at a long-term NHL career was hampered. He lost a considerable amount of time in his development years, namely a wrist injury that would affect his puckhandling abilities. After investing four-plus years in Lynch, the Oilers moved him to acquire Chris Pronger from the St. Louis Blues before the 2005-06 season started.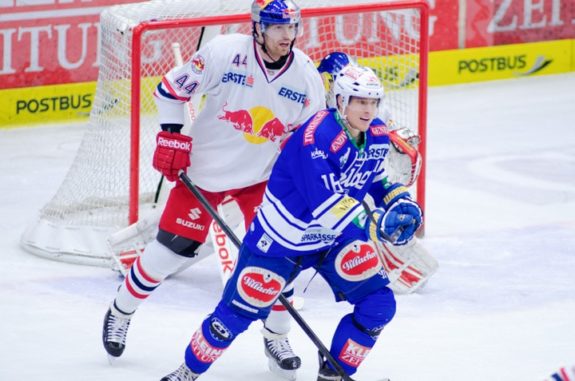 Lynch would spend the next two seasons in St. Louis' farm system and never played another NHL game. Six years after being drafted Lynch left for Austria and joined EC Salzburg and hasn't returned since. He would sign with EC Salzburg for the 2007-08 season and primarily played all seven seasons in the Belarus league.
Related: 4 Trades That Doomed & Saved Franchises
He would also make pitstops with the Vienna Capitals and Frolunda HC. Lynch retired after the 2013-14 season after playing 11 pro seasons across various leagues. The highlight of his career was helping Red Deer win the 2001 Memorial Cup.
Other Options: C Mike Zigomanis, C Mike Cammalleri, RW Chris Thorburn, RW Jason Pominville, C Jay McClement
#8 – LW Magnus Paajarvi
Ht/Wgt: 6'2 205lbs | Birthplace: Norrkoping, Sweden
Draft: 2009 – 1st round – 10th overall | Projection: Top 6 Power Forward
GM & Head Scout: Steve Tambellini, Stu MacGregor
NHL Totals: 467 GP – 62 G – 62 A – 124 PTS
A stellar performance for Sweden at the 2009 World Juniors put a rocket on Paajarvi's back during his draft year. He was a teenager playing competitive minutes for Timra in Sweden's top league. When the Oilers got to the podium, they were naturally ecstatic to be landing a quick skating power forward.
By the time Paajarvi had played his first NHL game with the Oilers in 2010-11, he'd already collected back-to-back silver medals followed by a bronze at the World Juniors and a gold medal at the Ivan Hlinka tournament. Paajarvi looked like a real star in the making and issued in the next era for the Oilers along with Taylor Hall and Jordan Eberle.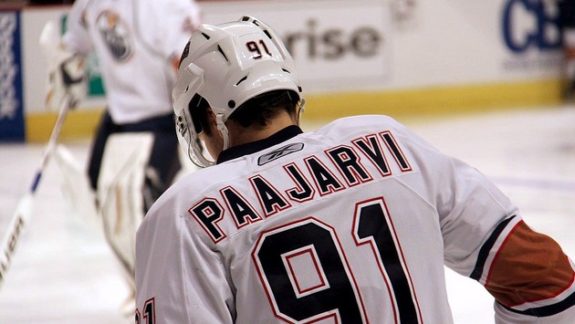 Paajarvi posted 34 points in 80 games during his rookie year but never seemed to match or exceed that success in the years to follow. His stock began to dwindle and ended up splitting his minutes between the NHL and AHL. Paajarvi would put up 58 points in 163 games as an Oiler before being traded to the St. Louis Blues in a one-for-one deal for David Perron.
Related: What Happened To Oilers 2009 Draft Class?
Paajarvi would play parts of the next five seasons with the Blues while also spending time in the American League. In January 2018, the Blues waived Paajarvi who was claimed by the Ottawa Senators. He scored eight points in 35 games and signed a one-year extension for the 2018-19 season and currently remains unsigned. At best, Paajarvi is a borderline NHL player at this stage of his career despite showing so much promise as a high draft pick.
Other Options: D Ryan Ellis, D Calvin de Haan, RW Zack Kassian, D Dmitri Kulikov, D Nick Leddy, LW Chris Kreider
#7 – D Alex Plante
Ht/Wgt: 6'5 229lbs | Birthplace: Brandon, MAN
Draft: 2007 – 1st round – 15th overall | Projection: No. 4 Shutdown Defenseman
GM & Head Scout: Kevin Lowe, Kevin Prendergast
NHL Totals: 10 GP – 0 G – 2A – 2PTS
From the moment the Plante pick was made in 2007 people were skeptical. It also didn't help that the 15th overall pick was part of the package Edmonton got in exchange for sending beloved Oiler Ryan Smyth to the New York Islanders. Also included in the package were Robert Nilsson and Ryan O'Marra. All three players fizzled out.
It wasn't all doom and gloom, Plante had a respectable career as the Calgary Hitmen's best defensive defenseman. However, Plante would miss most of his draft-plus-one season with a back injury. Plante's development slowed after that. When he turned pro, he struggled with his mobility and overall footspeed.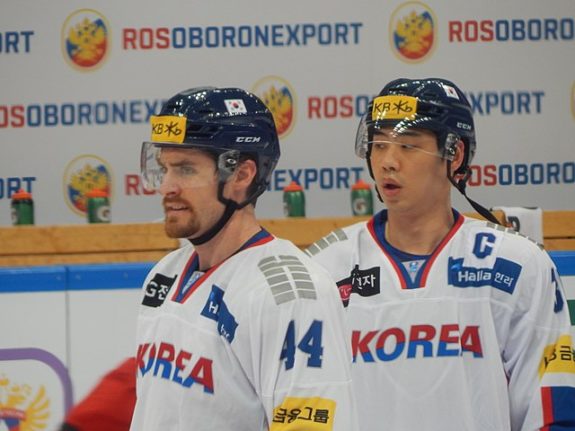 Plante went from being a physically imposing defender to looking like an average minor league defender. Injuries would further complicate matters, including four concussions during his time in the AHL. He spent the next four seasons playing in the AHL with the Oklahoma City Barons and only played two  NHL games for the Oilers.
Related: What Happened To Oilers 2007 Draft Class?
During the summer of 2013, the Oilers and Plante went their separate ways. Plante would end up signing with Dornbirner of EBEL, then Lorenskog in Norway. The past three seasons Plante has been playing in the Asia League for Anyang Halla. Plante also got his South Korean citizenship and even played for South Korea at the 2018 Winter Olympics.
Other Options: D Ian Cole
#6 – G Jeff Deslauriers
Ht/Wgt: 6'4 203lbs | Birthplace: St-Jean-sur-Richelieu, Quebec
Draft: 2002 – 2nd round – 31st overall | Projection: No. 1 Goalie
GM & Head Scout: Kevin Lowe, Kevin Prendergast
NHL Totals: 62 GP – 23 W – 3.24 GAA – 0.901 SV%
In his draft year, Deslauriers was ranked as the top North American goaltender by the International Scouting Service (ISS). He was also seen as the second-best goaltender in the 2002 NHL Draft behind Kari Lehtonen who would go second overall. Deslauriers had great size for a goaltender, moved very well for a guy his size, and was a star in the QMJHL at the time.
Deslauriers was always on the cusp of making Canada's squad for the WJC. Edmonton looked like they had found their future No. 1 goaltender. In hindsight, the 2002 goaltending group wasn't very deep. Lehtonen, Cam Ward, Josh Harding, and Curtis McElhinney were the only other goaltenders to have NHL careers.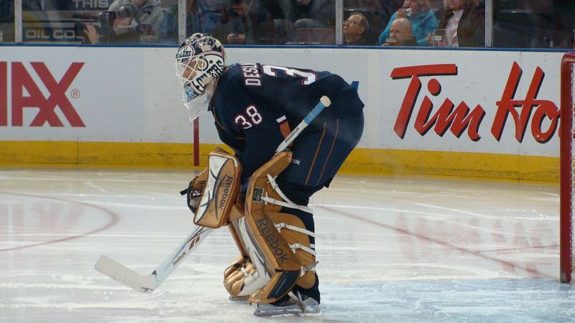 Deslauriers struggled to gain traction amongst the pro ranks and eventually lost his spot on the depth chart to Edmonton's first-round pick in 2004 Devan Dubnyk. When Deslauriers finally got a chance to run with the No. 1 job in Edmonton, he struggled to claim the spot as his.
Related: History Shows Oilers Can't Draft Goaltenders
After spending a majority of his career in the AHL, Deslauriers signed with the Anaheim Ducks in July 2011 and would bounce around the AHL for the next three seasons before heading to Europe. He last played for the Lacombe Generals of the ChHL. Deslauriers has since retired after the 2016-17 season and is now in commercial real estate.
Other Options: G Josh Harding, D Trevor Daley
#5 – C Jesse Niinimaki
Ht/Wgt: 6'3 196lbs | Birthplace: Tampere, Finland
Draft: 2002 – 1st round – 15th overall | Projection: Top 6 Offensive Center
GM & Head Scout: Kevin Lowe, Kevin Prendergast
NHL Totals: Never played 
When the Oilers drafted Niinimaki, they were hoping that he, Alexei Mikhnov (17th, 2000), and Ales Hemsky (13th, 2001) would be big pieces in the club's mid-2000's turnaround. They had a power forward on the left wing (Mikhnov), and a silky playmaking right-winger (Hemsky), all they needed was a big, rangy center. They thought Niinimaki was that guy.
Related: Jesse Niinimaki – A Lesson In Why Not To Go Off The Board
It never quite worked out that way as Niinimaki never played a single game for the Oilers. In fact, Ninimaki's only appearance in the North American pro system was when a 24 game stint in the AHL during the 2004-05 NHL lockout. Niinimaki suited up alongside many other Oiler prospects with the Edmonton  Road Runners.
@dstaples Oilers have busted eight times in top-20 since 1995. Plante, Niinimaki, Mihknov, Rita, Henrich, Riesen, Descoteaux, Kelly.

— Robin Brownlee (@Robin_Brownlee) June 13, 2015
He suffered through a large chunk of the year with a shoulder injury and returned to Ilves in Finland to finish out the season. That was all she wrote for Niinimaki. He would stay in Liiga for the next ten seasons (he also did play sparingly in other leagues at this time). He hadn't played since the 2016-17 season when he suited up for Yunost Minsk in Belarus.
Other Options: C Boyd Gordon, LW Sean Bergenheim, LW Alexander Steen
#4 – C Rob Schremp
Ht/Wgt: 5'11 201lbs | Birthplace: Fulton, New York
Draft: 2004 – 1st round – 25th overall | Projection: Top 6 Scoring Forward
GM & Head Scout: Kevin Lowe, Kevin Prendergast
NHL Totals: 114 GP – 20 G – 34 A – 54 PTS
When you're given the legend of John Henry's hammer, it's more often than not you can't live up to those lofty expectations. This couldn't be truer about Schremp. While playing on the OHL juggernaut London Knights in the mid-2000s, Schremp was seen as an elite-level talent with great offensive skills.
In his draft year, Schremp was a point-producing machine on the power play. Of the 75 points Schremp piled up in his draft year, 63% of those points came on the power play. Thus you could go both ways on Schremp. Either you saw him as a high-caliber offensive forward, or he was a power-play specialist. There were also red flags about his overall foot speed.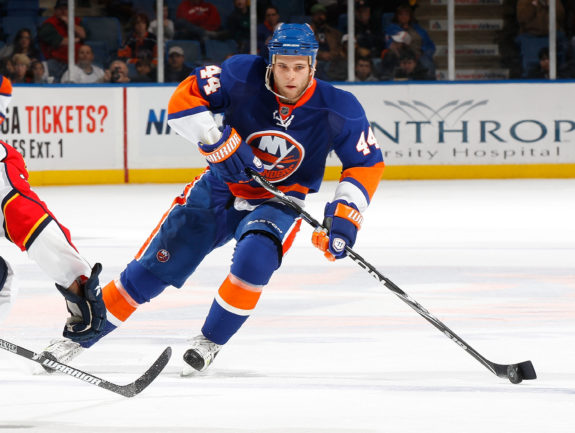 He ended his junior career with a staggering goal-per-game average (57 goals in 57 games), and 145 points. Naturally, there was plenty of excitement, and it looked like Schremp could at the very least be a consistent top-six scoring forward. It didn't work out as Schremp's attitude, foot speed, lack of defensive awareness and all skills away from the puck were lacking.
Related: What Happened to Rob Schremp?
His game never evolved, and the Oilers only got seven NHL games out of him before waiving him. He would then spend time with the New York Islanders and Atlanta Thrashers. Schremp would eventually play for several European clubs over the next seven seasons. He tried to make a comeback in 2015-16 with the AHL's Portland Pirates but ended up back in Europe. He played the 2017-18 season with EC Salzburg of the EBEL.
Other Options: G Cory Schneider, D Mike Green, C Dave Bolland
#3  – LW – Alexei Mikhnov
Ht/Wgt: 6'5 200lbs | Birthplace: Kiev, Ukraine
Draft: 2000 – 1st round – 17th overall | Projection: Top 6 Power Forward
GM & Head Scout: Kevin Lowe, Barry Fraser
NHL Totals: 2 GP – 0 G – 0 A  – 0 PTS
This was Barry Fraser's last year as Oilers head scout and deservedly so. Mikhnov was a massive swing and a miss on what Edmonton believed was a future power forward. Mikhnov took several years to come to North America, and the one season he did play, he left early to go back to Russia. It left a sour taste in the mouths of the organization and fan base.
He spent the majority of the 2006-07 season with the AHL's Wilkes-Barre Scranton Penguins. Mikhnov produced decent numbers in that shortened campaign with 18 points in 27 games. He even played two unremarkable games with the Oilers that year. Essentially the Oilers gave Mikhnov an all-expenses-paid extended North American vacation with round-trip airfare.
Related: NHL Draft – History of the 17th Overall Pick
Other Options: D Brooks Orpik, LW Alexander Frolov, D Anton Volchenkov, RW Brad Boyes, RW Justin Williams
#2 – C Marc-Antoine  Pouliot
Ht/Wgt: 6'1 187lbs | Birthplace: Quebec City, Quebec
Draft: 2003  – 1st round – 22nd overall | Projection: Top 6 Two-Way Center
GM & Head Scout: Kevin Lowe, Kevin Prendergast
NHL Totals: 192 GP – 21 G – 36 A – 57 PTS
At the time the 2003 draft class was pegged as the deepest class in history, deeper than the 1979 class. In hindsight, most of the NHL franchises got a player to build their team around. Some of the examples include Carolina getting Eric Staal, Nashville getting Ryan Suter, Chicago getting Brent Seabrook, and Anaheim getting both Ryan Getzlaf and Corey Perry.
One of the teams that missed wildly was the Oilers who took Marc-Antoine Pouliot with the 22nd overall pick. What hurts the most is that Ryan Kesler, Mike Richards, and Corey Perry were taken just after. If you look at the Oilers late-2000's struggles, maybe it wouldn't have been so bad if Edmonton secured one of the others.
Related: Re-Drafting Oilers 2003 Draft Picks
Instead, they got a guy who got a lot of offensive rub from Sidney Crosby in junior. To make matters worse, they even traded down from 17 to 22. That 17th overall pick ended up being Zach Parise. Talk about a blunder. Pouliot never amounted to being much more than a fringe NHLer who got fourth-line minutes when he played.
Pouliot would play five seasons within the Oilers system, mainly in the AHL, before Edmonton relinquished their rights. He'd play the next two seasons within the Tampa Bay Lightning and Arizona Coyotes organizations. He's played the last six seasons in the NLA and is contracted with EHC Biel-Bienne for the 2018-19 season.
Other Options: C Ryan Kesler, C Mike Richards, RW Corey Perry
#1 – RW Nail Yakupov
Ht/Wgt: 5'11" 194 lbs | Birthplace:  Nizhnekamsk, Russia
Draft: 2012  – 1st round – 1st overall | Projection: Elite Goal Scoring Winger
GM & Head Scout: Steve Tambellini, Stu MacGregor
NHL Totals: 350 GP – 62 G – 74 A – 136 PTS
Yakupov is hands down not only the Oilers biggest draft bust but the one of the most notorious first overall bust in NHL history. He's right up there with Alexandre Daigle and Patrik Stefan. Yakupov was pegged to be a perennial 40-goal scorer when he was drafted. Scouts loved his scoring prowess and ability to do things at high speed.
This looked like a runaway pick for the Oilers. At the time they had Taylor Hall, Ryan Nugent-Hopkins, Jordan Eberle, and now a pure sniper in Yakupov. All the building blocks were supposed to be there. Yakupov had an impressive rookie season scoring 17 goals and 31 points in 48 games. He finished fifth in Calder Trophy voting and had 11 first-place votes on the ballot.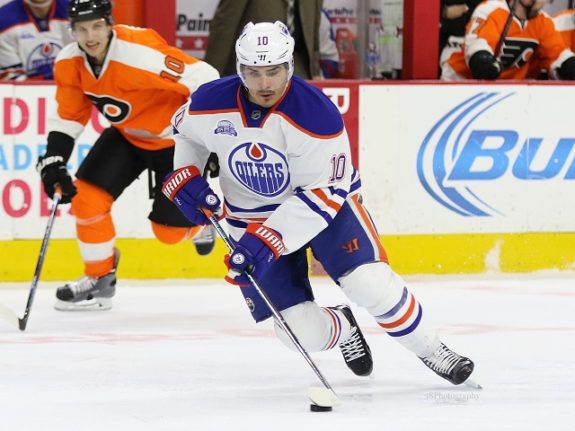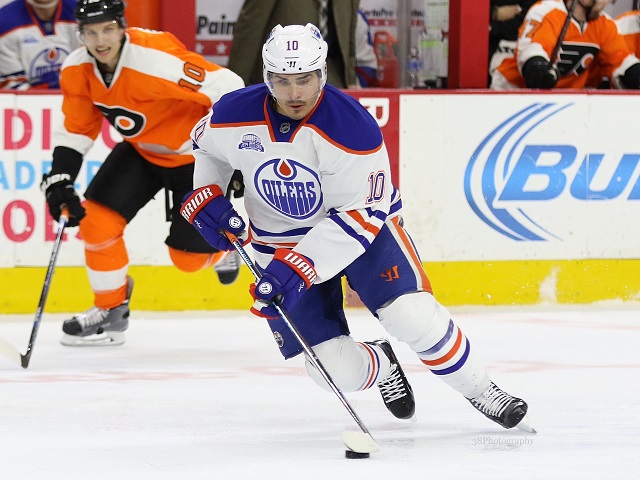 So what happened? Yakupov failed to break the 20-goal plateau, was a defensive liability, and never scored more than 33 points in a season with the Oilers. In the fall of 2016, Edmonton finally traded Yakupov for Zach Pochiro and a conditional third. That pick was later traded as the Oilers moved up to snag goaltending prospect, Stuart Skinner.
Related: Learning From Past 1st Overall Failures
Yakupov has since spent time with both the St. Louis Blues and Colorado Avalanche. He had a dreadful year scoring just nine goals and 16 points in 58 games. When the playoffs rolled around, he was a healthy scratch for the Avalanche's first-round loss against the Nashville Predators. At just 25 years of age, Yakupov has run out of NHL options and is now in the midst of his second full season with SKA Saint Petersburg in the KHL.
---