Sometimes a win is just what a team needs to get on track. The Washington Capitals (2-5-1) hope that holds true, as they started their three game home stand with a 3-2 victory over the Philadelphia Flyers (2-6) Friday night at Verizon Center. Two early third periods goals from Troy Brouwer and Wojtek Wolski paced the Adam Oates led Capitals over goaltender Ilya Brygalov and the two win Flyers.
The Rough Stuff
Following a potential elbowing penalty in the first period that hit Philadelphia Flyers rugged winger Wayne Simmonds from Washington defenseman John Erskine that didn't draw a penalty, Zac Rinaldo took a stand for his teammate. He dropped the gloves with Capitals enforcer Matt Hendricks, and won the bout decidedly. Both players received game misconducts following the fight and Wayne Simmonds didn't return to the game.
"They said they fought before the puck dropped," Washington Capitals head coach Adam Oates said of the game misconducts. "When you watch the replay, I think they got tricked in a sense, because the two center men went like there was a draw. It was like a false start and he [the referee] was kicking one of them out. I think they reacted to the two center men moving."
"I don't think John's [Erskine] is a dirty player," Flyers General Manager Paul Holmgren said.
There is a very good chance Erskine will get supsended all though a penalty was not called, likley a one or two game variety.
Split Through Two
It took quite a while for either team to light the lamp, but the Flyers took a 1-0 lead 11:43 into the second period. Philadelphia defenseman Bruno Gervais pinched in from the blue line during a cycle in the offensive zone, and potted his first goal of the season past Holtby.
Washington knotted the game at one with 2:18 remaining in the second stanza, converting on a breakaway. Capitals forward Nicklas Backstrom was left alone to face Bryzgalov following a miscommunication during a Flyers line change and beat the Philadelphia net minder with a backhand deke.
Caps' Offense Takes Charge In Third
Washington's secondary scoring took control of the game in the final stanza, striking for two goals in a span of 2:47. Forward Troy Brouwer beat Bryzgalov near post with a wrist shot for his third goal of the season during even strength play, following a great setup on Mike Green's third assist of the season.
Forward Wojtek Wolski padded the Capitals lead to a 3-1 advantage 6:44 into the period, scoring on a partial breakaway. Flyers second year forward Brayden Schenn cut Washington's lead to 3-2 with 9:30 remaining in regulation, but behind Braden Holtby's 29 saves, the Capitals earned their second win at Verizon Center this season.
Locker Room Chatter
John Carlson: "Obviously we came into this game with the mindset that we had played pretty good hockey in the last two games, but not good enough and we wanted to stay confident but change a few things to make sure that what we're doing is the right thing for the whole game."
Wojtek Wolski: "The system works when we stick to it. We get opportunities. We seem to create a hard game for the other team, it's when we get away from it they get a lot of opportunities. We've got to stick to it and make sure we're on the same page and that we're really giving it a hard full effort for sixty minutes."
Troy Brouwer: "We stifled their ability to come through the neutral zone quite a bit with our neutral zone. We were in good position tonight; guys were reading the plays really well. We were able to transition and create a lot of offense as a result."
Head Coach Adam Oates: "Obviously it's been a few games coming, the guys hung in there and played very good hockey tonight. I think the last week we've been playing better hockey."
"I thought we kept the pressure on them, we didn't sit back and we played smart. We weren't over aggressive, we played the same way."
Minor League Report

The Hershey Bears were affected by Washington's acquisition of Casey Wellman from the Florida Panthers last night, as the Panthers received forward Zach Hamill in return. Wellman is expected to be in the lineup for this weekend's games. You can view my interview with Wellman, here.
Hershey also made a minor league deal, sending forward Mathieu Beaudoin to the Rockford IceHogs. The Bears received forward Peter LeBlanc from Rockford/Chicago.
Hershey plays two home games this weekend at Giant Center, taking on the Manchester Monarchs Saturday night and a divisional matchup against the Wilkes-Barre/Scranton Penguins on Super Bowl Sunday.
Capitals Upcoming Games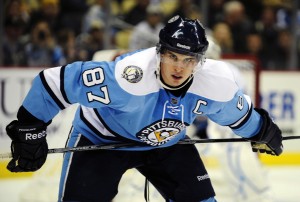 Washington hosts the rival Pittsburgh Penguins Sunday afternoon, followed by the finale of their three game home stand against the Toronto Maple Leafs Tuesday night. Capitals Head Coach Adam Oates is likely to start Holtby against the Penguins, following his solid performance in net last night.
You can follow Matthew on twitter @m_speck and email him at mspeck21@yahoo.com with any questions or comments.