Los Angeles Kings forward Dustin Penner is known for a lot of things in the NHL. The two time Stanley Cup winner ('07 Ducks, '12 Kings) made it to the NHL as an undrafted free agent back in the 2005-'06 season and watched his stock soar as a power forward. Despite his quick assent into the league, Penner's tenure in the NHL has been filled with turmoil, extreme highs, and some embarrassing lows.
Stanley Cup Ring and an Offer Sheet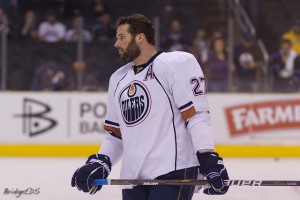 His roller coaster career began in Anaheim, where he played his first full season in '06-'07. His value rose so quickly that he only spent one full season with the Ducks even though it ended with a Stanley Cup ring. While Anaheim wanted to re-sign their restricted free agent, the Edmonton Oilers had other ideas and signed Penner to an offer sheet worth $21.25 million over 5 years. Brian Burke, the Ducks GM at the time, fumed over Kevin Lowe's attack on his Stanley Cup Championship roster but also realized he would not be able to keep his young power forward at that price.
Penner watched his salary jump from $425,000 to $4.25 million/yr. and the Ducks declined to match Edmonton's offer sheet. Not only was his salary steep for a young power forward, but the Oilers also gave up their first, second, and third round picks as compensation to Anaheim to get him. At the time of the move, Penner stated, "I know myself, I didn't peak this last year as a player in Anaheim. I don't know what my potential is, but I think in the next five years, I'll find out."
Trade Deadline Disappointment
Fast forward through 3.5 years that featured more disappointment than success in Edmonton and Penner was on the move again. In the Spring of 2011, Edmonton traded Dustin Penner to Los Angeles for a sizable return. In dire need of scoring and a power forward to make a playoff push, the Kings parted with former first round pick Colton Teubert, a first round pick in 2011, and a conditional third round pick in 2012 (which later became a second round pick).
Penner was slow to get on the scoresheet after the trade and only produced 6 points in 19 games as the Kings entered the playoffs as the 7th seed. He added 2 more points in 6 playoff games and the Kings were knocked out by the San Jose Sharks in the first round. Though the Penner experiment did not work initially, the Kings still had him for one more year to try and reap some benefits from the trade.
Dustin "Pancakes" Penner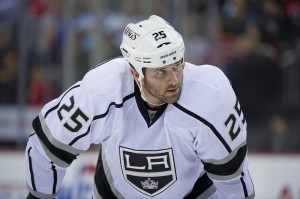 The next season for Penner was the final one of his original offer sheet from Edmonton. Despite making the NHL as an undrafted free agent, earning a Stanley Cup ring, changing teams via offer sheet, and going through a trade deadline deal, this would be his most bizarre and unpredictable year yet.
Penner alternated between problems on the ice and off the ice through the '11-'12 season. First it was his incredibly slow start that amounted to 1 assist in 9 games despite getting time on the top line. Then it continued off the ice when he injured his back in January in a freak pancake eating incident. As described by Penner, "I woke up fine, sat down to eat and it locked right up. It never happened to me before, I couldn't stand up." He continued on to describe the incident, "I just leaned over to dip into some delicious pancakes that my wife made."
"Pancakes Penner" had the hockey world's attention for all of the wrong reasons at that point, but at least he took it in stride and joked about it. The jokes would die off quickly though when he was listed as a healthy scratch and drew the fury of head coach Darryl Sutter in mid-February. Rumors of Penner running out of chances in the lineup persisted and they were quickly followed by reports of his impending divorce at the end of the month.
Another Stanley Cup Ring
Sutter eventually gave his power forward another chance in the lineup and Penner did just enough to keep his spot heading down the stretch. With GM Dean Lombardi's addition of Jeff Carter, the Kings started to heat up and Penner's lack of production could be overlooked if the team made the playoffs. When the playoffs arrived, Penner came through for the 8th-seeded Kings.  He scored 3 goals and added 8 assists in 20 games during the Kings' remarkable Stanley Cup run. He demonstrated the scoring ability that the Ducks initially saw in him and was incredibly valuable in wearing down opponents on the forecheck. Just as his contract was expiring, Penner looked like the power forward he was meant to be.
A New Contract and an Unwritten Story
The Kings chose to keep the majority of their roster intact to defend their title and that meant keeping Penner. Despite disappointing regular season performances, it was impossible to ignore the value that Penner provided in the playoffs. The two sides agreed to a one-year deal worth $3.25 million as Penner opted to take a slight discount to stay in Los Angeles.
Though the season was delayed due to the NHL lockout, Penner stayed in the Los Angeles area and worked out with his teammates. He also found other creative ways to bide his time:
As the 2013 NHL season finally got under way, Penner found himself on yet another downhill slide. After a dismal first two games that included costly giveaways and penalties, Darryl Sutter made Penner a healthy scratch yet again. Though he sat out four games, he retained his sense of humor and patiently awaited his next chance.
Dustin Penner on being a healthy scratch: "It's fine. It's not something I'm seeking counseling about. " #Kings

— lisa dillman (@reallisa) January 30, 2013
More Dustin Penner: "I'm waiting like a dog in car, waiting to be let out."

— lisa dillman (@reallisa) January 30, 2013
Now it appears Penner will be let out and he'll get back into the lineup against his original team, the Anaheim Ducks. His roller coaster ride continues on Saturday as Darryl Sutter gives him yet another chance. Stanley Cup success, pancake injuries, and dog metaphors aside, the Los Angeles Kings will have a lot to evaluate when it comes to Dustin Penner over the next few weeks.
Will he be a regular season disappointment again or will he be that strong and successful power forward they saw in the playoffs? Regardless of the answer, the Kings are paying a sizable amount of money to even ask that question.  It's time to show them the answer, Dustin, and hopefully it will be the successful one.