The NHL Trade Deadline has become one of the most mysterious occurrences as each season unfolds.  It is hyped up beginning with the holiday season in November and supposedly climaxes on deadline day, when most people find themselves underwhelmed with what General Managers do.  On average, 2 or 3 trades at best make a big impact on a team's playoff run.  GMs are usually lauded or cursed for their moves on a short term basis, but fans often forget in the long run.
Ray Shero of the Pittsburgh Penguins has often been praised for his acquisitions of Bill Guerin and Chris Kunitz in 2009 when the Pens won the Cup.  Meanwhile, David Poile of the Nashville Predators was vehemently questioned when he traded away Kris Beech and a 1st round pick to acquire a rental defenseman in Brendan Witt in 2006.  The scrutiny came in waves as the Preds were ousted in the first round and then let Witt go in the offseason.  The big questions in analyzing these trades are 1) How much of an immediate impact did they make and 2) Was there a lasting effect?  In these 2 examples it's clear, the Pens won the Cup just months later and still retain Kunitz.  Meanwhile, the Preds made their once typical first round exit and lost a 1st round pick for no future return.
With this theme in mind, let's take a look at last year's big deadline day deal for the Los Angeles Kings.  GM Dean Lombardi and the Kings acquired forward Dustin Penner from Edmonton for defenseman Colton Teubert, a 2011 1st round pick and a 2012 3rd round pick.  Penner was expected to be a power forward that would help push the Kings deeper into the playoffs, with the added bonus that he was under contract through 2011-2012 to help out this year.  Meanwhile, the Kings could afford to give up a young defenseman with Drew Doughty and Jack Johnson leading a young defensive core and the picks were expendable for a young team.
Oilers Received:
– Colton Teubert:  A 22 year old, former 1st round pick who has appeared in 20 games with the Oilers this season.  He is a big defenseman with very limited offensive potential.  Hockey's Future predicts that he has the potential to play his way up to a 2nd defensive pair as he gains experience.
– 2011 1st round pick (#19 Overall):  The Oilers used this pick on Oscar Klefbom, a Swedish defenseman who continues to play overseas right now.  He is another big defenseman and is expected to be a Top 4 defenseman in the future.  Hockey's Future currently ranks him as the 2nd best prospect in the Oilers organization behind Ryan Nugent-Hopkins.
– 2012 3rd round pick: TBD
Kings Received:
– Dustin Penner:  Penner got off to a slow start with the Kings after the trade.  He managed only 2 goals and 4 assists in 19 games after the trade deadline.  He added a goal and an assist in 6 playoff games, which was not nearly enough to help fend off a 1st round exit for the Kings.  Despite the lack of success after the trade, Penner had another chance to make a big impact on this Kings this season.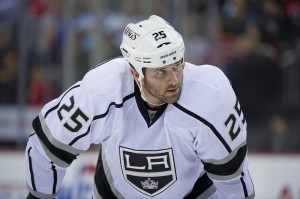 Unfortunately, this season has not gone quite as planned either.  Penner has appeared in 56 games but has only contributed 17 points (7 goals, 10 assists).  His cap hit of $4.25 million has placed him amongst the most overpaid players in the game right now.  On top of it, he has faced publicity issues ranging from having his back tighten up while eating pancakes to his wife filing for divorce.  Overall, it's obvious that Penner has underachieved in comparison to what Lombardi was looking for.  On top of it, the Kings have been struggling to stay in the playoff race for long periods of time this year.
Therefore, one might even argue that acquiring Penner last season may actually be the final factor in costing the Kings a playoff spot this season.  Tying up $4.25 million in 17 points for one of the lowest scoring teams in the league is a massive mismanagement of cap space.  This does not even include the price that the Kings paid in prospects and picks that may have been useful to them on their roster or as trade bait for other players.  It's safe to say that the immediate impact of the trade was poor, since the Kings were eliminated in the first round, and that the lasting effects look dismal with little time left to change that.
But alas, many GMs have a chance to rectify their mistakes during the offseason or at the trade deadline a year later.  Lombardi traded away defense to add scoring last season, but it failed then and has continued to fail with Penner this season, so he tried again.  The Kings traded Jack Johnson to Columbus for Jeff Carter.  The results so far – the Kings are 9-3 since Carter entered the lineup.  They have scored 43 goals in those 12 games, an average of 3.58 goals per game.  That is over a full goal per game over their season average of 2.3.  On top of it, Carter has contributed 6 goals and 3 assists already for the Kings.  Yes, Jeff Carter in 12 games with the Kings has only one less goal than Dustin Penner in 56 games.  As the Kings extended their season high win streak to 5 on Tuesday night, one thing is certain:  Jeff Carter has been a successful acquisition.  So if the Kings fail to make the playoffs this year, do not concern yourself with what Lombardi did for the team this year; instead, take a look at how he set this year in motion with last year's trade deadline.
Final Note:  Penner has 3 points in his last 2 games and looks to be coming alive around the net.  Maybe he will utilize his last months of this contract to demonstrate that he was a positive addition for the Kings after all….but I wouldn't bet on it.