If Jaroslav Pavelka were to choose a theme song for his rookie season in the OHL in 2011-12, a valid option would be Sheryl Crow's "A Change Would Do You Good."  Shifting from his role as the Niagara IceDogs' backup, and sometime third-string goaltender, to becoming the #1 man between the pipes for the Windsor Spitfires — especially since it has occurred in less than seven months — has been incredible.  It shows how that song's title is remarkably accurate.
A native of Dvůr Králové nad Labem, a very small town in the Czech Republic close to the national capital of Prague, Pavelka played most of his minor hockey in nearby Hradec Králové, which has produced former NHL players Jan Hrdina and Jiří Novotný, as well as German expatriate Olympian Jakub Ficenec.  After not playing any hockey at all in 2007-08, a then 15-year-old Pavelka was elevated to HC Hradec Králové's under-18 squad.  He impressed team brass so much that he was given the opportunity to play the lion's share of the games in 2008-09, taking the top job away from Martin Horáček, who is a year older than his former creasemate.  He finished the year with a mind-blowing 3.48 goals-against average and a .902% save percentage in 44 contests.   Despite Pavelka's stellar play, the team did not make the playoffs, finishing 20th in the Czech under-18 league.  In 2009-10, Hradec Králové's under-18 team brought in Michal Mahdal, another goaltender a year older than Pavelka, who had played the last two years for the under-18s of HC Litvínov.  Again, however, the handsome small-town goalie stole the majority of the games; in 35 appearances, he registered a 3.02 goals-against average and a .909% save percentage.  His team went into the "Last 16" playoffs, hopeful that he would be their saving grace yet again, but it was not to be.  Pavelka had an abysmal playoff début, reflected in a 13.64 GAA and a .722% save percentage in a single game; the coaches decided to replace him with Mahdal and they lost in three games in their opening-round playoff series.
Pavelka went into the 2010-11 season as once again the uncontested #1 goalie for Hradec Králové's under-18 team.  This time, he had even more added pressure: The possibility of being chosen in the 2011 NHL Entry Draft.  Determined to climb the ranks among European goaltenders ranked by ISS Central Scouting, Pavelka had his statistically best season as a member of the Hradec Králové U18s; he finished the season with a 2.69 GAA and a .925% save percentage, as well as four shutouts, in 45 games.  After two playoff games, Pavelka got to join Hradec Králové's professional team in the second-highest professional league in the Czech Republic, directly below the Tipsport Extraliga; he got to play in four games and performed quite solidly, registering a 4.43 GAA and a .883% save percentage, quite impressive for a goaltender who was still only 17 years of age.  His hockey season did not end there, either, as he was loaned to another team, SC Kolín, for one game; as well, he represented his country at the World Under-18 Hockey Championships, serving as the backup to Brampton Battalion goaltender Matěj Machovský.  Throughout 2010-11, ISS Central Scouting had him ranked third among European goaltenders going into the NHL Entry Draft that summer in Minnesota.  It seemed almost assured that a team would take a chance on Pavelka but, when all of the players were chosen, he was not one of them.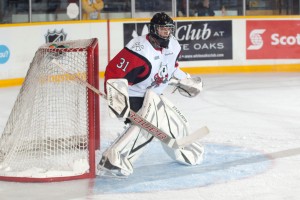 Upset but not undeterred, he anticipated another great opportunity, the 2011 CHL Import Draft, which came four days after the NHL Entry Draft ended.  While Hradec Králové's professional team penciled him into their lineup, Pavelka waited to see if, maybe, a team in the CHL would take a chance on him.  With the 52nd overall pick, his dream to come to North America came true as the 6'2″, 179-pound goaltender was chosen by the OHL's Niagara IceDogs.  The IceDogs already had another Czech import, defenceman Milan Doudera, so it seemed as though everything was going to work out fine for Pavelka.  He did recognize, however, that the IceDogs also had Phoenix Coyotes 2010 first-round pick Mark Visentin as their #1 goaltender but the possibility of playing for a team laden with world-class talent was an opportunity that could not be passed up.  He found himself battling with two other goaltenders, Dalton McGrath and Michael Gallardi, for the opportunity to be Visentin's backup; with McGrath opting instead for the OJHL, and Gallardi still being honed in the lower junior leagues, Pavelka, for the time being, secured the backup position.
The IceDogs, however, were looking to break a rather unfortunate streak.  Ever since the team relocated to St. Catharines from Mississauga in 2007, they had found themselves unlucky with import goaltenders.  In the 2008 CHL Import Draft, they chose German goaltender Maximilian Englbrecht 43rd overall but he never reported.  The next year, with the 21st overall pick, they selected Finnish netminder Petteri Similä, a former draft pick of the Montreal Canadiens; after playing 11 games with Niagara, he was dealt in the trade with the Colts that saw Alex Pietrangelo go to Barrie.  Ten days after the trade, Similä signed with the under-20 team of KalPa in his native Finland, never to play in the OHL again.  (Perhaps that trade was for the better for Niagara as coming the other was then-rookie Ryan Strome.)   Pavelka hoped not to join that list.
Pavelka's first OHL start came quicker than he anticipated.  With Visentin still away at Coyotes camp, the lanky Czech netminder started in net for the IceDogs in their season opener in Peterborough against the Petes, with Gallardi as his backup.  He allowed seven goals on 40 shots as Niagara lost the game 7-1.  Visentin returned in time for the IceDogs' home opener against the Barrie Colts but he had to leave the game with a back injury that eventually took him out of action until almost mid-October; the Czech rookie netminder came into the game and made 19 saves on 21 shots in almost 46 minutes of relief, registering his first OHL win in the process, as well as being named third star of the game.  With Visentin shelved, Pavelka became the de facto #1, with Gallardi again as the backup.  The next five games were less than stellar for Pavelka; he registered two losses and one shootout loss, as well as being pulled twice.  In his first seven OHL contests, he had registered a 1-3-1 record with a 5.37 GAA and a .846% save percentage.
If it did not seem as though things were going south for Pavelka then, it was intensified on October 19, 2011, when the IceDogs acquired Chris Festarini in a trade with the Erie Otters.  The rookie import netminder found himself watching games for nearly a month from the press box.  Pavelka began fretting that maybe his OHL career had ended before it even began; maybe he would have to return home to the Czech Republic.
Fate, however, had different plans.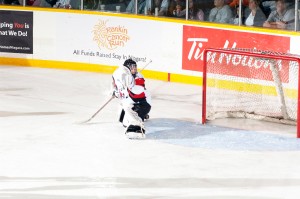 On November 2, 2011, the Windsor Spitfires traded superstar goaltender Jack Campbell to the Sault Ste. Marie Greyhounds for defenceman MacKenzie Braid, the rights to 1994-born blueline prospect Patrick Sieloff and six draft picks between 2012 and 2016. With John Cullen in need of a backup, and since the Spitfires' two top goaltending prospects — Jordan DeKort and Dalen Kuchmey — were both learning the ropes in the GOJHL (with the LaSalle Vipers and the Strathroy Rockets, respectively), the IceDogs pulled the trigger on a deal that would help both themselves and the Spitfires.  Niagara traded Pavelka, as well as 2012 NHL Draft eligible prospect Phil DiGiuseppe, to Windsor for Pittsburgh Penguins draft pick Tom Kühnhackl.
Pavelka became the fourth Czech goalie to ever dress for the Spitfires, joining the likes of former Detroit Red Wings draft pick Michal Podolka, current Washington Capitals netminder Michal Neuvirth and one-time Philadelphia Flyers prospect Jakub Kovář (who had been traded to Windsor from the Oshawa Generals for Neuvirth in 2007).
Ten days after being traded, Pavelka was back at the Jack Gatecliff Arena, starting in goal against his former team; although he registered a loss, he did manage to make 38 saves on 42 shots in a 4-2 defeat.  He also made 24 saves in a 3-2 overtime loss in his Spitfires home début against the Plymouth Whalers.  Less than two weeks after being traded, he faced his former team yet again, this time at the WFCU Centre.  He entered a game in which Cullen allowed four goals in the first period; although the Spitfires made a game of it toward the end, the IceDogs won 6-3 and Pavelka did not even render a decision since Cullen was in net when the eventual game-winning goal was scored.
While Pavelka became a regular in his new team's lineup, the same could not be said for the man he was traded for; in only his second game with the IceDogs, which was against the Kitchener Rangers, Kühnhackl steamrolled over Carolina Hurricanes first-round pick Ryan Murphy, a hit that caused the young defenceman to miss a month of action with a concussion and warranted the German forward a 20-game suspension.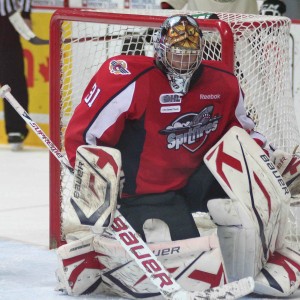 Pavelka started to get used to life in Windsor and he managed to record his first win in a Spitfires uniform on November 22, 2011, a home victory against the Peterborough Petes, making 30 saves on 33 shots, in a 6-3 victory for his team.  That next weekend, the Spitfires went on their annual eastern Ontario road trip.  After Cullen started the game against the Ottawa 67's on December 2, Pavelka started the next two games against Belleville on December 3 and on December 4 against Kingston.  The game against Kingston, however, was to be one of his best so far in his OHL career.  The Czech netminder made an impressive 46 saves in a 5-3 Spitfires victory and, although all three of the goals he allowed were shorthanded, he stole the game for Windsor, warranting his third star selection.  Four days later, he followed that morale-boosting victory with another impressive performance, a triumphant 42-save outing against Belleville, which Windsor won 2-1, at the WFCU Centre.  After allowing the Bulls' sole tally only 2:32 into the first period, he stopped everything else he faced and he was named the game's first star.
Despite his inconsistency, Pavelka did manage to have solid numbers in his first two months in a Windsor Spitfires uniform.  He was 1-1-1 with a 3.06 GAA and a .914% save percentage in November, which he followed by going 2-4-0 with a 3.69 GAA and .904% save percentage in December.
Although Pavelka finished 2011 with three straight losses, he went into 2012 as a man possessed.  On January 6, 2011, a game against the Greyhounds in Sault Ste. Marie, he made 28 saves in a 5-3 Spitfires victory and, yet again, he was named first star.  A week later, at the Sleeman Centre in Guelph, he stopped all 22 Storm shots he faced for his first OHL career shutout.  On January 16, three days after his first whitewash, he made a dazzling 49 saves but it was not enough as Windsor lost 5-1 to the host Plymouth Whalers.  Six days after that, Pavelka made 32 saves in a 4-2 Spitfires victory over the Sault Ste. Marie Greyhounds, yet another first-star selection.  He followed that up with a 41-save 5-4 shootout loss at home against the Saginaw Spirit.  Pavelka finished January with a 3-4-1 record, a 3.66 GAA and a .900% save percentage.
February, however, did not start out the way Pavelka had anticipated despite Bob Boughner's faith in his new #1 goaltender.  He was pulled in his first two starts in that month, giving up three goals on 19 shots in 9:12 on February 3 in Owen Sound against the Attack and one goal on three shots in 8:10 on February 4 in Plymouth against the Whalers.  Not wanting for it to happen in the third straight game that weekend, Pavelka calmed down on February 5 at home against the Mississauga St. Michael's Majors.  He made 39 saves in a 5-3 victory en route to being named the game's first star.  Four days later, however, the hook reared its head again as he was pulled after allowing three goals on eight shots in 13:34 at home against the London Knights.
It would be the last time that Pavelka would be pulled in a 2011-12 regular season game.
Two days after being pulled for the third time in four games, Pavelka started against the lowly Erie Otters.  He responded by stopping all 33 shots he faced, recording his second OHL career shutout; he was also named second star of the game.  On February 17, he was given the chance to exact revenge on the Knights for them chasing him from the net in Windsor eight days before.  He made 39 saves in a 4-1 Spitfires road victory, thanks to a natural hat trick by Kerby Rychel that broke a 1-1 tie; Pavelka was named third star of the game for his efforts.  The next night was a game, though, that the Spitfires truly wanted to win.  The home game against the Owen Sound Attack coincided with the four-year anniversary of the death of former Spitfires captain Mickey Renaud; in an interesting twist of fate, Renaud's last OHL game was actually against Owen Sound.  The Spitfires were down 5-4 after two periods and on a powerplay to start the third period.  34 seconds into the final frame, Pavelka passed the puck to Derek Holden, who then passed to Alexander Khokhlachev for the game-tying goal, the Czech netminder's third assist of the season.  The Attack, however, prevailed as Jay Gilbert scored only 56 seconds into overtime.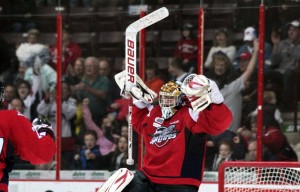 Pavelka finished February with a decent record of 3-3-1 and a 3.68 GAA; the three games in which he was pulled, however, were detrimental to his monthly save percentage which was only .897% in February, still not too terrible.
By March, the Spitfires were hopeful that they could find their way into the playoffs.  They knew that the Sault Ste. Marie Greyhounds were on their tails, hoping to secure the spot instead.  March started great for Pavelka with a 35-save victory against the Brampton Battalion and his good friend Matěj Machovský on the 1st; Pavelka was also named the game's third star.  He followed that up with a 47-save performance in Plymouth on the 3rd, a game the Whalers won 2-0 on a shutout by Carolina Hurricanes prospect Matt Mahalak.  Yet again, the Czech puckstopper was named a star of the game, this time second star.
After a regulation loss against Saginaw on March 4 and an overtime loss against Sault Ste. Marie on March 8, the Spitfires knew that their playoff hopes rested on the shoulders of their 18-year-old rookie import goaltender.  First up was a date with the severely undermanned Sarnia Sting on March 11.  Windsor won 7-5 and Pavelka made 25 saves.  The biggest test, however, came four days later when the London Knights came to town.  The Spitfires took a 1-0 lead late in the first period on a goal by American rookie winger Stephen Alonge.  After that, Pavelka and Knights goaltender Michael Houser, who was with the OHL's winningest netminder in 2011-12 with 46 wins, became engaged in a puckstopping matchup.  The Spitfires knew that, since the Sault Ste. Marie Greyhounds had lost most of the games they needed to win to secure eighth place in the West, a win would send them into the postseason.  With 27 seconds left in regulation, with his team shorthanded, another Spitfires rookie, Ben Johnson, scored into the Knights' empty net to provide insurance in a 2-0 Windsor victory.  Pavelka finished with 29 saves, a third-star selection and the felicity that came with making the OHL playoffs, a series that would be against the same London Knights team he just shut out that same afternoon.  To reward his bona fide #1 goaltender, Spitfires head coach Bob Boughner gave Pavelka the night off for Windsor's last game, a 10-9 seesaw affair against the Sault Ste. Marie Greyhounds; in fact, Pavelka did not even dress as the backup and watched rookie Jordan DeKort start in net.
Pavelka finished March with a 3-2-1 record, a 3.00 GAA and a .915% save percentage; in fact, Pavelka found himself with a respectable 12-14-4 record, as well as a 3.47 GAA and .905% save percentage in 34 games (1783 minutes played) since he was traded from Niagara.  This translated into an overall record of 13-17-5, a 3.75 GAA and .897% save percentage in 41 games, as well as 2096 minutes played.  He finished 26th among OHL goalies in goals-against average, 24th in save percentage, 18th in minutes played, and 15th in overall saves.  What makes his position in the saves leaders remarkable is who he was in front of; he found himself ahead of goaltenders such as 2012 NHL Draft eligible Belleville Bulls puckstopper Malcolm Subban, Owen Sound Attack playoff hero and St. Louis Blues draft pick Jordan Binnington, Peterborough Petes workhorse Andrew D'Agostini, and, most remarkably, ahead of former creasemate Mark Visentin.  Pavelka also found himself on another significant list as he emerged being ranked 27th among North American goaltenders, ninth among OHL netminders, on the most recent ISS Central Scouting rankings for the 2012 NHL Entry Draft.
The Windsor Spitfires are looking forward to a hopefully long playoff run that can start with an upset over London; they do know, however, that Pavelka will have to be on top of his game.  The true test of the plucky Czech's character will now be in the OHL playoffs.
With John Cullen to graduate after this season is over, it is wise to assume that the handsome European goaltender will inherit the reins permanently on the Spitfires, more than likely with DeKort as the backup.  Judging by the results already demonstrated, it seems like a decent assumption.
A change has definitely done Jaroslav Pavelka good.