Earlier this week, Minnesota Wild back-up goaltender Josh Harding had to sit out a game due to conditions relating to Multiple Sclerosis (MS). Harding was diagnosed with MS in October, but has been a remarkable story with his unwavering determination to continue his NHL career. Earlier this season he notched a shutout with a 24-save effort in a 1-0 victory over the Dallas Stars. He takes on this fight knowing that he is following in the footsteps of former Providence Bruins goaltender Jordan Sigalet.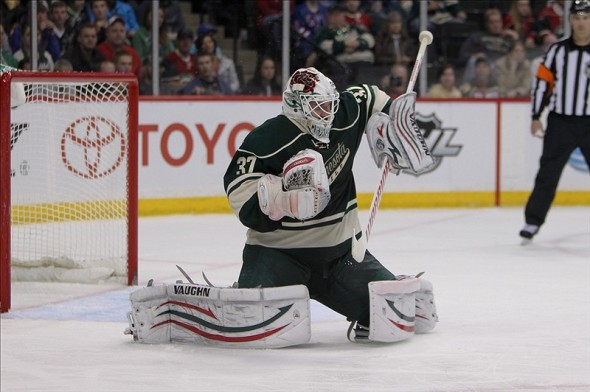 Josh Harding was drafted in the second round of the 2002 NHL Entry draft. He would quickly become the top goaltending prospect in the Minnesota system. He performed at an outstanding level during his final season in the WHL and then posted a .924 save percentage in 118 games during three AHL seasons with the Houston Aeros. That was enough to earn him the full-time back-up job behind Niklas Backstrom starting in 2007-08. Josh Harding had impressed in 10 NHL games prior to earning a full-time roster spot.
He would miss the entire 2010-11 season after tearing both his ACL and MCL in a preseason game, but besides that injury, Josh Harding generally emerged as an extremely reliable back-up to Backstrom. The 2013 NHL season is his fifth season as a full-time member of the Wild roster. He currently owns a career .915 save percentage and 2.65 GAA in 121 career games.
2011-12 was arguably the best season of Harding's career so far. He played in a career high 34 games, posted a 13-12-6 record, .917 save percentage, 2.62 GAA and two shutouts. He earned a three-year contract extension worth $1.9 million per year according to capgeek.com. It seemed like the 28-year old had earned his place in the Wild's mid-term plans. He has often been labelled as a strong career back-up netminder, but there was a feeling that Josh Harding could even challenge for the starting job in Minnesota over the next couple of seasons.
However, his career hockey aspirations took a severe hit in October when he was diagnosed with MS. It seemed possible that Josh Harding would struggle to maintain a place on an NHL roster. Despite missing Tuesday's game, it looks very much like Harding will battle his disease and continue his NHL career.
Multiple Sclerosis is a disease that most people have heard of, but don't necessarily understand just how serious it can be. MS is a condition of the central nervous system where the immune system attacks myelin, which is essential for the proper functioning of the nervous systems. The known symptoms of the disease vary drastically from person to person and more are being discovered each year. Physical symptoms of MS can include vision problems, balance problems, spasms, dizziness and fatigue. There are also a number of emotional problems related to the disease.
There is no known cure for MS at this time. Treatments focus on limiting attacks and recovering after attacks. As such people diagnosed with the disease are on constant medication and frequently have to swap over treatments. Harding's reason for missing Tuesday's game has been attributed to a negative reaction to a recent medication switch.
Josh Harding isn't the first professional North American hockey goaltender to be diagnosed with this disease. Jordan Sigalet may have only played 43 seconds of NHL ice hockey, but the former Providence Bruins' nemtinder has shown Harding the way in terms of playing a high level of hockey and dealing with MS.
Sigalet was diagnosed with MS while playing in the NCAA at Bowling Green University. A former seventh round pick of the Boston Bruins, expectations were never especially high for Sigalet, but he squeezed a lot out of his talent despite his at time debilitating condition. On November 17, 2007 Sigalet collapsed while playing in a game for Providence against the Worcester Sharks due to MS symptoms.
Sigalet played in 43 seconds of an NHL game on January 7, 2006 coming on in relief of Andrew Raycroft. He may not have been able to establish himself as an NHL goaltender, but he played 81 AHL games during three seasons in Providence. During that time he not only proved himself as a very capable professional goaltender, he also drew attention to the issue of MS and along with his team and organization raised huge amounts of money to support treatment of the disease and research. He is now the goaltending coach for the AHL's Abbotsford Heat and has reportedly been in personal contact supporting Josh Harding over the last few months. Sigalet proves that you can still make something of your talent and battle through MS. Harding definitely has a lot of talent, and he has shown that he has plenty of resolve and battle as well.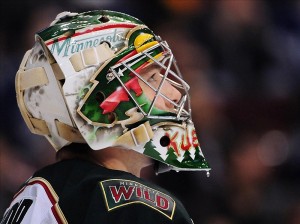 The crease is starting to get crowded in Minnesota with Matt Hackett and now Darcy Kuemper both knocking on the door to earn NHL time. However, Josh Harding is contracted with the Wild for two more seasons after 2013, and with young goaltender development time and Backstrom's age and contract status, there is still a pretty good chance that he will spend those two seasons playing at the Xcel Energy Center.
He demonstrated beyond a shadow of a doubt in his first game this season that he still has the ability to play in this league. Harding announced his presence in the 2013 NHL season with a 24-save shutout against the Dallas Stars on January 20. There are some pretty clear signs that the Regina native is serving as inspiration for a team that clearly needs all the inspiration it can get. He may be sidelined from time to time, there may even be some scary moments, but just like Sigalet before him, Josh Harding looks set to be an impressive story and battle through the MS disease to continue his NHL career. His determination and strength is something that all Wild and NHL fans should be able to admire.