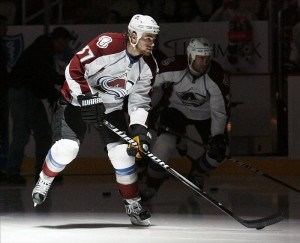 Editor's note: DraftKings currently has a one time 100% deposit bonus, if you ever felt like diving in this is a great opportunity.
We do not care O'Reilly!
As the Ryan O'Reilly saga turns and daily fantasy players await which team he will end up on this year, there are more pressing concerns. Daily fantasy is about "timing it right". DraftKings is setting up for some awesome Friday NHL action once again and you can get your feet wet on the cheap with their Daily Dollar games. We had mentioned something about PDO and a few other measures of trying to determine worth going into big fantasy nights. They will come up occasionally along with some other "advanced statistics". Do not worry too much about that in making your decisions.
What should you worry about? Remember those players early in the season that you bought really cheap? Honestly some of them have gone up considerably in value while others are down. Some have not yet however. Keep in mind that down is not necessarily bad because there are gems in the lower ranges. This goes back to that whole strategy consideration that we touched on. One fantasy player's meteoric rise can create potential salary cap problems. This is because there is a set cap, unlike Smallworld which was a full season league where one built value for players who performed well. In daily leagues, values can go up but the cap stays the same. Adaptation is key. It is not just the price but the leading indicators of the players' performance that can determine future fantasy hockey production (sometimes).
It is time to go quickly and reveal our uppers and downers. May they reflect not only value but performance as well.
The Uppers Please……
1. Sidney Crosby (Pittsburgh — $8200) — Crosby is always worth the fantasy hockey money especially against Winnipeg.He is worth far too much especially when you consider he is probably good for a multiple point effort as he pulled off in the first period against Winnipeg last time out. Guys that are in the 4-5 point per game range in daily leagues are pretty rare but name recognition alone and career stats alone compel you to buy on Crosby on this night. It could be a 5+ point game for "Sid The Kid".
2. Henrik Zetterberg (Detroit — $6200) — Zetterberg up against Anaheim could be fun as Detroit has to play a more "loose" style and everyone in the league knows it. Honestly it has worked for Detroit and the Swede has been over five points per game in his last half dozen contests. The Zetterberg-Datsyuk-Brunner combination has looked solid in the early going especially when Detroit employs all their eggs in one basket. Here is another 4-5 point per night guy who has very high numbers career wise against Anaheim. This looks to be up and down hockey which means points! Grab while you can!
3. Thomas Vanek (Buffalo — $5700) — The guy leads the league in points and though Boston has kind of had his number, if the New York Rangers can score three on Boston and Buffalo has put up a high total on them, why can't Vanek figure prominently in the production party. So much of Buffalo's numbers come from the Vanek-Hodgson-Pominville line combination. He is another 4-5 point per game individual and though we were very close to putting David Clarkson (NJ — $5400) on this list, we thought Vanek was the stronger fantasy hockey buy. Let's see if that pans out against a Boston team that may be ripe for a big Vanek night.
And then the downers…..
1. Vladimir Tarasenko (St. Louis — $2000) — He is a Calder candidate for a reason and not just for the highlight goals and moves. He is in the 3-4 point per game range fantasy wise and the Calgary matchup against Leland Irving seemed an appetizing risk. Remember it is all about accumulating points anyway necessary so not just goals and assists count in daily fantasy. Tarasenko can hit, can pile up shots, and sneak in on the ledger in other ways so he is always worth the pickup. The key is to go low and high and the more solid gems you find at the lower prices allow you to buy the blue chippers at the upper end of the spectrum. Yes the Blues play on the road against the Flames but so what, expect some scoring anyway.
2. Damien Brunner (Detroit — $2000) — Again, the key is to find the gems and Brunner is a 26 year old with all the skills to keep up with the Henrik Zetterberg's and Pavel Datsyuk's of the world. Typically Brunner is right near four points per night which makes him in demand even as a downer (as far as price). Again, finding enough of these guys in the 2000-4000 dollar range allows you the freedom to climb up and snatch the more "sure" things as they were. A home meeting against Anaheim coming off a tough home loss to St. Louis could be just what not only Detroit needs but also what Brunner fantasy hockey owners need. This has the makings of a very good night for the youngster.
As always, you can catch my picks and strategies for DraftKings right here on Friday afternoons and my other observations and more on Twitter @ChrisWasselTHW. Good luck and let's win some money!