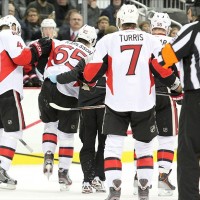 Right when the stars appeared to be aligning for the Battle of Ontario to regain some relevance in the greater hockey landscape, a wild of week of freak injuries and harsh realities have placed the rivalry between the Ottawa Senators and the Toronto Maple Leafs on a more Prometheus-like plateau, ie: much ado about not so much.
The rivalry between these two teams was, at one time, one of the most entertaining and compelling in the NHL, highlighted by three straight playoff match-ups between 2000-02 (all of which were won by the Leafs), and culminating in 2004 with a memorable 7-game series that was once again won by Toronto. Since then, the Leafs have yet to return to the playoffs, while Ottawa went on to reach greater heights before seeing the end of their run of Cup contention.
Now, in 2013, the NHL standings paint a picture of two playoff-level teams set to face off on back-to-back Saturday nights, infusing new life into a somewhat dormant rivalry. Below the surface, however, it would appear as though one of the teams is soon to be heading due south in dramatic fashion, while the other attempts to hang on through some injury issues of their own.
Karlsson, Spezza, Michalek Out For Ottawa
By now, everyone's aware of the injury suffered by Erik Karlsson in Pittsburgh on Wednesday, what is now known to be a 70% cut to his Achilles tendon which will require surgery and a minimum 3-4 month recovery period.
To demonstrate just how terrible this injury is, here are visual exhibits A & B, of the photo and video varieties.
Erik Karlsson will need surgery after suffering cut to left Achilles by a skate blade. Here is moment it happened #AP pic.twitter.com/zczMzsks

— Bucci Mane (@Buccigross) February 14, 2013
This – coupled with Jason Spezza's back injury – puts a serious damper on the Ottawa Senators playoff hopes, if not ending them altogether. Add to that injuries to Milan Michalek, Peter Regin, Guillaume Latendresse & Jared Cowen, and the Senators depth will be severely tested, with a lineup looking more like what you would expect to see in Binghamton than what was envisioned for the pro club this year.
Simply put, there's no replacing Erik Karlsson, even as roster moves are made to fill his spot.
Eric Gryba called up from Binghamton to replace Erik Karlsson. Let me rephrase: Gryba to take Karlsson's spot on the roster

— Ken Warren (@Citizenkwarren) February 15, 2013
Leafs Without Reimer, Frattin & Lupul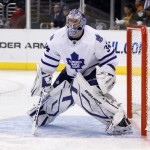 On the Toronto side of things, Randy Carlyle has done a tremendous job of turning around a team that was good enough to earn the 5th pick in last year's Draft. A big part of Toronto's success to date has been the reemergence of James Reimer, who has posted 6 wins in 10 games with a .929 SV% and 2.31 GAA. Reimer is currently on the shelf with a knee injury that will keep him out of the lineup until at least early next week, and possibly as late at the game vs. Ottawa on Feb. 23rd (according to Bob Mitchell of the Toronto Star.)
The Leafs are also currently without Joffrey Lupul (shoulder) & Matt Frattin (knee), both of whom have proven to be key components of the Toronto offense. And with Phil Kessel still sitting on a grand total of 2 goals for the season (albeit with an impressive 9 A to go along with them), the Leafs are relying on Nazem Kadri and James van Riemsdyk to carry the load, while waiting for players like Mikhail Grabovski and Nikolai Kulemin to step up.
Neutered Rivalry
Add it all up, and there's a great sense of disappointment in relation to what could have been rekindled between two competitive teams.
Think about it – both Ontario teams, at full strength, in playoff contention, looking to secure four crucial points on back-to-back Saturday nights, on national television, with one of the teams apparently trying to block opposing fans from entering their building (a story since debunked by Ottawa owner Eugene Melnyk.)
Yes, once the puck is dropped, all bets are off and any number of things can happen to turn an average game into a memorable one, especially when there's history between the two clubs. Unfortunately, what we're now left with is a depleted Senators roster likely destined to fall back into lottery contention, and a Leafs team still very alive in terms of playoff hopes, but also without a full compliment of their top talent.
While it will be interesting to see how Ottawa responds on Saturday night, and if the Leafs can continue to hang in the top eight, don't count on a potential playoff rematch just yet.
Only then will this rivalry truly be rekindled.
Follow Ian on Twitter for more hockey updates and commentary.