Guest post by Eldon MacDonald (edited by @ChrisRalphTHW)
This is the last of four posts highlighting the top 120 prospects for this year's entry draft in June in Newark, New Jersey – the 2013 NHL Draft Rankings: War Room May Edition.
The Race is On
Here are some of the interesting stories and races to report on.
1. The Race for Number One
Well, the race for number one appears to be over as Seth Jones has continued his stellar play in the playoffs  and will play for the Memorial Cup. In addition, a team desperately needing a stud defenseman , a team which just happens to be the team that caused Seth to become a hockey player, won the lottery to pick first in the draft, the Colorado Avalanche. Jonathan Drouin and Nathan MacKinnon are still in a close race for number two with both seeming to try and elevate the game of the other guy (they are linemates, after all). Any doubt that they are not good buddies will be erased after you watch this video on YouTube. I will give Nathan a slender lead only because he is a centre and has a more NHL body type.
Update: Nathan MacKinnon , obviously, is in total disagreement  with the above because last night (18-May-13)  he put on one of the great  Memorial Cup performances of the ages – Offense, hat trick,  power play, defense, penalty kill, skating, passing, acceleration, creativity, made Seth Jones look like one gigantic pylon. Here is what the broadcaster, Sportsnet.ca, had to say.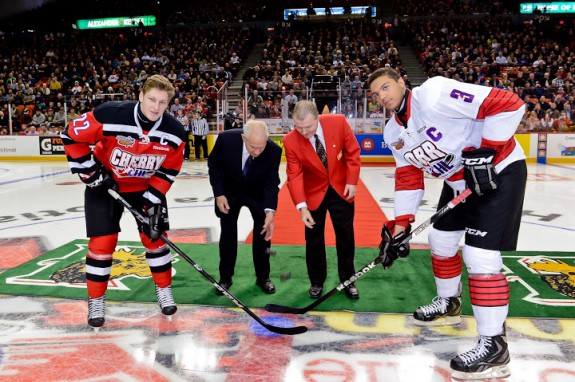 2. The Race to be the Top London Knight
Max Domi had been in a race with Bo Horvat to see who was the top London Knight forward but Max's superior offensive skills and tenacity allowed him to gradually pull away from Bo. Now, just when it appeared that Max might overtake Nikita Zadorov for top London Knight, it is Bo Horvat who turned on the afterburners and decided to make this a three Knight race. Stay tuned to the Memorial Cup for the results down the stretch.
Update: Nikita Zadorov said, "I can be a hero too" as he scored the game winner in game one of the Memorial Cup (17-May-13).
3.  The Race for Promotion to Round One
Last month, I had expected there would be quite a race for promotion to round one from those players I had ranked 31 to 40. While that proved not to be the case last month, this month proved to be completely different, mainly because of the U18's. Here is who made it to a round one ranking:
20 – Samuel Morin, Defense, Rimouski (Up 12 spots from 32) – Last month, I wrote that if Sammy had a decent performance at the U18's, he was certain round one material. Well, Sammy was very good at the U18's – big, mobile, good skating, decent skating, a dose of nastiness at times. He's still raw but probably ahead of Zdeno Chara at a similar point in their careers.  The sky is the limit in terms of this guy's potential and draft pick number.
24 – Steve Santini, Defense, USA NDTP U18 (Up 26 spots from 50) – Steve Santini had been slipping a bit in my rankings as shutdown defensemen tend not to stand out as much as their offensive minded counterparts during regular season play. However, whenever there is tournament or playoff hockey, the true worth of the shutdown defenseman quickly becomes apparent. Steve Santini is the shutdown defenseman from this draft that every team should covet. His MVP performance (for a D) at the U18's showed both how valuable a shutdown defenseman can be and how good a shutdown man that Steve Santini is.
27 – Madison Bowey, Defense, Kelowna (Up 6 spots from 33) – A favourite of mine throughout the year; a favourite of mine at the U18's. Despite his modest size (6'1, 195) and modest offensive numbers, Madison shows himself as having  too much leadership, too much potential and too much of being a "difference-maker" to leave him behind in round 2.
28 – Mirco Mueller, Defense, Everett (Up 8 spots from 36) – It came down to size and potential – I just couldn't see myself not drafting this guy in the first round.
29 – Laurent Dauphin, Chicoutimi (Up 24 spots from 53) – Laurent is kind of an outlier pick although he is starting to show up in the first round on some lists. Laurent kind of grew on me throughout the year. Started the year looking rather "wispy" at 6'0, 166; ended the year looking and playing more like a man at 6'0, 183. A fierce competitor, Laurent showed that  when a game counted the most that he was the man to be counted on – named his team's top performer at both the CHL Top Prospects game and the U18 World's gold medal game.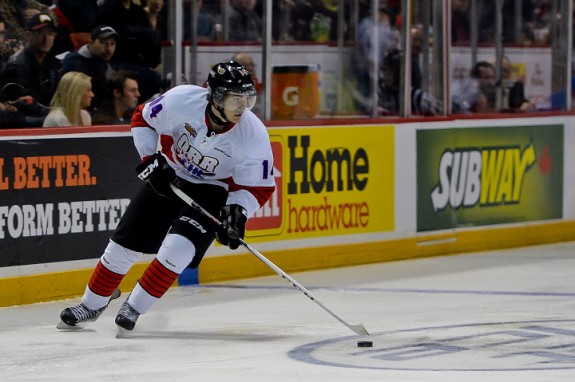 4.  The Second Round Ranked Players with a Good Shot at Going in Round One.
There is very little difference between players ranked 26 to 41 in terms of potential so I would be remiss if I didn't list those players in round two who have the most potential to go in round one.
31 – Chris Bigras, Defense, Owen Sound (Up 4 spots from 35)
32 – Morgan Klimchuck, Left Wing, Regina  (Up 2 spots from 34)
33 – Robert Hägg, Defense, MODO J20 (Down 4 spots from 29)
34 – Shea Theodore, Defense, Seattle (Up 3 spots from 37)
35 – Zach Fucale, Goal, Halifax  (Down 4 spots from 31)
36 – Ian McCoshen, defense, Waterloo (Down  13 spots from 23)
37 – Justin Bailey, Centre/Right Wing, Kitchener (Down 7 spots from 30)
38 – JT Compher, Centre, USA NDTP (Down 10 spots from 28)
39 – William Carrier, Left Wing, Cape Breton (Down 1 spot from 38)
40 – Artturi Lehkonen, Left Wing, KalPa (Down 16 spots from 24)
41 – Michael McCarron, Right Wing, USA NDTP (Up 14 spots from 55)
Historic Success Rate
The historic success rate for players ranked 1 to 15 is around 82% while rankings 16 to 30 carry a 76% success rate.
Other Rankings
NHL – Combined rankings of the NHL Central Scouting's segregated final rankings
Bob MacKenzie – Mid-season poll of NHL scouts at TSN
Chris Ralph – Top 100 mid-season rankings – The Next Ones (Final rankings to be released early June)
Other Posts in this Series:
2013 NHL Draft Rankings – War Room May Edition Top 30 (Round 1) 
1. Jones, Seth
#3, Portland, WHL, D, R, 6'4, 206 lb.
Plano, TX, 3-Oct-94
Other rankings – NHL 1, Bob MacKenzie 1, Chris Ralph 3
Playoffs: 21g 15pts +15
YTD: 61g 56pts +46
WJC U20: 7g 7pts +8
Twitter A/C: @seth_jones3
Western Conference Champions baby!! #playoffs #fun

— Seth Jones (@seth_jones3) April 27, 2013
Quote: From TheHockeyNews.com, "The son of former NBA power forward Popeye Jones is a great athlete with impressive all-round upside from the back end. Can put up good point totals, log a ton of ice time and play a shutdown role if need be. Is a difference-maker."
2. MacKinnon, Nathan
#22, Halifax, QMJHL, C, R, 6'0, 182 lb.
Halifax, NS, 1-Sep-95
Other rankings – NHL 2, Bob MacKenzie 2, Chris Ralph 2
Playoffs: 17g 33pts +17
YTD: 44g 75pts +40
WJC U20: 6g 1pt -1
Twitter A/C: @Mackinnon9
https://twitter.com/Bshu42/status/323824918372446208
Quote: Ryan Kennedy @ TheHockeyNews.com, "His explosive stride separates him from everyone else, while the pivot can get red-hot in the faceoff circle and also play a chippy, physical game. That's what NHL scouts love to see."

3. Drouin, Jonathan
#27, Halifax, QMJHL, LW, L, 5'11, 190 lb.
Ste-Agathe-des-Monts, QC, 27-Mar-95
Other rankings: NHL 3, Bob MacKenzie 3, Chris Ralph 1
Playoffs: 17g 35pts +22
YTD: 49g 105pts +48
WJC U20: 6g 4pts +4
Twitter A/C: @jodrouin27
President cup champs , not a better felling , no words to describe it :)

— Jonathan Drouin (@jodrouin27) May 11, 2013
Quote: Christopher Ralph @ THW, "Two words sum up the case (or least make a good starting point) for choosing the sublime winger over the two aforementioned potential cornerstone prospects – hockey sense. Often used when describing, but what really do we mean when we talk about hockey sense. Not easy to put to words, but his awareness, vision, anticipation, poise and focus are all off the charts. Jonathan doesn't just go where the puck is; he goes to where the puck will be".
4. Barkov, Aleksander
#16, Tappara, Sm-liiga, C, L, 6'2, 205 lb.
Tampere, Finland, 2-Sep-95
Other rankings – NHL 4, Bob MacKenzie 4, Chris Ralph 4
Playoffs: 5g 4pts +3
YTD: 53g 48pts +18
WJC U20: 6g 7pts +2
Twitter A/C: @Barkovsasha95
"If Aleksander Barkov is there at #4, everyone in Nashville should be thrilled." – @ShaneMalloy on @1025thegame. #Preds #NHLDraft

— Cell Block 303 (@Cellblock303) May 6, 2013
Quote: NHL Director of European Scouting, Goran Stubb @ NHL.com, "He always seemed to be in the right place at the right time. He's a very good stick-handler with great vision. He's one the better two-way players in this class and has shown more consistency than any other European over a full season."
5. Lindholm, Elias
#28, Brynas, Elitserien, C, R, 6'0, 192 lb.
Boden, Sweden, 2-Dec-9
Other rankings – NHL 7, Bob MacKenzie 5, Chris Ralph 6
Playoffs: 4g 0pts -5
YTD: 48g 30pts +1
WJC U20: 6g 4 pts -1
Twitter A/C: @lindholmelias
Bob McKenzie has Elias Lindholm at #6. 5'-11" C, Sweden. http://t.co/tOinITeoiW #Flames

— Lee Snowden (@Snowden4000) April 30, 2013
Quote: Anthony Murphy @ TheFarmClub.net, "Lindholm is a great skater, being able to start and stop on a dime, and he likes to set up camp in the front of the net in the offensive zone.  He is also great at the face-off circle, winning 58% of his draws, again, against grown men. Lindholm has the potential to make an impact on both sides of the ice, something highly valued come draft day.  He has top-3 talent in just about any other draft, but in this draft he settles in probably around pick five."
6. Monahan, Sean
#20, Ottawa, OHL, C, L, 6'2, 193 lb.
Brampton, ON, 12-Oct-94
Other rankings – NHL 8, Bob MacKenzie 6, Chris Ralph 7
YTD: 58g 78pts -18
Twitter A/C: @Monahan20
McKenzie also has Sean Monahan at #7. 6'-2" C. Likely the way the #Flames would go. http://t.co/gd4wuvU89n

— Lee Snowden (@Snowden4000) April 30, 2013
Quote: Ottawa 67's General Manager and Head Coach, Chris Byrne @ insider.espn.go.com, "He has size, skill, vision, but I think the better part is his character — how hard he works and how much he wants to win and how he prepares himself for games. I think he presents a pretty good package, he has a history of winning, he has a history of playing well in big games and I think those are the things that people like the most about Sean."
7. Ristolainen, Rasmus
#55, TPS, SM-liiga, D, R, 6'3, 205 lb.
Turku, Finland, 27-Oct-94
Other rankings – NHL 10, Bob MacKenzie 7, Chris Ralph 15
YTD: 52g 15pts -7
WJC U20: 6g 6pts +5
Twitter A/C: None found
Quote: Tom Zulewski @ FlyersFaithful.com, "At 6'3 210 pounds, scouts are salivating over Ristolainen who plays for TPS Turku in the highly competitive Finnish elite league. He's a calm player with a good two-way ability and he plays beyond his years given his late '94 birthdate. He moves the puck well and he's quite mobile given his size. Ristolainen's strength comes in his defensive game. He utilizes his strength, and positioning, and his long reach to his advantage. He's not the biggest hitter in the draft, but he plays the body and likes to get physical in front of the net, which is not traditionally the Finnish style of playing hockey."
8. Zadorov, Nikita
#65, London, OHL, D, L, 6'5, 230 lb.
Moscow, Russia, 16-Apr-95
Other rankings – NHL 31, Bob MacKenzie 9, Chris Ralph 20
Playoffs: 20g 6pts +5
YTD: 63g 25pts +33
Twitter A/C: @zadorov61
https://twitter.com/Jerome_Berube/status/329640846280503297
Quote: London Knights General Manager, Mark Hunter @ NHL.com, "He's come a long way as far as knowing what we want. It's a little bit different hockey here because of the smaller ice surface. It took a little bit of an adjustment period from that standpoint. He understands. He's got a good brain for the game. He's a big guy that can skate and drive the net and do things offensively that a lot of other players are not capable of doing. He's an intelligent kid. He's grown so much — he's so big. We knew he was going to figure it out. He's not scared. He hits people, he finishes his checks. There's so much to like about him it's ridiculous".
9. Shinkaruk, Hunter
#9, Medicine Hat, WHL, LW, L, 5'11, 175 lb.
Calgary, AB, 13-Oct-94
Other rankings – NHL 9, Bob MacKenzie 8, Chris Ralph 5
Playoffs: 8g 6pts +0
YTD: 64g 86pts -13
Twitter A/C: @H_S_9
Wanna thank our fans for another great season, all the support means a lot to us #beatfans #tigersnation

— Hunter Shinkaruk (@H_S_9) April 11, 2013
Quote: Christopher Ralph @ THW, "Shinkaruk is a cerebral, relentless goal-scorer with top notch hockey sense. He possesses outstanding spatial awareness with an uncanny ability to find open space on the ice, setting himself up to be in the right places at all the right times. He is an explosive, dynamic offensive forward with game-breaking ability."
10. Nurse, Darnell
#25, Sault Ste. Marie, OHL, D, L, 6'5, 184 lb.
Hamilton, ON, 4-Feb-95
Other rankings – NHL 6, Bob MacKenzie 12, Chris Ralph 19
Playoffs: 6g 4pts -1
YTD: 68g  41pts +15
Twitter A/C: @drtwofive
Darnell Nurse is #10 on Bob McKenzie's 2013 NHL prospect list. His dad, Richard, was chosen 23rd overall by Hamilton in the 1990 #CFLDraft.

— Duane Forde (@DuaneFordeTSN) May 3, 2013
Quote: Ryan Kennedy @ TheHockeyNews.com, "The size and snarl was always there, but what has truly thrust Nurse up the draft charts is the way his offensive game took off this season. The big blueliner popped in 12 goals and 41 points a year after notching just one and 10 as a rookie."

11. Domi, Max
#16, London, OHL, C, L, 5'10, 194 lb.
Toronto, ON, 2-Mar-95
Other rankings – NHL 27, Bob MacKenzie 18, Chris Ralph 13
Playoffs: 21g 32pts +12
YTD: 64g 87pts +33
Twitter A/C: @max_domi
"@OHLHockey: Max Domi scores 20 seconds into OT to give the @GoLondonKnights the Western Conference championship."/5 point night for Domi.

— Bob McKenzie (@TSNBobMcKenzie) April 27, 2013
Quote: Here is what I wrote about Max when the NHL Central Scouting's Final Rankings came at @ THW, "Yes, I watched Friday night's game (26-Apr-13) when London eliminated Plymouth in overtime. And yes, I watched one of the best performances of the season when Max Domi put up five points including the overtime winner. While Nathan MacKinnon may have the best passing gear, Max Domi has the first gear category all to himself. His explosiveness and determination is just too impressive not to warrant going very high in the draft, 9 to 20 range."
12. Gauthier, Frédérik
#23, Rimouski, QMJHL, C, L, 6'4, 215 lb.
Laval, QC, 26-Apr-13
Other rankings – NHL 13, Bob MacKenzie 13, Chris Ralph 25
WJC U18: 7g 4pts +4
Playoffs: 6g 2pts +1
YTD: 62g 60pts +22
Twitter A/C: None found
Sample from Frederik Gauthier's player profile: Remarkably co-ordinated on his feet for such a big man. http://t.co/SQmOrB24GB

— McKeensDraftGuide (@McKeensDraftGs) April 16, 2013
Quote: Here is what I said about  Frédérik earlier in the year @ THW Combine, "There is likely to be a few curves along the road to the draft, maybe even esses. However, the combination of enormous size, the ability to put up the points, the ability to work well with his teammates, his innate defensive zone awareness and the decent full-steam speed are enough that scouts can overlook any skills that need further work. Watch a game on television featuring Gauthier and you may not hear Frédérik's name for extended periods. But then, suddenly, you hear what is the best word in the French language: "magique". When you hear that word you know the announcers are likely referring to Frédérik Gauthier."
13. Wennberg, Alexander
#10, Djurgården, Allsvenskan, C, L, 6'1, 183 lb.
Nacka, Sweden, 22-Sep-94
Other rankings – NHL 11, Bob MacKenzie 11, Chris Ralph 23
WJC U18: 6g 9pts +0
YTD: 43g 32pts +10
WJC U20: 6g 3pts +2
Twitter A/C: @winiss10
Quote: Tom Zulewski @ FlyersFaithful.com, "At 6-foot-1, 183 pounds he can handle himself in traffic as well. He gets to the tight areas and is able to produce some garbage goals. Wennberg is not a "one-trick" pony. He's very smart with and without the puck. He has good puck skills, can make plays, and can shoot the puck. For a Euro he has a bit a physical edge to his game."
14. Horvat, Bo
#53, London, OHL, C/LW, L, 6'0, 203 lb.
Rodney, ON, 5-Apr-95
Other rankings – NHL 21, Bob MacKenzie 19, Chris Ralph 21
Playoffs: 21g 23pts -1
YTD: 67g 60pts +3
Twitter A/C: @BoHorvat
Western conference champs for the second straight year! #LK #OffToTheFinals #OHLPlayoffs

— Bo Horvat (@BoHorvat) April 27, 2013
Quote: Max Domi @ Yahoo! Sports Canada, "He's got the whole package.  He can play the whole 200-foot game, he's a special guy to be around on and off the ice. All the boys love him. He's out there taking big faceoffs, which you don't see every day from a 17-year-old. He's out there in tough situations playing against the other team's top line. It's special for a young kid to be able to do that."
15. Pulock, Ryan
#2, Brandon, WHL, D, R, 6'1, 211 lb.
Dauphin, MB, 6-Oct-94
Other rankings – NHL 18, Bob MacKenzie 15, Chris Ralph 8
YTD: 61g 45pts -7
Twitter A/C: @rpulock2
Ryan Pulock (@rpulock2) – The Next Ones NHL 2013 Draft Prospect Profile http://t.co/DtTp5Kp4di #THW #WHL @bdnwheatkings #NHLdraft #Lottery

— chris ralph (@ChrisRa1ph) April 27, 2013
Quote: Christopher Ralph @ THW, "If you know anything about Ryan Pulock, you probably know he possesses an absolute rifle of a shot. Yes, the best blast from the blueline in this year's draft class is likely an honour that should be bestowed upon Pulock. But his game is more than his much marveled shot. Ryan projects to be a future powerplay quarterback and all-around effective blueliner.  He generates offense though good decision making, accurate passing and effectively utilizing his booming shot. He has a low panic threshold, high awareness and makes good on opportunities as the circumstances allow."
16. Morrissey, Josh
#10, Prince Albert, WHL, D, L, 6'0, 185 lb.
Calgary, AB, 28-Mar-95
Other rankings – NHL 36, Bob MacKenzie 20, Chris Ralph 9
WJC U18: 7g 7pts +10
Playoffs: 4g 1pt -3
YTD: 70g 47pts +14
Twitter A/C: @Morrissey_10
https://twitter.com/Morrissey_10/status/328611956737069056
Quote: Director of NHL Central Scouting, Dan Marr @ NHL.com, "He's a dynamic skater and reaches top speed quickly with good offensive hockey sense.  He's willing to battle and doesn't get intimidated, but still needs to physically mature in order to handle one-on-one situations. He gives a good two-way effort, logs a lot of ice time and has a lot of responsibilities."
17. Nichushkin, Valeri
#43, Chelyabinsk, KHL, C/W, L, 6'4, 196 lb.
Chelyabinsk, Russia, 4-Mar-95
Other rankings – NHL 5; Bob MacKenzie 10, Chris Ralph 10
WJC U18: 6+g 7pts +0
Playoffs: 25g 9pts +5
YTD: 18g  6pts +6
WJC U20: 6g 2pts +5
5 Nations: 4g 11pts
Twitter A/C: None found
Valeri Nichushkin says he likes #Flyers & #Rangers most of all, wants to spend summer in NA to train hard #NHLdraft2013

— Igor Eronko (@IgorEronko) April 24, 2013
Quote: Ben Kerr @ LastWordOnSports, "Nichushkin has a great combination of size and skill.  At 6'04, he is a big and powerful forward, who is extremely hard to stop when he decides that he is going to take the puck to the net.  He has great stickhandling ability and puck possession skill, allowing him to also add a skilled finesse game to that  package of raw power.  Add to that excellent vision and playmaking skills, and a real nose for the net, and you have a complete offensive package.  Nichushkin's size also makes him strong along the boards, effective on the forecheck, and a difficult man to move from the front of the net."
18. Mantha, Anthony
#8,Val d'Or, QMJHL, RW, L, 6'3, 200 lb.
Twitter A/C: None found
Longueuil, QC, 16-Sep-94
Other rankings – NHL 16, Bob MacKenzie 17, Chris Ralph 11
Playoffs: 9g 12pts +1
YTD: 67g 89pts +21
Anthony Mantha – pure scorer out of the Q (50 goals in 2012-13), nice shot, big frame to build on >> http://t.co/JBVliKEHJ6

— Kris Baker (@SabresProspects) May 1, 2013
Quote: Shawn Reznik @ THW, "With elite offensive skill, Mantha is incredibly dangerous with the puck on his stick.  He obviously knows how to find the back of the net.  With potential to be a game-changer, Mantha's name will always be bantered about as a possible first round pick. He possesses the ability to create big scoring chances every time the puck is on his stick.  He has the potential to be a bonafide offensive presence in the NHL, especially with the knack he has for driving the net, setting up plays, and using his patented shot to score some timely goals."
19. Lazar, Curtis
#27, Edmonton, WHL, C/RW, R, 6'0, 198 lb.
Vernon, BC, 2-Feb-95
Other rankings – NHL 28, Bob MacKenzie 25, Chris Ralph 14
Playoffs: 22g 11pts -2
YTD: 72g 61pts +25
Twitter A/C: @CurtisLazar95
Curtis Lazar making a case tonight to move up in the draft. #Oilers may not be able to trade down, may have to take at 7 if they want him.

— Derek Van Diest (@DerekVanDiest) May 1, 2013
Quote: Ben Kerr @ LastWordOnSports.com, "Lazar is a pure goal scorer. He has an outstanding wrist shot and  pro-level release which he uses to beat goalies.  He also has an excellent slap shot.  Add to this arsenal, the soft hands to finish plays in close and the quick hand eye co-ordination to make delections and pounce on rebounds and you can see why he had so many goals this season.  Lazar also plays a rugged game and is willing to hit on the forecheck or battle along the boards, or in the cycle game.  He's not afraid to play in the dirty areas of the ice, be it in the corners or in front of the net."
20. Morin, Samuel
Rimouski, QMJHL, D, L, 6'6, 202 lb.
St. Henri, QC, 12-Jul-95
Other rankings – NHL 32, Bob MacKenzie 51, Chris Ralph 56
WJC U18: 7g 2pts +6
Playoffs: 6g 7pts -1
YTD: 46g 16pts +10
Twitter A/C: @samhockey0000
Quote: Craig Button @ Flames.NHL.com, "I don't know where you find 6-foot-7 defencemen that can skate, that are tough physically, that are rugged, that can make a play with the puck. I don't know where you find them. … I saw Zdeno Chara play at that age. Zdeno was raw and I don't think Zdeno was as polished at that age as this kid. We know what Zdeno has become. He's one of the smartest players in the National Hockey League and we know the physical attributes. I think that I do believe that Samuel can develop that part of his game."
21. Erne, Adam
#73, Quebec, QMJHL, RW, L, 6'1, 198 lb.
North Brandford, 20-Apr-95
Other rankings – NHL 35, Bob MacKenzie 16, Chris Ralph 12
Playoffs: 11g 10pts +1
YTD: 68g 72pts +11
Twitter A/C: @Adamerne73
Nothing better than playoff celebrations after you score! pic.twitter.com/Brtg5TcaPT

— Adam Erne (@Adamerne73) March 24, 2013
Quote: Shawn Reznik @ THW, "He won't be the biggest player on the ice, but you'd never notice by the way he plays.  Standing 6'1″, he knows how to use his body to lay some pretty solid checks.  He's a creative winger, with great stick skills and a heavy shot to boot.  He's a perfect blend of physicality and offensive skill, which is why he's been ranked high in the rankings month after month."
22. Burakovsky, André
#95, Malmo, Allsvenskan, LW, L, 6'1, 176 lb.
Klagenfurt, Austria, 9-Feb-95
Other rankings – NHL 14, Bob MacKenzie 14, Chris Ralph 18
WJC U18: 5g 5pts +1
YTD: 43g 11pts -2
5 Nations: 4g 3pts
Twitter A/C: None found
Quote: Ben Kerr @ LastWordOnSports.com, "Burakovsky's greatest strength is as a goal scorer.  He has a very good one timer, and an outstanding wrist shot and quick release.  He also has the ability to drive the net, and the skilled, soft hands to score in tight.  In short, he's what teams look for in a skilled sniper.  Burakovsky could stand to improve his work along the boards, and will do so by bulking up and adding more upper body muscle."
23. Zykov, Valentin
Baie-Comeau, QMJHL, RW, R, 6'1, 215 lb.
St. Petersburg, Russia, 15-May-95
Other rankings – NHL 12, Bob MacKenzie 27, Chris Ralph 17
Playoffs: 19g 19pts +13
YTD: 67g 75pts +29
Twitter A/C: None found
Valentin Zykov lance et compttttttttttttttteeeeeeeeeeeeeeeee. 4-0 Drakkar. Woooooooooooooooooowwwww, Zykov sur des pases de 13 et 16 à 2:22

— Drakkar de Baie-Comeau (@DrakkardeBaieCo) April 29, 2013
Quote: THW: "Zykov, who is a smart player with a plethora of solid tools, has a powerful hunched over stride and uses his smarts to create scoring opportunities in the offensive zone. The big, powerful winger is tough to knock off the puck and has a great shot that he gets off quickly. He's currently one of the top draft eligible skaters out of the QMJHL and it's unknown how the "Russian" factor will impact his selection, but his stock has been steadily rising since the start of the season and an impressive showing in the playoffs could improve his ranking even more for the upcoming 2013 NHL Entry Draft."
24. Santini, Steve
#16, USA NDTP U18, D, R, 6'1, 208 lb.
Mahopac, NY, 7-Mar-95
Commit: Boston College
Other rankings:  NHL 63, Bob MacKenzie 41, Chris Ralph 46
WJC U18: 7g 0pts +8
YTD: 66g 15pts +15
Twitter A/C: None found
Petes prospect Steve Santini named top defenceman at World U18 Championship in Sochi Russia.

— Peterborough Petes (@PetesOHLhockey) April 28, 2013
Quote: Steve Santini @ NYHockeyJournal.com, "I'm a big, physical defenseman who can move the puck pretty well. I'm not flashy, but I've always had an edge to my game. As a person, I think that I bring good character as someone who supports his teammates and works hard in every situation."
25. Rychel, Kerby
16, Windsor, OHL, LW, L, 6'1, 200 lb.
Los Angeles, CA, 7-Oct-94
Other rankings – NHL 24, Bob MacKenzie 23, Chris Ralph 33
YTD: 60g 87pts -31
Twitter A/C: @Krychs
NHL Playoff hockey in Canada is like Christmas everyday for two months

— Kerby Rychel (@Krychs) May 1, 2013
Quote: From TheScoutingReport.org, "Rychel is a prototypical power forward who's power game makes up for any lack of offensive flair. A very polished prospect, Rychel is strong on his skates and is one of the most competitive and gritty players you'll find around the Canadian Hockey League. While Rychel possesses above average skills, it's his determination and hockey sense around the net that allow him to score the majority of his goals. As he moves to the NHL level, it's likely that you'll see him develop an agitator side to his game as he looks like he'll be a capable winger or centre who has the versatility to be an effective contributor on a scoring line while bringing a physical two-way presence."
26. Hartman, Ryan
#21, Plymouth, OHL, RW, R, 5'11, 182 lb.
West Dundee, IL, 20-Sep-94
Other rankings – NHL 22, Bob MacKenzie 28, Chris Ralph 38
Playoffs: 9g 6pts +4
YTD: 56g 60pts +29
WJC U20: 6g 6pts +9
Twitter A/C: RHartzy18
Ready for the Conference Finals. #round3 #whalerhockey http://t.co/KWwmdQwyRh

— Ryan Hartman (@RHartzy18) April 17, 2013
Quote: Chris Edwards of NHL's Central Scouting @ NHL.com, "He's not the biggest guy, but he shows no fear of getting involved and battles for the puck. He can hit hard and is aggressive on the forecheck. He sees the ice well, gets the puck through traffic with creative passes and offers a very good shot that he gets off quickly."
27. Bowey, Madison
#4, Kelowna, WHL, D, R, 6'1, 195 lb.
Winnipeg, MB, 22-Apr-95
Other rankings – NHL 44, Bob MacKenzie 34, Chris Ralph 34
WJC U18: 7g 4pts +3
Playoffs: 11g 1pt -3
YTD: 69g 30pta +41
Twitter A/C: @m_bows4
A moment I'll never forget. Honored to play with such a great group of guys. So many great memories. http://t.co/Vz5YCKSkeZ

— Madison Bowey (@m_bows4) May 3, 2013
Quote: Ryan Pike @ THW, "The part of Bowey that likely makes scouts the most optimistic is his general approach to the game. To be blunt, Madison Bowey won't need to change too much to be an NHL defenseman. He plays a smart two-way game, is physical but doesn't rely on out-muscling smaller guys, and is a smooth skater that relies on smart positioning. He may need to add a few pounds to his frame to be competitive when battling with the giants in the NHL, but Bowey won't need to reinvent himself to make the transition."
28. Mueller, Mirco
#25, Everett, WHL, D, L, 6'3, 190 lb.
Winterhur, Switzerland, 21-Mar-95
Other rankings – NHL 15; Bob MacKenzie 21, Chris Ralph 51
WJC U18: 5g 3pts -1
Playoffs: 6g 1pt +3
YTD: 63g 31pts -10
WJC U20: 6g 2pts +7
Twitter A/C: @25mueller
Wanna thank all the people involved for an amazing season! The staff, the billets, the fans and of course my teammates! Memories for life!

— Mirco Mueller (@muellermirco) April 2, 2013
Quote: Andy Eide @ THW, "Mueller projects to be a solid two-way defenseman in the NHL. He isn't going to put up gaudy scoring numbers but he will move the puck for you, chip in offensively and can play on both special teams. Many players coming to the CHL from Europe have a difficult time adjusting to the physical and chippy aspect of the North American game. Watching Mueller you see him going into the dirty areas and not being afraid to drop the gloves for his teammates."
29. Dauphin, Laurent
Chicoutimi, QMJHHL, C, L, 6'0, 183 lb.
Repentigny, QC, 27-Mar-95
Other rankings – NHL 37, Bob MacKenzie 45, Chris Ralph 30
WJC U18: 7g 6pts +2
Playoffs: 6g 4pts -1
YTD: 62g 57pts +0
Twitter A/C: @flippers27
@flippers27 congrats bud !! Way to finish the tournament , player of the game … See you soon #cannonieralltheway

— Jonathan Huberdeau (@JonnyHuby11) April 29, 2013
Quote: Craig Button @ NHL.com, "Laurent is a quiet competitor. Don't be fooled by him. There's not this over the top, outwardly bubbly competitor, but still waters run deep. And this guy is a big-time competitor. He doesn't get pushed away from the game, he doesn't get pushed away from the hard areas, he makes plays when it matters, he makes plays against difficult opponents, he makes plays under challenging circumstances. He's smart. You talk about hockey sense … he's got exceptional hockey sense. I think he's got exceptional competiveness. The important areas on the ice, the important areas in the game, the critical points, he's there. He's always there."
30. De La Rose, Jacob
#9, Leksand, Elitserien, C/LW, L, 6'2, 183 lb.
Arvika, Sweden, 20-May-95
Other rankings – NHL 26, Bob MacKenzie 26, Chris Ralph 43
WJC U18: 5g 3pts +0
YTD: 38g 12pts +8
5 Nations: 4g 4pts
WJC U20: 6g 0pts +1
Twitter A/C: @Jacobdelarose
Jacob de la Rose has been exceptional this period. Blocking shots like mad on 5 on 3 PK. Playing without fear. Great leadership thus far.

— Ross MacLean (@rossmaclean) April 20, 2013
Quote: Corey Pronman @ HockeyProspectus.com, "De La Rose is a skilled power forward who shows a lot of dimensions between his good speed, impressive vision, and ability to play all three forward positions , and he displays a fair amount of grit to his game."
Other Posts in this Series:
Chris is THW's senior draft/prospect analyst and a Managing Editor. Watch for "The Next Ones" Prospect Profile series, exclusive rankings, mock drafts, as well as the annual THW NHL Entry Draft Guide. Follow @ChrisRalphYQ on Twitter as he infiltrates, dissects and analyzes all happenings of hockey prospects and the NHL entry draft. Email: cralph[at]thehockeywriters[dot]com