The most notable change in The Next Ones 2013 NHL Draft Midterm Rankings is a changing of the guard at the number one slot. On many rankings released in January, this comes as no surprise as Seth Jones has toppled Nate MacKinnon on many lists.
In what The Next Ones now views as more of a 1a, 1b and 1c, in terms of ranking the three at the top of the heap, Jonathan Douin has rather stealthily surpassed the two more highly touted, fine young guns ahead of him, in my midterm edition of the Top 100 draft rankings.
Yes – you have read this correctly; please read on and hear me out.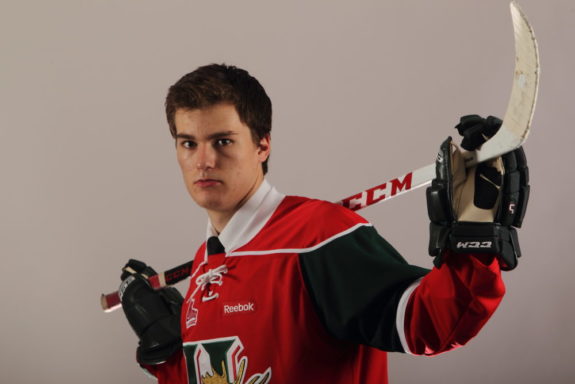 The Great Nate Debate – Jones and Drouin Heat Up The Race for #1
At the start of the season, I would have bet that the phenom prospect Nathan (Nate) MacKinnon would have went coast-to-coast, from start to finish in sole position as the number one rated prospect for the 2013 edition of the NHL Entry Draft, to be held in Newark, New Jersey.
In my eyes, this has been the case in the last five years – from Steven Stamkos (2008) to John Tavares (2009) to Taylor Hall (2010) to Ryan Nugent-Hopkins (2011) all the way to Nail Yakupov (2012). Yes – the Edmonton Oilers swept up the last three consensus number one overall prospects over the last three drafts.
The ultra-explosive young centreman Nate is definitely still in this three thoroughbred race, but he has some healthy competition.
Enter Seth Jones
Size. Skating. Vision. Passing. Shooting. Puckhandling. The son of ex-NBA player Popeye Jones seems to have everything you want in a franchise blueliner. He has also been firmly embedded as a probable top two pick in the 2013 NHL draft for some time.
After a slightly shaky start to the 2013 World Juniors, Seth had a very impressive tournament for the gold-medal winning Team USA squad. He topped that off with a solid evening at the CHL 2013 Top Prospects game.
Alongside his outstanding rookie season in the WHL, his remarkable feats to this point have been enough to vault him into the number one slot in a majority of the NHL draft rankings available and updated in January. With good reason; it might just be dependent upon the NHL franchise slotted to pick first overall in whether they want a dominant centreman, franchise defenseman or…
Enter Jonathan Drouin
I have been a believer in Drouin prior to the start of this season, having him ranking higher than most (7th overall) in my Preliminary Rankings.
Since then, Drouin has continued to make believers out of many scouts, NHL executives, writers and journalist. The Jonathan Drouin Bandwagon is more like a German Transrapid TR-09 high speed train.
He made a surprisingly (to some) huge impact on Hockey Canada and was given a deservingly substantial role with the World Junior squad. He performed admirably well in Ufa, despite the disappointing ultimate team result. (To MacKinnon's credit, he was sparingly used and in my view improperly deployed throughout the tournament.)
Before I am condemned to the asylum for even breaching the subject that Drouin deserves to be taken first overall over MacKinnon and Jones, let's examine the evidence.
Two words sum up the case (or least make a good starting point) for choosing the sublime winger over the two aforementioned potential cornerstone prospects – hockey sense. Often used when describing, but what really do we mean when we talk about hockey sense. Not easy to put to words, but his awareness, vision, anticipation, poise and focus are all off the charts. Jonathan doesn't just go where the puck is; he goes to where the puck will be.
While MacKinnon and Jones both possess high level of hockey sense to go with their superlative skills, Drouin is at another level in this aspect – a level rarely witnessed, even in the NHL.
If there was a school of hockey, Drouin would be at the top of class in his quest for a PhD in hockey sense. He is a student of the game and should only continue to develop his immense potential.
Drouin has more than shown that he is not just along for the ride when playing with the uber-talented Nate MacKinnon.  In fact, no other player in this draft makes those around him better. I would compare this trait of Drouin's to that of NFL quarterback Tom Brady – love him or hate him, Brady elevates the game of those around to stratospheric heights.
His hands – oh my, his hands. This kid is already a highlight reel machine and he should only come to develop his body of work more in the future.
Keep in mind, in choosing Drouin as the 1a prospect in this draft class, it is an interpretation and prognostication of the player he will be 5, 10, 15 and 20 years or more (if you look at the hockey lifespan of Selanne and Jagr) down the road.
The case can rather easily be made for his two companions sitting alongside him atop the rankings to be number one. MacKinnon and Jones, because of their physical development and skillset, are even more likely to make an immediate impact in the NHL sooner than Jonathan. Although he has shown on multiple occasions already in his short career, he can overcome almost any odds stacked against him.
However you view the top of this draft class, it is fantastic to see more than one prospect emerge to truly contend for the coveted first overall ranking, and ultimately be the first overall player selected in Newark, New Jersey in June of 2013.
The case for the top prospect is beyond any reasonable doubt not closed. The tremendous trio of talent at the apex of this draft all have much evidence yet to present in the coming years before anyone can deliver a final verdict.
***
Let's get on with the rest of the midterm rankings. Any questions or comments are welcomed with respect to the rankings and where a prospect is currently ranked (or even omitted).
For comparison and reflection, check out:
The Next Ones 2013 NHL Entry Draft Top 100 Midterm Rankings:
Notes:
The table display approximately 30 of the prospects at a time; simply scroll down to view the other prospects.
Only a portion of the table displays by default; you can scroll over to see the rest of the player demographics or select "View full-size workbook" option, which is the icon in the bottom right hand corner, to view the full table.
CS = NHL Central Scouting's ranking – recall NHL CS segregates their rankings into North American and European skaters and goalies.
This is not a prediction of where a prospect will get drafted. This is my personal rankings of the prospects based on long-term potential to perform at the NHL level.
Detailed prospect profiles in The Next Ones format will be compiled and published throughout the season leading up to the draft. Check in often at: The Next Ones 2013 NHL Draft Guide.
About Chris's List
A common query is how these particular rankings are formulated. There is now an abundance of sources of hockey prospect information. You can check out my blog The Next Ones for your online eNewspaper, linking to the best of the best of these resources.
TSN has Craig Button's Craig's List, which is a "monthly rankings represent his individual assessment of where players are slotted in the NHL draft. They will be posted in addition to Bob McKenzie's consensus NHL rankings, which is compiled four times a year. Bob's rankings represent the consensus NHL team view of where players are slotted in the NHL draft."
In contrast, The Next Ones rankings take into account many influences. While I obviously cannot reveal all my trade secrets, the following are some of the considerations contemplated when compiling the rankings.
First of all, my personal prospect analysis and scouting reports from live player viewings (due to geography restraints mainly limited to WHL and to Hockey Canada events/camps) and video analysis.  Admittedly, there is nothing comparable to live viewings, but video does have its place.
Secondly, my personal ranking system with influences from contacts whom I consider respected, knowledgeable, passionate hockey people with unique insight from all over this great hockey universe of ours. Many thanks to those who passionately offer up their unequivocal outstanding scouting analysis to me – you know who you are.
Thirdly, I utilize some unique statistical analysis for guidance purposes only. Compiling and merging all of data along with copious amounts of research results in Chris's List coming to fruition.
_________________________________________
Chris is THW's senior draft/prospect analyst and a Managing Editor. Watch for "The Next Ones" Prospect Profile series, exclusive rankings, mock drafts, as well as the annual THW NHL Entry Draft Guide. Follow @ChrisRalphYQ on Twitter as he infiltrates, dissects and analyzes all happenings of hockey prospects and the NHL entry draft. Email: cralph[at]thehockeywriters[dot]com