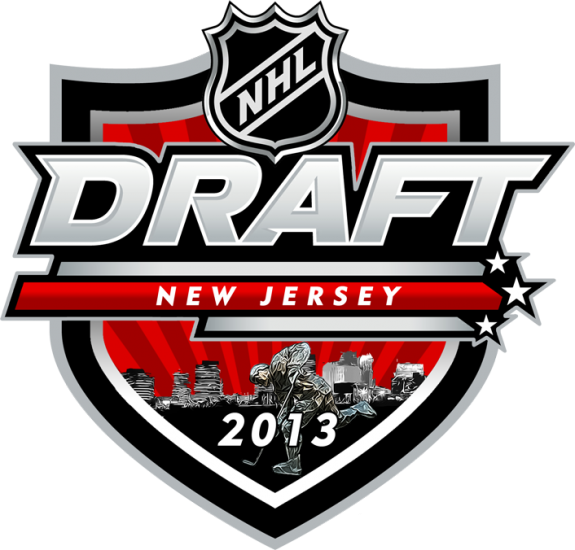 2013 marks the 50th anniversary of the NHL Entry Draft. With an immense amount of talent to be had, this installment of hockey's version of Christmas is shaping up to be one of the finest in the past decade.
Is it ever too early to think about the NHL's next entry draft?
With the Fail For Nail 2012 NHL draft playing out in June, the focus is now turned to the 2013 class which has the potential to be the best since the revered 2003 draft.
Unfortunately for Rangers fans, the team won't have the opportunity to redeem the gaffe of drafting Hugh Jessiman 12th overall in 2003, with their 1st round pick being traded to Columbus in the Rick Nash deal.
It is also eight years since the historic post-lockout Sidney Crosby Sweepstakes Lottery Draft. The similarities between the upcoming draft and the 2005 edition are downright eerie.
Any rankings completed at this point will evolve and look quite different as the hockey season wears on. Prospects who are not currently so highly regarded will attempt their best impersonations of Hampus Lindholm in an effort to escalate their draft stocks. At the other end of the spectrum, there will be Nick Ebert-like plummets. In a vast majority of preliminary rankings last season, Nick Ebert was highly touted as a potential Top 10 pick. The Los Angeles Kings prospect ended up drafted last overall as 2012's Mr. Irrelevent. Ebert has plenty of incentive to prove naysayers wrong this season and beyond.
Not Winnin' For MacKinnon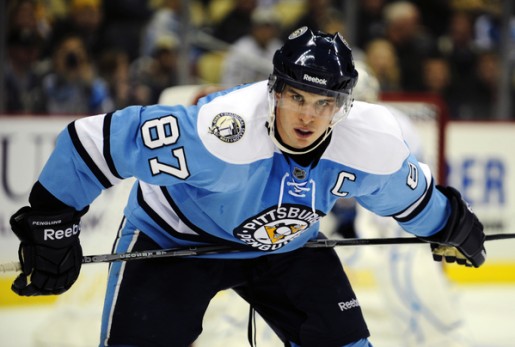 By now, most hockey fans know the story of Nathan MacKinnon and the uncannily similar path shared with Sidney Crosby. The two sub-6'0" ultra-talented, exceptionally explosive, game-breaking centremen both hail from Cole Harbour, Nova Scotia. They both played at the hockey factory that is Shattuck-St. Mary's prep school. They were both drafted 1st overall in the QMJHL.
Both Crosby and MacKinnon went into their draft eligible seasons as the favoured number one overall selection.
The season before Crosby's draft was lost due to a NHL lockout. The current season is in great danger of the same fate.
Will every NHL team have a shot (with weighted odds) at drafting the phenom prospect MacKinnon as they did Crosby? Who will land The Next, Next One?
Keeping Up With The Joneses
Unlike Crosby, MacKinnon faces a colossal challenge for the number one overall draft position. The son of former NBA player, Popeye Jones, Seth Jones has everything you want in a future cornerstone blueliner – size, skill, skating ability, hockey IQ and passion.
Depending on the team holding down the number one overall pick and how the season plays out, Jones has a legitimate chance at supplanting MacKinnon as the top pick in 2013.
Abundance Of Top End Talent
If either of the top two falters, there are more than a few prospects who are capable of surging up the rankings. Ottawa 67s' centerman Sean Monahan is at the top of the heap, firmly entrenched as the number three ranked prospect at this point. He is perhaps the most complete player in the draft.
Nipping at the top three players' heels are an outstanding array of prospects who make up the next tier of talent. Just to name a few of these young guns:
Forward Hunter Shinkaruk is already a savvy sniper, netting 49 goals last season for the Medicine Hat Tigers of the WHL.
Ryan Pulock is an all-around blueliner with a propensity for the offensive side of the game.
Slasha Barkov is a big forward with a ton of skill who already has a season under his belt playing against men, holding his own in Finland's top league.
Elias Lindholm is an outstanding two-way forward whose game is reminiscent of countrymen Peter Forsberg. He is the biggest competitor to Monahan as the draft's most complete player.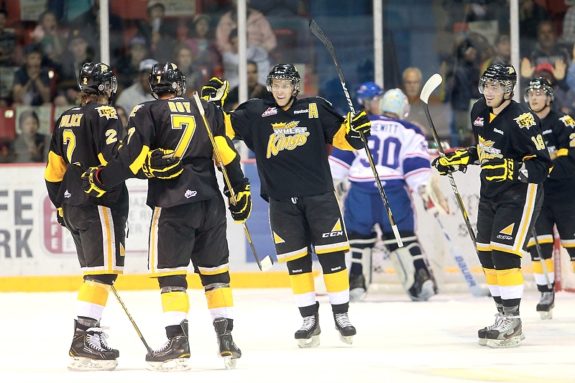 The Hunt For Red October
Four of the top five ranked prospects were born in October. Rasmus Ristolainen and Kerby Rychel join Seth Jones, Sean Monahan, Hunter Shinkaruk and Ryan Pulock to make it six of the top eighteen young guns ranked all having been born in October.
How Swede It Is 
You're likely to find Elias Lindholm much closer to the top five in many other ranking services. The Next Ones currently has him just outside the top ten with the talented young two-way centreman having a great shot at elevating his stock further.
Who's the next Swedish blueliner to have his stock soar during the season? Robert Hägg is a great candidate. While not the offensive presence of Erik Karlsson, Oliver Ekman-Larsson or even Hampus Lindholm, Hägg is more of the quietly extremely effective type. Remind you of anyone who recently retired? His name does not belong in the same sentence of legend Niklas Lidstrom at this point in time, but his style of play is of the same ilk.
The Russian Roulette Factor – From Yakupov To Slepyshev
Nail Yakupov crossed the pond well before his draft year and was the clear-cut first overall pick in Pittsburgh this past June. Anton Slepyshev, on the other hand, was a highly touted Russian forward projected by many outlets to be a top two round talent. He went undrafted. Curiously, NHL Central Scouting has him rated as an "A" level talent in its preliminary watch list for the 2013 draft. An "A" grade signifies that the prospect should garner first round consideration.
6'4" talented defenseman Nikita Zadorov is playing for the London Knights of the OHL this season and projects to be a first round selection at this juncture.
Valeri Nichushkin has drawn serious comparisons to Evgeny Malkin. How will staying in Russia affect his stock come draft weekend in New Jersey next June? Talented forwards Pavel Buchnevich and Bogdan Yakimov present similar scenarios as potential first round picks. Or could they just as easily go undrafted as Slepyshev did?
Valeri Nichushkin with a brilliant performance against Team USA at the World Under-17 Hockey Challenge:
The Next Ones 2013 NHL Entry Draft Top 60 Preliminary Rankings
Notes:
The table display approximately 30 of the prospects at a time; simply scroll down to view the other prospects.
Only a portion of the table displays by default; you can scroll over to see the rest of the player demographic or select "View full-size workbook" option, which is the icon in the bottom right hand corner, to view the full table.
This is not a prediction of where a prospect will get drafted. This is my personal rankings of the prospects based on long-term potential to perform at the NHL level.
Detailed prospect profiles in The Next Ones format will be compiled and published throughout the season leading up to the draft. For examples and to reflect back on the last draft class, check out The Next Ones 2012 NHL Draft Guide.
Chris's List
A common query is how these particular rankings are formulated. There is now an abundance of sources of hockey prospect information. You can check out my blog The Next Ones for your online eNewspaper, linking to the best of the best of these resources.
TSN has Craig Button's Craig's List, which is a "monthly rankings represent his individual assessment of where players are slotted in the NHL draft. They will be posted in addition to Bob McKenzie's consensus NHL rankings, which is compiled four times a year. Bob's rankings represent the consensus NHL team view of where players are slotted in the NHL draft."
In contrast, The Next Ones rankings take into account many influences. While I obviously cannot reveal all my trade secrets, the following are some of the considerations contemplated when compiling the rankings. First of all, my personal prospect analysis and scouting reports from live player viewings (due to geography restraints mainly limited to WHL and this year's World Juniors) and video analysis.  Admittedly, there is nothing comparable to live viewings. Secondly, my personal ranking system with influences from contacts whom I consider respected, knowledgeable, passionate hockey people with unique insight from all over this great hockey universe of ours. Many thanks to those who passionately offer up their unequivocal outstanding scouting analysis to me – you know who you are.  Thirdly, I utilize some unique statistical analysis for guidance purposes only. Compiling and merging all of data along with copious amounts of research results in Chris's List coming to fruition.
Chris is THW's senior draft/prospect analyst and a Managing Editor. Watch for "The Next Ones" Prospect Profile series, exclusive rankings, mock drafts, as well as the annual THW NHL Entry Draft Guide. Follow @ChrisRalphYQ on Twitter as he infiltrates, dissects and analyzes all happenings of hockey prospects and the NHL entry draft. Email: cralph[at]thehockeywriters[dot]com