Christopher Ralph is THW's prospect and draft analyst
*For all the latest prospect and draft news follow me on Twitter: The Hockey Spy
Please "Click Here" for "Notes Up Front" and the "Legend" for various topics covered below in my "Live Updated" NHL 2010 Draft Preview article. (2011 specific article will be released as draft draws near.)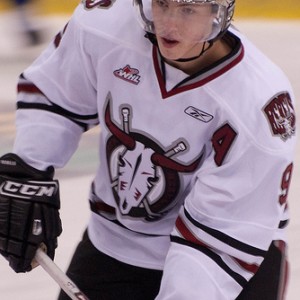 Ryan Nugent-Hopkins
Born: Burnaby, B.C
DOB: April 12, 1993
Height: 6'1"
Weight: 170
Position: Centre
Shoots: Left
NHL Draft Eligibility: 2011
One-Timer:
The premiere playmaking forward in the draft passes the puck like the Green Bay Packers Aaron Rodgers throws the pigskin – almost pure perfection.
RNH possesses a tantalizing combination – tremendous offensive skill-set, defensive awareness and great character. A speedy skater and an accurate shot to go with, "Hoppy" will earn the majority of his future NHL paycheck with his outstanding vision, exceptional playmaking ability and slick puck-handling skills.
Nugent-Hopkins reminds many of Matt Duchene for several reasons. The pure hockey ability comparison is certainly valid. RNH is of slighter build than Duchene was in his draft year though. One could also compare RNH the hockey player to the likes of Joe Sakic and Pavel Datsyuk, should he reach his immense potential.
On a level which is simply speculation on my part, RNH could potentially resemble Duchene if the following scenario comes to fruition. In 2009, I toyed with the idea of having Duchene #1 in my NHL 2009 Draft Rankings. In the end, I ranked the top 3 as they would end up being drafted – John Tavares, Victor Hedman, followed by Matt Duchene. Although we're less than two years removed from the 2009 draft, all three are making their presence known in the NHL. If that draft was redone now – many a GM and scout would jump at the chance to draft Duchene first overall.
I could see the same thing playing out this draft year. While Ryan could certainly be drafted first overall, there are several players who have a reasonable chance of getting drafted ahead of RNH – Adam Larsson, Sean Couturier or Gabriel Landeskog. OHL blueliners Ryan Murphy and Dougie Hamilton may also garner some consideration, with Ryan Strome and Jonathon Hurbedeau the draft day dark horses (in terms of challenging for a top three selection).
Within two years after this year's draft, GMs and scouts alike may be left scratching their heads if they are the ones who potentially decide to pass over Nugent-Hopkins.
Top Prospects Game: Hopkins excelled in this game featuring the top prospects playing in the CHL. For his two assist and impressive performance, he took home Player of the Game honours.
Statistics:
Scout's Honor:
NHL Director of Central Scouting E.J. McGuire feels the sky's the limit for Nugent-Hopkins.

"He's got great skill and a knack for offense," McGuire said. "He scored the first goal of the whole competition at (RDO camp) with a great shot and his Red Deer Rebels will be blessed with his skill set all year."

Chris Edwards, NHL Central Scouting's Ontario scout, has seen enough of Nugent-Hopkins to conclude his skill set is "very high."

"He dominated the game at Red Deer and you can just see the talent coming right off the stick when he's on the ice," Edwards said. "Even in the (RDO camp), he made a few plays, made a move on a defenseman and fed the puck through another guy to set up a great scoring chance. He sees the ice very well, has excellent puck-handling and playmaking ability and skates very well." (NHL.com)
***
"I think in most ways he's ready (for the NHL)," said Red Deer Rebels head coach Jesse Wallin. "His talent level is certainly there and his character and maturity. I think the big thing that's going to allow him to play at that level and exceed at that level is when he's ready strength-wise. Could he play there next year? I'm sure he probably could. Is it going to be the right thing for him next year and long term? I think that's what the team that takes him is going to have to determine and they probably won't know that until September. Biggest factor for me, is he physically ready to play against men?"(The Province)
Bio/Interview(s)/Link(s):
International Tournaments:
"Everyone knows the Hopkins kid is a top pick," Detroit Red Wings assistant general manager Jim Nill told NHL.com. "At the (Ivan) Hlinka (Memorial U18) tournament in Slovakia (August 2010), he was one of the top players. He's not a hidden secret and he played well (at RDO camp) even thought he was sick. He's got good hockey sense, creates time for himself and he's got the gift."
RNH was amongst Team Canada's final cuts for the 2011 WJCs in Buffalo.
ETA = 2 yrs
Risk-Reward Analysis:
Risk = 0.5/5   Reward = 4.5/5
NHL Potential:
Number one dynamic offensive centreman who is responsible defensively
Strengths: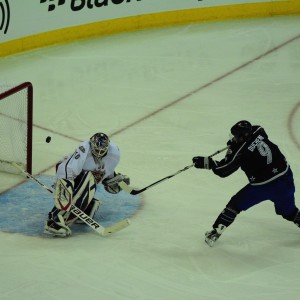 *See "One Timer" section above.
Outstanding vision
Superior stickhandler
Exceptional playmaker
Leadership abilities
Accurate shot
Scintillating skater
Team player
Flaws/Aspects He Needs To Work On:
Continue to train to increase strength and add mass to frame to handle the rigors of the NHL
Shot strength; his shot is accurate, but could be "beefed" up – will likely come as he grows and works on his strength
Fantasy Hockey Potential: Offensive =9 /10   Defensive = 8.5/10
NHL Player(s) Comparison:
– At his best:
Matt Duchene
Joe Sakic
Pavel Datsyuk
Brad Richards
Video(s):RNH's 6 point night February 4th, 2011
Off The Iron (Interesting Notes):
2009-10 WHL Rookie of the Year
RNH states Maurice "The Rocket" Richard as his hockey hero; interesting choice for such a young gun.
*Follow The Hockey Spy on Twitter as I infiltrate, dissect and analyze happenings of hockey prospects and the NHL entry draft.
This document is the intellectual property of Christopher Ralph and cannot be used or duplicated in any way without expressed written consent. Any use of this document without the expressed written consent of Christopher Ralph will result in public exposure and legal prosecution.
Chris is THW's senior draft/prospect analyst and a Managing Editor. Watch for "The Next Ones" Prospect Profile series, exclusive rankings, mock drafts, as well as the annual THW NHL Entry Draft Guide. Follow @ChrisRalphYQ on Twitter as he infiltrates, dissects and analyzes all happenings of hockey prospects and the NHL entry draft. Email: cralph[at]thehockeywriters[dot]com