Jim Neveau, NHL Correspondent
Columbus, OH – Mired in another season near the bottom of the Western Conference (albeit only five points out of a playoff spot after their 4-3 win over Edmonton on Saturday night), the Columbus Blue Jackets have made some pretty significant changes to their roster under the guidance of head coach Scott Arniel.
Gone are players like Mike Commodore who had been faces of the franchise for a long while, and coming in is a promising crop of young talent that is threatening to take the Jackets back into the upper tier of NHL teams. These players are playing with a combination of grit, offensive talent, and above all an undying need to prove that they belong at this level.
After all, Arniel has made it abundantly clear to his players that he will not tolerate subpar efforts. Over the course of this season, he has taken to benching guys who have not given 100% on the ice, including one game where he benched team captain Rick Nash's line for nearly the entire third period in order to send a message to his more veteran players. He has time and again shown that no roster spot is safe from Nash on down to the 20th man dressing on a given night, and that mentality has resulted in him having a team full of guys who are willing to do whatever's necessary to win.
Arniel once again showed that willingness to bench anyone when he scratched winger Kristian Huselius for Friday's game against the Detroit Red Wings. This move definitely seemed to light a fire under "Juice" as he scored two goals and helped his line score two more in a come-from-behind victory that delighted the sold out crowd at Nationwide Arena. He was extremely aggressive with the puck all evening long, and he really made it a point to get the offense going as time wound down in the third period. Arniel kept sending Huselius, along with linemates RJ Umberger and Antoine Vermette, into the game in the closing minutes, and that willingness to go with the hot hand ended up paying dividends.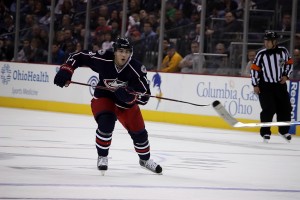 The other big story of the evening was the NHL debut of John Moore. The 21st overall pick of the 2009 Entry Draft, Moore had a respectable showing this season with the Springfield Falcons in the AHL, scoring three goals and tacking on 15 assists so far this season. The Chicago native didn't have a tremendously eventful debut with the team, logging 12:05 of ice time and picking up his first hit and blocked shot in the contest. He also had a play in particular that showed a flash of maturity that could bode well for his future with this organization.
During the second period, Moore lost his stick and his glove in the defensive zone. While that itself isn't a big deal as it happens all the time, what he did in the immediate aftermath of that speaks volumes about where his head is on the ice. He took the ice to defend a shot toward goaltender Steve Mason, kicked the puck into the corner, and when he saw that Jan Hejda had sealed off that part of the ice, he quickly reached down and picked his glove and stick back up.
The reason that this was a significant play is that it gave Moore plenty of chances to panic. When he initially dropped the equipment, he could have easily lost focus and tried to re-grab it while the puck was near him, and a goal could have resulted. After he kicked the puck into the corner, he could have also forgotten about the equipment and instead tried to play "short-handed", but he made the right decision and brought himself back to "full strength" and effectiveness.
This seemingly innocuous play speaks volumes about his ability to do the correct thing in a given situation, and while it is only one instance out of the hundreds of weird things that can potentially happen to him in his career, it was his first real test in the NHL, and he passed it with flying colors.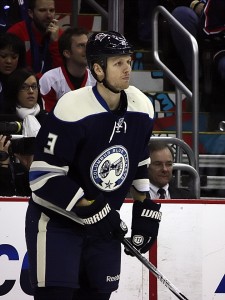 Another younger player who has impacted the Jackets in a positive way is Marc Methot. He has had a really solid year offensively so far, picking up 15 assists in 46 games with the club. He is also sporting a +8 this season, which is second on the team only to Rostislav Klesla's +10. He has been getting it done on both sides of the ice, and the game he played on Saturday backs that up. Not only was he aggressively pushing the puck up ice, but he also delivered at least six hits and blocked three shots in the game. It was a physically dominating performance, and the fact that he was able to do that over 22:38 of ice time (including over three minutes short-handed) really speaks to the level at which this young man is playing.
Kris Russell also has been a subtly good addition to this squad. Although he looked tentative at times in Saturday's game, he still managed to have a respectable stat line, with two assists (one primary) and a blocked shot in about 15 minutes of ice time. He still has quite a bit of work to do (especially with Moore nipping at his heels), but Arniel's squad is in desperate need of a player who can play responsible defense and occasionally assert himself in the offensive zone, and Russell definitely has that capability.
Derick Brassard, who as a rookie was arguably the top candidate for the Calder before he was felled by a shoulder injury mid-season, has been a great asset for Columbus' top line this year alongside Rick Nash. He has scored 13 goals this season, and he has also picked up 22 assists in the process. He also has netted five power play tallies, and when you consider that Columbus has the worst home power play unit in the league, that is not an insignificant sum.
Brassard is obviously a very solid two-way player, and he has shown some real flashes of brilliance throughout his career. The thing that the Jackets really need him to do in order to take that next step is to be more aggressive on the offensive side of the puck. There are plenty of centers in this league that can move the puck well (Backstrom, Henrik Sedin), but Derick has the ability not only to pass effectively, but he can also be a downright filthy sniper when he is on his game. During Saturday's contest he seemed content to just skate around the zone looking for a pass, especially on the power play, and even though he did have two shots on goal, he really didn't make himself a threat to score.
Brassard certainly has a killer instinct (which is plain to see just from the way he throws his body around on the defensive side of the puck), he needs to use that asset more on offense if he wants to become a truly great player in this league. He has it in him, but it's going to be up to Arniel and possibly Nash to tease that out of him.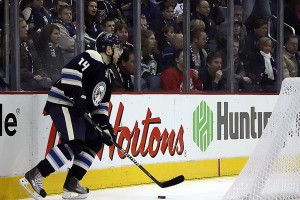 Finally, a player who only has 10 games under his belt this season has already made a big impact on the team, and taht is defenseman Grant Clitsome. Going into Saturday's contest, he was averaging over 20 minutes per game, and he already has had a productive go of it offensively, scoring two goals and adding five assists in those games. Tonight's game was not much of a departure from that excellent start, with Clitsome picking up another assist, a couple of blocked shots, and playing a very impressive 22:45, including significant time on both the penalty kill and power play.
Clitsome has always been a guy who puts up respectable offensive numbers, as his stats at Clarkson University and with Syracuse of the AHL would indicate. What has been most impressive about the 25-year old this year has simply been his versatility. He looked comfortable in all manner of situations on Saturday, including a critical penalty kill of a full two minute two man advantage, and this ability to adapt has to impress Arniel.
It is a very small sample size from a guy who has been unable to stick in the league before this season, but if what he is doing now is any indication, Grant might very well be turning the corner and becoming a mainstay in the Jackets' rotation for years to come.
With only four playoff games in franchise history, the Blue Jackets aren't exactly a team that demands attention from the national hockey press or from casual fans. They really only have one household name with Rick Nash (two if you count Steve Mason), and they really have never made a big splash on the hockey landscape.
Judging by the players that are currently coming up through their system and making impacts on the ice, this team could very well be on the verge of putting something together that is going to force the NHL and its fans to take notice. This team is currently loading the cannon so to speak, and all it needs is a little spark and the bang will reverberate throughout the league. If that's the case, then it won't be only the fans at Nationwide who will need to cover their ears.