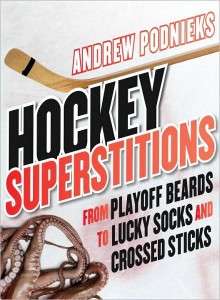 Hockey Superstitions: From Playoff Beards to Crossed Sticks and Lucky Socks.  By Andrew Podnieks.  (2010, Toronto: McClelland & Stewart, Ltd. Softcover. Pp. 175. $19.99 CAN/$17.95. ISBN 978-0-7710-7108-9)
Every athletic league presents multiple forms of superstition. From tee-ball to the NHL, it is not difficult to find someone with a lucky charm, game day meal, or favorite place to watch the game.   Many hockey fans most likely agree that their own game day rituals and those of their favorite players probably rank near the top of the list of most superstitious sports.
Those looking for an in-depth examination of hockey players and their superstitions may be disappointed by Andrew Podnieks's book Hockey Superstitions: From Playoff Beards to Crossed Sticks and Lucky Socks.  Instead, Podnicks described the rituals and superstitions of some of the game's well-known (and sometimes not so well-known) names.  He devoted the majority of pages to individuals – from Karl Azner to Bernie Wolfe.
Podnieks covered a number of well-known superstitions:  the playoff beard, Kate Smith, sticks, coaches' ties, touching the Stanley Cup, and sacred nets.  He tied the playoff beard back to the Swedes and Björn Borg's Wimbledon career and explained the selective usage of Kate Smith's rendition of "God Bless America" during important Philadelphia Flyers games.  Podnieks traced the Detroit Red Wings' octopus tradition back to 1952 when the fewest number of games to the Stanley Cup was only eight and fans hoped the eight tentacles would give them luck.  Another team superstition that made the cut, the "Crappiest Superstition Ever," related the story of the 1975 New York Islanders and their playoff run that began while the circus was in town.
Some highlights and bits of trivia from the book include:
Montreal Canadiens' Maurice Richard changed his number from 15 to 9 after two seasons of breaking the same ankle;
Darcy Tucker prepares only one stick per game, so the others do not get jealous;
The U.S. Women's team takes to the ice in numerical order;
Conn Smythe once convinced Canadian customs to confiscate the New York Rangers' "lucky elixer" during the playoffs;
One of the most common player superstitions has to do with the way they dress for the game; and,
Although father-son tandem goalies Ron and John Grahame both played in the NHL, the only member of the Grahame family with a name engraved on the Stanley Cup was Ron's wife and John's mother, Charlotte Grahame.
Podnieks took care to remember the fans, too.  He dedicated just over two pages to fan superstitions.  From sitting in the same spot on the sofa on game day and wearing your favorite team's sweater to eating the same foods and not coming back into the room if your team scores while you are in the bathroom, he shows the superstitions continue far outside the arena.   Two of my personal "favorite" superstitions are not wearing a jersey again unless a loss has been "washed off" and (from last year's Stanley Cup playoffs) indulging in a cranberry drink during every Blackhawks playoff game.
Overall, Hockey Superstitions is a fast and fun read as well as a great addition to anyone's "hockey library."  Podnieks wrote engagingly, which easily keeps readers interested.  Just be sure not to read it on game day – you do not need to add another superstition to your already busy pre-game preparations!
Rebecca Dobrinski
Affilliate Link for Hockey Superstitions (THW gets a small commission)